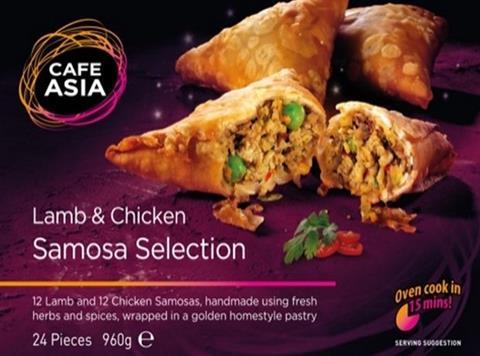 Asian snack food supplier UPB Products is rolling out its Cafe Asia snack food brand to Iceland's Food Warehouse stores.
From this week, the retailer's six Food Warehouses will carry 10 Cafe Asia lines including pakoras, samosas, wraps and spring rolls in dedicated Cafe Asia-branded freezers. UPB hopes the listing will lead to a national roll-out for the brand.
Trading for more than 30 years, UPB is a family-run business that manufactures from its factory in North West London. The company said the Iceland deal was testament to "sticking to its guns" and producing "only authentic recipes that are kitchen-quality from a mass-production factory".
"This listing provides us with the opportunity to introduce our authentic Asian snack food range to a far wider audience," said Cafe Asia MD Amit Bhavsar.
Iceland Foods joint MD Nigel Broadhurst said the retailer had been "blown away" with the Cafe Asia range. "We have listed a wide range in our warehouse stores as a test," he added. "If this test goes well, we plan to extend the listing to a large number of our 850 stores."
First introduced in September 2014, The Food Warehouse from Iceland concept comprises larger stores featuring new product lines and bulk-buy offers in addition to Iceland's core ranges. The six stores are located in Cannock, Pontypridd, London's Old Kent Road, Rochdale, Trent Vale and Wrexham.