When consumers demand on-the-go snacks, cake and biscuit brands can offer more than a few crumbs. Cake slices are up 2.7% in value [Kantar 52 w/e 21 July 2015], savoury biscuits (often portioned as portable snacks for one) have risen 13.9%, and investment in both manufacture and marketing for on-the-go products continues apace.
Last year Premier Foods announced a new £20m production and packing line for Mr Kipling Snack Pack slices, which it says is the most successful NPD cake launch in the last four years. Meanwhile one of United Biscuits' biggest launches was its bagged snack Jacob's Cracker Crisps.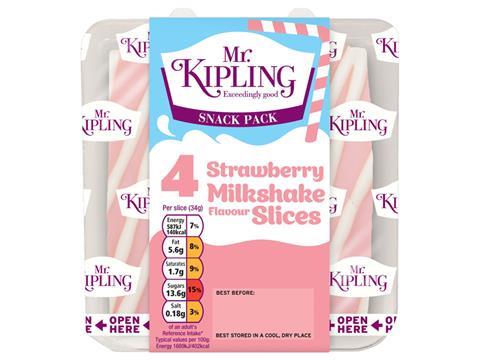 "On-the-go is a major driver for growth across the majority of snacking categories, cake included," says Jon Eggleton, United Biscuits UK managing director. "The share of the market for biscuits is currently 93% in favour of take-home versus 7% for on-the-go, which compares with 14% for crisps and snacks and 12% for confectionery. This indicates a clear opportunity for biscuits, which can be supported by greater availability of portion packs and more portable formats. How manufacturers package and price their products will be crucial."
In May this year, Premier overhauled its Mr Kipling Snack Pack slices range, swapping 6-pack formats for 9-packs and 4-packs, with the latter described as 'highly relevant to the convenience sector'. It also introduced three new Milkshake flavour Snack Pack slices, in Strawberry, Vanilla & Chocolate and Banana.
None of the major players are willing to be left behind. "Convenience is an important macro trend for biscuits, and developing relevant products has been key – Belvita, Oreo and Mikado are all available in on-the-go formats," says Susan Nash, Mondelez trade communications manager.
Burton's, meanwhile, tapped this opportunity with a range of single-serve packs, including a 30g Maryland Gooeys twin snack pack and a 40g bag of bitesize Maryland Choc Chip Cookies.
"Burton's recognised there was a lack of market-leading traditional biscuits that could be eaten out of home - and the fact that other categories were more advanced in offering on-the-go solutions," adds David Costello, Burton's Biscuit Co's head of customer category management.
In association with: