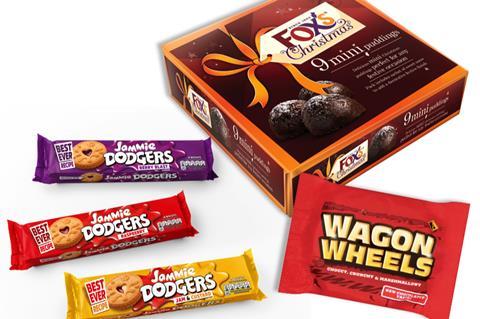 Fox's Biscuits and Burton's Biscuits are combining to become one business.
The brands, both of which are owned by Ferrero after their acquisitions in 2020 and 2021 respectively via Ferrero-related company CTH, will now be run under a new biscuits company called Fox's Burton's Companies UK.
It will be led by Simon Browne, who was previously MD of Burton's Biscuits. Browne said after "many years of looking at one another, we are excited about bringing together two businesses that share the same passion for crafting British biscuits with care, quality and innovation".
Both Fox's and Burton's had "a strong history and heritage in the British biscuit market going back to 1853 and producing some of the most iconic brands that are firm family favourites", said the new business.
The integration brought with it "a significant opportunity to further build on the success of the two companies through distribution and expansion into new markets and within new category segments, leveraging on the strong capabilities across both FBC businesses", it added.
It said it planned to now launch a "strategic review" to "determine the details behind the transition".
The acquisitions of Fox's and Burton's made Ferrero the third-largest biscuit manufacturer in the UK, behind Mondelez and Pladis.
Fox's sales grew £1.3m (1.7%) to £76.1m over the 52 weeks to 11 September 2021. Burton's brand Maryland was down 0.7% to £39m, although its Jammie Dodgers brand grew 3.1% to £19.8m [NielsenIQ].