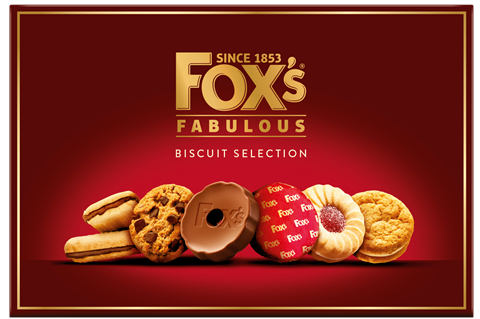 Fox's Biscuits is to undergo a multimillion-pound relaunch – just weeks after the brand was snapped up by confectionery giant Ferrero in a £246m deal.
The relaunch will see the longstanding brand's Cookies, Viennese, Chocolatey and seasonal biscuit collections given a more "premium" look with a new logo playing up its heritage and "expertise at the heart of British baking", which will feature more prominently on packs.
Its No 1 range and its Viennese portfolio have had their recipes changed, adding more chocolate chunks to the former along with a new "portrait" format the brand said would offer greater protection to the cookies.
More butter has been added to the latter, meanwhile, to improve taste.
It's the first rebrand for Fox's since 2014. The brand said it would "reinforce its image of a trusted, high quality, premium brand and bring a more consistent look to its varying ranges".
The relaunch will be backed by a massive TV ad campaign centring on "making the most of those little biscuit moments" and talking up the brand's ingredients. It will run until December, with Fox's claiming it will reach over 42 million adults.
The brand was "well-loved" but had "an opportunity to improve the consistency with our branding across our ranges and enhance key parts of the portfolio to make them taste even better", said Fox's marketing director Muriel Breugelmans.
It comes a matter of weeks after it was revealed Fox's was to be offloaded by 2 Sisters Food Group to Ferrero after struggling to keep up with its competitors in the supermarkets over the past year – sales of Fox's branded biscuits were down 4.5% over the year to 5 September 2020 [Nielsen].
The deal will make Ferrero the fourth-biggest business in the UK's sweet biscuits category, behind Pladis, Nestlé and Mondelez.