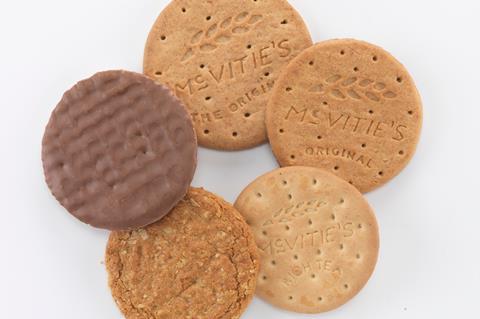 McVitie's is slashing the sugar content across a swathe of its biscuit brands.
It has reformulated the recipes for Original Digestives, Rich Tea, Chocolate Digestives, Hobnobs, Chocolate Hobnobs (milk and dark), Caramel Digestives and Ginger Nuts – all of which account for more than half the McVitie's brand's UK sales.
Original Digestives, for instance, now contain 9% less sugar and 5% less salt.
The new recipes were "achieved through a careful rebalancing of ingredients to reduce sugar and salt, in order to get below, or as close to, Public Health England's target as possible while maintaining McVitie's distinctive taste", said McVitie's owner Pladis.
The changes had been tested with "hundreds of consumers, including a group of self-confessed McVitie's superfans", it added, "to ensure that the reduction in sugar could not be spotted".
"They even made sure the biscuits tasted exactly the same when dunked in a cup of tea and used a 'mechanical dunking arm' in the laboratory to record the time to break when dunked."
The move would remove 785 tonnes of sugar from Brits' diets every year, Pladis claimed.
"For years, we have been working on reducing sugar in the nation's favourite biscuits," said Pladis UK & Ireland MD David Murray. "It is an exceptionally complex process because our fundamental philosophy is that we will absolutely not compromise on taste or the quality of ingredients."
It comes after Pladis last year boosted the McVitie's brand with a duo of Granola Oat Bakes aimed at "making snack time healthier", which were billed as containing 35% less sugar than standard oat biscuits.