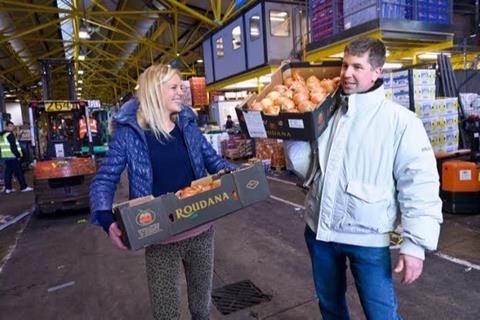 Rubies in the Rubble turns 10 in 2022, and like any parent, I can't believe how quickly the time has passed! While making plans to celebrate this milestone, I've also been taking the time to reflect on our story and where we first began a decade ago.
We've come a long way since my early morning dashes to save bin-bound veg, but I remember my first trip to a wholesale fruit & veg market like it was yesterday. I was sitting in my living room reading an article about the volume of fresh food that is wasted before it even hits the supermarket shelves. The numbers didn't add up: how could a third of food globally be wasted?
I had to see it for myself, so I set my alarm for a 4am visit to one of London's bustling fruit & veg markets. I remember being elated at this hive of late-night activity, full of people sorting and sifting through amazingly colourful produce, all before the sun came up. At the same time, it was a sobering visit, as this was the first time I saw pallets of fresh produce being thrown away for reasons I couldn't understand.
I took masses of discarded produce home, thinking, "there must be something I can do with these vegetables – they're like diamonds in the dust… rubies in the rubble".
This first venture was the start of my passion for challenging the food system. And the more I explored, the more I wanted to change. I used family chutney recipes to fill old jam jars and headed to market to try and sell them. It was such a buzz when we sold out by 2pm.
Soon, once enough fervour about our range had accumulated, we took the plunge and built a small kitchen in a local wholesale market, and bought a clunky white van – our chutney parlour on wheels, which doubled up as an occasional makeshift bedroom.
Those pioneering days of stirring hot pots of chutney and trying to get ahead of the seasonal waste make up the entrepreneurial fabric Rubies was built on. It's been amazing to see transformative shifts in consumer attitudes towards food waste, moving from what was once considered an invisible problem to being paramount in combatting the climate crisis. Our story serves as a reminder that we should continue to challenge the norm and dare to be different, in order to stand out and step forward.