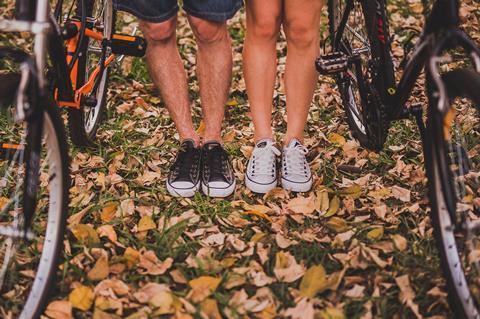 What's the most valuable skill to have when you're starting and building a business? I struggle to answer this. There are a long list of useful skills and attributes, but no one will have or need all of them, so a list isn't helpful.

It can be more helpful to give an example of how this type of person might behave. And last week Nick, my husband and Rude Health co-founder, unwittingly gave me the best example yet.

Last week 14 Rude Healthers cycled from our London office to our Amsterdam office. Why? Because it sounded like fun, and a great way to raise money for Chefs in Schools (look it up, a really inspiring charity).

We aren't all hardcore cyclists, far from it. Two of the team had last been on a bike when they joined the World Naked Bike Ride through London a year ago, so it was a challenge for everyone.
Nick took the challenge to the next level by choosing to do the ride on his Brompton. There was no reason for this and no reward, he just felt like it, and having committed, he wasn't going to renege. Nothing short of hospitalisation would have stopped him and I suspect it nearly did.

Because of his ridiculous choice of bicycle he was at the back of the pack for almost all of the ride. This is a very uncomfortable place for someone who can turn weeding into a competitive activity and never, ever loses. Two things turned a potential failure into a huge success:

First, Nick moved the goalposts, so that winning in this situation became a competition between Nick and his trusted Brompton, rather than with everyone else.

Second was team support. Everybody was completely invested in the success of the whole team, encouraging one another along the way. Three of the team had even got friends and family to meet them en route to cheer them along. And everybody was rooting for Nick.

So my recipe for the characteristics to build a business: you love a challenge. You don't give up. You know how to motivate yourself when things get tough, and crucially you can build a team who will make the impossible possible. Because however brilliant you are, you can't do it on your own and it's much more fun with other people.