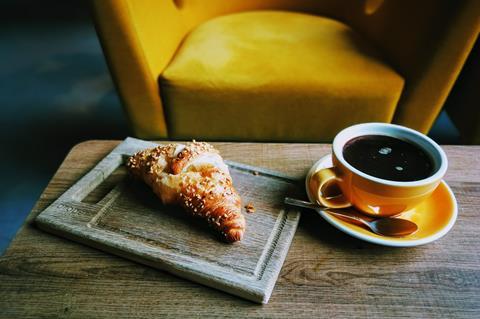 In the four action-packed years that I've been writing this column, we've moved offices, doubled in size, opened an office in Amsterdam, launched 46 new foods and drinks, said goodbye to 17 foods and drinks, and opened a café.

Of all the amazing changes and developments, the café stands out, for bringing so many unexpected benefits. It landed in our lap, and it's been and remains a complete joy. When I say it landed in our lap, it was a case of finding a way to fill some space in our Fulham office (we thought we had too much, but have subsequently rented more).

We created it from scratch, designing it (I'd change it if I did it again), coming up with a menu, on which the original cheese & kimchi toastie is still a top-seller, and getting it off the ground. We aimed to create a brilliant local café that embodies everything the Rude Health brand stands for: joyous, real food. I think we've achieved that.

What I didn't foresee is how valuable it is for so many more reasons, all to do with being connected to food. When we invite customers, partners, advisors and friends to the café it is a completely different experience from inviting someone to the office. They get to experience what we believe in and what goes into the Rude Health brand, through enjoying the food we serve.

As well as our many regular customers, we've hosted buyers, trained supermarket teams in fermentation, put on supper clubs for a veg box business, held endless meetings and organised a lot of events.

And now, the café staff are influencing the rest of the business. They are driving all sorts of sustainability initiatives and creating partnerships with aligned brands. Meanwhile the head chef is also our secret sales weapon, using his barista skills and expertise with our dairy alternatives, to show cafés how to get the best out of them, as well as putting our planned innovation to the test, to make sure we've got the frothing and blending just right.

In many ways the café mirrors my experience of the whole Rude Health journey - full of spontaneity, serendipity and determination, with a wonderful team by my side.