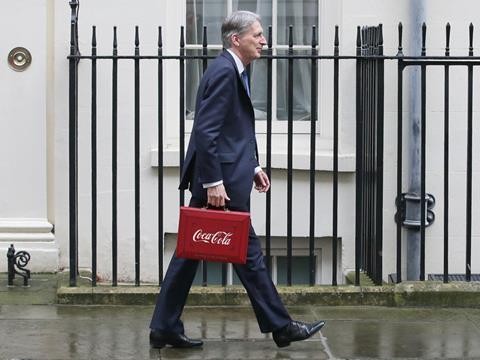 The countdown is on. From next April, Spreadsheet Phil, or whoever's replaced him at No 11 by then, will take 24p for every litre of pop sold in Britain with 8g or more of added sugar per 100 millilitres, and 18p for every litre with between five and 7.9g. He must be rubbing his hands with glee.

The tax bill could run to hundreds of millions of pounds. The five bestselling full-sugar pop brands would owe the Exchequer an eyewatering £204m based on the past year's sales through grocery if the levy were already in place, according to our analysis based on Nielsen data [52 w/e 18 March 2017].
No prizes for guessing who's most exposed: the 515 million litres of red Coke sold by the supers in the past year would amount to £123.6m in tax. The 319.2 million litres drunk in restaurants and pubs last year [CGA 52 w/e 31 December 2016] would add another £76.6m to Coke's potential tax bill. That's £200m; not far off a fifth of Coke's total value to grocers.

But all this is based on a big assumption: that Brits will be drinking as much sugary pop next year as they are now. And that's unlikely. Since the tax was announced last April, the sector has seen huge changes: new recipes to cut sugar, the prioritisation of zero-sugar drinks in ads, swapping added sugar lines with those using tax-exempt fruit juice and a growing focus on water, to name a few.
Brands say they were doing this long before any talk of a sugar tax. But the looming levy has served as a catalyst. "A number of manufacturers including Britvic have been removing sugar for years," says Nigel Paine, commercial operating director at Britvic, which claims almost 70% of its volumes are now low or no-sugar. "It helped us continue what we were doing. For others, it's accelerated the shift to low sugar through reformulation."
"For some the sugar levy has accelerated the shift to low sugar through reformulation"
Examples abound. Tesco said in November it was cutting sugar from all its own-label pop to below the 5% tax threshold. Lucozade Ribena Suntory followed suit, pledging to make all its added-sugar lines tax exempt. Vimto owner Nichols and Irn-Bru and Rockstar owner AG Barr have made similar pledges. Coca-Cola European Partners has spent £14.5m on marketing Coke Zero, reformulated and renamed Coke Zero Sugar last summer, fuelling 25.6% growth [IRI 52 w/e 25 February 2017].

But for Britain's bestselling soft drink brand, reformulation is out of the question. "Coke will remain Coke," says CCEP marketing director Simon Harrison. "What we're not going to do is tinker with the recipe of Coca-Cola Classic. Millions of people have loved it for 130 years and people will continue to love it. For those people who like the taste of Coke but want a zero-sugar proposition, we have Coke Zero Sugar."
The feature continues below infographic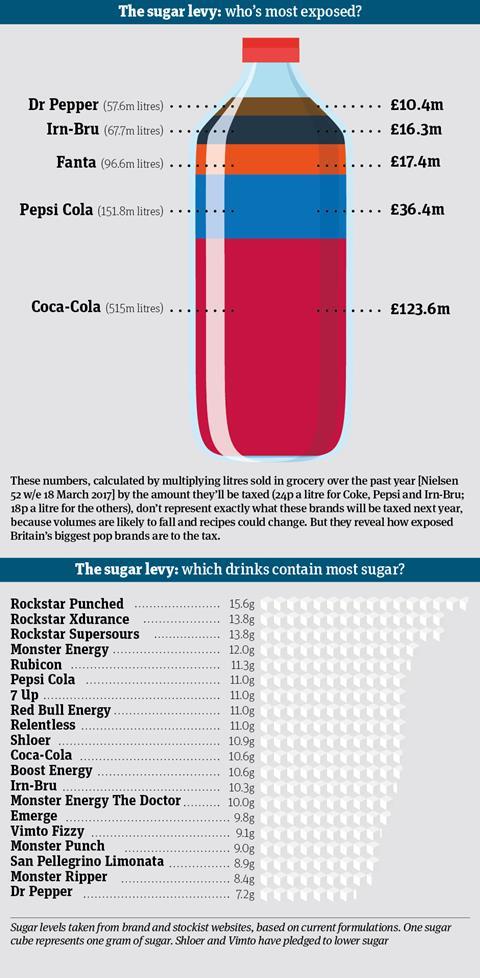 Zero v Max
With Zero Sugar now taking centre stage in Coke's marketing, CCEP is finally following a stategy that Pepsi has been using for over a decade. "We don't market (full-sugar) Pepsi Cola above the line at all and have advertised on zero-sugar Pepsi Max only since 2005," says Paine. It shows: 'maximum taste no sugar' Max accounts for well over half of Pepsi's grocery sales: £272.3m, having grown 13.5% in the past year [IRI]. At £115.1m, Coke Zero is worth less than half the value of Max.

Pushing Zero Sugar and leaving Classic alone makes sense for several reasons. Not because Coke's recipe is somehow sacrosanct, as the brand would have us believe (its sugar content and ingredients vary across the world) but because of the risks, merits and practical considerations of each option.
"Coke will remain Coke. What we're not going to do is tinker with the recipe of Coke Classic"
Firstly, any recipe change would be the decision of the Coca-Cola Company, for whom CCEP produces and distributes Coke, and such a move would risk a similar backlash to the one that followed the decision to replace Coke with a new recipe in the 1980s. If they're the push factors in Zero Sugar's favour, the pull factors are just as compelling: CCEP says 92% of Brits are actively trying to cut their sugar intake and Pepsi has already proven the size of the opportunity for 'same taste no sugar' colas with Max. By switching its focus to Zero Sugar, the rivalry between Coke and Pepsi is set to intensify.

One thing's certain, says CCEP: it won't be coughing up the 24p for every litre of red Coke consumed in Britain once the tax kicks in. "We intend to pass the tax on to our trade partners," says Harrison. "The retailers set their prices. Our expectation would be that they'd then pass that on to consumers. The health experts and policymakers have made it clear: they expect a price differential between regular and no-sugar products."

It remains to be seen if this will actually happen. There is no legal requirement for retailers to pass the tax on to consumers, after all, and CCEP says it's still in talks with its trade partners on whether or not price parity across its full and no-sugar lines will continue once the tax comes into force. Others doubt that variants with differing sugar levels will ever be sold at different prices.

"How does a retailer manage having a red Coke and a Diet Coke at two different price points?" says Ed Jones, senior customer marketing manager at Nichols, which has undertaken to reduce the sugar content of all its lines to beneath the tax threshold before next April. "I just can't see that happening."
Price parity
Most big brands depend on price parity across their portfolios. "All Pepsi products are available at the same price in a retailer at the moment," says Paine. "We don't differentiate. If one is on promotion, the other is on promotion. We don't promote sugar any more or any less than no sugar. We at Britvic stand by there being choice for consumers. This isn't about us selling only zero-sugar products."

An extra 12p on a 500ml bottle of Coke or 6p on a 250ml can of Red Bull Original might not seem like a big deal, but the prospect of having branded chillers containing identical formats at different price points has brands rattled. "It would be a nightmare," says one source at a major manufacturer.

Nevertheless, in spite of all the hoopla about sugar in Westminster and the press, many Brits still plump for sugary pop given the choice. Red Bull 250ml cans and red Coke 500ml bottles are still by far Britain's bestselling single-serve soft drink SKUs (see left and right). Red Bull Original is up 8% on volumes up 10%, having put an extra £19.2m through the tills in the past year [IRI]. That's despite the stuff being 11% sugar. Monster Energy, which contains a similar amount of sugar, is up 6.3% on volumes up 6.8%.
Key to their success is that they don't just contain lots of sugar. They're also fortified with caffeine, taurine and B vitamins (the stuff that gives Red Bull its wings) and marketed on these ingredients' functionality. "Busier lifestyles and increasingly time-poor consumers mean that the market is looking for more all the time," says Red Bull head of category marketing Gavin Lissimore. "Functional products that deliver added value for a range of occasions, such as multi-vitamins, protein or an energy boost, continue to be popular."

In some cases, even traditional full-sugar pops are still in growth. Fentimans Curiosity Cola - inspired by the 'traditional colas of yesteryear' - has seen sales surge by more than a third to £2.1m [Nielsen]. While Dr Pepper's value has dipped 1.6%, volumes have inched up 0.4% [IRI]. Perhaps most striking is standard Pepsi's 2.6% rise; volume is up 0.3%.

Surprising, given standard Pepsi receives zero marketing investment. That a litre of Pepsi sells for an average of 32p less than red Coke could be helping to lure drinkers away from the 'Real Thing,' although CCEP points out that most of red Coke's decline is down to drinkers switching to Zero Sugar. Britvic claims full-sugar Pepsi has benefited in grocery from growth in restaurants and pubs, where standard soft drinks have a greater share of overall soft drinks sales.

"I wouldn't shy away from the fact that there's growth in sugar, but it's not the majority of it," says Paine. "The Pepsi brand overall is continuing to gain traction away from home in new environments, in restaurants and so on. The big one for us was signing up Subway [previously a Coke contract] last June. That's an enormous amount of people getting to taste and sample the brand out of home and then looking for it in grocery."

How bothered drinkers are about sugar content depends on the occasion, says Jo Sykes, marketing director at SHS Drinks, whose brand portfolio includes Bottlegreen and Shloer. "Our consumer insights show that choice of soft drink is driven primarily by the consumption occasion," she says. "Many consumers are creating a credit/debit system whereby they opt for 'healthier' choices during the week, particularly at lunchtime, then treat themselves at weekends, in the evenings and on social occasions when they regard the sugar content as less of an issue."
The feature continues below infographic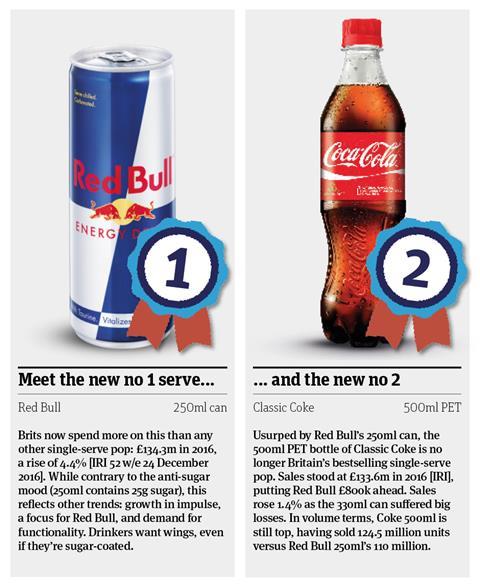 Adult soft drinks
See the aforementioned growth in Fentimans and strong performances from brands such as Cawston Press and CCEP's Appletiser, in spite of sometimes high sugar levels, for further proof of adult soft drinks' resilience. NPD and new formats are helping to fuel growth. For example, Appletiser rolled out sleek new 250ml cans in February to appeal to drinkers looking for on the go refreshment. Bottlegreen is going after the lunch crowd with new range Sparkling Infusions, which come in 250ml cans. Innocent's Bubbles fruit/springwater range also comes in the 250ml can format.

But it's what's inside the can that really counts. "Sales are up by 150% year on year, repeat rates are higher than average in the category, and above all we're getting really positive feedback from drinkers," says Stephanie Case, Innocent head of marketing for the UK & Irelan. "From a product perspective, it's unlike anything on the market; we know that most other soft drinks have either sugar or sweeteners (to create taste) and we've managed to create an absolutely delicious product that also delivers on our brand promise not to use any of that."
Natural cues
Such natural cues are crucial to both drinkers and the taxman. To drinkers, products perceived to be minimally processed and containing natural ingredients are generally regarded as being better for you than those containing synthetic sweeteners such as aspartame and acesulfame K (used in products such as Coke Zero Sugar and Pepsi Max). Naturally occuring sugars will not be taxed under the levy, so drinks sweetened with fruit rather than added sugar are exempt.

Hence Shloer's announcement earlier this month that from May all 11 of Shloer's variants will contain no added sugar ingredients to comply with the impending levy. "The change is being implemented well ahead of next year's compliance deadline," says Sykes at SHS. "It's been achieved through the use of real fruit juice to enhance the quality and flavour of Shloer while ensuring it remains free from artificial colours, flavours and sweeteners - a status that plays an important role in Shloer's premium brand proposition."
"In light of the sugar tax we may take out a little sugar but we'll never use artificial sweeteners"
Indeed, adult soft drinks carry a significant premium over the rest of the market, selling for an average of £2.06 a litre, compared with just 89p for standard carbonated soft drinks [IRI]. Brands such as Fentimans, Karma Cola and Belvoir fetch even higher prices. Such brands' natural credentials are crucial.

"Our pressés are a 'permissible indulgence' made with fresh fruit, flowers and spices, taste delightful and are better for you than standard carbonates because they're natural," says Belvoir Fruit Farms MD Pev Manners. "In the light of the sugar tax we may well take a little sugar out but we will not be sacrificing taste and we'll certainly not be using artificial sweeteners, which we distrust and think can have the opposite effect on health."

Manners and others in the burgeoning 'craft' soft drinks scene point to studies such as a recent report by Imperial College's School of Public Health that suggest artificial sweeteners could in fact be promoting obesity by interfering with the way the brain processes sweet flavours.
Zero's a hero as all other Cokes go flat
Artificial sweeteners
"There's concern that artificially sweetened beverages might stimulate sweet taste receptors," says Manners. "This, together with the consumers' awareness of these drinks' low-calorie content, lulls them into a 'false sense of security' and may result in the consumption of other compensatory foods, thus contributing to obesity."

The evidence is not conclusive, but the idea that 'natural' trumps 'artificial' is certainly gaining traction and driving growth for smaller startup brands marketed at younger, hipper, more affluent consumers. "Consumers are certainly looking ever more closely at the ingredients and calorie content of their food and drink," says Graham Carr-Smith, founder of sparkling cucumber-flavoured spring water brand Qcumber. "Consumers are also looking for 'natural' products - they're wary of the word 'artificial'. We certainly don't put ourselves out there as a 'health drink' per se, but all-natural Qcumber is most definitely healthier than many other offerings available."
"Consumers are looking ever more closely at ingredients. They're wary of the artificial"
Aussie brand Bundaberg, which is growing listings in the major mults and wholesalers, contends that such credentials strike a particular chord with younger consumers. "Millennials are turning away from mainstream brands in preference of smaller names that better cater to their needs," says a spokeswoman. "This is the most influential generation of consumers, so it's important for brands and retailers to be both proactive and reactive to millennials' demand for 'more.'"

It's perhaps not surprising that the same demand for quality and provenance that's been growing in the wider grocery market is now informing soft drinks' marketing. For Duncan O'Brien, founder of the Dalston's range of 'hand-mashed' soft drinks, this is a consumer reaction to the mainstream products that dominate the market.

"The industry is dominated by low quality, highly sugared drinks on the one hand, and high-intensity sweetener-based drinks on the other," he says. "We're challenging this by not relying on high intensity sweeteners like aspartame and sucralose. Instead, we've focused on better quality raw materials and reducing sugar to what we see as reasonable levels. Getting rid of sugar entirely is not the answer as consumption in moderation is healthier than consuming too many artificial ingredients. We're working on a sugar-free range that doesn't use any high intensity sweeteners - but it's a challenge!"

Just ask CCEP, which axed 'naturally' sweetened (with stevia) lower-calorie Coke Life this month after sales went into free fall less than a year after launch in 2014. Life hit sales of just £7.2m in the past year [IRI]. That's despite a costly reformulation a year ago that cut Life's sugar content by 15% but, crucially, didn't bring it under the sugar levy threshold.
"Coke is losing relevance as people are looking to healthier options for refreshment"
"It can't be a huge surprise that Coca-Cola has confirmed its plans to withdraw Coke Life from the UK," says Andy Paul, MD of brand design agency The Cabinet. "After all, do consumers really understand what Coke Life is, what its unique benefits are and its position alongside Diet Coke and Coke Zero Sugar? Let's face it, Coke is losing relevance in markets where consumers are increasingly looking to healthier options for refreshment."

Coke might be losing relevance, but only a fool would write off the world's biggest soft drink. It's still Britain's only £1bn-plus grocery brand, after all. "Life was always going to be big to begin with because of the sheer distribution power of Coca-Cola, but the opportunity just wasn't big enough," says Karen Connell, founder of branding consultancy the SmallMighty.

"They innovated to create noise and replace the conversations with retailers about trade spend. But it fooled no one. Part of the problem is you have one company [The Coca-Cola Co] building the brand and another [Coca-Cola European Partners] building distribution. The two don't necessarily have the same goals. Coke needs to invest in brand Coke. I don't mean full fat. There's no reason why Diet Coke and Zero can't appeal to younger consumers like their rivals."

Of course CCEP is a portfolio business; it's looking to tap demand for more natural, 'healthier' soft drinks with other brands, such as Glacéau Smartwater and organic herbal tea brand Honest, which was launched into cafés and other food-to-go outlets last year. "It really taps these health and wellness cues," says CCEP's Harrison of the brand, which was launched in 600 Caffè Neros and the Co-op late last year.
The feature continues below infographic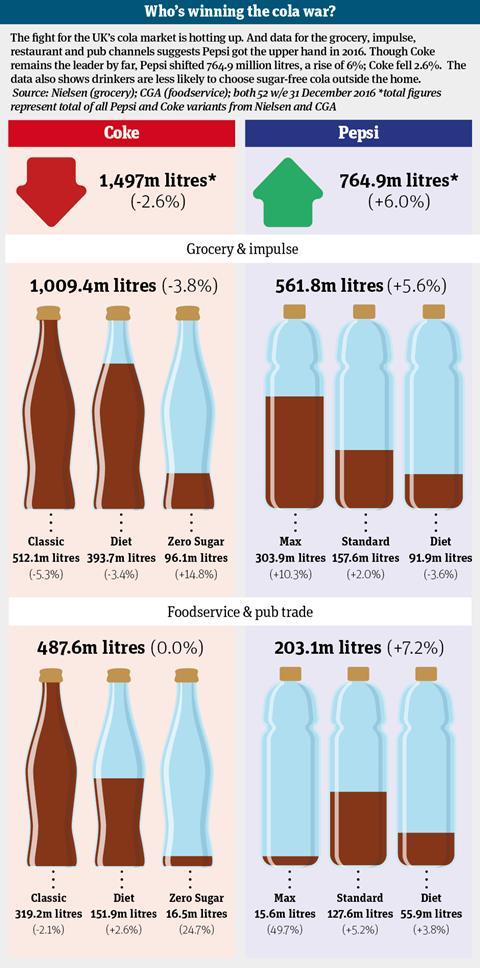 Natural refreshment
"We didn't launch in a mass market way. We launched in handpicked, out-of-home outlets to target the right consumers. The Co-op gives us excellent access to city centre office workers and education and work places are big opportunities also. We know there are lots of people who drink bottled water to keep hydrated but at a certain point in the day want something fruity, refreshing and natural. There's nothing in this product you wouldn't find in a good kitchen."

CCEP isn't the only giant pinning its hopes on 'natural' refreshment.

Britvic believes its Purdey's brand could one day be as big as Red Bull, so confident is the manufacturer about the opportunity for natural, more feminine alternatives to the male-focused and added sugar-laden energy drinks that currently dominate the market.

"What we're seeing in the energy category is growth from no-sugar and growing pressure on the sugar end of it," says Britvic's Paine, pointing to the £50.4m growth that sugar-free drinks contributed to the sports & energy drinks market's £87.5m growth in the past year [IRI]. "We think there's an alternative way to consume energy."

That doesn't mean zero sugar. Purdey's contains 6.3g per 100ml (about the same as the current formulation of Fanta) but, crucially, all of that comes from fruit, making the drink exempt from the sugar levy. It comes in two variants, Edge and Rejuvenate; both are marketed as natural alternatives to energy drinks by virtue of their high levels of vitamins (particularly B6 and 12) and minerals.

"It's a fruit juice with spring water with vitamins in it," says Paine. "I'm not suggesting we can convert all those gamers but it can widen the energy drinks category to those who would otherwise reject it. If we go back a year, Purdey's was available in one flavour, in a bottle. What we've done so far is create another flavour. We'll need to continue to look at flavours and how it's served because you can't get it in certain environments because it is in a bottle. We see the opportunity for Purdey's as global."

Purdey's is by no means the only brand pitched as a natural alternative to energy drinks. Other examples include Scheckter's Organic Energy and Youth Energy, while another, founded by former Coca-Cola and Red Bull senior executive Ahmed Elafifi, is positioned as the ultimate antidote to all the caffeine, taurine and sugar of traditional energy drinks: a relaxation drink.

"Tranquini is the first global relaxation drink, offering a healthy and convenient way to relax," claims Elafifi, whose range comprises six variants including hibiscus, hops & malted barley and green tea flavoured drinks. "It contains a unique blend of chamomile, lavender and lemon balm extracts plus theanine from green tea. These active ingredients have scientifically proven efficacy in reducing stress and anxiety, without causing drowsiness. Tranquini contains carbohydrate fructose and has at least 40% less carbohydrate content of most natural juices or regular sugar-based soft drinks."
Smoothies up as juice stays in rough spot
Exotic ingredients
Use of such exotic ingredients is growing amongst juice and smoothies players too. Innocent's Super Juices range is a case in point; comprising three variants blending fruit, veg, ingredients including goji berries, ginger and spirulina.

Again, functionality is crucial. "The success of functional drinks with added benefits within chilled juice is particularly exciting for us," says Case at Innocent, which has suffered a sharp decline in its juice sales in the past year (see p60). "We're confident this will inspire growth back into the not-from-concentrate juice sector. The three delicious recipes, boosted with vitamins C & E - two of the best known antioxidants - and vitamins B1, B2, B3, B6 to help reduce tiredness and fatigue, are perfectly positioned to help make this trend more accessible and reinvigorate the category."
Juices & smoothies
Juice could certainly do with some help. Juice and juice drinks take-home sales have slipped 0.9% on volumes down 1.8% [Kantar Worldpanel 52 w/e 1 January 2017].

"There is a decline in bogstandard breakfast juice but premiumised juice is still performing well with dual flavour and organic offerings," says William Watkins, MD of Fruella juice brand owner Radnor Hills. "The 1-litre carton traditionally sold in supermarkets has had a difficult time, but some sectors of the juice market are doing well. Ongoing premiumisation is helping to continue to develop high-end juices."
"We're sure functional drinks with added benefits will inspire growth in NFC juice"
Jeremy Gibson, marketing director at Tropicana brand owner PepsiCo, is clear on what (and who) is to blame for fruit juice's woes in recent years. "The chilled fruit juice category was in growth from 2010 to 2014, however the category has declined due to a number of contributing factors, including the media backlash against juice," he says. "The fruit juice debate in the media has bombarded consumers with differing, and often conflicting, dietary advice, making something that should be simple to understand seem very complex. Headline grabbing claims that a glass of fruit juice is 'unhealthy' are untrue and unhelpful."

In response to this and the brand's 3.1% decline on volumes that have remained flat for the past year [IRI], Tropicana is running its Little Glass campaign, aimed at spreading a familiar message using the sort of language other players are using to communicate functional benefits: that 150ml of juice provides positive nutrition and is a source of vitamin C, B9 and potassium. Innovation is crucial, adds Gibson, pointing to NPD such as Tropicana's Morning Boost smoothie range and the Naked smoothies brand's move into coldpressed juice.
"The fruit juice debate in the media's bombarded consumers with conflict- ing dietary advice"
"We've added to the existing Naked portfolio with on-trend flavours like Protein Tropical Punch, which contains 20g soy protein, and Berry Veggie, which contains 60% vegetable content, and Acai Machine. Smoothies attract a younger audience; they like the fact smoothies provide a way to get fruit and veg into their busy lifestyles."

Innocent and others have similarly busy NPD pipelines, diversifying into new sectors such as coconut water, which has seen overall volumes surge by 26.8% in the past year [IRI]. Market leader Vita Coco has seen value in the supers dip 5.5% on volumes up 4.8%, partly as a result of growing price competition with newcomers Innocent (up 74% to £19.9m) and Naked (up 87.5% to £6.7m).

Many see the development of new products containing coconut as a key opportunity for the juice sector. "Although pure juice and juice drinks have been heavily affected in recent years, growth in NPD areas such as no added sugar and coconut water have attracted consumers back to the category thanks to the associated health benefits," says Princes marketing director Jonathan Barr.

There's another crucial opportunity, he adds: "Out-of-home consumption has grown considerably over the past decade, including by 3.3% in the last year alone. This presents an opportunity for the historically in-home focused fruit juice market to expand into new usage occasions, and we are already seeing evidence of this in a shift towards single-serve formats designed to meet growing demand for drinks on the move."
How high can lower sugar energy fly?
Price inflation
This trend, in combination with the development of premium lines and more general inflationary pressures, is starting to reverse the deflation that defined the sector in 2016. "We're starting to see a bit of inflation coming in," says Britvic's Paine. "Part of that, obviously, is that we're seeing price moves in the market and people looking for better quality. The other thing is around what we call 'immediate refreshment' - anything under 750ml single usage, which has a higher average realised price per litre."
This is a key focus for Lucozade Ribena Suntory, says market strategy & planning director Mark Sterratt. "Tesco, independent retailers, cafés and coffee shops are really meeting that on-the-go occasion, and we see that as a big opportunity in terms of driving not only volume growth but value growth," he says. "Shoppers will pay a premium for drinks on the go. There are also some interesting dynamics in terms of promotions that are starting to affect prices. Sainsbury's are doing a more everyday value strategy rather than going high/low, for example."

With shoppers increasingly shunning sugar, the product mix in the grab and go chillers at the front of larger stores and in smaller independent retailers is changing, says Nichols' Ed Jones. "In the wholesaler network everyone from Booker and Bestway to Dhamecha and so on are being more and more supportive of giving space at a wholesale level to no-added-sugar drinks," he says. "Things like Vimto Remix, which is 100% no added sugar. Retailers need to start making informed choices as to what their soft drinks fixture looks like in readiness to the sugar levy kicking in. Some are already doing this. Vimto Remix and No Added Sugar are both front of store at Sainsbury's now. You can see similar buying signals coming from all grocery buyers now. They are reacting to growing demand for less sugar."
Berry nice! Could sweet protein help soft drinks?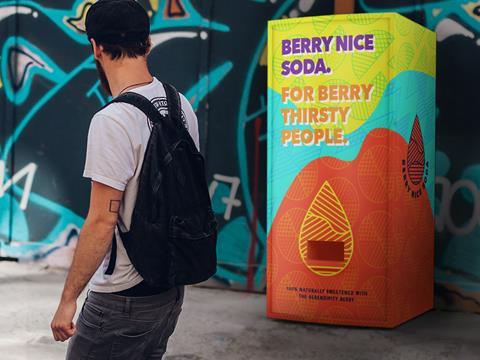 Sugar is under the spotlight, and many are looking to sweeteners to fill the gap. The Grocer tasked creative agency Tribal Worldwide to create a new soft drink that utilises natural sweet proteins.
Introducing Berry Nice Soda. It's named after the Serendipity berry, which the thaumatin protein, used to sweeten the drink, comes from. Gram for gram thaumatin is about 2,000 times sweeter than sugar, says Tribal, and has a zero glycaemic index, making it suitable for diabetics and not harmful to teeth.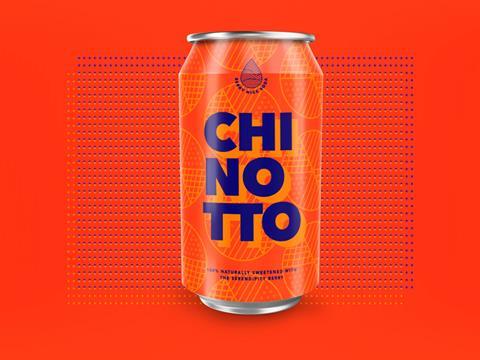 Berry Nice Soda is ultra cool with impactful and brightly coloured packaging to help it stand out in such a saturated market, says Tribal Worldwide London MD Tom Roberts. "We decided not to aggressively target health-conscious people; they already have coconut waters and almond milks. We decided to create a soft drink that might appeal to craft beer drinkers for occasions when they want a non-alcoholic drink."
It draws inspiration from, and shares a target audience, with craft beer by combining a great background story with a naturally produced product and intelligent use of technology.
"These elements could in turn help us make sure we are high on the casual refreshment wish list, and not just another mindless alternative to sugared water drinks to have during lunch breaks."
Bottled water
So is Nichols with the launch of Feel Good Infusions, which Jones describes as "new territory" for soft drinks: unsweetened spring water infused with fruit flavours. While unsweetened waters are still few and far between (Ugly Water was launched last year), many are blending juices with mineral water to tap the booming popularity of bottled water. It makes sense, given market performance: take-home sales have surged 7.8% to £450.6m on volumes up 11.5% [Kantar].

"Bottled water significantly outperforms the category this year," says Kantar Worldpanel analyst Sheely Kleiner. "Value has increased almost fourfold compared with 20 years ago. By contrast, lemonade has almost halved in value since 1996. Bottled water is now bought by seven out of 10 UK households, overtaking cola for the first time in household penetration; 1.7 million fewer baskets contained colas this year, with younger shoppers primarily driving this decline as they opt for water and mixers, which both recorded strong overall growth this year."
"Bottled water has over-taken cola for the first time in terms of house-hold penetration"
Bottled water players are expecting further growth once the levy kicks in. "Danone Waters is in a leading position within the market as our entire range is below the sugar tax levy since last year," says John Letford, sales development controller at Volvic and Evian brand owner Danone Waters, adding that new flavoured water products have been a key driver of growth for the sector in recent years. "Volvic lost some distribution, driving its overall decline (in our March Britain's Biggest Brands report with Nielsen, sales were down 5.3% to £179.3m). However it's worth looking at this closely. Regarding our flavoured portfolio, while we have seen overall decline, our sugar-free range has experienced significant growth of 33.9%. This is in line with the consumer trend around cutting down on sugar intake."

As Danone moves in on the territory of CCEP and Britvic with a growing roster of flavoured waters, others are sticking to the pure stuff. And it's paying off, says Barr at Aqua Pura owner Princes. "Aqua Pura is the fastest growing of the major British natural mineral water brands," he says quoting IRI data for the year ending 27 February 2017.

Next month Princes will relaunch the brand with new pack designs trumpeting the water's Cumbrian provenance, and new formats. "Our commitments to both quality and value for money have driven sales and helped us to build exciting momentum ahead of our brand relaunch," says Barr. "After price, the key driver for water purchase is occasion, and this insight has been used to inform the relaunch, with the introduction of new pack formats, including a new 750ml sports cap."
Squash gets squeezed as sales fall 4%
Functional water
Format is crucial in bottled water, says CCEP's Harrison. "We have invested a huge amount in format innovation and will continue to do so," he says. "The most recent one and the most interesting is the 850ml sportscap on Smartwater. It's a great format for those who take it to the gym, who find the 600ml too small. Getting the right format is so important."
Smartwater and others are also hoping to convince drinkers that their water is worth paying slightly more for because it will do more than merely slake a thirst. CCEP does this by adding electrolytes to Smartwater; challenger brand Aqua Carpatica is attempting to play the same trick with claims that it is the world's first naturally nitrate-free and low-sodium mineral water. The brand rolled into Ocado earlier this year.

"UK functional water has exploded," says CEO Jean Valvis. "Health & fitness-focused shoppers are increasingly discerning when it comes to bottled water and are choosing functional offerings with added electrolytes and minerals to aid athletic performance. However, this can often come at a cost as brands synthetically add these ingredients as part of the production process. Aqua Carpatica is packed full of naturally functional properties, supporting overall health and wellbeing. It's not just H20, it naturally contains electrolytes and minerals, including calcium, magnesium and potassium, which are vital for hydration."
Soft drinks category snapshot 2017
Innovation
Of course, chiller and shelf space in the supermarkets is finite. As retailers give over more and more space to these new challengers, soft drinks' old guard are facing mounting pressure to stay relevant, with new, lower-sugar products. CCEP says it's launched no fewer than 28 low or no sugar drinks since 2005 and its rivals make similar claims.

AG Barr points to its recent launch of 'no-sugar fuller flavour' Irn-Bru Xtra, big can zero-sugar energy drink Rockstar Revolt and Rubicon Light & Fruity as proof of how it's adapting. Meanwhile, Red Bull is characteristically bullish about its sugar-free offering, which is worth £41.5m. "Red Bull Sugar Free 250ml is the number one diet energy drink and the biggest selling energy drink within total diet drinks," says Lissimore.
"No-sugar energy drinks are still a small element of the category. Sugar still has a role to play"
How long it can retain that crown remains to be seen. CCEP's zero-sugar energy drink range Monster Ultra is now worth more than £20m to retailers, and Lucozade Zero has racked up an impressive £29.1m in its first year on the shelves, making it the fastest growing product in the sports & energy drinks sector and the year's biggest launch.

"Lucozade Zero plays straight into the biggest consumer trend we're seeing at the moment," says Sterratt. "We're a huge brand already, but by offering a zero-sugar variant we are able to bring new people into the brand. When you look at the category, low and no-sugar energy drinks are growing ahead of the category. It's still a small element of the category so full-sugar drinks still have an important role to play and you still have to offer consumers a choice."

Some might argue that Lucozade Ribena Suntory is narrowing choice by changing the recipes of all its products in order to beat the tax man. It could come back to bite it, however. Some have taken to Twitter to complain about the new version of Lucozade Energy, which rolled into store this month containing almost half the sugar of the original version (a reduction made possible by the addition of aspartame) and is now tax exempt. Type-one diabetics who in the past have used Lucozade to treat hypoglycaemia have also voiced concerns. To no avail; lower sugar versions of all Energy products will roll out in the summer.
Innovations in soft drinks 2017
Consumer backlash?
Some contend that a certain level of grumbling is inevitable, but likely to be short-lived. Others say reformulation should be a gradual process. "It should be done in stages so it's not such a shock to the taste buds," says Jones at Nichols. "We and others are doing it in two or three stages to buy time before the tax comes in. The tax has served as a catalyst for a journey we were already on."
"Reformulation should be done in two or three stages so as not to shock the taste buds"
Demand for products reformulated with natural sugar alternatives persists, even if CCEP's stevia-sweetened experiment Coke Life has failed. There is growing interest in the development of natural sweet proteins from tropical plants; others suggest that substances known as inulins, naturally occurring fibres that are digested in the colon so do not affect blood sugar levels, could get wider pick up as a natural sugar alternative.

"I would say we want to make healthier drinks, not health drinks, and there is a real difference between the two. Last year we reformulated our ginger beer and cola to under the sugar tax threshold using chicory root fibre (the most commonly used inulin)," says Dalston's O'Brien. "We put a solid amount of work into the recipes but would like to bring out more drinks this year too."

Not surprisingly, CCEP claims to have put an even greater amount of work into reformulation. "We've invested £30m over the last five years on reformulation and product development of low and no-sugar products since 2005," says Harrison. "Forty three per cent of the Coca-Cola we sell is sugar-free. To get to that position it's taken a huge amount of investment. And 39% of all the products we sell in Great Britain are low sugar or zero sugar. This is an area that we're going to continue to put a huge amount of focus on."

Good thing too. Britain's biggest soft drinks manufacturer now has less than a year to escape a tax bill that could run into several hundred million pounds.