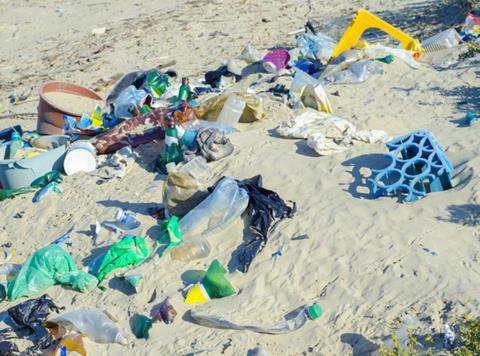 Even in today's extraordinary political times, few would have bet on an alliance between Scottish first minister Nicola Sturgeon and soft drinks giant Coca-Cola.
In February, Coke emerged as an unlikely supporter of the controversial deposit return scheme (DRS) after months of opposition. Its stance became even more significant last week, when the Scottish government announced plans to defy anger from retailers and suppliers and press ahead with the scheme. So why has Coke had such a change of heart over DRS and will England and Wales be next?
Coke's move comes two years after it slammed DRS in a Zero Waste Scotland (ZWS) consultation. "DRS would add cost, unnecessary administration costs and complexity for Scottish and other businesses," it said. "The whole beverage industry in Scotland, from alcohol to soft drinks and even dairy could see reduced revenues if consumers simply cannot afford to buy the same volume of drinks once the deposit value has been added to the price." Earlier this year, a Sky investigation even accused it of secretly masterminding plans for an industry "fightback" against DRS.
DRS: The numbers
One off set-up cost predicted at £35m, with annual costs for operators up to £17m
Consumers predicted to lose up to £24m in unredeemed deposits
System income of up to £75m
Local authorities forecast to save £13m a year from costs such as litter and kerbside collection
Source: Zero Waste Scotland report 2015
Yet just weeks afterwards, amid months of negative publicity about Coke's position from the likes of the Daily Mail, the Murdoch media empire and NGOs including Greenpeace, came February's bombshell. Coke told The Grocer it was willing to support a trial of such a scheme in the UK providing it was not in isolation. And last week Coke "applauded" the leadership of the SNP for its pledge to bring about a "step change" on waste through DRS.
Although there will be a consultation, ministers appear to have made up their mind already on the back of a 2015 report claiming it could lead to a huge uptake in recycling.
Sources suggest it could be several years before a system is ready to launch. But retail leaders are already fuming. They point to the collapse of AG Barr's 100-year-old bottle recycling scheme in 2015, which it deemed no longer financially viable, as evidence that DRS should be dumped in the landfill site for barmy, expensive policies. SGF chief executive Pete Cheema describes the decision as "atrocious", while the ACS predicts a "massive burden "for small traders, while claiming valuable income will be robbed from local authority recycling coffers.
The BRC also claims any plan to "superimpose" DRS on top of kerbside collection lacks persuasive evidence, pointing out that of all the countries that have tried DRS such as Estonia, Norway and Sweden, only Germany adopted such an approach and it came at an "exorbitant cost".
20p charge on a pint of milk
The Scottish Retail Consortium claims the proposals will directly result in price rises on the shelves. "DRS places a significant financial cost on consumers and business, with smaller retailers in particular hit," says a spokesman.
"As well as increasing carbon emissions from increased retailer and consumer journeys, a DRS would undermine existing recycling infrastructure and take away focus from measures to boost overall recycling. Consumers will be forced to pick up the cost. For example, a 20p charge would be a 44% rise on a pint of milk."
The BSDA, which has recently toned down its language following Coke's stance, last year estimated DRS could add £1.40 a week to the cost of consumers' milk purchases and £1.20 to the cost of a six-pack of beer.
Yet something drastic has to be done to increase plastic recycling. Last year figures compiled from the Recoup UK Household Plastics Collection survey found only a third of plastic packaging in consumer products was recycled annually, with almost two-thirds sent to landfill or incinerated.
Although figures for recycling plastic bottles were better than some other products, sources admit they were still grim.
As ZWS predicts DRS could see return rates in the order of 85% to 95%, it is easy to see why even the likes of Coca-Cola may have had a change of heart. But a more nuanced interpretation of Coke's position reveals it is not exactly full square behind DRS either.
It insists any system must work alongside, not instead of, kerbside recycling. Coke calls for greater consistency of resources given to kerbside recycling, citing Wales, which has bucked the downward trend in recycling rates. It also wants Westminster to reform the existing system for producer responsibility, including a shakeup of the so-called packaging waste recovery note (PRN) system to incentivise suppliers to do more.
Plus, Coke calls for easily recyclable packaging design to receive a financial reward, with "more stretching targets to help drive behaviours".
Working in isolation
Yet there is a problem with operating a scheme in Scotland alone – namely the border with England. Among the most outspoken critics, Irn-Bru maker AG Barr has warned of the "very real possibility of cross-border trafficking of deposit-bearing containers".
So it may only be a matter of time before DRS comes to England and Wales. Many believe it is the next plastic bag tax and, despite Theresa May ruling out such a scheme, it has powerful supporters.
In July, new Defra secretary Michael Gove said he wanted the government to introduce DRS "as soon as possible".
Such backing suggests Sturgeon and her new-found allies at Coca-Cola may not be isolated on DRS for too much longer.