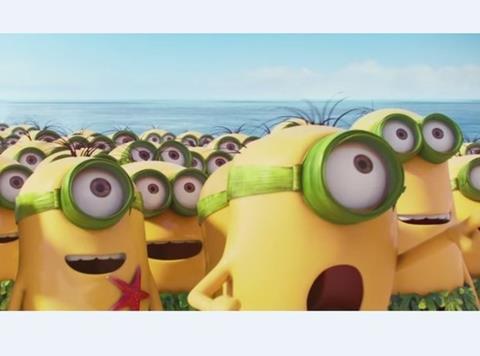 Move over Elsa, you've been ousted as the supermarkets' top toy license by the Minions.
Disney's Frozen - Britain's top toy license since last July - has been knocked off the top spot by Universal's mischievous yellow creatures, which have spun out of the Despicable Me movies and are currently appearing in their own film in cinemas.
Minions was the top-selling toy license in the grocery channel in June, according to retail analysts NPD Group, and the third best-selling in specialist toy retailers. The top selling Minions-related item in the supermarkets was Character Options' Flying Heroes launcher (rsp: £14.99).
"By being so different from the usual Hollywood blockbusters that feature super heroes, apocalyptic threats and good versus evil, the Minions movie with its anti-heroes has a fresh appeal and a feel-good factor," said NPD Group global industry analyst Frédérique Tutt, adding the characters' recipe for success was a "universal humour" that brought families together and appealed to most age groups.
"It resonates just as much with young children as with older generation," she said.
The success of Gru's hench-creatures will be no surprise to retailers, who have seen the number of Despicable Me and Minions products soar in the past year.
Ferrero is next month launching limited-edition Minions-themed Kinder Surprise eggs, and other brands to have taken on Minions licenses include Petits Filous Frubes, Capri-Sun, Green Giant and Honey Monster Loops.
Speaking to The Grocer last month, Asda CEO Andy Clarke described the Minions brand as an "unbelievable" success. "The amount of merchandise we are selling through is phenomenal – better than expected," he added.
Supermarket sales of movie-related toys have doubled in the past two years. Movie toys accounted for 17% of toys sales through the grocery channel in the year to 2 May, and were up 56% by value year on year and were twice that of the same period in 2013 [NPD Group]. Total grocery market sales have risen 6% year on year over the period, in line with the overall toys category.