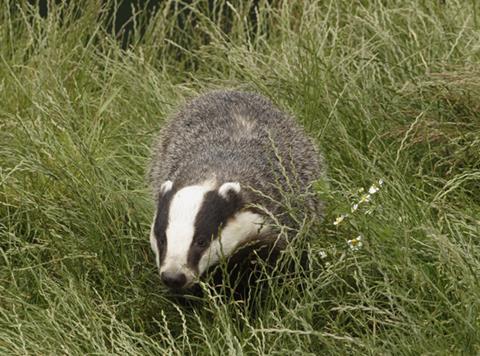 Major supermarkets have today insisted they will not allow their milk suppliers to be dragged into the badger cull controversy, following reports over the weekend that Caffe Nero is now refusing to use milk from cull areas.
The coffee chain made the move – first reported by the Mail on Sunday – after being pressured by anti-cull campaigners who urged it not to sell milk from farmers involved in the "cruel" trial and threatened to target its branches with protests.
This has been met with anger from farmers and has sparked concern that supermarkets could implement similar policies if targeted by campaigners.
But today Tesco, Morrisons, Asda and Waitrose told The Grocer they would not discriminate against dairy farmers from cull areas in Gloucestershire and Somerset.
A spokeswoman for Tesco said: "We know animal welfare matters to our customers, and it matters to us too. Badger culling is a difficult and sensitive issue, with animal welfare concerns on both sides of the debate.
"We know that some customers have said they want us to stop sourcing from farms that fall within the government licensed areas. We have considered this very carefully and do not think it would be right to penalise farmers whose farms are in these areas. We believe it is for the government and farmers to decide how best to tackle the disease."
A spokesman for Morrisons said: "We understand the strength of feeling on this issue. However, Morrisons has no plans to stop sourcing from farms which make the decision to cull badgers, under strict conditions and in line with the government's approach."
Asda said: "We are aware of the debate on a badger cull; however, as a retailer it is a matter we have never taken a view on, and we don't anticipate this changing. Nevertheless, we understand and acknowledge the genuinely held beliefs on both sides of the argument."
Meanwhile, Waitrose said: "We take animal welfare very seriously and understand the strength of feeling on both sides of this debate. However, as this is a government initiative we believe it best that, should any of our farmers be in the cull areas, that we leave it up to them to decide for themselves whether or not to take part, and that we wouldn't penalise our farmers based on the geographical locations of their farms."
Sainsbury's in particular has emerged as a new target for campaigners, with some activists urging it to adopt an anti-cull stance in its milk sourcing.
@sainsburys Please will you consider sourcing your milk from farms outside the badger culling zones. Cafe Nero does. pic.twitter.com/PSFjCRDro5

— Xanthe Meles (@janiceholland62) May 31, 2015
Despite the threats, Sainsbury's said it would not discriminate against farmers in cull areas. "We have made significant strides on animal welfare and environmental stewardship and we do not think it fair to penalise farmers who by geographic circumstance are within the official Defra cull area," a spokeswoman said, adding the government had not disclosed precisely which farms were involved in the cull in any case.
However, she pointed out the government had agreed to the badger cull trial based on scientific evidence, "and we will continue to remind them to keep the evidence under review".
Speaking on behalf of all retailers, the British Retail Consortium said they recognised the cull was a sensitive issue. "The decision to cull badgers was taken by the government after extensive consultation," said Andrew Opie, BRC director of food and sustainability. "Retailers trust this process has struck the right balance between support for UK farmers and tightly regulated culling where it is proven to be necessary."
Reactions
Producers have expressed their dismay at Caffe Nero's decision, with some calling for a boycott of the chain in light of its "unfair" new policy.
Very disappointing Cafe Nero.. I guess the lives of the cows making your milk are worth less than a badger's 🐄 https://t.co/flhc4cf83A

— Farm watch (@UKfarmwatch) May 31, 2015
The National Farmers Union said it was "disappointed" with the decision and stressed the cull was government policy designed to help farmers protect their cattle from bovine tuberculosis. "The people who have made the threat of action against Caffè Nero are a small minority and it is extremely disappointing that the company appears to have bowed into pressure from those who think nothing of intimidation and threats of disruption to achieve their ends," said deputy president Minette Batters.
"It is especially saddening that this has come at a time when the dairy sector is facing price pressures; some farmers are being paid as little as 15p a litre for the milk they are producing. British farmers are producing milk to world-leading standards of production and welfare, which is why in every survey we do British people tell us how much they want to support British farmers, and buy British milk. We would urge all members of the supply chain to continue support for British dairy farmers."