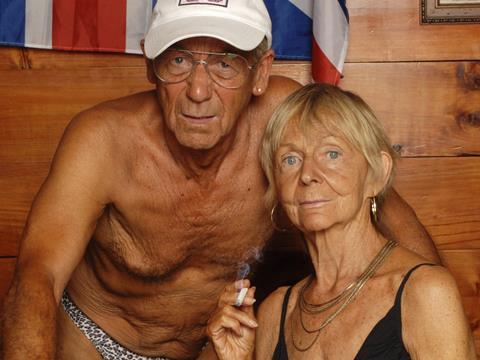 Mel and Madge Harvey (from ITV's Benidorm, in case you've missed it) might not seem likely pinups for an article discussing the beauty & suncare category, but we'd beg to differ.

Because the sector is polarising. On one hand, cheap own label is stealing sales; parsimonious sun worshipper Madge would surely approve. On the other, brands are pushing pricier NPD aimed at minimising the sun's ageing effects. And let's face it, Madge and the late Mel could've done with some help there.
So how is all this affecting sales? Which retailers are pushing own label and how are they managing to convince shoppers that their skin is safe in their hands? And are brands really managing to turn the grey pound gold by going after older shoppers?

Note Aldi and Wilkinson's respective gains of 33.3% and 17.5% [Kantar Worldpanel 52 w/e 4 December 2016]. The growth of Aldi, and to a lesser extent Wilko, helps explain own label's 1.9% rise on volumes up 4.6% in a sector up just 0.3%, as both rely heavily on own label. IRI shows own label down, because it doesn't include discounters.
Differences in Kantar and IRI's methodologies (Kantar's data is from a 40k-strong consumer panel; IRI's is from the mults' EPoS data but not Aldi or Lidl's) account for their seemingly conflicting reads of the market. Kantar shows a 4% fall in average price, chiefly thanks to the shift to discounters; IRI shows sunscreen prices up 1.5%, driven by premium branded NPD.
Own label
Own label has also been working hard to convince consumers their skin is in safe hands with them. "Nobody in their right mind five or 10 years ago would have been buying own-brand discounter sunscreen," says IRI analyst Chloe Humphreys-Page. "Now people are quite happily doing it. It started with groceries, like buying own-brand pasta or own-brand cheese, and consumers have become slowly conditioned to think that some of these own brands are perfectly acceptable."
Suncare category snapshot 2017
Aldi's Lacura Moisturing Sun Spray (£2.79) beat several brands costing three times as much to come out top in a Which? product test last year. A slew of tabloid stories ensued, just in time for the holiday season. Asda is also pushing its own Protect range, says Asda suncare buying manager Jennie Weatherhead. "Our own-label range remains at the heart of our decision making, as it allows us to offer something different to our competitors," she says. "We've ensured that all our Asda Protect Range has a 5* UVA rating, putting it ahead of many of the well-known brands at a more accessible price point."

Of course, price is crucial, as Boots' use of buy-one-get-one-half-price deals on its Soltan range last summer shows. "If you're Boots or Superdrug, for example, you have to work hard to get people over the threshold," says IRI's Humphries-Page. "If you're seen to be expensive, why would someone go there for something they can buy for less at Tesco? Even if it's not less, it's the convenience of being able to pick it up in your weekly shop."

Brands aren't just rolling over, of course. Format, as well as product, development is a key focus for the sector's biggest players, says Sainsbury's suncare buyer Siobhan Mcternan. "Customers are seeking the most convenient solutions in their choice of format with sprays and roll-on variants, perceived to be easier to apply, growing ahead of the traditional lotions," she says, adding that higher factor products are on the up.

Garnier Ambre Solaire - suncare's strongest brand with sunscreen and after-sun sales up £2.1m, or 6.9% [IRI 52 w/e 18 February 2017], in grocery - has contributed to both trends. "The UK 'high protection' market (SPF30 and above) has grown by 9.9%, with Garnier Ambre Solaire growing at 11.4% [Nielsen 52 w/e 25 February 2017]," says general manager Garnier UK Karen Flavard-Jones.

"Our innovations are driven by consumer demand. Often what seems like a small issue can lead to an incredible new innovation, as is the case for our Anti-Sand range launched last year. We noticed a lot of discussion around the difficulties of applying sun protection at the beach where children were either already covered in sand, or going to get it stuck to the lotion. So we developed an Anti-Sand Spray as part of our existing range."

New roll-on lines for kids are also cropping up, in response to 'no touch' policies in schools, which mean kids are responsible for applying their own sunscreen. Nivea has benefited with its Kids range driving footfall for the brand. Such developments have driven 2.3% growth in sales of kids suncare products on flat volumes [Kantar]. Adult products fell 6.8% on volumes down 1.6%.
Innovations in suncare 2017
One factor at play here is growth in SPF day creams from the likes of Boots No 7, Olay and L'Oréal. "The launch of Age Perfect Golden Age by L'Oréal with three different variants (including a factor 15 cream) has been really successful, clearly targeting mature women," says Kantar analyst Macarena Munoz.

No 7's Lift & Luminate launch last year is another example. No 7's gain has been Olay's loss, but owner P&G says it's retaliating with Regenerist SPF30, which commercial operations leader David Ewan says is lightweight, fast absorbing and boasts 'proven' anti-ageing properties. "When making choices to keep your skin healthy and looking younger, UVA protection is key," he adds. "UVA damage contributes to 80% of the signs of ageing."

Madge Harvey - who once declared she'd outlive the "frigging lot" of her family - had better stock up.