Fairtrade has a fight on its hands. If it were in the wrestling ring, it would have taken more than its fair share of punches.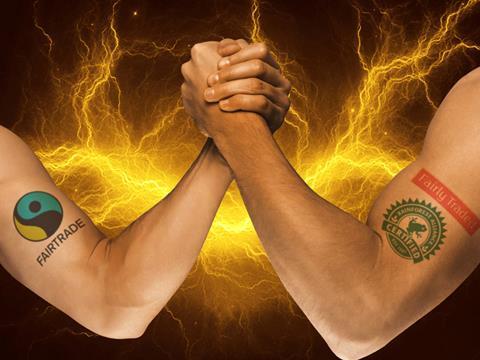 Several of its key partners have jumped ship over the past 18 months, opting for self-certification or rival schemes. Cadbury, Sainsbury's and Tesco are just some of the high-profile names looking elsewhere.

But Fairtrade is defending its corner. An extra 214,000 shoppers have bought into the category, while existing customers bought more frequently and in higher volumes. All of which culminated in a 8.1% increase in value sales to £809m [Kantar Worldpanel, 52 w/e 8 October 17]. So who are these new Fairtrade converts, and what's driving the increase in the face of such competition?
Having been widely publicised since its establishment in 1992, Fairtrade has one crucial weapon in its armoury: awareness. A survey by the organisation in November found 90% of consumers knew of the mark (up from 84% in Q1 last year) and 75% said they cared about Fairtrade (up 21 ppts on last year).

"We can see real evidence of the British public continuing to support a fairer deal for farmers," says Fairtrade CEO Mike Gidney. "With so many other distractions concerning the UK at the moment, the fact that public and commercial support has continued to grow is really very positive, not just for the foundation as a campaign but also for the farmers."
It's all down to an increasingly ethically minded consumer, says Union Hand-Roasted Coffee, which sources its beans from 11 markets including Rwanda, Colombia and Peru. "The younger generation in particular is a lot more interested in the sustainability challenges we all face," says MD Violeta Stevens. "That generation and their children will be the ones to potentially face the fallout of these issues, which makes them feel more connected to what is going on."

So far, so good for Fairtrade. But Brits are increasingly aware that buying from the foundation is not the only means of achieving a fair deal. In fact, some independent schemes proudly tout additional benefits. Union is one company that has set up its own sustainable sourcing scheme, which claims to pay "well over" the Fairtrade minimum prices. Other suppliers are building their entire brand around their ethical credentials, rather than relying on external accreditation. One such brand is MIA (Made In Africa), which is partnered with Proudly Made in Africa to ensure products are produced with local ingredients and materials.
"The younger generation is a lot more interested in the sustainability challenges we face"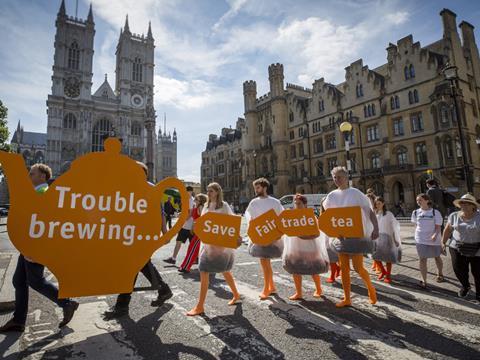 When rivals supplant Fairtrade: fair enough?
Within a month of Sainsbury's launching its Fairly Traded pilot scheme last May, campaign groups had staged a protest outside Sainsbury's agm and the Fairtrade All-Parliamentary Group stated it would be requesting a meeting to debate the "unanswered questions".
Central to the Fairly Traded debate is the payment of premiums. While Fairtrade premiums are paid directly to grower communities, which can then spend them as they wish, Fairly Traded premiums are managed by the Sainsbury's Foundation. The foundation then works alongside farmers to produce an action plan for how the money should be spent. While Sainsbury's states the action plans "add an extra layer of support for farmers", Fairtrade says this removes farmers' empowerment, a core principle of the foundation.
Though Fairtrade states it is unable to work with Fairly Traded as the pilot doesn't meet its standards in numerous areas, a Sainsbury's spokesman argues "the protest stemmed from the Fairtrade logo being removed from the packet, so the foundation doesn't get its licence fee. It was framed around the premise that farmers in Africa would be losing out, but that was never the case.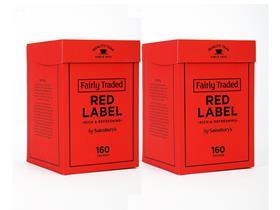 Not all splits are so acrimonious. A case in point is Mondelez,which swapped the Fairtrade label on Cadbury bars for its own in-house ethical scheme Cocoa Life back in 2016.
Though the brand ended its transactional relationship with Fairtrade, the two continued to work in partnership as Cocoa Life ensured it met the foundation's standards, says Mondelez global director Cathy Pieters. "Fairtrade really took the time to fully scrutinise Cocoa Life on every level. They mapped our programme on their own principles, and only after that process did they say they were willing to work with us. They didn't reach the same conclusion with Sainsbury's programme."
MIA director Brett Beach believes the more knowledgeable consumer is willing to research brands and their policies. "Now more than ever we have instant access to information through social media and other web-based platforms."

Not all independent schemes elicit a positive reaction, though. Cadbury's switch to Cocoa Life in 2016 was relatively well received - largely because it was in partnership with Fairtrade. But subsequent moves have proved much more contentious. Last year, Tesco announced it would use Rainforest Alliance to certify all its own-label tea by 2020, and four months later announced it would switch most of its own-label coffee from Fairtrade to the rival label. Although Tesco insisted all finest roast and ground coffee products would continue to be Fairtrade, the move raised a few eyebrows. Banana Link International coordinator Alistair Smith says the RA has a "good set of environmental standards, but doesn't know anything about social standards. They don't propose a minimum price for their products, so in our book it's not an alternative to Fairtrade."

And then there is Sainsbury's. The retailer started piloting its own Fairly Traded self-certification scheme on own-label tea in May, promising a minimum price and social premium for tea farmers plus an advisory board offering support. The scheme provoked a damning response from Fairtrade and its supporters, who particularly objected to the idea of a board giving advice on how to spend the premium rather than autonomy for farmers. Oxfam policy advisor Sloane Hamilton went as far as to slam Sainsbury's "regressive model" as a "blow for farmers and workers in developing countries".

At the time, campaign groups said Sainsbury's would extend its Fairly Traded standard to categories including bananas, coffee and prawns. Accounting for 26.9% of the market, Sainsbury's would present a major loss for Fairtrade and potentially encourage further self-certification among brands and retailers.
"Rainforest Alliance is not an alternative to Fairtrade, it is an environmental scheme"
But this threat largely seems to have passed. The retailer says it has no imminent plans to extend its scheme beyond tea until it has conducted a full review (perhaps unsurprising, given the protests outside parliament and petitions with over 100,000 supporters). And Fairtrade sales in its stores have actually increased by 4.3%, despite the loss of tea.

Luckily for Fairtrade, several retailers have responded to the Sainsbury's backlash by strengthening their relationship. Waitrose announced the extension of the label to all 46 of its own-brand tea products in July last year. "We've found that our customers are extremely loyal towards Fairtrade products," says commercial director Rupert Thomas.

Longstanding Fairtrade ambassador Co-op was another one to up its game in May, revealing plans to build a new community resource centre in Kenya to "make a stand for Fairtrade farmers" and expand its Fairtrade wine range. Co-op's Fairtrade Kumala pinotage shiraz was introduced in summer 2017 followed by the Côteaux les Cèdres, the first Lebanese wine to be both Fairtrade and organic-certified, in December. More SKUs are set to follow this year.

"There is a strong and growing bond between our Fairtrade wine and our customer base," says Edward Robinson, the Co-op's Fairtrade wine buyer. "Our data shows this category has more customer loyalty than any other wines we stock.."

The commitment has contributed to one of the largest areas of growth for Fairtrade last year: alcohol. Value sales grew 26.9% last year to £86.9m, with both branded and own label seeing impressive value and volume growth [Kantar]. "Co-op's decision to make Fairtrade wine the core range in its portfolio has proved successful and now contributes to almost half the total sales in Fairtrade alcohol," says Kantar analyst Adam Robinson.

Alcohol wasn't the only Fairtrade sector to see growth. An extra £17.8m was spent on frozen confectionery (including ice cream and frozen desserts), up 68.2% on last year and powered almost entirely by Ben & Jerry's. The brand began working with Fairtrade on its European ranges in 2011 and switched to all-Fairtrade ingredients in 2015. It has also brought the Fairtrade label to free-from with new non-dairy ice creams, which hit shelves last month. "Ben & Jerry's Fairtrade lines have been growing steadily in distribution throughout 2017, which has accelerated category performance," says Robinson.

And there are plenty of budding new categories for the label to enter. "Cold coffee has emerged as a relatively new variant for Fairtrade," says Fairtrade's Gidney. Last year, Arctic Ice Coffee became Fairtrade certified, and new products are set to launch this year.

Further new ground emerged in March 2017, when Piccolo Foods launched what it claimed to be the first UK babyfood range with Fairtrade ingredients. "While Fairtrade ingredients do put a premium on babyfood products, there are still customers who are willing to pay extra for an ethical product," says founder Cat Gazzoli.

As additional new partnerships are set to be announced during Fairtrade Fortnight this month, the foundation is looking to give its rivals a run for their money - and ensure it's in fighting shape this year.
Downloads
Image, Size 0.27 mb

PDF, Size 2.15 mb