In the era of Hugh's war on plastic, how are brands innovating to keep up with more sustainability-minded shoppers?
It's not cheap for a guy to look good and smell great nowadays. From head to toe, the average price of male grooming is on the rise. Skincare products - up a not-inconsiderable 5.9% - have had the sharpest increase. Then there are shaving soaps, which cost 4.5% more than last year, while razors have risen by 3.8%. And a typical deodorant is 1.2% pricier [Kantar Worldpanel 52 w/e 24 February 2019].

And as guys are putting their hands deeper into their pockets, there's also a different, and more significant, cost at play: the very Earth itself.

It's corny, but it's true. Granted, male grooming hasn't contributed to the plastic scourge facing our planet to the same degree as, say, soft drinks. But personal care players both big and small are increasingly acknowledging they are part of an environmental problem that is never out of the news.
Which is why, as Hugh Fearnley-Whittingstall (above) will be delighted to learn, they're doing something about it.

In fact, the chef and anti-plastic campaigner will be cock-a-hoop to discover that brands are practically falling over each other in their rush to tout their latest eco-credentials.

And it turns out these moves are not just ethical, but could also prove a commercially savvy strategy.

Being green-minded will increasingly "influence sales positively as consumers move towards brands who are more transparent with their day-to-day activities and what they're doing to be more sustainable" predicts Daniel Durose.
"Being green-minded will influence sales as consumers move to transparent brands"
He's brand marketing manager for Man Cave, which packs the majority of its grooming products into rPET. The future of sustainability is the use of recycled plastic and of mono-materials, he argues. "This would make the recycling process so much easier for consumers and means there is no need for the breakdown of packs into separate bins."

Others, like King of Shaves founder Will King, believe the future lies in reusable fare. While plastic is easily recyclable, the UK's infrastructure isn't up to snuff, he says. Until it's good enough, "there will be massive consumer pushback" - and he suggests grocers join in. "If I were a supermarket, I would be saying, 'Hey, we're getting a lot of blowback from this stuff we're trying to shift. What're you gonna do about it?'"

What King plans to do is roll out reusable packaging. In the spring, he unveiled sustainable spin-off brand Code Zero. It's a range of personal care products in refillable formats made from aluminium and cork, which he expects to remove "millions of tonnes" of virgin plastic from the male grooming category within the next three years. Its first products are scheduled to appear in early 2020.
King expects they will be preceded at the end of 2019 by the first plastic-free SKUs for the core King of Shaves portfolio - which he predicts will have dropped plastic entirely by the end of 2020, three years ahead of target.

That will please Simon Duffy, co-founder of Bulldog Skincare. Like King, he's passionate about sustainable grooming. Bulldog has been putting its face scrubs and moisturisers in bio-plastic tubes derived from sugarcane for a while now. Its large-format shower gel bottle is 100% recycled plastic.
Last year, it released a razor with a bamboo handle and, in April, it tapped the trend for premium bar soap with a plastic-free trio at a fiver a pop.

That both aforementioned brands are in stellar growth suggests they're doing something right. King of Shaves is up over 900% in value (albeit from a small base) and Bulldog is up 25.5% [Nielsen 52 w/e 20 April 2019].
The reusable model
Duffy believes sustainability will be no obstacle to commercial success. He is daring to dream of "a world where Bulldog can be just as big, if not bigger, with no single-use packaging". In fact, he's certain the whole of male grooming will eventually move to "durable containers that can be refilled in-store".

Indeed, this model is already emerging online. Take Men-ü, the eco-startup that launched in April via Mankind.co.uk.

Then there's Loop, a global, 'waste-free e-commerce platform' launched in January that allows consumers to send back packaging for refilling. It's already being used by numerous fmcg heavy hitters including Unilever, which kicked off its involvement through Sure and Lynx. They both come in a specially designed refillable stick called Minim. It's a stainless steel affair designed to last at least 100 cycles - about eight years.

Lynx, in fact, has been at the forefront of Unilever's sustainability moves this year. Its black plastic packs are getting a new pigment that makes them more easily detectable by recycling plant scanners - and they are introducing a minimum of 30% recycled material in packaging.

Chris Barron, Unilever UK's vice president of beauty & personal care, sees this as an area ripe with opportunity. "Demand for greener grooming brands will continue to accelerate, as environmentally conscious male consumers look for ways to improve their carbon footprint in all aspects of their lives, including their beauty and personal care routines."

Barron believes brands can grow by catering for that demand "whether it's environmentally friendly products, recyclable packaging, or ethical production methods".
"Demand for greener grooming brands is going to continue to accelerate"
Still, that financial potential may be limited by the costs of doing so. Unilever hasn't said much about the upfront costs of its Loop partnership. However, Freddy Ward, co-founder of direct-to-consumer brand Wild, believes it could be commercially shaky. "Lynx is a low-cost product built around high margins. Cost-wise, it's going to be difficult to stack up."

Of course, large operations such as Unilever can afford to experiment. Cash-strapped startups, on the other hand, don't have the luxury of ploughing big bucks into environmentally friendly tie-ups.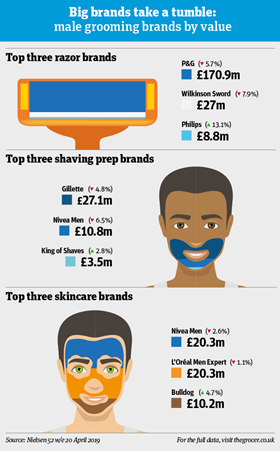 Ward believes that won't necessarily stop innovation among smaller operations. He can foresee "something more like a milkman, who comes to your house every week to drop off glass bottles filled with shampoo and shower gel, and picks up empties".

For now, though, Ward believes D2C brands are the closest thing to forming "that circular relationship" with consumers. His Wild brand, which offers eight SKUs of natural deodorant, including four refillable roll-ons in a glass pack, is part of a wave of online brands that are transforming the face of male grooming.
In recent years, the hip and affordable products of Unilever's Dollar Shave Club and the like have stolen share from long-in-the-tooth high street rivals such as Gillette and Wilkinson Sword. So much so that there has been talk of retail dying a slow death.

But as the old guard fights back with NPD and high-profile ad campaigns (see right), an exclusively D2C model won't be viable in the long term, Ward warns. "You have to think of ways to diversify your brand. The players who are going to win are ones who think about offline from day one."

Such potentially winning thinking saw D2C shave club Harry's make its major high street debut in early April. The New York shaving brand landed in more than 300 branches of Boots, becoming the first big player of its kind to undertake a large-scale expansion from digital to bricks & mortar.

It was a good move for Harry's, says Oliver Bridge, founder & CEO of UK shave club Cornerstone. "It gives them lots of visibility. I'm sure Boots will drive lots of sales. If you look at what Harry's has done in Target and Walmart in the US, they're stealing a lot of share. But doing it also costs a lot of money."
"The players who are going to win are ones who think about offline from day one"
Money might not be a problem for Harry's, though. It was bought in early May by Edgewell Personal Care Company, owner of Bulldog and Wilkinson Sword, in a deal that valued the shave club at $1.37bn (£1.1bn).
It marked a "pivotal step forward in further transforming our organisation, strengthening our competitive position and ability to drive sustained growth" said Edgewell president & CEO Rod Little at the time. "Our combined company will have leading brands and omni-channel capabilities that are essential to meet the needs of the modern consumer."
Intense competition
The rise of Harry's is "much to the annoyance of Gillette" claims Katharine Goodchild, Edgewell's commercial director for north-west Europe. It is indeed yet another competitor in an already crowded and tough market.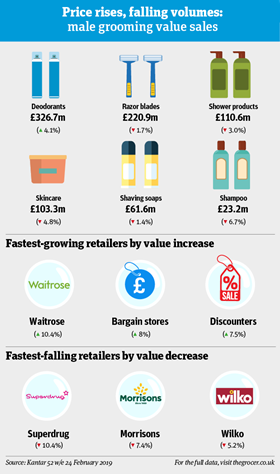 Yet Ian Morley, group sales director for northern Europe at Gillette owner P&G, seems far from annoyed. "We relish competition," he says. It drives Gillette to keep earning its place as the top brand in a market that is "still tough" as chaps go clean-jawed only two or three times a week. "We have to be at the top of our game now, next month, in six months and for the next five years - which is why innovation is so important."

To that end, Gillette launched its SkinGuard razor late last year for guys with sensitive skin. It's been very well received, says Morley.

Now the brand is about to roll out its ultra-premium Heated Razor for blokes with thick wallets. The rechargeable, five-blade device made its debut in the US at $200 (£160) earlier this year, with the promise to "feel like a hot towel shave with every stroke" via a stainless steel 'warming bar' with two heat settings.

It's one heck of an innovation, but more razors on the market mean the potential for waste. Which is why Gillette is gearing up to partner with Terracycle to allow shoppers to return used blades and unwanted handles.

Because, Morley says, sustainability "is a prerequisite to doing business in this day and age". And those upfront costs look like they will be a price worth paying.
How macho brands woke up to toxic masculinity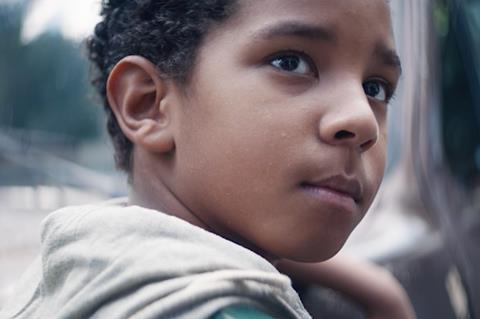 "Using our brands to spark difficult conversations is nothing new to us," says Ian Morley, P&G's group sales director for northern Europe.
He's, of course, talking about Gillette's 'The Best Men Can Be' push. In January, it hit the headlines with its short film for the US 'We Believe' (pictured above), warning of the effect on boys of witnessing toxic masculinity.
Its critique of bullying, sexual misconduct and other objectionable male behaviour attracted both acclaim and disapproval. Bernice King, daughter of Martin Luther King, praised the film as "pro-humanity", while Piers Morgan complained that it was "a direct consequence of radical feminists".
Morley adds: "We expected debate, and debate is what we got." While a "very vocal minority" attacked 'We Believe', he says a "quieter majority has fully supported it".
So while the Gillette film has 1.4 million downvotes on YouTube, it has also improved purchase intent for the brand among US shoppers, says Morley.
For Ben Lambert, partner at PB Creative, 'We Believe' was the right move for Gillette: "Traditional notions of what it means to be a man have been shifting for a few years now, and Gillette clearly realised it needed to reappraise its approach to stay relevant."
Gone are the days of male toiletries associating themselves with "images of ripped men being fawned over by scantily clad women" he adds.
Perhaps the highest-profile example of this shift is Lynx, which in 2016 introduced the more inclusive 'Find Your Magic' to replace its 'Lynx Effect' slogan, which was a sexualised message "rooted in traditional notions of what it means to be manly and attractive" according to Lambert.
"The brand could see that the thinking around masculinity was evolving and wanted to reflect that."
That is still the case, says Chris Barron, VP for beauty & personal care at Lynx owner Unilever. "In recent times, we have witnessed a societal shift to a greater focus on the individual. We're seeing a celebration of difference, individualism and greater self-expression. Men want to be valued for being themselves, quirks and all."
But woke attitudes can make it trickier to land an effective ad message, warns Fernando Desouches, MD of agency New Macho. "Brands now have to aim at a moving target," he says.


Daniel Selwood is The Grocer's special projects editor, managing Britain's Biggest Brands, Britain's Biggest Alcohol Brands, The Dairymen and Top Products – as well as contributing to news, analyses and category reports.

He joined the magazine in January 2016 as food & drink editor, having been at financial & legal publisher LexisNexis.

Follow Daniel on Twitter: @danielmcselwood