Frozen food looks like it's in a deep sleep. But as the sector aims for younger shoppers, is it set to enter a new age?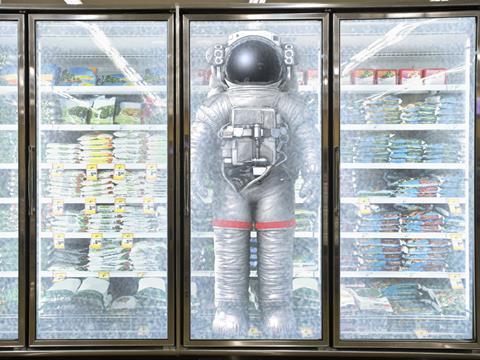 Frozen food looks like it's in a deep sleep. But as the sector aims for younger shoppers, is it set to enter a new age?
Cryosleep: it's how sci-fi movie characters - from 2001: A Space Odyssey to last year's Passengers - snooze soundly for extended periods in the infinite reaches of outer space.
And it's the state in which frozen food finds itself right now. For the second year running, what was once the epitome of space age food technology is in suspended animation. Category value has remained frozen solid at just over £5.7bn; volume sales have inched up a measly 0.3%. The stasis is more or less in line with the total grocery market, but behind the competing areas of fresh and chilled - up 1.2% and 1.7% respectively [Kantar Worldpanel 52 w/e 29 January 2017].

Still, John Hyman isn't unduly ­worried. The CEO of the British Frozen Food Federation (BFFF) has high hopes for the future. He sees great things to come in the next decade, with growth driven by demand for healthier, innovative products and better value options. "On paper, frozen has everything going for it," he says. "It's a very big category with lots of potential. There are lots of reasons to be positive about frozen going forward. It should be one of the categories of the future."

But the boss of the BFFF would say that, wouldn't he? How and when is frozen food going to enter this golden new age? And which brands and retailers will drive this?
Frozen category snapshot
As with elsewhere in grocery, a key defining factor of the past year in frozen has been deflation, with average prices falling by an average of 0.4%, although prices did rise in certain subcategories, such as fish and desserts, primarily as a result of premiumisation.

Prices are set to rise further. Two-thirds of the UK's frozen food manufacturers say last summer's Brexit vote has had a negative impact on business, and less than half see it as an export opportunity. In a recent survey of BFFF members, 51% of respondents complained of increased input costs since 23 June.

Of course, retail price rises wouldn't just be in the interest of suppliers stricken by soaring costs. As retailers seek to maximise profitability, they're turning to higher value branded products (for example, Young's Gastro Haddock, p46, or McCain Skin On Fries, p51) and in some cases replacing standard branded offerings with own label.

Companies are also investing in advertising to change perceptions of frozen food. Birds Eye has forked out more than £10m on tradional advertising space in the past year (see p45), bringing back the Captain to flog its 'best ever' battered cod in TV ads. Iceland has been trumpeting the quality of its products and the benefits of frozen with its Power of Frozen marketing campaign.
Frozen v fresh
Research for The Grocer suggests the campaign has helped improve shoppers' perceptions of frozen food versus fresh. A poll of more than 2,000 consumers by Harris Interactive found that 60% had seen the Power of Frozen campaign, with 17% saying the ads had made them reconsider frozen food and appreciate its quality. The poll showed that 60% of Brits now believe the quality of frozen food is on a par with fresh, up from 53% a year earlier.

Some suggest that a combination of quality and savvy product development is attracting a new crowd to the category with younger, more affluent shoppers more regularly shopping the frozen aisles. "The quality and range of food that can be frozen and prepared by the end user is amazing," says Laila Remtulla, MD of premium ready meal brand Laila's Fine Foods. "Over the past few years there's definitely been a change in the demographic of customers who buy frozen food, and I am sure this will continue as consumer perceptions of frozen food and buying habits change."
Ice cream and veg brands are hot
Right now, though, the category is largely reliant on the great British sweet tooth. Shoppers have splashed out an extra £57.7m on ice cream and desserts over the past year [Kantar]. Innovation has led the way, says Arjoon Bose, marketing manager for Häagen-Dazs at brand owner General Mills. "Consumers demand new experiences and new flavour combinations, making NPD a key factor behind ice cream category growth."

That Häagen-Dazs has unveiled a wealth of innovative NPD in the past year helps explain why it's up 19.5% to £50.7m [IRI]. Over the past 12 months it has put its ice cream bars in a multipack, unveiled exotic floral flavours (the limited editions Lychee Raspberry Rose and Apricot Lavender), launched its first UK sorbet range in 10 years, and given its core sharing tubs a millennials-friendly makeover backed by a £5m push.

A strong consumer desire for premium products with quality credentials is another crucial factor for ice cream's supermarket sales, Bose adds. "Luxury ice cream is driving value growth three times faster than standard ice cream, and brands like Häagen-Dazs are leading this trend."
At what price quality?
Indeed, our Harris Interactive consumer poll found that 47% of shoppers agree with the statement that it's worth paying more for ice cream, versus 33% when it comes to frozen fish, 30% for meat and 24% for frozen vegetables. "Consumers are more willing to trade up to better quality ice cream or frozen fish than they are other frozen food categories," says Harris research sector head Lucia Juliano.

"This is a clear positive sign to frozen fish and ice cream brands to keep innovating and give shoppers a reason to keep coming back to the category. It seems that shoppers are looking for better quality products in these areas and are willing to pay more for them - especially younger shoppers."

The iced treats market is "premiumising particularly well by providing new products and experiences that don't fit traditional perceptions of frozen food," says Jack Hart, strategic business director at brand agency Pearlfisher. "Examples include Bardot's disruptive and art-driven sub-zero ice cream bars, as well as 'green juice on a stick' from EatPops, which matches a truly original proposition with an inventive structural and packaging design to bring what is considered a premium product into frozen form."

Retailers have noticed a shift away from the mainstream, too. "We've seen an increase in popularity of less traditional ice creams and sorbets," says Michael Simpson-Jones, frozen buying manager at Waitrose, whose 1 range of ice cream includes Tanzanian Chocolate & Blood Orange and Malaysian Coconut & Lime variants. "We've also seen growth in free-from alternatives as shoppers look for healthy options."

Communicating frozen's health and wellbeing credentials is key to the fate of the category overall, says the BFFF's Hyman, what with frozen having advantage over fresh by being able to offer seasonal veg all year round. "You can't get much healthier than the humble frozen pea," he says. "Peas are harvested for just six weeks a year. They go from field to frozen in two-and-a-half hours - and all the nutrition is locked in."
Pop-up gallery: innovatons in frozen
But frozen "still struggles with often ­misguided perceptions of quality" of fish, says Jason Manley, marketing controller at Young's Seafood. "It's important that brands encourage shoppers with convenient, delicious food, strong quality credentials, and a singleminded desire to inspire the nation to love fish." His brand is down 2.4% to £161.8m, according to IRI (see above).

Growing health consciousness is driving growth in other parts of the freezer, too. "Frozen fruit is a standout performer, growing by 35.4% year on year on the back of the smoothie-making trend," says Hyman. "And sweet potato is the standout performer in potato products - very much on trend and seen as a way of getting health and taste into people's diets."
Fruit & veg
Ardo is a major producer and supplier of own-label frozen fruit and vegetables. Its marketing executive Kelly Harrington says: "The quality of frozen food is better than ever due to advancements in technology. There is little, if any, difference in the quality of taste when comparing fresh to frozen, making the latter the obvious choice."

It's not just fruit and veg. The nation's obsession with wellness is an upward trend in other subcategories - even pizza, claims Clare Heathcote, head of brand for pizza at Dr Oetker Ristorante (down 1.7% to £48.1m [IRI]). The brand added two gluten-free options in September: Pizza Mozzarella and Pizza Salame. "With the total UK gluten-free frozen pizza value at £3.9m, NPD represents a big opportunity for the brand leader to drive penetration," she adds. "It is estimated that coeliac disease affects one in 100 people in the UK; add to this an even greater number of people now choosing a gluten-free diet for health and lifestyle reasons.

"Other trends include ­vegetarianism and flexitarianism. Figures from Mintel indicate that 35% of people in Britain identify as 'semi-vegetarian' and the number of flexitarians is set to rise by 10% in 2017. Dr Oetker Ristorante is recognising this consumer trend by introducing more ­meat-free choices such as Spinacii, back by popular demand to complement Mozzarella and Funghi."

Innovative NPD will be crucial if brands are to continue to attract shoppers as prices start to rise. The proportion of sales on promotion is falling, driven in part by the reduction in multi-item deals seen across the grocery market, according to Kantar. Packs are getting smaller, falling from 179g on average to 177g over the past two years (although this trend is hardly exclusive to frozen). The need for price engineering is rising as raw material costs continue to increase and sterling weakens following the Brexit vote.

"Inflation is on the rise, and there's a lot of talk it might outstrip wage growth," says Hyman. "If there are economic pressures on people going forward, you'd expect the frozen category to perform well because frozen food, on average, is 34% better value than fresh or chilled - and there's no compromise in quality."
Rising costs
Like everywhere else in grocery, the expected impact of the rising cost of goods in the UK in 2017 will be the factor to watch. Shoppers have been enjoying the benefits of falling food prices for a number of years. After 28 months of deflation in the market, like-for-like grocery prices have returned to inflation, notes Kantar, and it remains to be seen how consumers will respond to rising prices.

For frozen, this may be influenced by how quickly prices rise relative to fresh and chilled goods. UK consumers - almost all of whom buy frozen goods, and on average almost once a week - will likely expand their repertoire in the face of frozen presenting a ­challenge to its rivals.
Brrr-illiant! Freshen up frozen aisles to drive sales
Frozen food is inferior to fresh, at least that's what a third (32%) of Brits believe. And this view is widespread among younger generations, as 48% of those aged 16-24 agree, according to a poll of 2,000 consumers carried out for us by Harris Interactive.
What can be done to address this? We asked creative agency Path to find a solution. Enter The Arctic Deli Company – a rustic, market-type display counter with deli-style frozen produce.
"This challenges the perceptions of frozen food by putting the ingredients on display, leaving them visible for the first time," explains Tim Bousfield, Path group creative director. "By doing this we have de-commoditised frozen food, turning it from anonymous to visible."
This concept would add a human element to the frozen aisle, with produce served from behind a counter. The goods are pre-washed, chopped and prepared, ready to use straight from the freezer, and available with mix & match options to create customisable meal boxes.
Because produce is frozen it would keep longer, allowing retailers to stock more unusual and exotic ingredients that perhaps don't have the rate of sale of more common frozen fare.
"The range is designed for foodies with sophisticated tastes, looking for provenance cues and usual food experiences," adds strategy director Ben Sillence.
"The recession proved a real influencer on the frozen market," says Mohammed Essa, commercial director at Aviko UK & Ireland, supplier of frozen potatoes to foodservice. "Household budgets were under pressure and frozen food proved a hero for many looking to reduce costly household waste associated with chilled products. Consumer purchasing drivers may have shifted slightly now that we're in better economic times, but they do continue to seek value for money and ways to save. Those who previously didn't buy frozen have now discovered the benefits of stocking up the freezer, not only from a waste perspective but from a taste and nutritional point of view as well."

The Authentic Food Company, maker of frozen meals for Patak's and Blue Dragon, believes price will remain an important ­factor in frozen, but it's overall value for money that really counts - and that means ­premiumisation. Marketing & development director Nick Harris says: "Adequate portion sizes and taste are an important part of this equation. The role of brands in frozen ready meals has moved away from a functional guarantee of quality to a mark of premium, yet accessible, entry into exciting new cuisines and concepts.

"This change is still in transition across retailers, with low-tier brands being replaced with more premium offerings, and it is the main driver of the falling value of brands in the frozen ready meals sector. Brands should be positioned as a source of premiumisation and differentiation with a clearly defined role. Shoppers are looking for depth and breadth of range across not only cuisines but also brands and tiers."
Premiumisation
Pearlfisher's Jack Hart sees a widespread and increasing preference for premium products. "Amazing developments and examples of premiumisation are emerging from independent and own-label brands. From wagyu beefburgers to frozen asparagus tips, increasingly ­premium product offerings are driving innovation in the space. New product development and brand creativity are ensuring that frozen foods are quickly becoming considered as good as any other premium sector when it comes to quality and choice."

Premiumisation has been seen already in parts of frozen, of course. Posh has pushed shoppers to pay more for fish and desserts. And it's why potatoes are buoyant, says Naomi Tinkler, category controller for McCain (up 1.2% in value on flat volumes [IRI]). ­Take-home value sales for spuds across the category are up £15.7m (2.3%) on volumes down just 1.3% [Kantar] - impressive in the face of deflationary pressures of the past year.

"Brands and retailers are offering a range of premium products that bring added choice and excitement to the frozen section," says Tinkler. "McCain's adult-focused range is driving penetration in the frozen potato category by tapping the frozen aisle. The range is also being tried by consumers who already purchase frozen potato on a regular basis - as they serve different meal occasions to the standard chip offerings."

That's all well and good if there's space in store for all the new options. But there isn't always space. "Ranges have been rationalised through brand removal, which has limited consumer choice," says Lorraine Rothwell, marketing director at Aunt Bessie's. "In stores where key brands with high loyalty have been removed, the entirety of sales has not been retained." Aunt Bessie's is down 6.6% in supermarket value sales to £142.5m, with volumes having slumped 10.5% [IRI].

Ranging is about staying up to date with consumers' needs, says Nigel Broadhurst, joint managing director of Iceland Foods. "We understand that they may have different schedules and different amounts of storage space at their disposal," he says. "Iceland has had a lot of focus on the ranges it sells across its core stores for ­several years now.

"Therefore, every range decision has always been closely inspected and scrutinised. We are led by what customers want and need, and look to ensure that our ranges meet those needs. Our space is limited and precious, and products must work hard to earn their space allocation."
Ranging
What might seem surprising about Iceland's strategy is that it is contrary to the big four's current pursuit of simplified ranges. "It is worth noting that we are increasing our total ranging, largely due to the expansion of our larger format Food Warehouse stores, but also through refits of some of our core Iceland stores," says Broadhurst. "However, we continue to place a strong emphasis on differentiation and breadth of range, which inevitably means duplicate products are removed."

It's a similar story in the Co-op, whose ­senior frozen buyer Caroline Thompson says: "As a convenience retailer, we balance ranges accordingly, offering our customers what they want when they need it. All sub-sections are in growth, including cheaper items such as lollies and impulse ice creams. We are influenced more by seasonality and reset ranges to fit demand, rather than dedicating more space to higher-priced items to increase value of sales."
Top 10 advertisers in frozen food 2017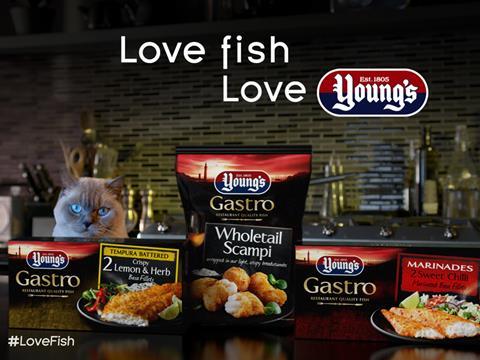 Nevertheless, some brands report a growing emphasis on own label in some retailers, particularly when it comes to mid or lower tier offerings. "Many retailers are now looking to drive the overall category by having a strong own-label offer, working collaboratively with a single or lead branded offer," says Young's Manley.

Birds Eye marketing director Steve Challouma paints a similar picture. "There's been an increased focus by the major retailers on developing their own-label offerings as a differentiator, and own label quality has also increased as retailers invest in their portfolio," he says. "Shoppers are seeking more value for money and a proportion are switching to cheaper grocery brands."

Waitrose is a prime example of a retailer that's using own label to differentiate itself from the competition.

The Waitrose 1 range, for example, includes a premium frozen Tarte aux Fruit and Salted Caramel & Dark Chocolate Profiteroles (it's noteworthy that frozen desserts are in strong growth).

"Waitrose is able to offer the staples that customers love with branded lines, complementing the innovation and newness Waitrose is able to provide through own-brand products," says Simpson-Jones.
Innovation
Innovation will be crucial if brands are to elevate the perception of their products and the price consumers are prepared to pay, says Challouma. "Convenience and health feature high on the agenda and if a solution can be provided, consumers are prepared to pay more," he says. "With consumers at the heart of key decision making and innovation, Birds Eye is investing in products that respond to the growing list of consumer demands, including the introduction of gluten-free fish fingers. This launch taps the trend for free-from and ensures Birds Eye remains front of mind for consumers."

Another challenge for the frozen food sector is the in-store experience. Hyman says the work the BFFF is undertaking to improve the shopping experience is a "long-term mission" adding: "In a superstore environment, frozen food is usually located at the back of the store, at the end of the shopper mission."

There are exceptions to the rule, of course. Iceland has opened a premium outlet in Clapham Common in a bid to make frozen more appealing to the well heeled. The Cook retail chain also seems to be helping to change perceptions of the category. Our Harris poll revealed that 8% of Brits have reconsidered their thoughts on frozen as a result of shopping at the store.

But the here-and-now opportunity for a more level playing field between fresh and frozen is online, says Hyman, who points out that freezers in delivery vans help negate the hassle of having goods defrost in the back of a car on the way back from the supermarket. "Growth has been really motoring. Consumers see a much ­bigger range of choice and are open to ­considering new products."

So maybe the internet age is the real opportunity for space age food?