Brits are swapping standard olive oil for premium extra virgin fare as prices come down. But for just how long can this continue? 
Brits have got champagne taste on a beer budget. Just look at the dizzying success of the discounters, who are still tempting shoppers away from the big four with low-cost luxury like Lidl's sustainably sourced lobster for £4.99 or Aldi's 30-day aged fillet steak for just over a fiver.

Turns out the same principle applies to their oil shopping habits. A 2% drop in the average price of extra virgin olive oil has seen shoppers lap it up like there's no tomorrow, resulting in an extra 700,000 litres being sold last year [Kantar 52 w/e 27 January 2019]. Essentially, if Brits can get a good deal on the fancy stuff, they're buying in.

At the same time, less fancy olive oils have seen a price hike. It's still roughly £1 a litre cheaper than extra virgin, but the price gap has narrowed. As a result, they have taken a 5.6% tumble in volume.

So what's going on in this price-driven market? Why is extra virgin olive oil suddenly more affordable? And will shoppers swap back if it gets more expensive?
"Spanish production determines the prices, and Spain had a huge crop last year"
Extra virgin olive oil is consistently the king of cooking oils in terms of value. But volumes have fluctuated from year to year. While there is little doubt that Brits have an appetite to buy it, on the shelf pricing "has a significant impact on their likeliness to make it a frequent purchase," says Kamil Shah, co-founder of Olive Branch.

And until now, prices have been edging upwards. Poor crops from major producing countries and the drop in the value of the pound in the wake of the 2016 Brexit referendum have all made imported food more expensive. As a result, supermarkets were forced to put up prices and brands to cut back on promotions, making extra virgin an unaffordable luxury for many Brits.
At the starts of 2018, things weren't looking much better, says Shah. "The 2017/18 harvest saw relatively low yields in all major European extra virgin olive oil producing countries (albeit better than the 2016/17 harvest) which continued to put pressure on on-shelf pricing." That all changed in the second half of the year. "Indicators showed that the 2018/19 harvest would be much stronger and prices began to climb down," he explains.

Although global olive oil production dipped by 5.5% to 3.1 million tonnes in 2018/19, it was a significantly larger crop than in 2016/17 and 2015/16. And in Europe, production was up 2% year on year - putting it 10% above the five-year average, according to European Commission figures. This was primarily due to a bumper crop in Spain, where olive oil production surged 42%. "Spain has seen a good year in olive oil production with 1.76 million tonnes, which far exceeded the official initial estimate of 1.55 million," says Mark Church, MD for Edible Oils. As a result Spanish prices are "low versus recent years".

That wasn't true elsewhere. Italy, whose groves have been blighted by the olive tree-killing xylella bacteria, had another difficult year, with production down by over half (57%). Greece saw production plummet 47% after a wet summer resulted in a pest infestation. "We had a very bad crop last year, it was one of the worst," says Panos Manuelides, founder of Odysea. "But it's the Spanish production that determines the prices, and Spain had a huge crop."
Promotions
The easing of commodity prices has given brands back enough margin to invest in promotional activity again. As a result, average shelf prices for branded extra virgin olive oil have dipped 6.6% [Kantar].

Promotions mean that in many cases, there is little - if any - difference in price between extra virgin and refined olive oils. "Promotions have been reactivated and they tend to be line-priced," says Lisa Mullins, marketing director at Filippo Berio. "So if it's a £2.50 deal it will be £2.50 for extra virgin, pure or mild & light." That makes extra virgin an obvious choice for many.

This activity has also helped brands fight back against own label. Branded extra virgin volumes shot up 12.1% this year, while own label edged up only 0.9% [Kantar]. "Private label had been growing because brands were cutting back on promotions, but I always said that was a temporary loan of market share," says Filippo Berio MD Walter Zanre.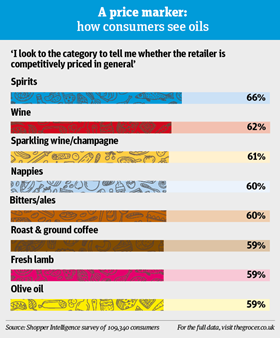 Indeed, Filippo Berio added an extra £1.6m to its value in the past year [Nielsen]. And it's not the only one benefiting. Napolina is down £3.6m, but that's only because of prices - volumes are up 10%. Commercial director Neil Brownbill says its "stronger promotional activity" in the latter half of 2018 has added "nearly 2.5 million new shoppers to the brand in the last six months".

Napolina has also invested heavily in primetime sponsorship of ITV's Gino's Italian Escape and has continued to develop its 'Cooking with Napolina' YouTube channel, which has gained over 2.6 million views with how-to videos such as 'Which Oil to Use?'.

It's all hammering home the message that there is an olive oil for every occasion. "The brand encourages consumers to add different oils to their repertoire for different cooking occasions," says Brownbill. "Our colour-coded labels provide clarity at the point of sale and advise that extra virgin olive oil is ideal for salad dressings, dipping and drizzling, whereas olive oil is better suited to everyday frying and marinating."

Despite these efforts, refined olive oils have taken a dive this year. Value is down 3.3% on volumes down 5.6% [Kantar]. And that isn't just because people are trading up to extra virgin. "Consumers are still switching out of the bottom end of the category to cheaper oils like sunflower oil," says Zanre. "Wages have not kept pace with inflation, and there are people who are really suffering with their household budgets and having to make some tough decisions."
"Consumers are still switching out of the bottom end to cheaper oils like sunflower oil"
Indeed, volume sales of sunflower oil are up another 4.1% this year. The 3.2% dip in average shelf price, made possible by plentiful commodity supplies, can only have added to its appeal. "World crushings of sunflower seed are expected to be a record high this year, beating the previous record in 2017 of 20.4 million," says Edible Oils' Church.

Rapeseed oil is also scooping up extra sales, with volumes up 9.1%. But this is a very different story to sunflower oil. Prices actually rose 5.1%, making it only 17p cheaper than extra virgin per litre [Kantar]. "The rapeseed market has long suffered smaller crop yields following unseasonably warm and dry weather," says Church.

That is leading to declines in some brands. Crisp 'n Dry, for example, has suffered a 4.2% blow to volumes amid a 2.4% increase in price. However, some have gone the other way. Church claims Mazola's rapeseed oil, which has listings in Tesco, Sainsbury's, Morrisons and Asda, is delivering double-digit volume and value gains.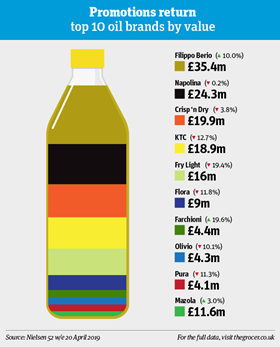 That's because the boom in the oil is less to do with price, and more to do with a fashion for rapeseed - particularly the cold-pressed variety. Cold-pressed rapeseed oil contains very low levels of saturated fat, is rich in vitamin E and healthy monounsaturated fats, and has a higher smoke point than many rival cooking oils, making it an appealing choice for health-minded shoppers.

"Rapeseed oil has enjoyed the celebrity treatment, especially since Jamie Oliver, among other influencers, started to endorse it. It has been one of our standout performers over the past 12 months," says Maria Dawson, commercial director at Clearspring.

Rapeseed isn't the only premium offering making waves in the category. In fact, other speciality oils have risen 5.3% in value and 4.7% in volume following a swathe of NPD.

The Groovy Food Company, for example, recently launched Omega High Five Oil that blends five cold-pressed oils to offer 100% plant-based Omega 3-6-9, traditionally associated with oily fish. Clearspring, meanwhile, has launched a cold-pressed flax oil which is rich in omega-3 alpha linolenic acid (ALA), said to maintain normal blood cholesterol levels. And FlavOil launched its High Oleic Sunflower Oil into 850ml bottles for retail. "High oleic oil is an edible oil that is mainly composed of oleic acid - the same fat that is in olive oil," says Martin McHugh, marketing manager of FlavOil. "It is a healthy fat that is stable at high temperatures so it's ideal for cooking. It's taste neutral and so can also be used in dressings and sauces."
Health credentials
As these innovations suggest, health is a key selling point of new speciality oils. Yet this is a tricky area. Coconut oil is a case in point. Once hailed as a healthier oil than extra virgin, it got some damaging press in 2017. "The American Heart Association revealed it isn't as healthy as you might have thought, since it contains more than 80% saturated fat," says Olive Branch's Shah. "Butter in comparison has circa 63% saturated fat. This news has spread very fast, leading to consumers falling out of love with coconut oil."

The numbers back up his point. Value sales of coconut oil have slipped 17% on volumes down 16.7% as both brands and own label suffered losses. "There are a variety of different factors that have had an impact on the value of the coconut oil market," admits Clearspring's Dawson. "There's the explosion of offerings in the market, the discounters, heavy promotions as well as some uncertainly amongst consumers about the health benefits of coconut oil with its high level of saturated fat."
"Consumers are looking for value, but they are also looking for reassurance on health"
That's not to say people are completely shunning coconut oil. It still racked up sales worth £21.5m, and brands are now looking to reverse the decline with innovation. One such brand is the Groovy Food Company. "We expect to see continued growth within the convenience oils subcategory and innovative new products like our Organic Virgin Coconut Oil infused with Turmeric are becoming increasingly popular, as people can save time and money by not having to shop for or cook extra ingredients," says founder Rosie Hayward. "This has led to us launching new innovations to the range this summer - Organic Virgin Coconut Oil infused with Ginger and Organic Virgin Coconut Oil infused with Chilli and Garlic."

What the dizzying rise and subsequent fall of coconut oil does demonstrate is that shoppers aren't just driven by price - they are willing to pay a premium for genuine health benefits. "Consumers are looking for value, of course, but they are also looking for inspiration and reassurance on health and education," says Church.
Antioxidants
It's a lesson olive oil brands should take on board if they want to prevent sales from being entirely reliant on price. For his part, Odysea's Manuelides insists none of these speciality oils can rival extra virgin olive oil when it comes to health claims. "Other oils don't have polyphenols," he points out.

Polyphenols, one of numerous health-protective antioxidants found in extra virgin olive oil, have been scientifically proven to help the body fight against disease and cancer. "Rapeseed oil is high in monounsaturates but it doesn't have anything else," says Manuelides. "It's the same for coconut oil. It's a good product but it just doesn't have the same health benefits as extra virgin olive oil."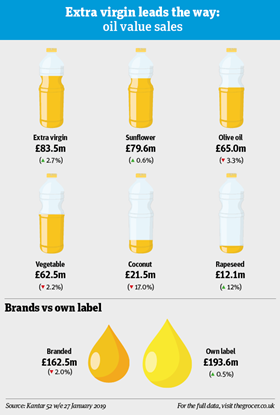 These benefits are proving tricky to communicate, though. While the medical evidence is there for extra virgin olive oil - especially those with polyphenols over 250 parts per million - "the health claim you can make under EU rules has so much jargon the average consumer wouldn't understand it," says Manuelides.

And in the face of cold-pressed rapeseed oils, which are sourced from British fields and have a strong provenance appeal, claims need to be hard-hitting.

According to research commissioned by Filippo Berio earlier this year, olive oil has lost some of its health credentials in the eyes of consumers. "That's because of some of the health claims on alternative oils like rapeseed saying it has 'less saturated fat than olive oil', which is a bit of a rubbish claim because olive oil hardly has any saturated fat to start with," says Zanre.

Then there's the negative press around olive oil of late. In May, Europol seized 150,000 litres of fake extra virgin olive oil from a criminal gang who were racking up €8m a year in profit by adding chlorophyll, beta-carotene and soya oil to sunflower oil.
Just weeks later, an investigation by the Telegraph claimed olive oil was being produced in a way that "kills millions of songbirds every year". Harvesters across Italy, Spain and France were using machines to suck olives from trees at night, it said, meaning birds sleeping in their branches were being "sucked to their deaths".
"British supermarkets are very vigilant so the product that comes into the UK is good quality"
So far, these stories aren't affecting the British market. Most major British supermarkets and brands insist they source olive oil that is harvested during the day, removing the risk for birds. And the UK has so far remained free of the rampant fraud that has plagued extra virgin olive oil in other countries. "British supermarkets are very vigilant so the product that comes into the UK is of a good quality," says Zanre.

Even incidents of rancidity and flavour defects due to oxidisation have been successfully reduced by Defra's introduction of regular testing of olive oils, he adds.

Now brands - invigorated by their return to growth - are ready to reinstate olive oil's halo. "Olive oil's mantle of health had been taken away from it so we are going to start a bit of a PR campaign to get the true facts out into the public domain," says Zanre. "It remains unquestionable that the countries that have a high consumption of extra virgin olive oil have a much healthier population. We want to bring that back to the fore."
Making the health argument for extra virgin shouldn't be too difficult, insists Shah. "In the last few years, various nouveaux diets have been backed by celebrities. These quickly rise in popularity but are wiped out of fashion just as quickly when studies show they may not be as effective as suggested," he adds. "When this happens, consumers seem to always fall back on the Mediterranean diet, with its centuries-long tradition and extensive proven research on its effectiveness - and extra virgin olive oil is at the core of it."
"When nouveaux diets go out of fashion, consumers return to the Mediterranean diet"
In the meantime, Brits are likely to keep buying extra virgin olive oil if the price is right. It's still too early to tell what will happen with this year's olive harvest, but "things are looking good so far", Manuelides says.

And while Brexit is looming ever closer on the horizon, the government's decision to remove tariffs on olive oil in the event of a no-deal scenario should prevent any huge price rises. So with a little luck, extra virgin olive oil will remain an affordable luxury.
Why hemp seed oil is the new one to watch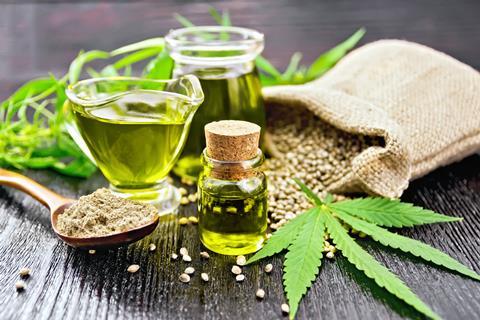 Hemp is hot right now. Used for over 12,000 years for food, fuel and fibre, cannabis sativa - or 'cultivated cannabis' - is enjoying a resurgence on the back of the CBD boom.
And while hemp seed oil is a very different proposition from the CBD oils being touted as a magical cure-all, it's got its own set of impressive health benefits.
Hemp is a variety of cannabis with very low levels of the psychoactive constituent tetrahydrocannabinol (THC). In the UK and EU, specific varieties of industrial hemp with a THC content below 0.02% are approved for cultivation under licence.
Unlike CBD oil, which is extracted from the leaves, flowers and stalks of the cannabis plant, hemp seed oil is extracted from the seeds - so contains no cannabinoids whatsoever.
However, it is a rich source of omega-3 and - unlike other culinary vegetable oils - it contains large quantities of gamma-linoleic acid (GLA), an omega-6 fatty acid usually only found in dietary supplements such as primrose oil.
"Hemp seed oil has a better fatty acid profile than other vegetable oils," says Helena Hall, head of B2B sales at Good Hemp.
It's relatively expensive (Good Hemp retails at around £6 for a 500ml bottle) but that's because extracting oil from hemp seeds is much more complicated than pressing olives, says Hall. It took Good Hemp co-founders Glynis Murray and Henry Braham five years to develop their two-step process of extraction and filtration.
And it's worth the extra cost, insists Hall, who points out that not only is hemp seed oil good for health, but it's good for the environment. "Hemp takes four times the amount of carbon dioxide out of the atmosphere as the same area of planted trees," she says. "And it doesn't use much water."
So as millennials embrace sustainable and plant-based foods, hemp seed oil is one to watch.
Innovations in oils 2019

Carina Perkins is The Grocer's managing editor

Follow Carina on Twitter: @CarinaPerkins