Bread is about to become seriously bling. As wheat prices rise, this staple is becoming costly – leaving brands in a tricky position
In the world of rap, dough is the ultimate status symbol. True, lyricists aren't typically talking about the bready variety (with the exception of Kanye West, who famously rapped about croissants). But that may be about to change. Because as wheat prices rise, it may not be long before the baguette has its own bling value.

Yes, bread - once the affordable staple for the everyman - is losing its common touch. Overall, bread and bakery prices have risen 2.6% in the past year [Kantar 52 w/e 27 January 2019]. In wrapped bread, that figure increases to 2.9%. That's steep even considering the current rate of food inflation, which the British Retail Consortium puts at its highest level in over five years.

It couldn't come at a worse time for bread. Amid the move away from processed food and carbs, bread has struggled to muster any significant sales growth over the past five years. So asking consumers to fork out more dough for their, well, dough isn't going to go down well. That's raising some serious questions over the future of bread brands and the ongoing impact of wheat prices.

For the culprit behind the rising costs of wheat, look no further than last summer's heatwave. The prolonged hot, dry weather diminished the UK wheat yield.
"We've seen the wheat market rise steadily as a result of the long, hot and dry summer"
"We've seen the wheat market rise steadily between April and September 2018 as a result of the long, hot and dry summer," explains Alex Waugh, director of the flour millers' association, Nabim. "That reduced grain yields and also limited production of animal fodder, increasing demand for grain to feed animals. There was a similar situation across other EU grain-producing regions, meaning there was no easily available alternative source of supply."
This coincided with the continued devaluation of the pound. Since the Brexit referendum in 2016, there has been steady pressure on the price of wheat, which is traded in US dollars. By February 2017, the cost of wheat had risen 38% to £146.75 per tonne. That rose another 20% to £177.50 per tonne by May 2018, before the heatwave had even begun to take effect.
Bread brands have had no choice but to pass on some of these costs to customers. The major players have all put up prices over the past year, with some loaves rising by as much as 12% [Edge by Ascential 52 w/e 1 January 2019]. In January, The Grocer reported that Hovis loaves were 4% more expensive than the previous year, while Kingsmill loaves rose 8% and Warburtons prices increased by 2%.

It's been a long time coming. Until now, bread brands have tried to stave off price rises with internal measures. The challenging market pushed Warburtons to halt bread production at its Stockton-on-Tees site last July, while Hovis sold two of its flour mills to Whitworth Bros and closed a third in 2018.
But the situation has now reached a tipping point, if Kingsmill and Allinson's owner Allied Bakeries is anything to go by. In November 2017, it blamed rising costs for its operating loss. In January 2018, the manufacturer warned it would have no choice but to pass some of these costs on to the consumer.

It's all too aware this could result in fewer sales. "Some bread sales volume will be lost next year as a result of recent customer discussions on pricing," Allied said in an update in February. "We remain focused on reducing these losses and will take further measures to this end as needed." To make matters worse, Allied has just lost the Tesco own-label contract.
Branded struggle
There is some cause for optimism in the year ahead, though. In April, the AHDB reported wheat prices had decreased since the highs of last summer. Others believe things could ease off further. "Wheat prices could improve with the new crop, but we've got a good few months to go before we find out if that's the reality," says David Howlett, joint MD at Fine Lady Bakeries.

Still, branded bread has its work cut out if it's going to turn things around. A downturn in sales is already apparent. Nine of the top 10 bread brands have registered a decline in the past year, resulting in a cumulative loss of over £50m [Nielsen 52 w/e 16 March 2019]. That equates to 86.5 million fewer units sold among the top 10.

Price is likely to be one factor. In wrapped bread, customers pay on average 20p more per kg than they do for own-label equivalents [Kantar]. Correspondingly, branded volumes have declined 9% while own label has gained 14.2%.
"There's an outlook that says wheat prices could improve with the new crop"
Indeed, the entire £95.4m growth in the bread and bakery market came from own label, which gained over £100m in extra sales. Darren Littler, innovation director at Warburtons, admits it is a tough environment for brands. Crucially, he says the growth of Aldi and Lidl has made own label "more important" than ever. Indeed, Aldi and Lidl were the only retailers to achieve double-digit category value growth last year, at 11.2% and 13.2% respectively [Kantar].

That has sparked a more wide-ranging shift. "The big retailers' reaction to that growth has been key," Littler says. "The mults are putting a lot more time and effort into their private label-ranges."

That means it's not just price pushing consumers towards retailer wares. It's also the quality of their offering.
Premium lines
"What is interesting about the growth of private label is that it is predominantly driven by products at the premium end of the spectrum," says Sara Green, head of insight at Hovis. "That indicates that getting the lowest possible price is not the main motivation for these shopper purchases."

Green points to Nielsen data that shows premium private label added £18m to wrapped bread sales over the past year [52 w/e 17 March 2019], while value private-label bread declined by £2m. At an overall level, Kantar data puts the growth of premium own-label bread and bakery at a whopping 19.8%.

Crucially, that figure includes sectors outside wrapped bread. Kantar shows own label has performed particularly strongly in areas such as rolls, which are up 11.7%, and tea break options, which have seen a 7.1% boost.

That is symptomatic of the move away from wrapped bread and into other bakery sectors over the past year. "2018 has been symbolic in that other wrapped bakery has begun to sell more than wrapped bread," says Warburtons' Littler. "That's a pretty significant change in our market. Our industry and the brands within it have been built to deliver primarily on wrapped bread."
"The growth of private label has been predominantly driven by premium products"
Retail ranges have shifted accordingly to include more bakery options, and more diverse ranges of wrapped bread. "We're seeing a rationalising of the space that traditionally would have been given to sliced loaves in supermarkets, with much more dedicated to artisan sourdoughs and flavoured breads," says Erwan Inizan, sales director at bakery manufacturer Bridor.

Waitrose is a case in point. "We rationalised our sliced breads and morning goods, opening up space for our more unique categories such as sourdough and continental breakfast," says buyer Jade Symonds. The move appears to be paying off for the retailer, which reported 27% sales growth for its Waitrose 1 sliced sourdough line and 23% growth in its loose sourdough range.

There are plenty more examples where that came from. From Asda's new Extra Special Chocolate Bread to Aldi's recently launched Specially Selected Sourdough loaf, everyone's looking to offer a point of difference.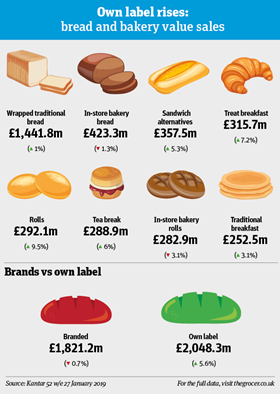 These products are putting pressure on brands to up their game. "Consumers are now quite used to seeing quality non-branded bakery products on shelves for a good price, and they're increasingly considering own-label alternatives," says Megan Harrison, marketing director of Roberts Bakery. "That forces a more competitive approach."
That competition is already being felt in terms of shelf space. "The decline of branded space in the bakery aisle is creating an issue for branded players," says Jonathan Brace, director at Brace's. "Brands are still needed to drive innovation and provide a price point which retailers can then work underneath of, but we get the impression that supermarkets are moving towards stocking just two national brands alongside their own range."

To fight back against this rationalisation, brands are investing in their own higher-end offerings. Warburtons has been particularly active in this area. Having launched its sourdough loaf last May - a UK first for a major bread brand - it is keen to stay ahead in the innovation stakes. In September, it introduced a sourdough version of its thick sliced Toastie. And in April, Warburtons unveiled its Fabulous Fruit Loaf, which looks to "engage a younger audience who may typically enjoy a fruit toast in a coffee shop".

Its major rivals have been pretty busy, too. Hovis expanded its premium bread range with a white bloomer and a seeded batch in September, which coincided with the launch of Kingsmill's Vitamin Boost loaf targeting the healthier crowd.

The smaller bread brands are arguably even more experimental. Last May, Italian brand Crosta & Mollica unveiled four new lines, which included a Piada with Durum Wheat and a Pane Pugliese. Meanwhile, Speciality Breads added a range of mini ciabatta rolls into its artisan-style frozen breads lineup in July.
"It's more important than ever to establish your credentials in the category"
The movement shows no signs of slowing this year. St Pierre Groupe, which boasted one of the highest rates of growth outside the top 10 bread brands, launched new deli and ciabatta rolls under its Baker Street brand in January. And regional player Brace's Bakery rolled out its eight-strong Welsh Legends bloomer and batch loaf lineup, featuring buckwheat, corn pieces and (of course) sourdough in February.

The high-end market certainly seems to be where the money lies. That much is demonstrated by Allinson's, which was the only one of the top 10 wrapped bread brands to achieve growth over the past year (see left). Its value climbed a whopping 38.7%, which Nielsen analyst Carol Ratcliffe attributes to "successfully capitalising on the growing demand for better-tasting bread with a range of high quality and artisanal-style loaves in premium packaging".
Quality over quantity
That Allinson's loaves are available in a smaller 410g format has further boosted their popularity this year, says Matthew Cullum, director of marketing at Allied Bakeries. "Sixty-five per cent of all households are now either one or two-person with a higher disposable income, and these are the households that are buying artisan, craft brands with a bit of a story."

These smaller formats also play into the growing trend of sustainable shopping, says David Balmer, managing director at Jackson's Yorkshire's Champion Bakery. "We've seen more people buying our half bloomers this year. Not everyone can eat or store a whole loaf, and a growing number of shoppers appreciate smaller formats as being less wasteful than standard loaves."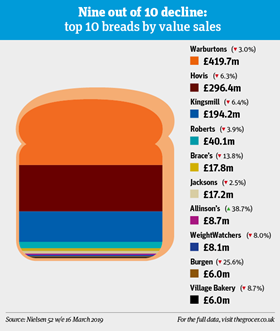 One thing that all this highlights is the need to innovate for modern consumers. A ­standard-sized, mass-produced white loaf isn't the guaranteed hit it once was. Warburtons' Littler admits it takes more to impress today's consumer. That's one reason behind its continued investment in high-profile marketing, which will see Robert De Niro advertise its bagels in the coming weeks.

"It's more important than ever these days to establish your credentials, both in the eyes of the retailer and the consumer," says Littler. "Retailers want to be reassured we're investing in bread and bakery and keeping it at the front of mind for shoppers."

With this year's wheat yield still hanging in the balance, staying front of mind will be particularly crucial. If we get the heatwave promised by the Met Office, bread brands may have to push through yet more price hikes. So they will need to convince consumers to part with more of their cash by offering points of difference such as sustainability, premium or health credentials.

For if bread is about to get bling in terms of pricing, consumers will be expecting far more from their loaves.
Innovations in bread & baked goods 2019
How bread is shedding unhealthy perceptions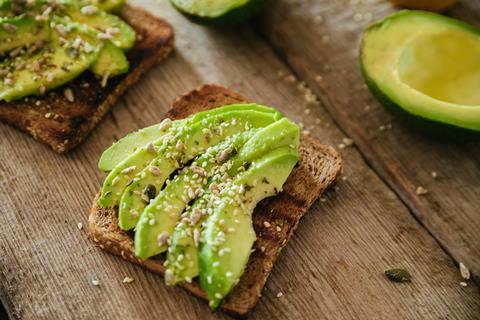 As Brits pay ever more attention to their health, it doesn't pay to have a reputation for being fattening and highly processed. Bread has learned this the hard way. Sales of standard sliced fare have fallen steadily as consumers look for healthier alternatives.
"The negative perception of bread has been pushed by the media over the past few years," says Jonathan Brace, director of Brace's. "We've actually had to change our marketing strategy, which used to target housewives with children, because those shoppers aren't buying or eating as much bread."
So bread is fighting back with healthier options. And these are getting ever more innovative. Gut health is one area being covered by NPD such as the Genius Good for the Gut range and Roberts' Digestion Boost bloomer.
Then there's innovation such as Kingsmill's Vitamin Boost loaf, the latest addition to its 50/50 range. Containing everything from vitamin B to iron, the brand hopes it will build on the success of 50/50, which it reports grew 2.6% last year.
Retailer ranges are doing particularly well in this healthy arena. "Own-label ranges are increasingly focused on lower calories and lighter options," says Kantar analyst Charles McAlindin. He points to products such as the Waitrose Love Life calorie-controlled croissants, which promise to contain 30% less fat than a standard version. "Younger, more affluent shoppers without children are driving the performance of this sector."
For its efforts, sales of own-label healthier fare rose 21.6% over the past year [Kantar 52 w/e 27 January 2019].
Jeremy Gilboy, founder of St Pierre Groupe, says it's time for brands to step up their game. "We know younger shoppers are still eating bakery goods, but they're pairing them with healthy foods like avocado. We could certainly do a better job of catering for millennial shoppers."