Higher – and erratic – demand for fresh bread products is the new normal for Britain's bakers. How are they rising to the challenge?
It's enough to make the toughest of bakers freak out. Not only has the pandemic has prompted a huge spike in demand for bread and baked goods, but it's also made shoppers more erratic. Bakers have had to anticipate huge fluctuations in appetite.
That poses obvious problems. Unlike the canned goods stockpilers have been filling their pantries with, loaves have a limited shelf life and are baked fresh every day. They can't simply be warehoused until required.
Plus, there is the supply chain to consider. "The supply chain for bread and bakery products isn't the same as other foods," explains Federation of Bakers CEO Gordon Polson. "One of the challenges facing bakers, in contrast to other manufacturers, is that they're responsible for delivering direct to stores."
So what are these new consumer habits? And how are bakers coping under the new-found pressure?
The pressure's been on from the start of the outbreak. First there was panic buying. "Demand for bread grew significantly in the two weeks before the start of lockdown on 24 March," says Matthew Cullum, marketing director at Allied Bakeries. "In the four days from Monday 16 to Thursday 19 March, 88% of us visited a grocery store, making an average of five trips each."
For Allied's Kingsmill brand, that led to a sales spike "as high as 30% up on the same weeks last year," Cullum reports.
"We were able to increase production and deliveries to meet this increased demand and help our customers keep bread on their shelves, although we did see some empty shelves for a couple of days."
Kingsmill wasn't alone in that challenge. According to Kantar, the supermarkets shifted an extra 56.7 million packs of bread and other baked products in March compared with the same period in 2019 (see p40). That's a 15.9% volume hike, with value up 17.8%, indicating that shoppers paid an average of 1.1% more per pack as retailers withdrew promotions in a bid to manage demand.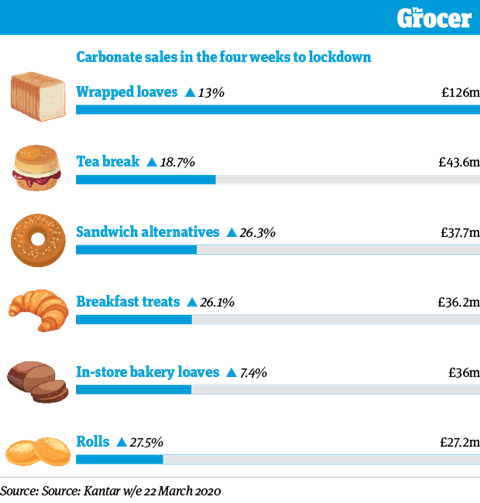 Sales of bread and baked goods rose like proving dough throughout March, gaining 17.8% in value and 15.9% in volumes.
The only lines to slip were rolls baked in-store. They grew 3.5% in value but suffered a 4% volume decline as in-store bakeries began to shut down towards the end of the month. Note also the lower rate of growth for loaves baked in-store.
Average prices increased as retailers scaled back deal activity to manage demand. That represents a change on last year, when 16.3% of the sector's value sales were made on promotion, most commonly through the use of temporary price reductions [Kantar 52 w/e 29 December 2019].
That came against a backdrop of inflation. "In 2019, we saw continued inflation in ingredient prices," says Kantar analyst Amber Trott. "With the impact of Brexit still uncertain, it will be interesting to see how this affects the category's pricing and how shoppers respond."
Opportunities still exist, however. "We've seen shoppers becoming increasingly health and environmentally conscious," says Trott.
By lockdown, demand for bread had already reached a zenith, says Sara Green, head of category & insight at Hovis. "The peak for bread sales was observed in the week ending 21 March, which saw unit sales grow by more than a quarter compared with the same week in 2019. For a category that has been in gradual unit decline, this is a huge shift in consumer behaviour."
"While grocery sales seem to have returned to normal levels, bread sales remain high"
A poll of 500 consumers carried out by Hovis on 11 March showed that 31% were stocking up on household essentials at this time, and 37% of those were buying more bread. Once supermarkets began limiting the number of units shoppers could buy, demand slowed – but it remains higher than usual.
"While grocery sales seem to have returned to more normal levels now the nation is in lockdown, bread sales remain high as consumers replace their out-of-home lunch purchases from places such as cafés, coffee shops, supermarkets and office canteens with homemade sandwiches or quick and easy meals, such as beans on toast," says Cullum.
At the same time, it has created new peaks and troughs in demand. That is throwing out everything bakers knew about normal consumer buying patterns.
"We don't know what the new normal is going to look like," says David Walmsley, business director at Finsbury Food Group's Nicholas & Harris bakery. It supplies premium speciality bread under the Vogel's, LivLife and Cranks brands, as well as retailer own labels.
"The order profile has changed," he explains. "Where we used to see a peak in demand from Thursday through to the weekend, that peak is now being smoothed out throughout the week. It takes time for that to settle. We make fresh to order daily and are running a 24/7 operation. It has been quite a challenge managing the volatility."
Easter shifts
The warm spell and Easter presented a particular challenge. Just as the familiar weekly peak in bread sales smoothed out during lockdown, so too did the pre-Easter rush on the likes of hot cross buns.
The lack of rush didn't necessarily mean a reduction in total sales, though. "Our hot cross bun sales are at record level, driven by an increase in year-round sales and a strong early Easter season, which began in January," says Walmsley. "But a lot of the early season gains we had were wiped out by the disappointing Easter fortnight."
"In the short term, sales have been helped by the excellent weather and more people BBQing"
The warm weather, meanwhile, drove growth in rolls for BBQs. "Our Country Miller Brioche rolls have underlying growth of 18% year on year, and over the first three weeks of lockdown saw a 79% jump in sales versus the three weeks prior to that," adds Walmsley. "In the short term, this has been helped by excellent weather and more people turning to barbecues in their gardens."
The unconventional demand patterns means bakeries have had to come up with pragmatic solutions to ensure their products reach people's mouths.
For example, Lantmännen Unibake has redirected its Americana (burger buns and hot dog rolls) and Schulstad Bakery Solutions (baguette, ciabatta and paninis) ranges from foodservice to grocery.
"The Schulstad Bakery Solutions range is supplied frozen and once thawed and date-coded can be merchandised in bread aisles or in-store bakeries," says marketing manager Paulina Gorska. "Americana is supplied frozen and comes in consumer-ready packaging, so can be sited in the frozen aisle. It's perfect for consumers looking to recreate their favourite high street burger at home."
Similarly, Nicholas & Harris is pitching its fresh part-baked products – usually sold through in-store bakeries after being heated on site – for the main bread fixtures.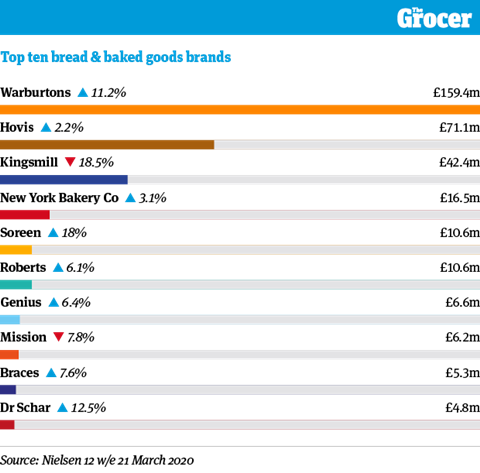 Shoppers forked out an extra £36.9m on bread, rolls, bagels and other wrapped bakery products in the first three months of 2020, a rise of 11.2%.
The greatest slice of that by far – £32.4m – was in the final four weeks before lockdown, when year-on-year growth accelerated to 15.1% and unit sales grew by 16.5%.
Not all top 10 brands benefited. Kingsmill lost £9.6m (18.5%) over the 12 weeks, despite strong growth in the final weeks before lockdown.
"Kingsmill has struggled with delistings and has missed the innovation trends in other bakery," says Nielsen senior client analytics executive Viviane Palmedo.
Government help
Some of the credit for providing shoppers with their daily bread also has to go to the government, points out the Federation of Bakers' Polson. He points to the relaxation of rules governing drivers who deliver goods to the supermarkets, which came into force on 23 March. The daily driving limit has been raised from nine to 11 hours, and rest requirements have been lowered.
"The government has recognised food production employees as key workers," he says. "The relaxation of drivers' hours is a key factor in ensuring product is delivered to retailers. It also means we can ensure regular delivery of flour and ingredients to bakeries, as the supply chain for bread and bakery products has a very short lead time and flour from millers is delivered every day by tanker."
Of course, tankers are no good without people to drive them. And the loss of staff to coronavirus is the greatest threat the category is facing. "Absence rates have been our main challenge, but at present we are continuing to operate fully," says Duncan Tyrrell, strategy controller at Warburtons, which has taken on more staff to keep up with demand.
"As of 22 April, we have just over 5% of our workforce absent for Covid-19 related illness. However, at the peak absence levels were at around 11%. As this is such an unprecedented situation, we don't know what we may face next."
It's simply been a case of managing things day by day. "We've worked hard to ensure we have the required stock levels across our key ingredients and will continue to monitor this and work with our suppliers to ensure continuity of supply," says Tyrrell.
Plus, companies are taking preventative measures. To keep their staff healthy, all the big bakers have implemented social distancing at their plants. Cullum at Allied says the business has installed Perspex screens to segregate staff in its packaging areas.
It's also had to make temporary changes to some lines. Allinson's Scandalous Seeds and Champion Wholemeal, for example, have moved to standard plastic bread bags. Hand-packing the loaves in their usual paper wrappers "didn't allow for us to put social distancing in place" explains Cullum at Allied. "We paused production, then swapped out to plastic bags – and automated packaging.
"We were especially keen to keep Allinson's in production as it's performed brilliantly since its relaunch, with sales up 6% versus two years ago," he adds.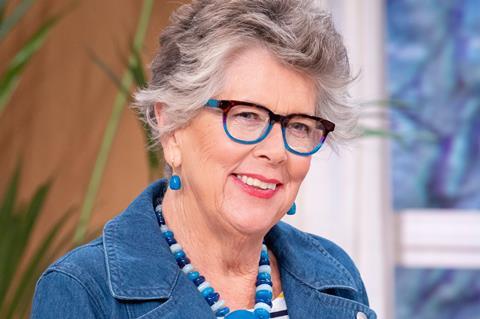 How flour demand has hit gluten-free Brits
Brits have been dusting off their aprons during lockdown. The appetite for home-baked goodies has led to a new supermarket shortage: flour. "The shelves say it all," says Warburtons strategy controller Duncan Tyrrell. "Flour is now almost impossible to find."
No wonder Great British Bake Off presenter Prue Leith last week appeared on BBC Breakfast to explain how to keep calm and bake on. She suggested that viewers looked for recipes in gluten-free cookbooks and used ground nuts or polenta as a wheat flour alternative.
That didn't go down well with some on social media. "Nooo!" tweeted one viewer. "We have enough difficulty as coeliacs getting gluten-free flour without Prue Leith telling everyone to buy gluten-free recipe books due to normal flour shortage."
But sales of gluten-free flour were already booming before Leith's advice. "Since the Covid-19 crisis hit the UK, our gluten-free flour has experienced an unexpected surge in online sales," says Claire Forster, co-owner of free-from bakery Oast to Host. Its pastry and cake flours, as well as its personalised treats, have been particularly popular, she adds.
This was likely driven, in part at least, by the shortage of regular flour.
"In the four weeks ahead of lockdown, nearly a third of households bought flour," says Allied Bakeries marketing director Matthew Cullum. "That's 50% higher than flour's usual Christmas peak. Allinson's flour hit 265% year-on-year growth."
Still, there's no need for alarm. "There's actually no national shortage of flour," claims Cullum. "What we've seen is a shortage of bagging capacity to pack the smaller retail bags typically sold in supermarkets. Bulk flour supply into our bakeries has been unaffected."
So consumers can still get their fair share of baked goods – it's just the baking bit that might prove more of a challenge.
Healthy loaves
That rebirth has been driven by an trend for premium loaves marketed on their health credentials – a corner of the market that was gaining ground well before the pandemic. Indeed, it was the motivation behind Britain's fourth-biggest bread brand, Roberts Bakery, launching a three-strong range of Digestion Boost Bloomers in May last year.
"When we rebranded in 2017, one of our main objectives was to drive more relevance with the modern-day shopper to attract them back into bakery, especially younger consumers," says Roberts' marketing director Megan Harrison. "Mintel research showed that 56% of consumers are interested in bread with positive health benefits. The Digestion Boost range is made with organic live ferments and packed with fibre to complement a healthy gut."
In light of the current crisis, many suggest loaves that carry gut health claims could be in for significant growth as consumers seek ways of staying health. Hovis' poll in March found 29% of consumers were trying to eat more healthily. And that's good news for makers of added-value posh bread.
In fact, Walmsley at Nicholas & Harris suggests the pandemic will fuel longer-term growth in premium loaves in general. "Artisan sourdough breads have increased 60% versus last year," he says. "Since lockdown started, sales have dipped, but we're working with our retail partners to find solutions that work for them while giving the same fresh craft breads to the consumer. In recessionary times, affordable premium lines like these do well, so we're not expecting demand to drop."
So if bakers can keep their head at these times – and keep supplies going – they may well find a new opportunity ahead.