Looking a million dollars need no longer cost a million dollars. Savvy consumers are now on the lookout for a beauty bargain
When it comes to beauty, everyone wants to look a million dollars. Few are so enthusiastic about the million-dollar price tag. So the market for cheaper alternatives to glamorous, celebrity-backed brands is nothing new.

What is new is the attitude towards these brands. Shopping in bargain stores for a moisturiser or make-up palette was once a source of shame. Today, it's a veritable badge of honour. Savvy consumers are now priding themselves on finding products that do the job for a fraction of the price. Take the beauty bloggers raving about their £1 steals from Poundland, or the influencers enthusiastically reviewing Wilko's make-up collection.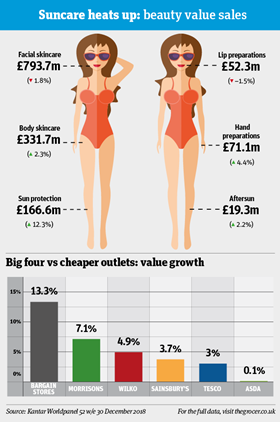 This shift in perception has seen beauty and suncare sales soar at the cheaper end of the market. Bargain stores saw a whopping 13.3% increase in their value sales, and Wilko now makes up 3.4% of the total market [Kantar Worldpanel 52 w/e 30 December 2018]. Meanwhile, the big four have had mixed results and traditional stalwarts such as Boots and Superdrug are battling flat sales.

So what does this mean for the trade in looking good? And is this positive or negative news for the supermarkets?

The fresh appetite for bargain beauty arguably started with Aldi. As it did away with the stigma of buying cheaper food, it similarly took an axe to the shame around opting for cheaper skincare, suncare and beauty items. As in food, it has done so by taking more than a hint of inspiration from big-name beauty brands. Its own-label range includes copycat versions of cult favourites such as the La Prairie skin caviar (while La Prairie will set you back nearly £200, the Aldi version is under £14) and GlamGlow mud mask.

The strategy seems to be paying off. Aldi's beauty range is now a favourite among beauty editors, racking up mentions in the likes of Grazia and Cosmopolitan. The steady pipeline of new products, such as its copycat Pixi glow tonic last September and Lacura version of Nip+Fab glycolic cleansing pads in March, are ensuring it stays in the headlines. As a result, the discounter's beauty and suncare sales have shot up 14.1% in value. Kantar analyst Kate Ithell says beauty was a driving force behind this growth, and specifically the "significant expansion of its Lacura skincare range".
The message is clear: looking good needn't cost the earth. That could prove a powerful proposition, says Lucia Seoane-Pampin, behavioural analyst at consumer insight consultant Canvas 8. "With the abundance of high-end 'must-have' brands on the market, the cost of being a beauty junkie can quickly drain a bank account," she says. "Consequently, many are turning to imitation cosmetics, or 'dupes', which inspire countless posts on beauty blogs and double taps on Instagram."
So the beauty doors have opened to other price-led operators, such as Poundland and Wilko. Granted, much of the 13.3% growth in bargain stores came from their suncare ranges. And they are still a tiny proportion of the market. But they clearly have big ambitions for their beauty propositions.
They have taken a slightly different tack to Aldi, though. Rather than mimicking big, established brands, they're looking to establish their private-label ranges in their own right - with the help of influencer and celebrity endorsements.
"The cost of being a beauty junkie can drain money, so people are turning to dupes"
Wilko, for one, is rapidly building up its own-label range without any copycat credentials. It has won particular acclaim for its £3 Lash Princess Sculpted Volume Mascara, endorsed by the likes of former Pussycat Doll Ashley Roberts. Meanwhile, Poundland has invested in tie-ups with Towie stars Mario Falcone and Ferne McCann, who released her second Poundland beauty range in March. Senior beauty buyer Holly Mobley says these celebrity products have proven "incredibly popular".

Poundland is also upping its social media presence. Its content includes a video tutorial on achieving the 'party glam' look with Ferne McCann, which has amassed over 5,000 views on YouTube. "The rise of social channels featuring live demonstrations and endorsements of our products by influencers and the great results that can be achieved, has been a key driver in gaining the trust of our customer base, as well as drawing in new audiences to try out our products for themselves," says Mobley.

Even in more traditional outlets such as Superdrug, the effect of the bargain beauty movement is clear to see. It has focused its efforts on extending its exclusive, reasonably-priced Revolution brand with a blistering rate of NPD, including six new foundation shades, glitter palettes (£10) and highlighters (£6). That, plus a revamp of its counters, helped the brand gain 77.3% to be worth £41.1m [Nielsen 52 w/e 8 September 2018]. That's even more impressive given the value declines of big-hitting brands Rimmel, L'Oréal and Max Factor, down 13.1%, 0.4% and 7.9% respectively.
Supermarket strategy
This shift in consumer behaviour could be good news for the supermarkets, traditionally known for their competitive pricing. Asda, for example, is focusing on its George brand and exclusive Nspa lines, neither of which will break the bank. Sainsbury's, up 3.7%, is taking a similar tack with its relaunched Boutique range, including lipsticks for just £3.

But, increasingly, the bigger retailers are realising they can't compete with the bargain stores on price (after all, a Poundland lipstick is just £1). So they are adding something their cheaper rivals can't: experience. That sentiment was behind the revamp of Sainsbury's beauty aisles at the end of 2018, which saw it trial beauty advisors, 1,500 new products and a new department store layout in eight branches. At the time, Sainsbury's said it was looking to take on the likes of Boots to become a destination for beauty. That means offering advice, clear ranging and generally more than just a bargain beauty fix.
"Beauty customers are more likely to be product loyal rather than brand loyal"
Boots is thinking along similar lines. It is refitting 24 of its biggest beauty halls in April to create 'trending zones', discovery centres and live demonstration areas. Around 20 new brands will also be making their way into stores over the next six months.

Joanna Rogers, commercial director and VP of beauty and gifting at Boots UK, says there is space for both bargain beauty and higher-end brands in the market due to a "polarisation" of spending.

"The way customers shop beauty is evolving - they are more connected than ever before and have a wealth of products and information available at their fingertips. With the rise of social influencers and beauty vloggers, customers are more likely to be product loyal rather than brand loyal, meaning that almost all our customers who buy premium products also buy into mass beauty brands," says Rogers.

So perhaps there is room for more than just bargain brands in today's beauty market. When it comes to looking good, it seems consumers aren't only interested in a race to the bottom on price. But if retailers are to get consumers to part with more of their cash, they will have to do more than make them look a million dollars - they will have to make them feel a million dollars, too.
How Asda is looking to ramp up its beauty sales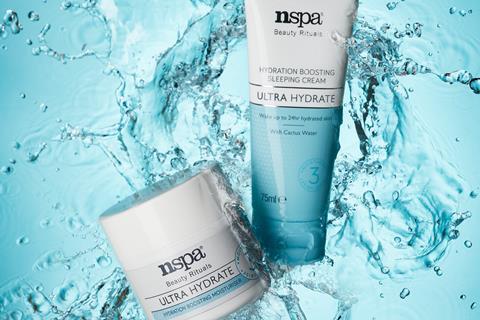 Back in 2017, Asda launched its first major own-label beauty range under the George brand. Since then, the supermarket has been steadily building up its reputation in the skincare and make-up world.
However, this year the supermarket lagged behind the rest of the big four in beauty sales, with a value gain of just 0.1%. It's hoping to turn around these figures with a host of new products for spring/summer 2019.
Its exclusive Nspa range has been a particular focus, with the arrival of four new ranges: First Signs of Ageing, Luminous Glow, Anti-Pollution and Ultra Hydrate. With premium-looking packaging and some bold claims, the ranges are well placed to capitalise on the appetite for affordable products that can rival the big brands.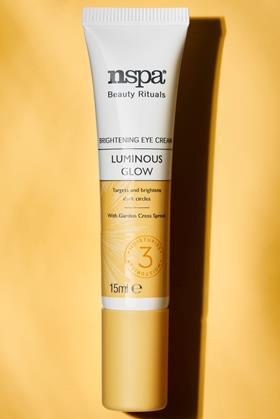 The First Signs of Ageing range, for example, comes in white, clinical-looking packaging reminiscent of the high-end, science-led brands on the market. However, prices remain strictly affordable.
The Daily Perfecting Serum (£12) uses acacia gum and hibiscus extracts to "soften wrinkles in only five minutes", while the Daily Complexion Perfecting Cream (£10) is designed to protect against "environmental stresses" and the Daily Perfecting Eye Cream (£8) claims to reduce the appearance of crows' feet.
Nspa is also taking inspiration from high-end brands such as Liz Earle for its Luminous Glow collection. Its Hot Cloth Polish is £7, while the Skin Glow Clay Mask is £6 and Brightening Eye Cream (pictured, left) is £5.
Meanwhile, the Anti-Pollution range taps into growing fears around the impact of blue light on the skin, using ingredients such as moringa and sunflower seeds to "protect against the stresses of the daily environment".
Finally, the four-strong Ultra Hydrate range (pictured above), including a micellar cleanser (£3.50) and 24-hour moisturiser (£6), uses cactus water to "balance and maintain natural moisture levels".