High-profile controversy has done nothing to dampen shopper appetite for value-for-money protein. So is it all about price?
Chicken has always been controversial. Even if it's just whether it came before the egg (it didn't). Go back 10 years and controversy raged around the woefully low welfare standards that kept poultry prices similarly low. Two whole chickens for a fiver was great - unless you were a chicken.

Since then, controversy has only increased. More recent debacles include campylobacter, chlorine and chaos at KFC. Topping it all off was the 2 Sisters scandal in September. A controversial Guardian/ITV exposé, which cast doubts over standards at the UK's biggest poultry processor, could have been the final nail in the coffin for cheaper chicken.
Download the PDF version of this report
---

Yet appetite for the lower end of the market is thriving. Brits ate nearly 12 million extra kilos of chicken over the past year, and paid 1% less on average than the year before as economy lines grew in popularity. So is it simply the case that the cheapest chicken wins? What is happening to the more expensive lines? And can innovation add value back?

Standard own-label lines still account for the lion's share of poultry - representing 79% of the market, according to Moy Park - but it's the economy end that's seeing the strongest growth. One reason could be the increase in basic welfare standards. Economy lines were once associated with chickens packed into a shed with almost no light, space or air. Today, conditions for the 95.5% of birds reared indoors (only 3.5% of the UK's birds are free-range and less than 1% are organic) are getting better, says Shraddha Kaul at the British Poultry Council.
"Compared to 10 years ago things have changed in terms of temperature, drinks, technology, the comfort of the birds, ventilation and lighting," she says. "All these elements are monitored and checked multiple times a day. So the foundations of what a farm looked like and how a bird's needs were met have changed phenomenally."
"The foundations of what a farm looked like and how a bird's needs were met have changed"
There is also the radical overhaul in the branding and packaging of value lines. Tesco has made the entry-level tier look anything but cheap with its Farms brand ranges, and it's not the only one.

"Many retailers are phasing out the old economy tier," says Jason Winstanley, head of research and insight at Moy Park. "In some retailers, we have seen the introduction of a new farm-branded entry tier which is growing substantially, albeit from a small base."

Although this initial boom is starting to tail off, farm brands are still fuelling growth. "This is partly driven by the race to the bottom of the price ladder through promotions, price cuts or the move to bigger bulk packs offering even better value for money," says Ben Morgan, head of insight of UK poultry at 2 Sisters, which processes Tesco Farm brands chicken and has been given a clean bill of health by the FSA since the scandal.

"Prices are lower than they have been for over two years, with average price per kilo down 10%."

And that's the way consumers like it. Kantar Worldpanel says price is an "important driver of choice" for shoppers as costs rise elsewhere in store.
Could 'posh' game be a real rival to chicken?
If chicken is super popular, game is less so - among average supermarket shoppers at least. Venison, pheasant, partridge, grouse, wild duck, pigeon, rabbit or hare are unlikely to feature on the average dinner table for a quick midweek tea. The newly formed British Game Alliance (BGA) is hoping to change that. It is planning to shake off the posh image and convince the UK it's as simple to cook as a chicken breast. Can it succeed?
Thomas Adams, MD of the BGA, is confident. "It's the most undersold and undervalued meat," he says. "There are so many varieties of game and they all have their unique flavours."
No one has "really tried to engage the British public, particularly millennials, with game and we are trying to do that and bring to the table this great host of sustainable healthy alternative sources of protein," he adds.
Game isn't cheap, but the BGA is "not trying to compete with cheap chicken. The fact you can get meat that cheap is pretty disgraceful in the first place. We think the price sits alongside organic chicken."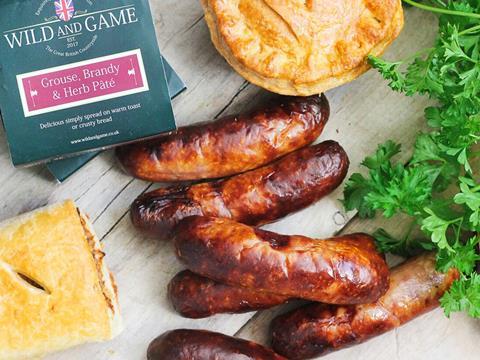 The BGA is also bringing in an assurance scheme. "Some supermarkets stock game on a small level, but to be able to have more security around provenance and standards is a real benefit for them. There is a real opportunity to move into ready meals, oven-ready joints or take it off the bone and engage the public with game."
Meanwhile, Wild and Game (above), a new not-for-profit food business, is creating pies, sausage rolls, sausages and paté from game to push its popularity (it also supplies raw meat). It's planning to supply pubs, restaurants, small shops and the public.
"We're keen to make game more prominent in the UK diet," says co-founder Steven Frampton. "It's low-fat, free-range and works beautifully in a host of recipes where ingredients such as beef or chicken might typically be used."
Prohibitive premium
So although premium tier chicken such as free-range, corn-fed and organic is experiencing low-level growth, it "remains cost prohibitive for many and only accounts for between 3% and 9% of total sales," says Morgan.

For many, buying this higher-end stuff would mean cutting back on consumption. That's something they are largely unwilling to do. Moy Park's Winstanley says chicken is "already very highly regarded as a healthy protein" and "certainly a healthier alternative to red meat", making it a popular meal option.

All this pursuit of quantity over quality doesn't bode well for the value of the category, which was up just 1% this year compared with a 2.2% increase in volume. But Morgan is convinced innovation can convince consumers to part with more cash.

"We've seen the launch of more lines responding to flavour and retail trends," he says. Indeed, today's shoppers can choose anything from Easy To Cook Chicken Schnitzel with Katsu Spices at Waitrose to Slow Cook Firecracker Chicken at Sainsbury's. That the latter only takes 25 minutes to heat in the oven - the slow cooking part is done beforehand - is crucial.

"Consumers seek a helping hand in all aspects of meals, from planning, shopping and preparation, to cooking, eating and clearing away," says Morgan. "Any proposition that can deliver value above and beyond what is currently available is likely to benefit the category."

Then there are packaging innovations such as the Sainsbury's 'no touch' chicken pouches. Despite social media mockery, Winstanley believes it is tapping into a genuine need.

"The use of packaging that allows easy decanting and/or no-touch solutions are benefits where many consumers are prepared to pay a little more," he says. "Over the long term, we see the market moving towards these added-value areas, and away from plain primary product in traditional packaging."

Plus, poultry is diversifying into new areas with the boom in chicken sausages. So popular is the format that Aldi launched its own this year (though their similarity to Heck Chicken Italia sausages has prompted opposition from the brand).

Kerry Foods also secured listings for its Richmond Chicken Sausages across the mults in April. "There's been a noticeable attitudinal shift towards chicken sausages over the last couple of years," says Dawn Spencer, marketing director for meats at Kerry Foods.

"We had looked into NPD in this space back in 2015, but the timing wasn't quite right. However, modern families are increasingly interested in leaner, healthier proteins, so it's no surprise that the chicken sausages market is becoming a highly lucrative one."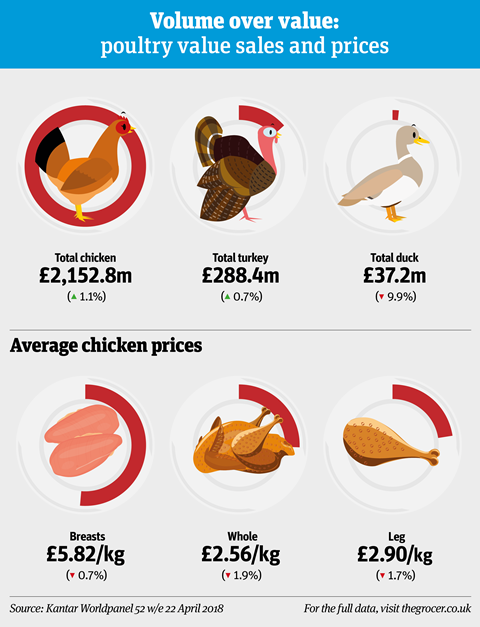 Find the full data at the bottom of this report

So there are clear avenues of growth in chicken. But elsewhere in poultry, sales of turkey and duck are falling. It all comes back to the overriding factor in this category: price.

"Turkey and duck have both suffered in recent years from intense price competition from chicken, which has seen significant levels of discounting," says Winstanley. "This means that, from a relative point of view, chicken has become much better value. Turkey and duck are also more polarising proteins, which can struggle to compete with the near-universal appeal of chicken, and they can also suffer from a lack of consumer understanding about how to cook or use them."

Still, Kantar's Constantin Coombe believes there are opportunities for growth. "Turkey continues to leverage its strong health credentials and should look to drive its role within cuisines to drive more sales. Duck has a real strength in added value markets and can continue to drive penetration through becoming more accessible for shoppers, but needs to be aware of price perceptions and the competitive arena it operates in."

Price clearly remains king in the poultry market. The nation's love of a cheap chicken dinner is unlikely to go anywhere, scandal or no scandal. But a bit of innovation might just lure shoppers away from an all too aggressive bargain hunt.