Lockdown has seen cheese become massive in grocery, racking up more than £830m of sales in just 12 weeks. Who's cashing in?
Forget panic-bought hand sanitiser and loo roll. One of the most important items in shopping baskets during lockdown has been cheese. Brits have been gorging on the stuff. Cheese, right now, is big.
In supermarkets, at least. Covid-19 prompted a collapse in foodservice, leading to heart-rending scenes of farmers pouring unsold milk down the drain and artisan cheesemakers pleading for help.
"That part of the business, which includes B2B customers who buy our cheese for ready meals, is down about 60% versus where the plan was in revenue terms," says Lactalis UK & Ireland MD Mike Chatters. Conversely, its retail business, which includes an own-label contract with Co-op alongside its Seriously, Président and Galbani brands, is "flying".
It's a pattern seen across many of the major cheese brands. Shoppers spent £837m on cheese in the supers in the 12 weeks to 14 June [Kantar], equating to a thumping 23.4% rise in value and 20.8% rise in volumes.
With people forced to stay at home, cheese has cemented its position as a kitchen essential. More than half of Brits (54%) have cooked with cheese at least twice a week in lockdown; 11% used it at least four times a week [Speciality Cheesemakers Association].
So how have the leading brands and retailers dealt with this surge in demand? Which cheeses have benefited the most, and how have smaller brands coped?
The big cheese boom has been driven by 13% growth in volumes bought per trip [Kantar]. "Consumers have been working harder to make their lockdown larders last longer," says Cathedral City marketing controller Neil Stewart. "This means better fridge management. They're turning to versatile staples to meet more meal occasions."
This is reflected in sales increases across the majority of cheese categories. The surge includes a 29.7% increase in volumes of continental cheese excluding blue, and a 26.1% volume increase in territorials, while soft white cheese is up 12.6% and processed is up 8.7%.
Only mini portions saw a slump in volumes, with sales down 18% over the 12-week period. That drove a 6.4% decline in volumes for Mini Babybel [Nielsen].
It was perhaps inevitable given the shift in snacking behaviour and fall in the number of packed lunches, as Brits were confined to their homes. However, Mini Babybel owner Bel UK stresses the brand is still delivering strong growth overall, with value sales up 15.9% on the same time two years ago to £72m [IRI 52 w/e 30 May].
Instead of pre-packaged portions, people were "cutting from the block", Stewart says. And when it came to blocks, the standout performer was cheddar. It has seen total sales jump by £90.4mto £412.4m. For context, consider that the UK's third-largest cheese brand Dairylea made total sales of £90.9m in the entirety of last year [The Grocer Top Products/Nielsen 52 w/e 7 September 2019]. Retailer and branded lines both cashed in. Own label value sales were up 25.7%, with little change in price, while branded sales grew 32.2% in value, helped along by a 9.9% price increase.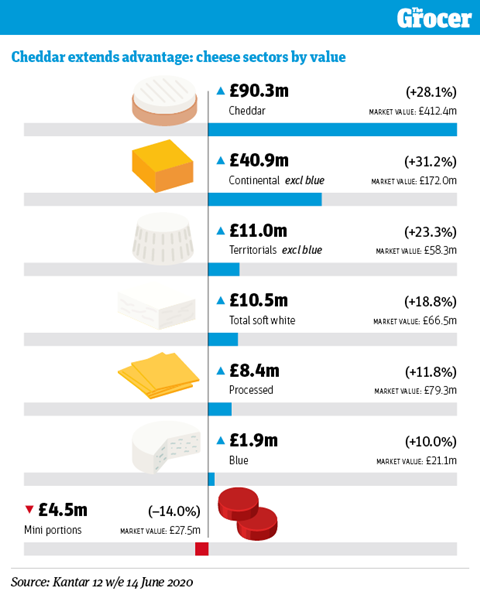 With 96% penetration of the British population, cheese remains an essential fridge item. All sectors have experienced growth, with the exception of mini portions, which lost £4.4m, down 14% year on year, largely due to a reduction in on-the-go snacking.
In absolute terms, cheddar has exceeded all other categories, having brought in an extra £90m (up 28.1%). It has benefited from people switching from other cheese types.
Prices have increased in every sector apart from processed and territorials, excluding blue. The overall average price of cheese increased by 14p or 2.2%, despite a huge fall in the rate of inflation.
There has been 7.1% growth in the amount of cheese sold on promotion, in spite of promotions being cut significantly in the wake of Covid-19. Last year, promotions made up 35.1% of total category sales, compared with 30.5% in the latest 12-week period.
Another factor contributing to average price increases is a decline in discounter sales. The discounters, which are 24.5% cheaper than total market, have lost 1.2% market share across the latest period.
Oliver Outen, Kantar
Price rises
That latter figure is no anomaly. Overall, prices grew 6.7% across the category. Much of this increase can be explained by the well-documented cut in promotions across the mults as they simplified ranges to keep core lines in stock. Indeed, promotions accounted for just 30.5% of cheese sales in the latest 12 weeks, down from 35.1% in the same period last year [Kantar].
Those price rises don't appear to have deterred shoppers. In fact, their voracious appetite for cheese pushed some brands to the very brink when it came to keeping shelves stocked. "It's been a phenomenal period of trading – everyone's been so busy," says Lee Willett, marketing director of Cathedral City owner Saputo Dairy UK. "We were on daily calls with our supply chain to make sure we kept supplies on shelf."
That rise in demand saw annualised sales of Cathedral City hit £305m for the first time during lockdown, Willett adds. "Volume sales were up 27% on the back of a 36% revenue uplift during those 12 weeks, and that was driven by core block sales, with volumes up 32% and revenue up 45%." It doubled down on those soaring sales with a new TV ad.
"Everyone has been so busy. We were on daily calls to make sure we kept supplies on shelf"
But the brand also had to make some difficult decisions to maintain supply. It withdrew low-cal Cathedral City 82 last month due to low sales and temporarily pulled Cathedral City Extra Mature, due to dwindling supplies and the need to "avoid selling it before it has matured properly".
"There's only a finite amount of cheese out there, so when you get a 45% increase in volumes, you're going to struggle to meet demand," says Willett. "We made difficult decisions to prioritise SKUs, but people didn't miss out, we redirected them to vintage and mature, and lines are now back in stock."
Bestsellers prioritised
It's a strategy that was mirrored across the board, as suppliers prioritised their bestsellers and pulled cheese out of maturation in order to keep chillers stocked. Premium brands suffered as a result. See Saputo's Davidstow brand, which took a 10% blow to sales during lockdown, as the dairy giant switched its focus to higher volume offerings.
Ornua marketing director Mike Harper concedes this massive rise in demand for mainstream offerings – see the 48.1% growth of its Pilgrims Choice brand in the past three months – inevitably squeezes supplies of less popular products.
"The kind of uplifts we've been seeing do put pressure on maintaining supply, quality standards and flavour levels," he adds. "The good thing about Ornua is we have big cheese stocks and were able to get product out without going out of stock."
Luckily, most of the major producers have similarly avoided major supply issues. Lactalis, for one, managed to meet particularly high demand from the Co-op, as shoppers swerved larger stores and visited local convenience outlets during lockdown.
Continental cheeses proved easiest to supply. "I'm delighted but a bit surprised our supply chains from France and Italy have been as robust as they have been, we've had virtually no disruption linked to corona during the outbreak," says Chatters, pointing to 31% revenue growth for Président on volumes up 27%, and Galbani revenues up 26% with volumes up 18% [IRI 12 w/e 25 April].
Other continental brands such as Bel UK's Boursin also enjoyed a lockdown bounce, with value sales up 44.9% for the 12 weeks to 30 May [IRI] as it benefitted from the increase in indulgence and evening snacking.
Lactalis, meanwhile, also saw a spike in demand for mozzarella in response to the good weather during lockdown, Chatters adds. "Dependent on the customer, volumes have been up by between 35% to 40%." The spike in its cheddar brand, Seriously, is also in double figures – value is up 19% with volumes up 14.5%.
"There isn't any excess cheese to be traded – nobody has any… Everyone's using it"
While Lactalis has been able to meet this growing demand, Chatters agrees supply has been tight for UK cheddar on the whole. "There just isn't any excess cheese to be traded. Nobody has excess stocks – everybody is using it," he says. Some buyers are sourcing more Irish cheese instead, he adds.
Demand fuelled by consumers cooking and dining at home more often has also benefitted processed cheese brands, according to Mondelez trade communications manager Susan Nash.
Year on year Dairylea value sales are up 5.4%, with Philadelphia sales up 34.7% [Nielsen, 12 w/e 16 July] as shoppers "look for convenient lunchtime options for picnics and mealtimes at home", Nash says.
A new "better for you" offering to shoppers with the launch of a new flavour in its Philadelphia Lightest range with Philadelphia Lightest Herbs at the turn of the year has also helped boost sales, she suggests, and capitalised on the success of Philadelphia Lightest Plain, which saw a 10% growth in value sales last year [Nielsen, 52 w/e 7 September 2019].
Still, the surge in demand enjoyed by the major brands isn't exactly a bad problem to have. It certainly compares favourably with the fortunes of foodservice suppliers, which have suffered a host of casualties.
Stilton producers have taken a big hit, as the closure of Britain's restaurants saw sales fall by up to 30% for the six Midlands producers permitted to manufacture it under European PDO rules. Artisan producer the Cornish Cheese Co warned in June that the same circumstances left it with almost 20 tonnes of short shelf-life cheese to sell off.
Mercifully, stilton was helped by the donation of free advertising by outdoor operator Ocean, while its producers and the Cornish Cheese Co benefited from a series of initiatives to sell off excess cheese, including a number of cheese box promotions sold through the multiples.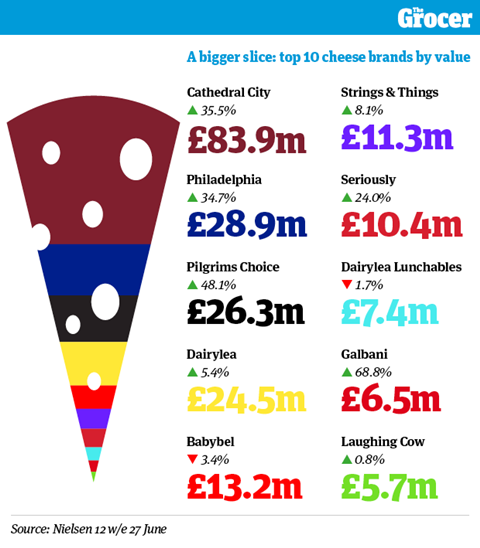 Most cheese brands have experienced significant year-on-year sales growth during the past 12 weeks as shoppers stocked up and bought into bigger packs of cheese. Five of the top 10 brands managed to secure double-digit growth in their value.
Market leader Cathedral City out-performed the total category with nearly £22m in extra sales. That boom was driven by promotional activity across the market and a growth in purchases of its larger packs.
In percentage terms, Galbani was the fastest-growing brand, up 68.8%. Philadelphia, Pilgrims Choice and Seriously also enjoyed double-digit growth in value over this period.
Babybel and Dairylea Lunchables are the only two of the top 10 brands to see year-on-year declines (that's despite £1.3m growth for standard Dairylea). Meanwhile, the Laughing Cow was flat. These brands were affected by promotional rephasing as retailers reduced promotions to manage stock levels during the lockdown period.
Due to snacking cheeses having a high reliance on promotions, the reduction in activity significantly contributed to year-on-year losses.
Despite the slump in sales of those brands, it is likely we will see snacking cheese make a resurgence in the short term, as retailers start focusing their promotional activity on cheese brands to boost post-lockdown sales.
Amy Duffy, Nielsen
Direct to consumer sales
Many smaller brands are similarly using alternative channels. See Wyke Farms, which enjoyed its busiest month ever in March with cheddar sales hitting more than 2,000 tonnes. That was partly down to its presence in the mults, but it also experienced a thousand-fold increase in orders through its website during lockdown.
A pivot towards DTC also benefited Butler's Farmhouse Cheeses. It launched its Letterbox Cheese delivery service during lockdown and capitalised on shoppers "looking to treat themselves at home" by rolling out The Butler's Larder: a delivery service for its cheese and products made by other small producers across the north of England.
Wensleydale Creamery made a similar move to launch its new Online Deli after its flagship Visitor Centre and Cheese Experience – which attracts 350,000 tourists a year – was forced to close overnight. The producer says it sold more in a "than we had in an entire month over the same period last year".
There are other benefits for smaller producers, too. Shropshire's Belton Farm said it enjoyed a 33% volume bounce in the year to 3 July after capitalising on cheap advertising rates to launch its first-ever TV campaign on Channel 4 for red leicester brand Red Fox.
The ad push used the tagline 'More to Cheese than Cheddar' and "seeks to highlight Red Fox's stand-out taste, texture and versatility", says Belton's Senior national account manager Mike Hutchins.
"Cheese was a frenetic category that was too focused on promotions. It needs more choice"
The crisis has also provided a brief respite from the fierce competition and regular cut-price deals that characterised the category pre-pandemic. "It was a frenetic category that was too focused on promotions and consolidation," says Wyke Farms MD Rich Clothier. "The category desperately needs more premiumisation and choice."
With the big brands prioritising bestsellers over pricier lines, there are further opportunities for smaller players. Demand for posher cheese from the supers is likely to grow, given that most Brits still feel uncomfortable eating out in the restaurants where they'd normally get their artisan cheese hit [ONS]. The mults may also prove more receptive to these lower-volume lines now that panic buying has died down.
After all, the dark days of stockpiling loo roll and hand sanitiser are – hopefully – now behind us.
Innovations in cheese 2020


Kevin is The Grocer's fresh foods editor, overseeing our coverage related to the retail fresh foods sector, including dairy, meat, fish, poultry, fruit & veg and eggs, as well as the plant-based foods category.

He also assists in production of The Grocer's annual Dairymen supplement, while also writing about food commodities, sourcing, sustainability, politics and regulation; and has appeared as a commentator on both radio and TV on the state of the UK food industry.

Prior to joining The Grocer in 2014, Kevin wrote about retail financial services for a Financial Times business publication, and began his career as a journalist working for regional newspapers in Wales.

Follow Kevin on Twitter: @KevWhite77