Alcohol's biggest disruptors are now household names. So who are the next wave going boldly where no one has gone before?
BrewDog. Sipsmith. Fever-Tree. These three brands may have ­little in common when it comes to their drinks, but they have had a similar effect on the drinks market. In an era when the word 'disruption' gets thrown around a lot, this trio has changed the way Brits approach booze in a remarkably short amount of time.

The explosion of these brands - and the imitators that have followed - has helped usher in a golden era for booze sales, which are significantly outgrowing those of the overall grocery market. Brits have splashed out more than half a billion (£521m) extra on booze this year, and every category of alcohol apart from fortified wine is in value growth. Shoppers have proved themselves happy to trade up time and time again for more premium drinks, and many mainstream brands that have for many years traded solely on volume are in decline [Kantar Worldpanel 52 w/e 17 June 2018].
Download the PDF version of this report
---

That shoppers are trading up, moderating their alcohol intake and looking for products with a genuine sense of individuality is no longer news. Case in point: BrewDog is a multimillion-pound multinational considering an IPO, with dedicated chillers in the biggest supermarkets. Meanwhile, Fever-Tree's shares fell into a major slump this month amid investor concerns Brits could be losing their taste for posh tonic. Sipsmith sold to spirits giant Beam Suntory, and now faces stiff competition from a proliferation of craft gins as myriad 'artisan'-style brands battle it out on shelf.

So as booze's big disruptors assimilate into the mainstream, what comes next? What will the next generation of innovators look like? And which of the industry's rulebooks are ready to be torn up?

One thing's for sure: the action almost certainly won't be in mainstream lager. Big beer brands such as Foster's (down £16m to £348.1m), Carlsberg (down £5m to £111.6m, despite briefly returning to growth this year) and Beck's (down £5m to £60.1m) have continued to haemorrhage sales. The spoils have gone to (slightly) posher options such as Stella (up £50m to £541m), Budweiser (up £28m to £408.6m) and Kronenbourg (up £5.5m to £133.9m) [Nielsen 52 w/e 1 September 2018].
This is a "massive challenge" for cheaper mainstream brands, says Jason Warner, northern EU president at AB InBev. "They typically spread the fixed costs of the breweries, which is why they can be sold cheap. If they are not putting scale through the breweries, the overheads and costs can make them very unprofitable. What you don't see through the category data is the effect of big declining volumes causing huge infrastructure problems on the P&Ls."

There is hope on the horizon, though. The big boys of brewing are beginning to reap dividends from their recent craft purchases. AB InBev-owned Camden Hells lager, for instance, has grown its supermarket value sales a whopping 249.5% to £5.3m over the past year, while Diageo's Guinness spinoff Hop House 13 is up 120.9% (£16m) to £29.3m [Nielsen 52 w/e 8 September 2018].

According to Kantar, the craft sector as a whole has doubled its shopper base to 4.6 million shoppers, with 48% growth. Which suggests the average shopper, unlike some craft beer fanatics, isn't overly fussed about whether their beer is made by a genuinely independent brewer or not.
"Premium world lager is logically where the next phase of growth for the craft category will be"
Yet despite craft beer's current abundance, BrewDog founder and CEO James Watt believes the revolution is far from over - it's just moving to a different battleground. Having proudly twisted the knife into mainstream brewers with the success of Punk IPA, BrewDog is now looking to encroach on the world of premium world lagers (think Peroni, San Miguel and Estrella Damm, all of which are currently in double-digit growth of £13m, £22m and £23m respectively) with Lost Lager, which it has rolled out into Tesco and Booker in 330ml and 600ml bottles [Nielsen].

"That's where the next phase of growth for the craft category logically will be," says Watt. "In that sector there are a lot of strong brands but liquids that are average," says Watt. "If we can offer something that's of better quality and has better taste and flavour, and made in a much more artisanal way, I think that's a really good proposition."

BrewDog is also looking to up the presence of what it views as genuinely independent beer businesses. Just this month it unveiled, as part of an all-encompassing mission statement called 'The Blueprint', plans for a yearly £200k incubator scheme. Through the scheme, it will help grow not just brewers but "anything that will make more people passionate about fantastic beer", Watt says.

This, he explains, could see BrewDog throw its support behind retail, wholesale, or even logistics and delivery companies. "We're still smaller than the biggest competitor in our industry, which is two-and-a-half thousand times our size," he adds. "So we need to support the independent brewing community at a grassroots level."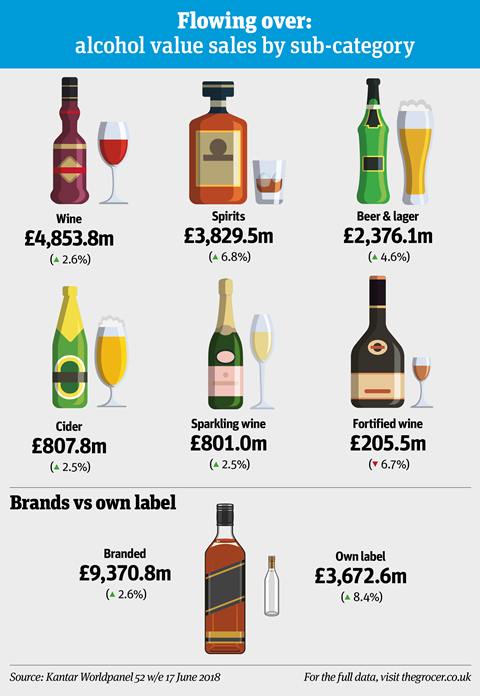 Find the full data at the bottom of this report
Wine lacks challengers
Wine, on the other hand, is lacking in revolutionaries. With an absence of genuine challenger brands, it is yet to have its 'BrewDog moment'. And its problems run deeper than that: while value sales of wine are up 2.6%, volumes have slipped downwards, at a time when spirits, beer, cider and sparkling wine are all in growth [Kantar].

"Most consumers don't feel wine brands are talking directly to them," says Neil Anderson, marketing director at Kingsland Drinks. "Younger consumers want to engage with wine but find it scary. Walk down the aisle and look at labels - most of them don't do anything. Younger consumers don't care about terroir or winemakers, they just want to know what's engaging about it and what it tastes like."
"Wine is losing a lot of share to gin because gin does refreshment better than wine does"
Many of these disenchanted drinkers are abandoning wine for spirits. "Ultimately wine is losing a lot of share to gin because gin does refreshment better than wine does, and we know from our research that the 'refreshing need-state' is one of the most significant drives for younger consumers," says Anderson.

"People aren't necessarily trading out of chardonnay or sauvignon blanc into pinot noir, they are trading from one category to each other," agrees Pernod Ricard commercial director Chris Ellis, who adds there is a general gender split. "At a broad level women are moving into gin and vodka while men are moving into bourbon and Irish whiskey. We've got the most dynamic spirits market growth we've seen for many years."

It's not just about refreshment or premiumisation, though, but the "key battleground" of promotions, adds Kantar analyst Richard Lee. Overall alcohol promotions have fallen significantly, with 90% of spend growth coming from non-promoted sales as shoppers increasingly trade up to more premium drinks. Spirits, by contrast, have seen 64% of their growth come from promoted sales, which "highlights the greater enthusiasm amongst shoppers".
Wine is now fighting back with an increased rate of innovation in both packaging and products. Casillero del Diablo owner Concha y Toro, for instance, has unveiled a swathe of new brands over the past year. These include 1000 Stories, a bourbon barrel-aged zinfandel designed to tap craft beer fans, Diablo, an upmarket spinoff of its popular frontrunner, and Chateau Jacked, a duo of fruit-infused ­ginger wines that have a considerably higher alcohol content than other fruit wines on the market. Accolade Wines, meanwhile, has taken several of its top ­sellers, including Hardys, into 50cl bottles. It's also testing whether its brands have enough equity to transfer into the vibrant spirits market, having taken Echo Falls into vodka and Stone's Ginger Wine into gin.
'Grain to glass' vodka
That's not to say segments of the spirits market aren't due a reimagining. Braden Saunders, founder of London-based Doghouse Distillery, which claims to be the first distillery to create a vodka completely from scratch - or 'grain to glass' - in the capital, believes vodka is the next frontier for disruption in spirits. That's despite the spirit being overtaken by blended whisky in value sales earlier this year. "Vodka will resurge, but it needs a big shake-up because it comes with many misconceptions at the moment," he says.
"Bugger bland, neutral, carbon-filtered rubbish. We want to feel like we're having a drink"
In contrast to many brands on the market, Doghouse (which also makes gin using its vodka as a base spirit) doesn't boast about its product's purity. In fact, it does the reverse. "Our vodka has a taste," stresses Saunders. "We buy malt from a maltster, mill it, brew it and ferment it before putting it through out pot still. Then we take that and rectify it. It has taste, subtle aroma, structure, and you can drink it at 25 degrees."

Saunders is readying a considerable ­marketing push for 2019. "Our story is that no one else is doing this, because it costs a lot of money and is very labour intensive. But bugger bland, neutral carbon-filtered ­rubbish. We want to feel like we're having a drink. The culture needs to change."
Innovations in alcoholic drinks 2018
Click on an image to expand