Lunchbox occasions were falling before Covid-19 reared its head. That looks set to change as wary workers head back to the office
Want a simple measure of consumer confidence? Try looking at working lunches. Brits' choice of midday meal holds up a mirror to whether they are feeling flush. Homemade sandwiches or leftovers likely means confidence has taken a knock. Pret salads, Boots meal deals and pub lunches suggest quite the contrary.
Now there's another factor beyond just cashflow that's influencing workday lunch choices. It is, of course, Covid-19 and the perceived risk of catching it. More than half (57%) of working age adults say they're now more inclined to pack their own lunch, according to a Harris Interactive poll of 1,049 people for The Grocer. Of that 57%, nearly half said their inclination was because they wanted to avoid catching coronavirus from food prepared outside the home. This is, of course, more bad news for cafés, restaurants and pubs as they prepare to re-open. But what does it mean for food and drink suppliers whose products are positioned as lunchbox fillers? And how will the economic hardships and health concerns caused by Covid-19 influence what people have for lunch as they return to work?
Until recently, packed lunches have been steadily gaining popularity among adults. Shoppers spent just shy of £3.9bn on filling their lunchboxes in 2019, according to Kantar [52 w/e 26 January 2020]. Over the past four years, 80% of packed lunches have been consumed by adults, and they've been responsible for almost all of the 8.9% overall growth in occasions.
Fears over Brexit were one of the main drivers behind this rise, explains Kantar analyst Alice Payne. "Since the UK announced it was leaving the EU, we've experienced several years of low consumer confidence, which has driven people to eat out less and source lunches from home."
"Over the past year, out-of-home lunch has grown by 28 million occasions"
She points to the 12.3% growth in the annual number of packed lunches eaten by working age adults between June 2016, the month of the EU referendum, and April 2019.
Around that time, however, their popularity began to wane as consumer confidence returned. "Over the past year, out-of-home lunch has grown by 28 million occasions, despite costing three times more than an average carried-out lunch," Payne adds. That came alongside a decline in lunchbox occasions, which fell by 29.2 million between April 2019 and 26 January this year. "This change in spending behaviour suggests an increased confidence in the market," she says.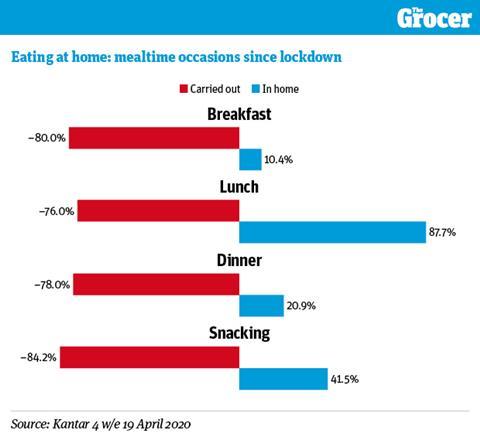 Perhaps unsurprisingly, lunch has seen the highest uplift in at-home occasions as a result of lockdown. They're up 87.7%.
Prior to the pandemic, working adults were all about their lunchboxes. Occasions followed a generally upward trend between spring 2015 and April 2019, as uncertainty around Brexit and other macro-economic and political factors shook consumer confidence.
A key reason for packing a lunchbox is clear: price. Consumers spend £1.86 per packed lunch on average, versus £5.26 on lunch bought out.
When asked where they'd economise in times of hardship, 24% said they would opt for packed lunch more often.
On average, adults eat three packed lunches a week. As Britain returns to work and heads into recession, that number will likely rise.
That means more sarnies. "When it comes to lunchboxes, we are creatures of habit," says Kantar analyst Alice Payne. "Sandwiches remain the top choice, with 867 million occasions annually. That's growth of 2%. Though kids are more likely to have sandwiches
Coronavirus impact
Then came Covid-19, of course. If 2019 saw uncertainty ease, the virus brought it back with a vengeance. Now, no one is sure if it is safe to go to work, let alone what they'll eat when they get there.
Thirty per cent of the people polled by Harris said they were working from home during lockdown. If they were to suddenly return to their places of work, it wouldn't necessarily result in a big change in what they are eating. After all, many Brits are choosing the same food in lockdown as they would put in their lunchboxes at work.
That's because much of lockdown's early enthusiasm for midday creativity in the kitchen has worn off, says Neil Stewart, marketing controller for Cathedral City, Britain's bestselling cheddar brand. "Many are turning to simple yet tasty favourites that offer familiarity and comfort, and that they can be sure the whole family will enjoy."
Kantar data shows the average household is eating an additional six meals a week at home under lockdown, he notes. "The actual time we're taking to prepare our meals remains unchanged at 23 minutes on average. Multiply that by six, and households are having to spend on average two extra hours a week preparing in-home meals, while many have to juggle daytime demands of work and home schooling.
"This tension is creating demand for quick and easy lunch solutions, such as sandwiches and toast-based meals, that can be on the table within minutes."
Indeed, staples such as bread and cheese didn't see the same sales dip as products like canned foods and dried pasta following panic-buying in March. That's partly because the latter goods can be stored for months without spoiling, while classic sandwich ingredients can't. After all, as Warburtons product strategy controller Duncan Tyrrell points out, bread "is all about freshness".
But there's another factor at play, too: a marked increase in consumption. Since the UK went into lockdown, "total bakery is up about 20% and in the latest four weeks the market is up about 50 million units" he adds. "For wrapped bread, that represents a complete turnaround in recent trends."
As most Brits look set to either continue working from home, or return to the office with a packed lunch, a renaissance in wrapped bakery could be on the cards.
"When it comes to our lunchboxes, we're creatures of habit," says Kantar's Payne. "Sandwiches remain the top choice, with 867 million occasions in the past year, up 2%. Although kids are more likely to have sandwiches in their lunchbox – 81% compared to 62% for adults – it is adults who are driving this growth."
Beyond sliced bread
There is some room for experimentation here, though. While standard sliced bread has been declining, other options are growing. Brits tucked into four billion sandwiches made with wrapped bread, in home or carried out, for the year ending 24 March 2019. That was a decline of 3.9% on the same period in 2015 [Kantar]. But that number included 439 million rolls, 276 million wraps and 45 million bagel sandwiches, which grew 6.8%, 67.3% and 73.1% respectively.
The versatility of products such as wraps and bagels has driven continued growth during lockdown. "More people are buying our flatbreads to use at home," says Wilda Haddad, assistant general manager at Mediterranean foods supplier Dina Foods. "Consumers are recreating wraps they bought out of home before the pandemic, as well as using flatbreads in other ways, such as pizza bases."
That mimickry of out-of-home cuisine has proven a defining feature of the pandemic. At the start of lockdown, as cafés, restaurants and pubs either shut or moved to limited service, people tried to create the pork bocadillo or houmous & falafel wrap they used to get from the deli near the office.
"During April, May and June, Brits had no choice but to prepare lunch at home."
"Lockdown has certainly changed lunch habits, particularly for those who relied on office canteens, high street meal deals and restaurants," says Natalie Sugarman, marketing director for grocery at Itsu. "During April, May and June, Brits had no choice but to prepare lunch at home." Even as lockdown restrictions are lifted and offices slowly reopen, "these new lunch trends could well continue", she forecasts.
Replicating foodservice means going beyond sarnies. With punters either unable or unwilling to return to Itsu's 70-plus high street restaurants, it's a safe bet many are looking to add a taste of Asia to their home or packed lunches instead.
Itsu has consequently seen a huge spike in sales of its noodle pots since lockdown began, Sugarman notes. For her, that's down to Itsu's instant noodle cups providing an "exciting, healthy, restaurant-quality" option that goes beyond your standard sandwich.
Takeaway trend
Sugarman's emphasis on restaurant quality underlines just how much Brits have been pining for the delights of the fast-casual food sector. They may have got bored with scratch cooking, but their appetite for far-off flavours hasn't waned, suggests Gaëlle Vernet, group marketing manager for Mini Babybel. "The closure of popular takeaway outlets has resulted in a trend for consumers getting more adventurous in the kitchen and recreating their takeout favourites."
She points to parent company Bel UK's efforts to tap a trend "reflected in the popularity of 'food hack' content on social media platforms such as TikTok, including a viral video showcasing how to replicate McDonald's cheese melt dippers using Mini Babybel".
Looking ahead, health could prove the next major trend to influence our eating habits. "Before lockdown, traditional snacking was in decline, with consumers increasingly looking for healthier snacking options," says Pia Villa, chief brand officer at healthy snacks brand Graze.
"The closure of takeaway outlets has resulted in consumers getting more adventurous"
The pandemic won't change this attitude, she believes, despite the initial flurry in sales of crisps and chocolate. "While people are looking for little treats more than ever at the moment, they also recognise the downsides of over-indulging."
There are clear arguments that support her prediction. Not least, obesity has been found to increase the risk of death or serious illness from Covid-19.
What's more, many people appear to have let themselves go during lockdown and are now looking to make amends, says Maria Betts, MD of gluten-free sweet bakery brand Maria Lucia Bakes. While wellness "has undoubtedly become an ingrained part of life" over recent years, lockdown meant "carb-heavy ingredients such as pasta, chocolate and crisps were all in growth as people turned to comfort cooking and eating" she notes.
"As a result, almost half of UK consumers (47%) say they have put on weight since the start of lockdown. Now, as restrictions slowly begin to be lifted and some begin to return to work, we're seeing the focus on healthier eating alternatives return."
Tom Price, head of marketing at yoghurt and kefir manufacturer Nomadic Dairy, agrees. "Consumers are increasingly wanting to actively protect themselves through the food they consume and enjoy eating it at the same time," he says. "This shows no signs of slowing. In light of Covid-19, 32% of UK adults are trying to improve their general health."
Pandemic pricing
But there is a caveat here. Even if on-trend brands are enjoying a higher rate of sale, they are not necessarily enjoying higher profits. The pandemic has hit margins across the board, killing off sales of higher-margin single bags of crisps and other snacks through foodservice and impulse, and driving growth in lower-margin multipacks.
"Since lockdown, there has been a shift in demand within crisps, nuts and snacks segments, with in-home consumption fuelling growth and food-to-go occasions unsurprisingly declining," says KP Snacks marketing director Kevin McNair. "With in-home consumption increasing – due to more adults working at home – there has been a marked rise in multipack sales as consumers seek their regular lunchtime accompaniments."
"We are expecting the singles and food-to-go category to increase as restrictions ease"
More shoppers are now buying crisps and snacks multipacks than in the past two years, with 78% of out-of-home shoppers switching to multipacks in the four weeks to 19 April, McNair adds. "However, we are expecting the singles and food-to-go category to increase as government restrictions ease and people make their return to work."
That will depend on two things: how safe Brits feel going back into impulse and foodservice outlets once they go back to work, and how many have jobs to go back to.
Both, of course, will affect how likely they are to pack a lunch.
How coronavirus has changed Brits' lunching habits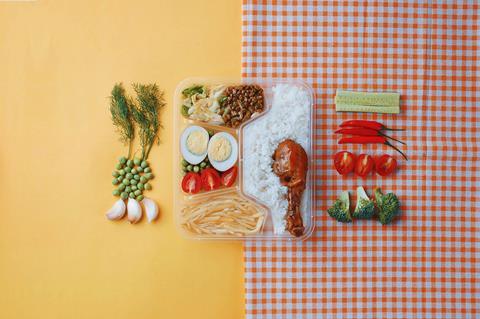 Of those who say they're now more likely to make their own lunch for work, 33% cite health reasons as their motivation
Health. It's a major reason for adults packing lunches.
Of those who say they're now more likely to make their own lunch for work, 33% cite health reasons as their motivation. That number rises to 38% when it comes to kids' lunchboxes, according to a Harris Interactive poll for The Grocer.
That health is of such serious consideration is likely due to coronavirus. Commentators suggest the crisis has elevated in people's minds the importance of immunity and weight management. Particularly as obesity has been named as a risk factor for Covid-19.
"With consumers becoming more aware of their health in light of Covid-19, 72% of European shoppers say they will make 'greater attempts' to eat and drink more healthily in the future as a result of their Covid-19 experience," says Gaëlle Vernet, group marketing manager for Mini Babybel, quoting FMCG Gurus research.
The need for healthier or portion-controlled snacks has grown during the pandemic, agrees Joanna Goodman, head of marketing for yoghurt at General Mills, which co-owns the Yoplait brand.
"Having kids at home has introduced more snacking occasions," she says. "This has led to an increased focus on health and nutrition."
There's also greater focus on the possible link between gut health and immunity.
It is still to be established, but that's not stopped predictions that gut-friendly products will win greater share of Britain's lunchboxes.
"Itsu's Crispy Seaweed Thins have recently been recommended as the perfect snack for good gut bacteria, as they're low calorie but high in vitamin B12, iodine, protein and fibre," says Natalie Sugarman, marketing director for grocery at Itsu.
So whether it's gut-friendly, portion-controlled or simply home-made fare, the future is all about a healthy lunch.
Are Brits more or less inclined to pack lunch since Covid?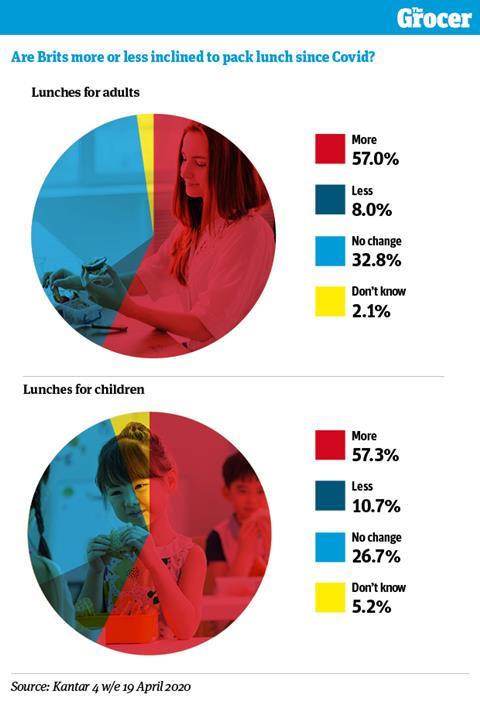 Before Covid-19 hit, 32.7% of working adults were packing their own lunch every day for work, while 34% said they were doing so 'most days' [Harris Interactive]. So, just over two thirds of the workforce regularly packed their own lunch before the pandemic.
That number is set to rise with the advent of Covid-19: 57% of working adults say they are now more inclined to take a packed lunch to work, while a further 32.8% say their inclination to do so has not changed.
Fifty per cent of adults who are more inclined to take a packed lunch said they wanted 'more control over what they were eating'.
Fear of catching the virus from food emerged as another major driver, as 43.6% said they were 'worried about contamination of food purchased or prepared outside the home'.
The next most significant reason was economic: 41.6% said they were more inclined to eat packed lunch because they were 'worried about finances'.
A similar pattern is present in parents. A high proportion of parents of school-age children, 57.3%, say they are more inclined to send their kids to school with a packed lunch
Innovations in Adult Lunchbox 2020