Rising levels of environmental awareness, coupled with a younger generation inspired by social media stars, mean the battle for share in household products is no longer a race to the bottom on price
The whole world in their hands. That's what household players stand to achieve this year if they get their eco-credentials right. For this historically price-driven market is changing. Instead of searching for the cheapest product possible, shoppers are seeking out planet-friendly products that make their consciences feel as spotless as their homes.

We're not just talking a handful of David Attenborough aficionados here. Eco-friendly is now a common demand that has prompted a spate of activity among major players. In September 2017, household giant SC Johnson moved to acquire eco-brands Method and Ecover. The following month, Tesco unveiled its own range of planet-friendly products. And last October, Unilever put environmentally friendly fare firmly in the mainstream with the UK launch of Seventh Generation.
Download the PDF version of this report
---
So can these ranges finally tempt consumers away from the cheapest option? And who stands to win from this trend?

The figures certainly seem to suggest there is demand for guilt-free cleaning. Over the past year, Ecover and Method nailed value growth of 17.9% and 13.9% respectively in their hand dishwash ranges alone [Nielsen 52 w/e 8 September 2018]. SC Johnson says overall sales for the brands are up double digits, boosted by NPD such as a washing-up bottle made from 100% recycled plastic. These added benefits are an antidote to the general race to the bottom on price, says Ecover and Method's UK general manager Adam Buckley. "For brands that are not offering an added benefit beyond efficacy or value and are listed in the discounters, there is no benefit for consumers to pay more when they are available at a lower price elsewhere."
"Sustainability is one of the hottest trends across laundry and household care"
Unilever is clearly thinking along the same lines. That it reportedly spent a minimum of $600m (£465m) on its acquisition of US eco- cleaning brand Seventh Generation is telling. The range, made with plant-derived ingredients and bottled using 100% recycled and recyclable materials, made its UK debut on Ocado in October.

Unilever says the launch is a "step-changing" move. "Sustainability is, without a doubt, one of the hottest trends across laundry and household care and we anticipate this trend will continue throughout 2019 as consumers become more conscious about the effect the products they choose, and their actions are having on the world around us," says homecare vice president Gemma Cleland. "People are more engaged with the category than ever before - which is something brands can really capitalise on if they get it right."
Plastic packaging
This ethos isn't confined to Seventh Generation. As part of Unilever's commitment to ensure all its plastic packaging is fully reusable, recyclable or compostable by 2025, it is also revamping existing brands. Take the new eco-friendly bottles for Comfort Intense fabric conditioner, which make 51% of Unilever's fabric conditioner range in smaller, concentrated formats.

"Per wash, we achieved 18% reduction in packaging weight, a 41% reduction in transportation, a 15% reduction in waste, a 22% reduction in greenhouse gases and 50% reduction in water versus the existing range," says Pete Hayes, co-director of brand and packaging design agency PB Creative, which came up with the design for Comfort Intense.

"With the government stating that businesses and manufacturers are going to have to pay the full cost of recycling or disposing of their packaging waste, most are having to rethink their eco-credentials," he adds. "More and more of us are prepared to pay extra for products with a positive social and environmental profile."
"More and more of us are prepared to pay more for products with a positive environmental profile"
Cheeky Panda would agree. Founded in 2016, the bamboo tissue brand now claims to turn over £2m annually, putting its recent valuation at £20m. The fact it retails at £3 for a four-pack on Amazon - more expensive than leading brand Andrex, which comes at £2.50 for the same amount - suggests price is indeed only part of the equation. High-end toilet paper brand Renova is also placing its bets on a new line that replaces plastic packaging with paper.

So far, so good for brands. And they certainly need a boost if this year's sales are anything to go by. Kantar Worldpanel data shows own label has continued its grab for share, with sales up 6.6% to £2.1bn, while branded sales have stagnated. So eco-friendly could be a way for brands to regain their momentum. But even in this more premium, specialist area, retailers are making gains of their own.

Last October, Tesco unveiled its own seven-strong Eco Active range of plant-based, non-toxic budget household cleaners after witnessing a 45% rise in sales of eco cleaning products. Waitrose also has its Ecological range.
Price is a key part of these propositions. When launching its range, Tesco was keen to highlight it was at least 50% cheaper than existing branded eco-products. Even Ecover and Method's Buckley admits these ranges have a draw. "Waitrose and Tesco's own eco-offerings provide an added benefit to consumers looking for transparency from their private label products," he says.
Considering price is what is drawing shoppers to retailer offerings - own-label products are on average £1.52 per pack, branded £2.43 [Kantar] - the threat is clear.

"Consumers are increasingly choosing own-label products as prices across the category rise," says Kantar analyst Julia Fine. "An additional factor is premiumisation, with shoppers being able to trade up to a quality product in own label without paying the high price premium for a brand. This has been particularly noticeable in household products, with notable examples being Sainsbury's premium dishwash range, Prism, and Asda's new own-label laundry detergent."
"Consumers are increasingly choosing own-label products as prices rise"
For an example of the inroads private label is making, look no further than toilet tissue. Overall, total toilet tissue sales rose 3.7% to £2.1m, equating to roughly a fifth of the total household market value [Kantar]. These gains were entirely driven by retailer products. While sales of own-label toilet tissue shot up 9.9% to £623.6m, brands suffered a decline of 1.5% to £655.8m. Which means the gap between the two is fast closing.

The difference in fortunes is largely down to price. "In 2018 the price differential between brand and private label toilet roll products widened," explains David Entwistle, sales director at Wepa UK, the UK & Ireland's biggest own label paper supplier. "A decade ago the price differential per sheet was around 10%. This has now risen to up to 40%."

Limitations in global supply are responsible for the recent unprecedented rises in pulp price, up 30% on average over the past 18 months. The impact on shelf prices has prompted shoppers to look for better-value alternatives, says Entwistle. There is another factor at play, though. "During the same period, the quality of private label toilet roll products has risen at a much faster rate than branded alternatives," Entwistle adds. "Major retailers' private label premium toilet roll is now as soft as, if not softer, than leading brands."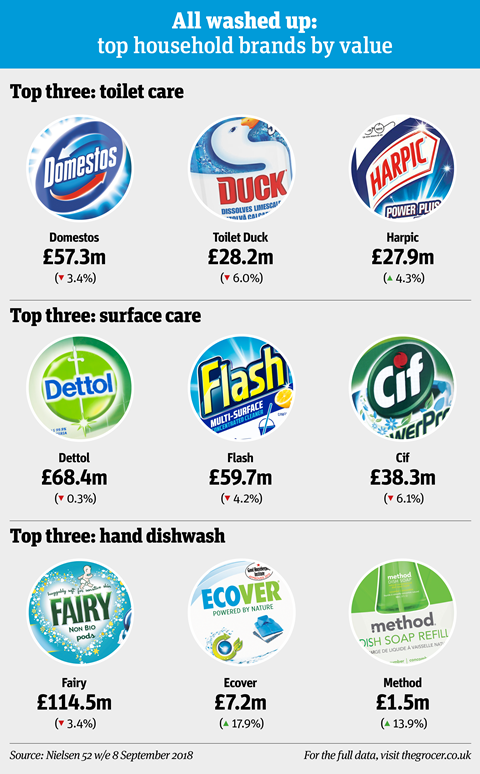 Find the full data at the bottom of this report
The value of softness
Softness is something shoppers do seem to value. Kimberly-Clark, which owns leading loo roll brand Andrex, says one million households switched to premium paper in 2018. Meanwhile, Essity added £14.7m to Cushelle's value - a rise of 24.1% [Nielsen 52 w/e 8 September 2018] - following the December 2017 launch of Cushelle Quilted loo roll featuring 'air cushions'.

The NPD uses through-air-dried (TAD) paper - a process that involves removing moisture by blowing hot air through the paper- to produce a softer, quilted effect with air pockets. Essity reopened its TAD paper machine following a £12m investment for the sole purpose of making the NPD. That investment appears to be paying off. "The performance of the Cushelle brand proves that brands still have a major role to play for consumers and in driving the category forwards," says Essity's marketing director Nicola Coronado.

It's interesting to note, though, that Cushelle Quilted retails for an average of £4.75 for nine rolls. That's £1 cheaper than Andrex's closest equivalent, Andrex Supreme Quilts, at £5.75 for nine rolls.

All of which shows just how competitive the branded landscape is. Luckily for household brands, they have other weapons in their arsenal. One is the kind of innovation that is different enough to create a new category. Ecover, for example, kicked off the year with the relaunch of its Zero range of fragrance and colourant-free household cleaners, laundry detergents and dishwasher tablets. The brand says it is hoping to create a whole new category through the range, which will be widely available by March.
Feature continues below infographic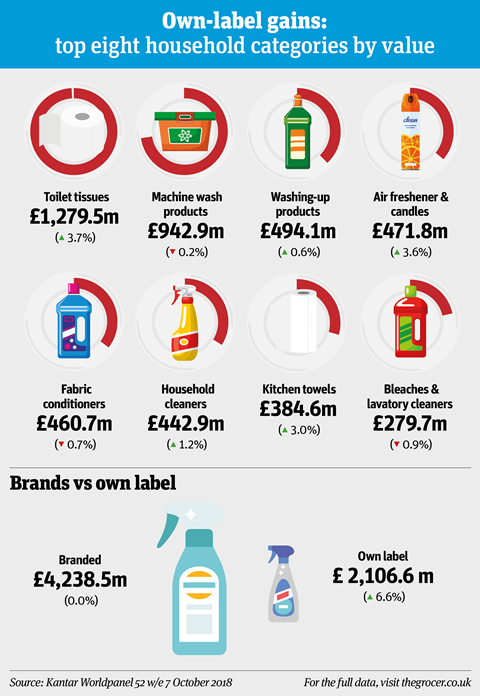 Find the full data at the bottom of this report

"Ecover Zero laundry detergent is already our bestselling SKU on online retailers due to the demand for this type of product, which is currently a niche offering" says Buckley, adding that 'Zero' has the potential to be even bigger than the green category.

Unilever also has its sights set on a new category with the September launch of Day2, the 'world's first' dry shampoo for clothes. Designed for 'already worn, but not dirty clothes', a spray of the formula promises to leave clothes looking and smelling washed and pressed in 15 minutes.

The NPD is based on Unilever's insight that 40% of clothes in the washing machine are not actually dirty. Cleland says engagement with the product so far has been 'fantastic'. "For retailers, Day2 is the gift that keeps on giving," she says. "There is relatively low cannibalisation - it's seen as an add-on and not a replacement."

Another weapon for brands is the rise of cleaning on social media. A sparkling toilet may not sound like ideal fodder for an Instagram pic, but a growing number of influencers are sharing tips on how to achieve squeaky clean homes. That's resulting in soaring sales for the brands involved.
"Social media is essential for us to connect with customers and increase product awareness"
There's one name fuelling all this cleaning mania: Mrs Hinch. Social media influencer Sophie Hinchcliffe, aka Mrs Hinch, has taken Instagram by storm with her cleaning hacks. In less than a year, she has attracted more than 1.5 million followers and loyal fans calling themselves the #HinchArmy.

Vileda reported a 34% surge in sales of its spin mops after Mrs Hinch showcased hers. Cloth, sponge and mop brand Spontex says sales of its microfibre kitchen kit cloths were boosted by up to 500% when Mrs Hinch added them to her 'Hinch Haves' list, while demand for its thick moppets and soft hands gloves has 'noticeably increased' since joining the prestigious club. "Social media is essential for us to connect with our customers, increase awareness of our products and ultimately drive sales," says Spontex's head of marketing & category management Jo Evans. "Instagram is clearly an influential social platform and one that we will be a lot more active on."

This presents an opportunity for smaller, challenger brands with modest marketing budgets to reach their target audience in a way that hasn't been possible in the past.

"Instagram and social media provide us a way to specifically target consumers who are more interested in sustainability, which is a positive way for us to more efficiently spend our budgets, and also allows us the opportunity to hear feedback and take it on board," says Ecover and Method's Buckley.

The social media frenzy is also generating a new-found interest in cleaning among younger shoppers. Research by online household appliance company Appliances Direct found millennials are the nation's cleanest generation, spending an average of 3.65 hours a week cleaning their homes compared with baby boomers, who spend less than three hours. And 44% of the millennials quizzed said they used cleaning hacks they had learned from Mrs Hinch.
How Instagram and the #HinchArmy have made cleaning cool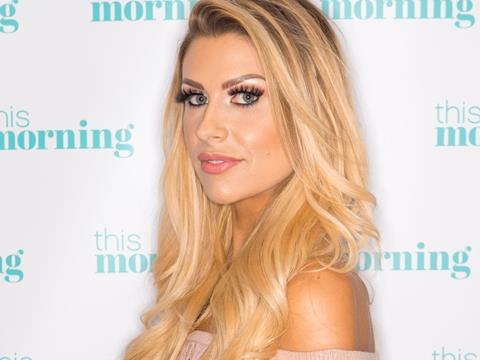 What can a 28-year-old hairdresser from Essex teach household giants about cleaning? The answer is an awful lot.
In less than a year Sophie Hinchcliffe, aka Mrs Hinch, has become one of the most influential UK home interior Instagrammers by sharing tips and tricks on how she cleans her picture-perfect home. Since her first post in March 2018 she has accrued 1.5 million Instagram followers and a fanbase, the #HinchArmy.
"Social media has given people who love cleaning a platform to voice their thoughts and opinions and an opportunity to be part of a bigger conversation," says marketing expert Fiona Spencer, who has worked with EasyDo's Dishmatic and Bathmatic brands.
She believes the "likeable, accessible personality" of Mrs Hinch has particularly hit home with today's shoppers. Her followers will regularly post #HinchHauls of the recommended products they have bought (see below) and share tips.
All of which is a dream come true for brands, which are currently suffering at the hands of own label. Once a product is mentioned by Mrs Hinch, it is in for a sales boom. Some of the featured items are even selling out or going on eBay for triple their normal retail price.
Spontex and Vileda are among those to report a related surge in sales. "The Hinch effect has answered the prayers of the modern-day cleaning industry, finally making people realise what we know to be true - cleaning is cool," says Vileda's product manager Natalie Gibson. "Maximising the potential of these communications channels will be key for this year."
Social media isn't just about Mrs Hinch. Dishmatic says it achieved high reach and engagement through its support for Breast Cancer Awareness month through Facebook, and Bathmatic reported a 600% sales surge after vlogger Mama Reid promoted its after its Duo Clean.
Looks like social media is cleaning up its act.
Engaging younger shoppers
"It's quite unbelievable to see the impact that Mrs Hinch is having on the nation with her cleaning hacks and entertaining videos," says Mark Kelly, marketing manager at Appliances Direct. "Mrs Hinch's content makes cleaning look easy and enjoyable, and with so many young people engaged with her it is inspiring a house-proud generation."

Like Mrs Hinch's followers - who regularly post 'Hinch hauls' of products they pick up at bargain stores - consumers are prepared to shop around for their cleaning essentials. Three of the big four lost category value in the last year (Morrisons' sales were flat) while Aldi and Lidl saw double-digit gains of 17.8% and 13.3% respectively [Kantar].
"We're continuing to see the grocers fighting back against the discounters"
"We are seeing very sharp growth in the discount channel," says P&G's sales director Ian Morley. "We're continuing to see the grocers fighting back versus the discounters and in many cases using private label to narrow their price gap."

Still, at the same time Wilko saw value sales drop 5.4% [Kantar]. "Shoppers are less loyal, shopping around in more retailers in an attempt to save money or stop being tempted to spend more while on the traditional 'big shop'," says Wepa UK's MD Mike Docker.

"The main beneficiaries of this behavioural change at one end of the spectrum have been the discounters with their very clear value positioning, and at the other end Waitrose and Ocado with their equally compelling quality positioning."

Cheap and cheerful, or premium and eco-friendly, it seems there is room for everyone among today's cleaners. Brands that trade on added benefits, rather than simply price, are getting far more of a look-in as shopper needs become more diverse. There is one demand that unites them all though: a cleaning effect that would be worthy of the Mrs Hinch crowd. Here's to the Hinch Army.
Innovations in household 2019
Click on an image to expand