When it comes to snacks, it's good to share. So good, in fact, brands have started rolling out packs of crisps and popcorn that transform into a sharing bowl. The launches of Walkers' and Propercorn's new formats are among the most visible signs of how sharing - particularly premium sharing - is driving much of the growth in the snacking market.

In an overall savoury snacking category up £100m - or 3.5% - year on year to £2.9bn, half that increase has come from sharing packs of crisps and snacks [Kantar Worldpanel 52 w/e 3 January 2016]. It's not just pack formats that are changing, however; increasingly they're being filled with baked snacks rather than potato crisps. So what's driving these trends? Which brands and retailers are cashing in? Who's being left behind?

As the market shifts towards products perceived as healthier, a combination of changing tastes and deflation his hit crisps' biggest players hard. Nine of the top 10 brands are in value decline. Walkers' core crisps are down 4.9% to £504.3m, with McCoy's down 14.4% to £102.8m [IRI 52 w/e 27 February 2016].

"The snacking market is becoming increasingly diverse with a growing trend for healthier snacks such as popcorn, baked snacks and nuts," says Thomas Barkholt, UK marketing director at Walkers owner PepsiCo.

It's a trend PepsiCo has embraced with Sunbites crackers and baked Sensations Crispy Thins rolling out last summer following similar launches - Ritz Crisp & Thin from Mondelez and Jacob's Cracker Crisps - from United Biscuits. More recently, PepsiCo rolled out Walkers Crackers in two variants: Crispy Crackers and Melty Crackers.

United Biscuits has focused on baked snacks since selling its KP Snacks business - which includes McCoy's and KP Nuts - to German snacking giant Intersnack in 2013. "The growth of baked snacking has been in the spotlight over the past 12 months," says Ted Linehan, marketing director for savoury biscuits at UB. "This has put pressure on fried snacks and, with continued focus by ourselves and competitors, it's unlikely to abate."

While no-one is suggesting the days of the fried potato crisp are numbered - sales only fell 1.3% year on year and are still worth more than £900m - PepsiCo is by no means the only major crisp supplier to have extended beyond the spud.

"Healthier options are outstripping demand for traditional snacking formats, with the potato increasingly replaced with a healthier alternative," says Simon Knight, sales & marketing director at Burts Chips, which launched Lentil Waves crisps in 2014.

Lentils also feature in the Kettle Bites wholegrain snacks rolled out this January by Kettle Chips. Targeted at women, each 22g pack contains fewer than 100 calories and 50% less fat than standard crisps. "The products have researched exceptionally well, and extensive distribution is rolling out in major multiples and independents," says Kettle Foods marketing director Andrew Slamin.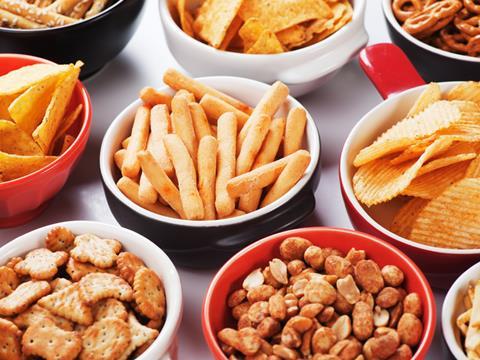 Growth in savoury snacking has been driven by all sectors except crisps. Shoppers are buying savoury snacks more often, but are putting less volume in baskets. There has been a greater push on price reduction promotions than multibuy deals - especially on sharing and crackers.
Crisps' slowing performance has been caused by large multipacks, a saturated category. Free school lunches have impacted on the number of lunchboxes.
Premiumisation with NPD such as Ritz Crisp & Thin has helped savoury snack growth.
Popcorn is flavourishing due to the healthier snacking trend, with high levels of NPD from suppliers as well as own label. Butterkist, Tyrrells and Metcalfe's are all in high growth, gaining new shoppers.
The performance of nuts, growing at 11.7%, is driven by own label and the hard discounters. The category as a whole is gaining new shoppers and growing through frequency as well.
Erato Kyriake, Kantar Worldpanel
TAKE HOME SHARE
Crisps, nuts & snacks: 52w/e 3 January 2016
VALUE
VOLUME
£m
y-o-y%
kgs (m)
y-o-y%
Total Crisps
911.6
-1.3%
136.0
1.0%
Multipack Crisps
649.7
-5.3%
104.5
-2.3%
Small Multipack Crisps
458.8
-1.7%
64.8
3.6%
Large Multipack Crisps
190.9
-13.1%
39.8
-10.5%
Total Savoury Snacks
956.7
1.4%
131.7
2.7%
Multipack Snacks
524.1
-1.7%
67.8
-0.2%
Small Multipack Snacks
377.3
-0.6%
46.4
3.2%
Large Multipack Snacks
146.9
-4.4%
21.5
-6.7%
Sharing Crisps& Snacks
620.8
7.6%
90.4
8.8%
Singles Crisps& Snacks
73.8
3.7%
4.9
0.4%
Nuts
447.7
11.7%
63.5
9.2%
Total Crackers& Sav Biscuits
513.4
7.3%
90.5
5.2%
Total Popcorn
85.7
25.4%
11.6
18.7%
Total Savoury
2,915.1
3.5%
433.2
3.9%
BRANDED VS OWN LABEL
Crisps, nuts & snacks: 52w/e 3 January 2016
VALUE
VOLUME
£m
y-o-y%
kgs (m)
y-o-y%
Branded
2,016.1
1.3%
283.0
2.1%
Own Label
898.9
9.0%
150.1
7.6%
RETAIL SHARE
Crisps, nuts & snacks: 52w/e 3 January 2016
TRADING
VALUE
retailers
grocery
category
index
y-o-y%
Lidl
3.6
4.5
125.0
26.2%
Independents & Symbols
1.1
1.2
109.1
-8.7%
Aldi
4.7
5.1
108.5
20.9%
Co-Operative
5.1
5.5
107.8
3.4%
Asda
14
15
107.1
-0.4%
Tesco
25.3
26.9
106.3
1.2%
Morrisons
10.2
10
98.0
1.2%
Waitrose
4.9
4.8
98.0
3.8%
Sainsbury's
14.6
13.9
95.2
4.7%
Non Grocers
12.1
8.9
73.6
5.3%
Health
Even popcorn - perceived by many as one of the healthier snacking options - is boosting its health credentials to ensure strong growth continues; sales rose 25.4% to £85.7m [Kantar Worldpanel]. Last year, Butterkist owner Tangerine Confectionery rolled out a new recipe to cut saturated fat content by 60%. And this summer the brand is to launch the Butterkist Delights lower-calorie range.

This follows the launch of Cinema Sweet popcorn by Metcalfe's Skinny last October. While many health-focused snack launches champion lower fat, this product is about sugar reduction. Twelve months in development, the popcorn is sweetened with a blend of stevia extract and sugar, and contains 8.5g of sugar per 100g. Sweet popcorns typically contain between 16.8g and 51g of sugar.

And, in light of the sugar tax on soft drinks announced last month, the timing may well be prescient. "The increasing focus on sugar consumption and obesity has put more pressure on brands to innovate with alternative ingredients," says Metcalfe's Skinny MD Max Rees. "Since the sugar tax on drinks has come into policy, it is anticipated other categories will also be put in the spotlight in the future."

Another strong health message in snacking is protein. It's a trend contributing to the stellar performance of nuts, up more than 11% to £447.7m [Kantar]. "Protein is king at the moment and that is dictating a lot of consumers' snacking choices," says Anthony Fletcher, CEO of Graze.com, which last year rolled out its snacks range to retail.

Pip & Nut is demonstrating this versatility with 30g Squeeze Packs of peanut butter - a format it says has enjoyed success in the US. Meat-based snacks such as jerky are also tapping demand for protein - and are tipped as a future area of growth for the market (see p59).

"Meat snacking has become a firmly established and viable option for consumers," says Sue McVie, shopper marketing director at Mattessons owner Kerry Foods. "This has been driven by the rise in popularity of protein on the go and increased demand for more satisfying snacking options as fewer people are consuming three traditional meals."

But regardless of the health benefits of a product, if the taste doesn't please the consumer it won't stay the distance, say manufacturers. "While the health trend means retailers must provide these options, it must not be forgotten that taste is still the predominant factor driving purchase," says Burts Chips' Knight. "While 'healthier' encourages a trial buy, 'tastier' ensures repeat purchase."

For PepsiCo, this has included taking taste to the extreme with the launch of Doritos Roulette, which it says was the biggest single-SKU launch in crisps, nuts & snacks in 2015 [Nielsen]. "It brings something new to snacking - creating an entertaining experience that can be shared and enjoyed among friends and family," says PepsiCo's Barkholt.

PepsiCo has also enjoyed success with last year's launch of Walkers MixUps, which offers different flavours and textures in one bag. The range achieved 14.4% penetration in its first 11 months on shelf [Kantar Worldpanel] and was extended in January with a Meaty SKU.
Price cuts crush value out of bagged snack brands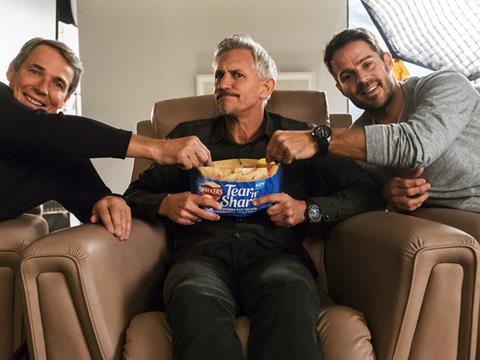 Price deflation has hit crisps hard, with nine of the top 10 brands in value decline.
Walkers' sales decline has been driven by the core crisp range, which has fallen £25m year on year.
KP Snacks says it plans to turn around the £17m sales slump in sales of McCoy's with a five-year plan, kicking off with a new push and the launch of Thick Cut crisps (see p60).
Tyrrells says meal deals have boosted its unit sales, with its Mixed Root Vegetable pack a "star performer" in a meal deal.
Kettle, with volume up on static value, says the market is "exceptionally competitive".
NUTS BESTSELLERS
IRI: 52w/e 27 February 2016
VALUE
VOLUME
£m
y-o-y%
kgs (m)
y-o-y%
Own Label
£253.4
5.9
29.9
3.6
Kp
£55.8
9.1
8.9
12.5
Walkers
£10.9
-7.7
1.2
-1.0
Fudco
£3.1
149.8
0.3
159.9
Cofresh
£3.0
-20.2
0.3
-17.4
POPCORN BESTSELLERS
IRI: 52w/e 27 February 2016
VALUE
VOLUME
£m
y-o-y%
kgs (m)
y-o-y%
Butterkist
£45.4
21.4
5.7
15.2
Own Label
£27.9
15.1
3.1
2.2
Metcalfes
£12.7
48.1
0.7
56.9
Tyrrells
£9.0
31.0
0.5
36.6
Walkers
£2.9
59.4
0.3
74.8
Popcorn
The popcorn category is dominated by the core flavours - Toffee, Sweet, and Sweet & Salted - but is increasingly becoming a source of new tastes. Tangerine last year expanded Butterkist with the Discoveries range including Hickory BBQ Pulled Pork and Sweet Chilli & Zesty Lime to meet demand for more adventurous flavours at adult snacking occasions.

Tangerine says seasonal flavours offer an opportunity to drive incremental popcorn sales and this Easter rolled out a Hot Cross Bun flavour popcorn. The business plans a Red Toffee Apple popcorn in the autumn, followed by a Gingerbread popcorn for Christmas 2016. Tyrrells has also launched a new seasonal flavour programme for its popcorn, starting with strawberries & cream.

And Will Chase, who created the Tyrrells brand and sold it a few years later for £30m, this month announced he was re-entering the snacks market with a popcorn range featuring adult flavours including Cider Vinegar and Smoky Bloody Mary.

Calbee UK, the first European subsidiary of Japanese snacking giant Calbee, is also spicing up the market following the launch of its Yushoi brand last year. Yushoi, an extruded snack made from 74% ground peas, is sold in flavours including Sweet Chilli & Lemon, Soy & Balsamic Vinegar and Smoked Salt & Szechuan Pepper.

"Consumers are looking for more unusual flavours and in particular spicier options," says senior brand manager Sarah Brown. "Influenced by Japan, the flavours offer something different and Sweet Chilli & Lemon has been particularly popular."

Provenance

In an increasingly globalised marketplace, provenance of ingredients will continue to resonate well with shoppers, suggests Burts, which recently launched new flavour Devon Roast Beef. "This was created in collaboration with Devon firm The Well Hung Meat Company with its local organic beef creating a meaty and distinctive flavour," adds Knight.

Similarly, Kettle Chips last year introduced the Chef's Signature range in partnership with premium food brands including Gressingham Duck and Wensleydale Cheese. The lineup has recently been extended with Burrata Mozzarella & Sweet Chilli Jam, produced in collaboration with Stokes Sauces.

But not all manufacturers feel it is necessary to offer a stream of new flavours. One such business is Pipers Crisps, which also works with local suppliers but launched its most recent flavour - Kirkby Malham Chorizo - back in 2013. "Unlike many crisp manufacturers, we don't go in for fashionable or seasonal flavours," says founder Alex Albone. "If you offer a quality snack, full of flavour, which represents good value, shoppers don't go looking for new or unusual flavours - they prefer traditional styles and flavours but with added bite and real provenance."

Premium flavours are an opportunity to boost a crisp category that has seen value eroded - with sales down 1.3% despite a 1% hike in volume. "Retailers are increasingly experimenting, and finding success, with premium lines, adds Albone. "Premium crisps command around a 30% price premium over quality mainstream products, and offer a great opportunity to grow sales and increase margin."

Premium and sharing go hand-in-hand, and the flavour profile of sharing products is becoming increasingly sophisticated. "Despite an improving economic climate, consumers are continuing to entertain at home," says Kettle Foods' Slamin.

It's a view echoed by Seabrook Crisps marketing director Kevin Butterworth. "There has been a strong reinforcement of snacks being about real and serious food rather than a savoury alternative to confectionery." He adds that investment has increased at the premium end of the sharing market, which is helping to drive value.

Seabrook took the premium route when it responded to the growth of sharing with the introduction of its Lattice crisps range in 2014. Later that year, it also pioneered packaging designed for sharing with the introduction of a bag featuring an opening, resealable panel on the front of pack.
Meat snacks flex their growing muscle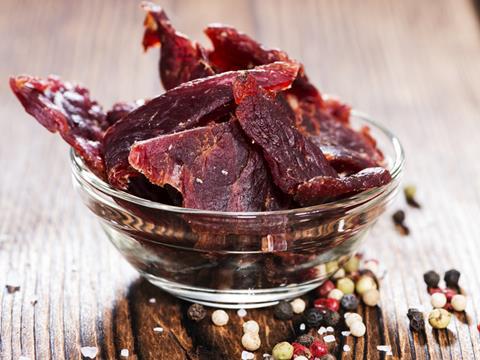 With meals increasingly skipped and consumer demand for more protein, there's plenty for meat snack players to get their teeth into.
ONS last month added meat snacks to its basket of goods and services used to measure consumer price - a sure sign of the category's growing popularity.
Category sales are up almost 10%, or £11.1m, to £128.7m [Nielsen 52 w/e 27 October 2015], while penetration of meat snacks is just 22% versus 70% for crisps [Kantar Worldpanel 52 w/e 6 December 2015].
Against this backdrop, market-leading brand Peperami this year launched its first new flavour in eight years, a Tex-Mex variant. And Kerry Foods, which has built a £46m brand by targeting Mattessons Fridge Raiders at the teen market, is now looking to build up adult meat snacking through new products including Mattessons Savagers and Mattessons Strip Sticks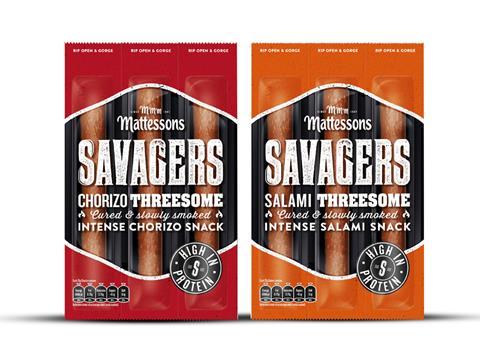 Jerky and biltong have also been gaining better positioning in some stores.
"There has been a move to allocate additional shelf space to both jerky and biltong to establish a permanent postcode in store, making it easier for the consumer to shop," says Lisa Gower, sales director at Meatsnacks Group. "In addition, multi-buy promotions are being replaced with temporary price reductions to encourage trial."
Meatsnacks Group is extending Wild West in June with a Deli range aimed at women, featuring flavours such as Thai Spice and Chilli & Lime.
Also bringing flavours to the jerky fixture is RH Amar, which started distributing the Top Herd brand in February; and Itsu, which this month launched Twerky - a teriyaki beef snack.
Even meat avoiders can get in on the act. MightyBee has extended its range of coconut-based products with a raw, organic, vegan jerky produced by marinating the flesh of organically grown, young Thai coconuts in a homemade sauce.
Sharing
Packaging has taken further steps this year, with the rollout in January of Walkers Tear 'n' Share packs that transform into a sharing bowl. And Propercorn has worked with the Wipak group to develop its own 'bowl' format, featuring a panel on the front of the pack that can be removed.

"Our tear to share format is a first in popcorn and we're hugely excited by its potential to drive growth," says Propercorn co-founder Ryan Kohn. While not growing as strongly as their larger siblings, single packs of crisps and snacks are also enjoying success. Up 3.7%, value is growing ahead of volume, suggesting demand for premium products may be influencing the choices consumers make when impulse shopping.

Mondelez says its Ritz Thins brand sells proportionally slightly more impulse SKUs compared with the rest of the market. "We believe this shows consumers are looking for amazing-tasting products that are more permissible, and that there is as much desire for these products in impulse - there is just less NPD in this area at the moment," adds Ritz senior brand manager Sandra Ferreira.

Kellogg's says its 40g impulse Pringles had proved to be 'a real hero'. "It is even helping us online, a territory that can prove tricky for impulsive snacks," says commercial director for snacks Clare Furlonger. "On Ocado, you can now mix and match 40g Pringles flavours in a pick and mix offer," she adds.

Less successful than sharing and singles have been multipacks, with snacks down 1.7% by value on static volumes, while crisps have fallen 5.3% by value on volume down 2.3% [Kantar Worldpanel]. The decline has been driven by larger multipacks of crisps (eight bags and over), which have slumped more than 10% by value and volume

"Multipacks is a saturated category where it's hard to grow through more shoppers, or getting existing ones to buy more volume," says Kantar analyst Erato Kyriaki, adding that large multipacks were hit by the introduction of the free school lunches scheme in 2014. "This is impacting the number of lunchboxes carried out from home."

On the flipside, multipacks are one of the fastest-growing formats in popcorn, according to Butterkist, with sales up almost 50% year on year. "This is in response to consumers seeking portion-control snacks and popcorn becoming part of their everyday snacking regime," says Butterkist senior brand manager Anjna Mistry, adding that despite strong growth in other formats, sharing will continue to dominate. "The eating experience of popcorn is synonymous with the sharing occasion, from the cinema to recreating that experience within the home."

Adapting products to a range of occasions helps grow the snacks category, according to Bryan Cooke, founder of the Chip Strips brand that launched last year. "Innovative packaging such as bags that can be used as bowls, resealable packets and trays all encourage consumers to plan and purchase for these occasions."
Pringles Brazilian Salsa Style & Spicy Chilli Samba

Launching: June 2016 
Manufacturer: Kellogg's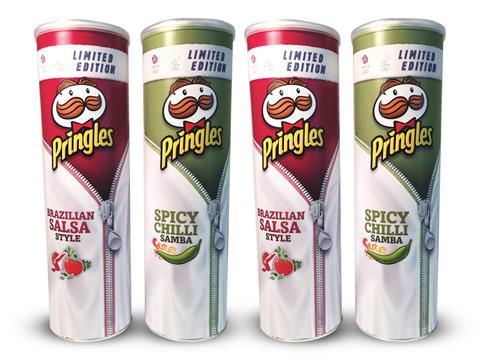 Pringles, the pioneer of the snack sharing format, is sponsoring Team GB at the Summer Olympic Games in Rio de Janeiro and to celebrate is launching two limited-edition flavours inspired by the tastes and culture of South America. The cans come in their own Team GB jackets, adorned with the Team GB logo and Olympic rings. The new flavours are Brazilian Salsa Style and Spicy Chilli Samba (rsp: £2.48/190g). They'll hit shelves in June.

Hula Hoops Golden Hoops

Launching: June 2016

Manufacturer: KP Snacks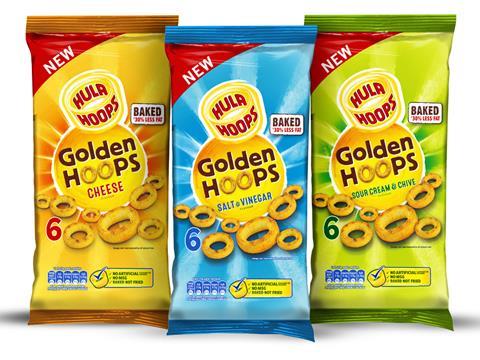 Hot on the heels of last year's Hula Hoops Puft launch comes Hula Hoops Golden Hoops - a baked version of the potato snack. The new crackers contain 30% less fat than standard crisps and come in multipacks of six in Cheese, Salt & Vinegar and Sour Cream & Chive (rsp: £1.70/6x25g), and a Cheese-flavoured grab bag (rsp: 69p/50g).

McCoy's Thick Cut

Launching: May 2016

Manufacturer: KP Snacks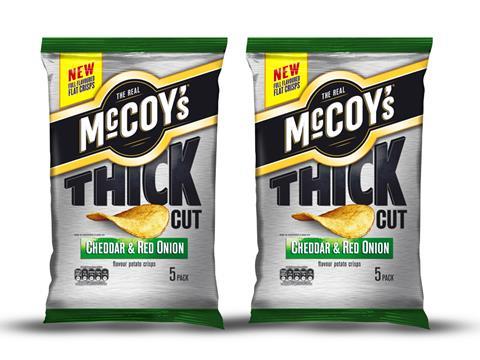 Ridged crisp brand McCoy's is aiming straight at younger males with the launch of Thick Cut - its first foray into the flat crisp sector. The new range aims to recover declining flat crisp consumption among that audience. It comprises three multipacks (rsp: £1.50/5x30g); and handy packs in BBQ Chicken and Cheddar & Red Onion (rsp: 55p/35g).

Burts Guinness Toasted Cheddar

Launched: December 2015

Manufacturer: Burts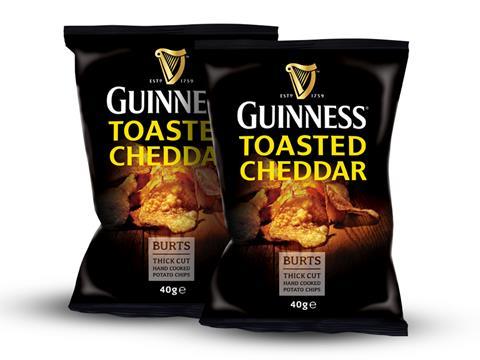 Hot on the heels of the success of its range counterparts - Original and Rich Beef Chilli - comes Guinness Toasted Cheddar (rsp: 75p/40g). The new variant uses thick-cut potatoes to hold the classic cheese toastie flavour blended with the stout. Burts says it worked closely with Guinness in creating the crisp-maker's strongest-performing line.
Price
He adds that Generation Y - also known as the millennial generation - continues to contribute to category growth through busy lives that encouraged snacking. It's a view echoed by United Biscuits' Linehan, who says changing consumption occasions and shopping habits are influencing behaviour across many sectors.

But price remains a key factor. "As pressure remains on household budgets, small basket shops have increased," he says. "We therefore expect the trend for smaller, more frequent shopping trips to continue throughout 2016, making it crucial for retailers to offer a range of products, sizes and price points."

On average, those price points have fallen 0.4% across the crisps & snacks category [Kantar Worldpanel]. Crisps prices have driven the decline, and are down 2.3% on average, with other savoury snacks down 1.3% (excluding nuts, biscuits and popcorn - which all increased in price).
Jacob's and Ritz square up in snacks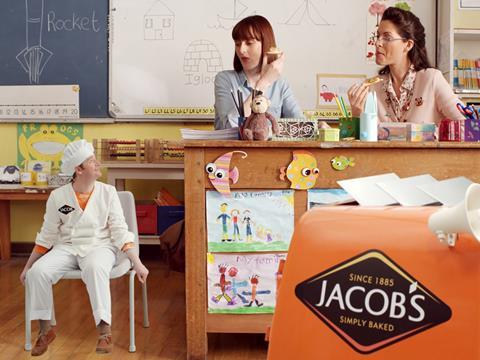 NPD is driving growth in baked snacks, with the category outperforming the crisps market.
New ranges have brought over £15m to the category in the past year, led by Jacob's Cracker Crisps, which has clocked up about £7m since rolling out in May.
Launched at almost the same time, Mondelez's Ritz Crisp & Thins sold £6.1m over the same period.
Walkers Crackers have achieved sales of £1.8m in their first three months.
One of the few established brands in value and volume growth is Snyder's of Hanover. Snyder's-Lance this year acquired Kettle owner Diamond Foods.
Promotions
Many suppliers say there has been a shift in promotional activity in the past year as businesses move away from multibuys in favour of lower base prices. The £1 price point remains a popular promotional tactic for sharing bags, with Kettle saying £1 promotions on its 150g sharing range last Christmas took its market share to a record high.

Price-marked packs are also fuelling growth, according to licensed food specialist All About Food, which says it has enjoyed success with £1 PMPs of its 90g bags of Nando's-branded snacks. "Snacks are highly impulsive, so for retailers it makes sense to discount, and it's important to deliver accessible price points for value-conscious consumers," says Alison O'Brien, commercial strategy director at Kellogg's, which has this month partnered with Budweiser to offer a 4x440ml-pack of Budweiser and a 190g Pringles can for £5 to tempt sports fans.

In addition to the shift away from multibuys, another change in the retail landscape is premium and healthy brands increasingly taking choice positions on fixtures. "Consumers are willing to delve a little deeper into their pockets for quality offerings from well-known brands," says Burts' Knight. "As such, there has been a step change in display tactics to ensure pride of place for products that reflect this premium shift."

Top promotional slots - and till point positions following checkout bans on confectionery - are going to brands and products that offer better-for-you options, say suppliers. "With shoppers increasingly leaning towards baked savoury snacks, it is crucial these are merchandised together in a prominent position, with enough space to enable them to grow," suggests David Costello, head of category & shopper management at Burton's. "Making grab bags of savoury snacks available within the meal deal/snacks-to-go area will generate incremental sales."

But front-of-store crisp displays are still dominated by less healthy fried products, according to Will Bowler, Popchips general manager for UK and Europe. He adds he expects to see front-of-store snacking getting healthier overall in the year ahead - and that, more generally, the convenience channel has some catching up to do.

"Convenience stores are lagging behind when it comes to representing the growing need state for healthier snacks," he says. "Reflecting this with more space and visibility could be a sales driving strategy yet to be exploited by some retailers."
Burton's Fish 'n' Chips

Launched: April 2016 
Manufacturer: Burton's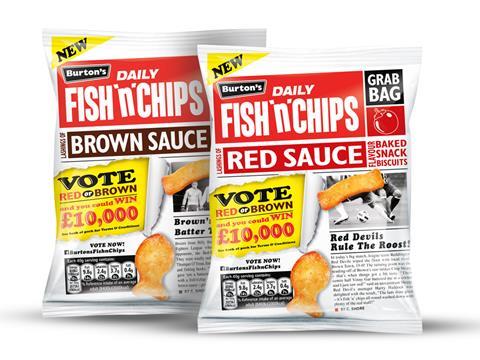 They say imitation is the best form of flattery. If that's true, the brains behind the Walkers Do Us A Flavour campaign should be feeling pretty chuffed. Burton's is promising an epic "battle of the sauce" with new Fish 'n' Chips variants Red and Brown Sauce. As with the Walkers campaign, consumers can vote for their favourite flavour on Facebook, with the winner becoming a permanent listing in July. Both are available in a grab bag (rsp: 59p/40g) and multi-bag format (rsp: £1.39/5x25g).

Propercorn 'tear to share' format

Launching: May 2016

Manufacturer: Propercorn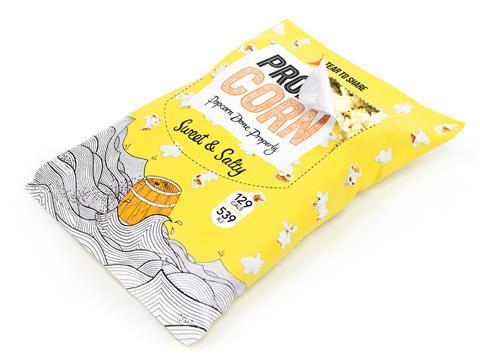 Propercorn is set to unveil a new sharing format, with packaging said to be the first of its kind in the popcorn category. A pinch and tear panel on the front of the pack can be removed to create a bowl for sharing. It will be introduced on Propercorn's Sweet & Salty (rsp: £1.69/90g) and Lightly Sea Salted flavours (rsp: £1.69/70g).

Strawberries & Cream Poshcorn

Launched: March 2016

Manufacturer: Tyrrells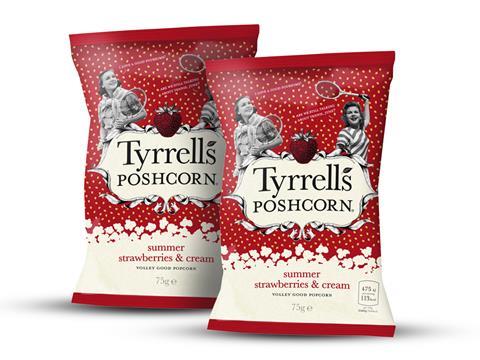 Limited-edition Strawberries & Cream Poshcorn is the first of what will be a rolling seasonal programme for premium popcorn brand Tyrrells. This variant will be available throughout the summer (developments for a winter flavour are under way). Strawberries & Cream is offered in sharing bags (rsp: £1.59/75g) and handy packs (rsp: 79p/22g).

Itsu Prawn Snackers

Launched: April 2016

Manufacturer: Itsu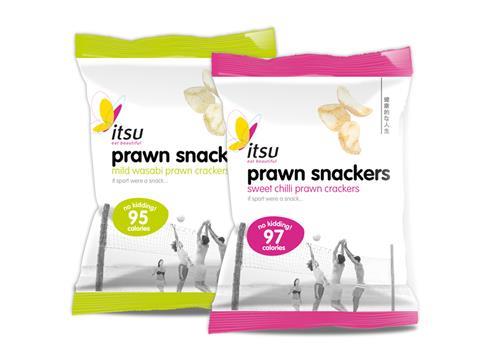 The UK's first flavoured prawn crackers hit shelves this month. Itsu Prawn Snackers are available in sweet chilli and mild wasabi (rsp: 99p/20g) - with further variants set to follow. A "completely new and unique concept", the flavoured prawn crackers are 100% natural, have less than 97 calories per bag and are flash-fried in sunflower oil.
Range rationalisation
And the need to deliver the right products for retailers - whether healthily positioned or otherwise - has never been greater as supermarkets rationalise ranges through activity such as Tesco's Project Reset. "Products must not only sit within key consumer flavour trends, but also offer a strong point of difference," says Knight. "Exciting and innovative products give consumers a talking point that helps generate increased sales and if a brand can offer this, the likelihood of remaining stocked is far greater."

The volume of innovation has helped shield the snacks category from rationalisation, suggests Kellogg's O'Brien. "Tesco's food and drink range count is down 10% on last year, while Asda's range count has decreased by 7%. But the snacks category is less impacted than others as there's so much new news and NPD. We had great support for the launch of Pringles Tortilla last year," she adds. "No retailer wants to miss out on the latest big snack launch."

As for what the next big snack launch might look like, opinion is divided. Gluten-free messaging will continue to be important, say some. Crisp and popcorn brand Ten Acre - produced by Yumsh Snacks - is tapping demand for free-from and vegan products. All its snacks are free from gluten, dairy, MSG and GMO, and are vegetarian, vegan, halal and kosher certified.

'Superfoods' are also tipped as a growth area - with a focus on the grains used to produce snacks. "Producers will be looking to incorporate foods such as quinoa, bulgur wheat and other popular healthy options into the base of snacks," says Knight.

Protein will continue to be an important trend, benefiting meat-based snacks such as jerky, although some manufacturers expect to see a diversification of protein source. "At Graze we're backing plant protein," says CEO Fletcher. "High in both protein and fibre, the nutritional benefit of pulses is pushing them increasingly centre stage."
Licensing offers bags of possibilities for partners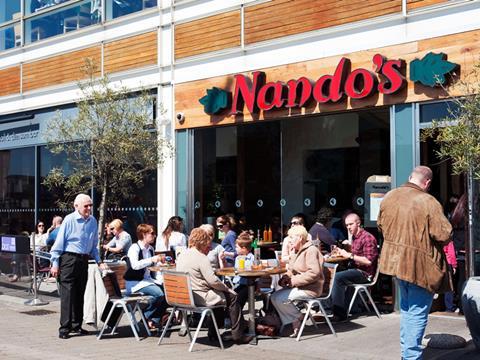 Brits spend around £500m a year on food and drink featuring a licensed brand or property, according to the Licensing Industry Merchandisers' Association.
Half that amount goes on products featuring character licences such as Peppa Pig or Teenage Mutant Ninja Turtles, and the remainder on brand licensing deals - which is where much of the activity in snacks is happening.
Players in the licensed snacks arena include All About Food, which produces Nando's-branded snacks; jerky manufacturer Meatsnacks Group; and Burts Chips, which claims to have been one of the first snacks businesses to adopt licence partnerships in the UK. Since being introduced in 2012, Burts' Guinness crisps have clocked up £4m in sales, according to the manufacturer, which expanded the range with a Guinness Toasted Cheddar flavour late in 2015.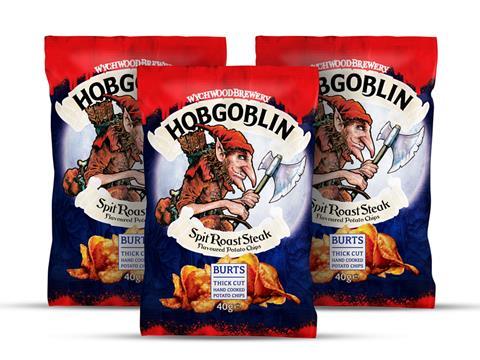 Burts also produces Levi Roots Reggae Reggae Groove cut crisps and last year teamed with Wychwood Brewery to create Hobgoblin Spit Roast Steak Chips. Such products can drive up spend through associated purchase, claims Burts sales & marketing director Simon Knight. "For example, when buying alcohol, snacks are the perfect sharing accompaniment," he says. "This opportunity can be maximised by offering snacks that suggest drinks pairings by incorporating alcohol flavours."
Meatsnacks Group, which has licences for Men's Health Fuel Beef Jerky and Texas Joe's Beef Jerky, says the snacks category could be making more of licensing.
"But it would be a mistake to swing the balance too much towards licensed products where the brand wasn't actually about the product," warns sales director Lisa Gower. "Men's Health is obviously entirely relevant to a healthy snack like beef jerky, but less so if, for example, the snack product is simply named after a film franchise."
Protein
Eat Natural uses a soya bean blend in its first 'bar with benefits' - the Protein Packed bar that contains 10g of protein in each 45g portion. One major multiple removed Eat Natural's bestselling single bar Almond Apricot & Yoghurt in favour of the Protein bar, now selling more than its predecessor.

Also tapping demand for plant-based snacks is Ape, which produces bagged coconut curls that meet consumer interest in products such as coconut water, oil and milk. Founder and CEO Zack Nathan says the bagged snacks market will be driven by "naturally healthy, high-fibre snacks with reduced portion sizes".

Also following the coconut trend is Mighty Bee, which produces meat-free jerky made from coconuts soaked in BBQ sauce and then gently dehydrated. "Nowadays, vegan products are associated with cleaner ingredients, weight loss, environmental responsibility and social responsibility," says CEO Ice Min.

Nakd, meanwhile, was this year lead sponsor of Veganuary, a global awareness month designed to encourage the vegan-curious, vegetarian and health-conscious to switch to plant-based wholefoods for a month.

While some would argue with the idea that vegan snacking will shape the future of the category, few need convincing taste will. "When it comes to identifying the next big flavours, we only need to look to the States," says Graze's Fletcher. He says 'sweet and heat' is the latest one to be adopted on UK soil. "It's really been a hit with American consumers and snacks like chilli honey almonds are starting to grow in popularity here too now."

Chip Strips is looking further south towards "big and bold" South American flavours including chilli, paprika, lime and barbecue. "Ancient herbs have also been predicted to be a big trend for 2016, posing a great opportunity for the market to utilise natural flavours," adds Chip Strips founder Cooke.

As for the coming 12 months, whether Brits are embracing plant proteins, sweet 'n' heat flavours or quinoa crisps, it's a pretty safe bet they'll be sharing them.
Wild West Deli Chilli & Lime and Thai Spice

Launching: June 2016 
Manufacturer: Meat Snacks Group
Aimed specifically at females, who typically undertrade in the masculine world of meat snacking, Wild West Deli launches this June in "attractive flavours" including Thai Spice and Chilli & Lime (rsp: £2.99/50g). Ingredients are the hero of the packaging design, which uses fresh colours, and "the story behind the product" is on the back. The beef brisket is marinated and smoked slowly over applewood chips in the Highlands of Scotland.

Nim's Vegetable Crisps

Launched: April 2016

Manufacturer: Nim's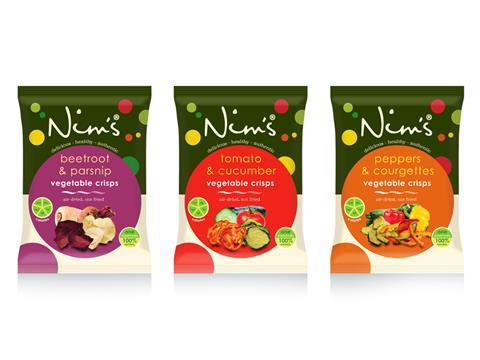 The UK's first air-dried range of vegetable crisps was launched this month. Nim's Vegetable Crisps come in three varieties: Beetroot & Parsnip (22g pack), Tomato & Cucumber (20g) and Pepper & Courgette (22g) (rsp: £1.15). As with Nim's Fruit Crisps, the 100% veg crisps are also fat and gluten free, and suitable for coeliacs and vegans.

Eat Natural Bars with Benefits

Launched: March 2016

Manufacturer: Eat Natural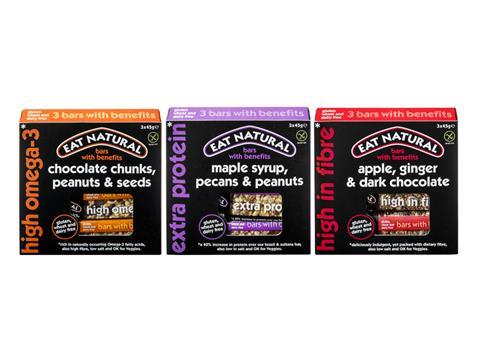 Eat Natural has created three 'super' bars, each containing naturally high levels of protein, fibre or omegas. There are three lines: Extra Protein, with Maple Syrup, Pecans and Peanuts; High in Fibre, with Apple, Ginger and Dark Chocolate; and High in Omega-3, with Dark Chocolate Chunks, Peanuts and Seeds (rsp: £2/three bars).

Real Handful

Launched: February 2016

Manufacturer: Real Handful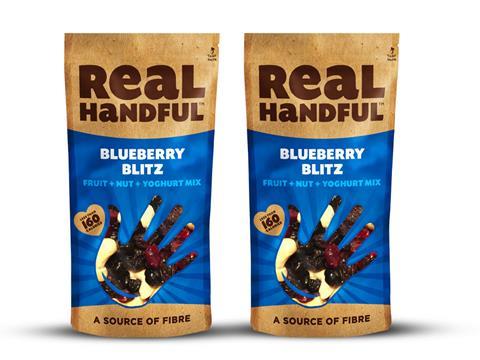 Real Handful's new twist on the trail mix concept aims to offer great flavour in a nutritionally balanced impulse snack. The six-strong range comprises Go-Go-Goji Berries, Mixed Berry Crunch, Mochaccino, Blood Orange and Dark Chocolate, Blueberry Blitz and Strawberries & Cream (rsp: £1.29/40g). Each delivers a source of fibre and/or protein.