David Gandy might still be an icon, but concepts of male beauty have moved from studs to something more flexible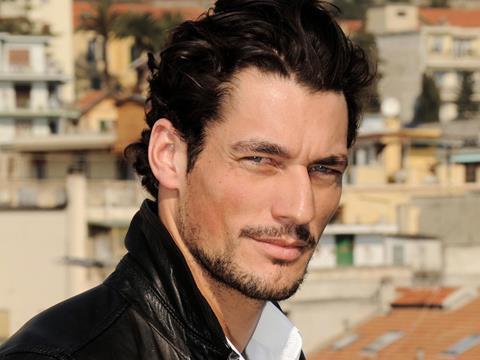 Phwoar! Check out this incredible specimen. For those of you who haven't swooned, he's David Gandy, supermodel and D&G ambassador often credited with bringing back the bulked-up, stubbly look several years ago, leaving willowy, smooth-jawed metrosexuals in the dust.

Alas for David, while he was, is and will always be hot, he's no longer cool. His look is just too darn… male. And, with that perma-stubble on his impossible chops, disappointingly samey. Because today's male aesthetic - in a recovering grooming market worth £848.5m in take-home sales [Kantar Worldpanel 52 w/e 10 June 2017] - is about being anything and everything: sometimes stubbly, sometime clean-shaven; sometimes butch; sometimes less so.
"Our society is becoming more gender-fluid than ever, with 81% of Gen Z believing gender no longer defines a person. And with this change has come a new demographic in beauty: men," says Ian Samuel, chief commercial executive at Buzzoole, an influencer marketing adviser.
"Today, it's commonplace to see tutorials from male influencers on how to shave properly or how to get the perfect summer contour. Just a few years ago, you simply would not have found men willing to put out videos on different subjects of male beauty," he adds. "This shift to seeing beauty as genderless has definitely helped to grow the male grooming sector."

Simon Duffy agrees. The founder of Bulldog Skincare for Men (acquired last year by Wilkinson Sword maker Edgewell Personal Care) doesn't care for labels. "Guys are comfortable jumping between different looks." Younger shoppers in particular have a more "fluid" view of gender, he says. "Rigid definitions about masculinity are quite anachronistic."

Duffy has seen the skincare category add 1.9% of value sales on the back of flat prices [Kantar], as men seek simply to improve themselves. "Self-improvement used to be how to get the perfect six-pack and look like David Gandy. Now it's about small but meaningful steps in multiple areas - and skincare is an example of that."
And beards aren't going away, he adds. The number of men who are clean shaven every day is "ever-declining". There's a growing number of guys who "bob in between" - sometimes whisker-free and other times sporting a few days' stubble. "It reflects an ever greater shift towards informal working and practices; it's absolutely here to stay." But stores aren't ranging in response, and are failing to make beards into a "meaningful category", he adds. "It's a huge missed opportunity; there's a definite white space."

Which would help account for blades & razors and shaving soaps being the only over-£50m markets in sales decline, hitting brands with losses of 2.2% and 7.8% respectively.

"In the UK, the shave care category remains broadly flat, driven by evolving consumer habits and practices," says Ian Morley, group sales director at P&Gm, owner of Gillette, male grooming's leading brand at £218m value [IRI 52 w/e 10 June 2017]. While an increasing number of men claim to be clean shaven, the definition has altered. "It might not necessarily mean shaving every single day, but rather shaving two or three times per week," adds Morley. "This reinforces the role for Gillette, as category leader, to work with retailer partners to build category growth."
Deodorant and body sprays
Men spent an extra £5.2m on underarm deodorant over the past 12 months. A take-home figure like that is hardly the sweet smell of success - it's no more than a 1.8% rise in value sales for a £296.8m subsector. But antiperspirants and body sprays occupy the dominant (35%) share of the male grooming category, and their modest success, buoyed by lower prices, is a reflection of the overall category: volumes are up a respectable 1.2% since this time last year [Kantar Worldpanel]. The market's decline is slowing as guys clean up their act, making shower products the big winners in percentage terms. They've seen their value increase on the high street by 4%.
---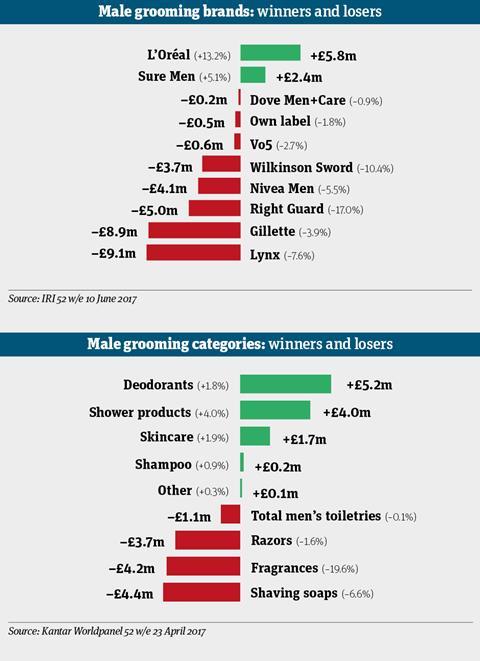 ---
One reason is less promotional activity overall and more everyday low prices, says Simon Duffy. This could be due to inflationary pressures on household shopping, he believes, but it could also be down to the mults reacting to discount channels showing increased innovation. Indeed, stores like Poundworld and Poundland have grabbed an extra 8.5% value sales [Kantar].

Wilkinson Sword Male has suffered a 10.4% drop in value [IRI]. The brand's marketing director Sarah Woods complains that "a number of retailers have moved their promotional strategies to variations of medium/low, which has seen great results for more commodity categories, but not so much the low frequency razor category, which is helped by the theatre and visibility that a high/low environment brings".
Experimentation
So brands are each grabbing a smaller portion of shoppers' spending money as they switch between products based on what's being promoted - and also on how they feel in general. "Customers are increasingly becoming more confident and experimental in their grooming regimes," says Mark Steele, men's beauty buyer at Waitrose. "They are now more likely to have six or seven different products in their bathroom cabinets, from beard oils to brushes, rather than just one or two old favourites."

It's not disimilar to other on-trend sectors, say some. "You can draw parallels with the craft beer industry. Your Shoreditch hipster isn't going to drink a run-of-the-mill can of lager, he wants a bottled artisanal ale," says Ben Lambert, co-director at PB Creative. "The same applies to male grooming; it's becoming more esoteric and individual."

That's right, says Dilraj Athwal, Lynx brand manager at Unilever UK. "With men becoming more discerning, their grooming regimes have broadened, and we've worked to cater to their demands by expanding our range. Brands must update the way they talk to today's man; his interests are now more multifaceted, and there's more than one way to engage with him."

Earlier this year, Lynx launched its #Isitokforguys digital push. Backed by heavyweight boxing champ Anthony Joshua, it aimed to encourage guys to rid themselves of cultural pressures, stereotypes and labels. Joshua was a strong pick by the UK's second-biggest grooming brand - being good-looking and ultra-masculine but also, at least for a boxer, atypically genial and broadminded.

When Lynx teamed up with him, it was "challenging these old perceptions and saying it's okay to be yourself" says Lambert. "The tough guy has been usurped by the man with understated confidence."
Innovations in Male Grooming 2017