Someone's cleaning up in the household and paper products categories. The category continues to steadily grow, taking its value to near the £6bn mark. But brands are not the winners. Their combined volumes have plummeted 4.8% and their value isn't looking much better. Although buoyed slightly by higher prices, brands have still lost £96m (2.4%). That's one of the sharpest branded declines in grocery in the past year [Kantar Worldpanel 52 w/e 8 October 2017]. Ouch.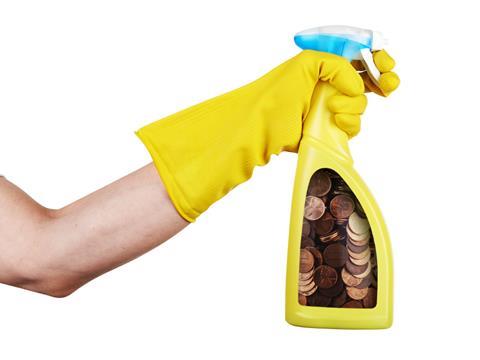 Look no further than own label for the culprit behind this decline. Retailer offerings still account for less than a third of the total household cleaning and paper products markets, but they're growing at a blistering rate, up 7.4% on volumes up 5.3%. That's worth a staggering £134.2m at the tills.

That own label sells for an average of 40% less per unit is crucial. As the big four fight tooth and nail with the discounters, they're playing them at their own game, prioritising own label and cutting branded ranges. These offerings may be dirt cheap, but they claim to be just as effective as brands. So who's driving own label's growth and how can brands fight back?
IRI's ranking of the top 10 brands in household and paper products makes for sobering reading. In household, only one brand (Fairy) is in value growth; in paper products, only Regina, Cushelle and Breeze are in the black [52 w/e 4 November 2017]. Market leader Andrex is down £11.8m (3.5%) and Velvet has seen a staggering £23.5m (20.3%) go down the pan.

Velvet's loss is chiefly down to Tesco's decision to axe most of the brand's range last February, according to analysis on Brand View. The number of Velvet SKUs stocked by Britain's biggest retailer has sunk from seven a year ago to just two today. Tesco accounts for 24% of the market [Kantar], so a delisting of this scale was always going to hurt.
"Own-label suppliers have worked with retailers to minimise reductions in quality"
Rival Andrex has generally retained SKU counts. Yet sales are still sliding. According to Mike Docker, MD of own-label manufacturer Northwood & Wepa, the market leader's decline is down to a combination of two factors: the growing emphasis retailers are putting on their own offerings and the way Andrex owner Kimberly-Clark has responded to Brexit-related cost increases.

"Branded and own-label manufacturers have approached the situation differently: brands have responded to the weakening pound and significant increases in raw materials by 'de-speccing' their products to manage profitability - reducing the number of plies or sheets on a roll, decreasing the height of a roll and seeking price increases from retailers," he says.

"For example, Andrex has relaunched its standard tier as Classic Clean at the same price point, despite a 10% reduction in paper. The move attracted significant media attention as an example of 'shrinkflation'. Own-label suppliers, on the other hand, have worked collaboratively with retailers to take costs out of the supply chain, while minimising reductions in product quality."

Docker believes the brands' efforts to mitigate rising costs have backfired, pointing to the 9.9% volume decline in Andrex [Kantar 52 w/e 3 December 2017].

It's a claim that Kimberly-Clark vigorously rejects. "Our extensive market research confirms that consumers prefer the new Andrex Classic Clean to the old Classic White on feeling clean, strength, absorbency and softness," says a spokesman.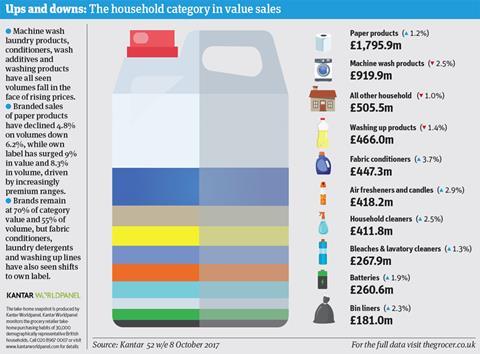 He points out that the new line is thicker and embossed - the result of a multimillion-pound investment. "Reducing the roll by a very small number of sheets helped make the investment possible. This is the only change in sheet count that we have made since September 2016," he adds. "Consumer pricing is solely in the domain of the retailer."

Of course it is. But it would be naïve to suggest such steps weren't linked to the crash in the pound's value following the Brexit vote, which pushed up the price of raw materials and manufacturing equipment for almost everyone. "Manufacturers are pushing through cost increases," says Nielsen analyst Matt Carpenter. "Shrinkflation is a key factor, with manufacturers opting to reduce sheet counts to maintain competitive pricing."

According to Kantar and Nielsen analysis, brands are passing these higher costs through to consumers in a number of ways, including base price hikes. Volumes are tumbling as a result. "This has been driven by an overall reduction in promotions this year, particularly a reduction in the percentage of multibuy sales across all household sectors," says Kantar analyst Julia Fine. "Value increase this year has been driven by paper products, which have added over £20m to the category."

This is significant. Despite the switch to cheaper own label, value is still outstripping volume growth in paper products, up 1.2% to £1.796m versus on volumes up 1.1%. This is partly because retailers are launching more premium offerings, such as Tesco's Luxury Soft Coconut Oil, which according to manufacturer Northwood & Wepa now accounts for 48% of the retailer's lotion loo roll sales despite only being launched last February [Dunnhumby].

"Retailers have actively supported the premium sector," adds Docker. "Tesco and Sainsbury's have been successful in driving this. Also, retailers have started supporting recycled paper again, reducing the price barrier and selling recycled at the same price as standard products to encourage pickup. Waitrose, which with its revamped Eco brand uses the packaging to educate consumers about the recycling story, has performed particularly well."

Still, the discounters are driving most of own label's growth. Comparing own-label growth rates recorded by IRI (which doesn't measure the discounters) and Kantar (which does) shows how significant their impact on the market is. IRI puts own-label household and paper products' growth at £51.1m or 4.6%. As we've seen, Kantar puts it at £134.2m, or 7.4%.
Aldi scores greatest gain of the year
Aldi is wiping the floor with the competition, with sales up 17% [Kantar], the greatest gain of the year. "Customers are switching to Aldi as they realise they can get exclusive brands, benchmarked against market-leading products for a fraction of the price," says MD for corporate buying Julie Ashfield. "In the last year, we've worked with experts to improve the fragrance across our entire household range and continued to use independent testing houses to benchmark our products against the leading brands."

Bargain stores such as B&M and Home Bargains are also cleaning up, with combined sales for such discounters up 13%. And pound stores are looking to cash in by selling a growing roster of brands at a fraction of the price of the big four. Just this month Poundland announced that it had added 40 big brand lines - including Lenor, Ariel 3 in 1 Pods and Fairy Non-Bio Pods - to its shelves, for example.
Retailers are also opting for larger packs, a move that helps explain the 0.5% dip in packs of household and paper products sold noted by Kantar. This also mirrors another factor that's stealing sales from bricks & mortar retailers: the growth of pure online players such as Amazon and Ocado. Consumers ordering via these companies need not worry about lugging large value packs back home; instead, everything is delivered to their door. And so their buying habits have adapted. "Online is an important trend with shoppers happy to bulk buy these products in order to gain further economies," confirms Nielsen's Carpenter.

"In toilet tissue there's been an increase in larger pack sizes as retailers try to lock in loyalty," he adds. "In facial tissue there's been a refocus on multipacks from single SKUs as the category tries to cover multiple usage occasions in the household. For example, Kleenex recently launched a 5-pack multipack in Tesco."

The same is happening in laundry detergent. Since 2014, the market share of smaller packs containing 25 or fewer washes has sunk from 51.9% to 43.7%; the share of medium-sized packs containing between 25 and 54 washes has inched up by less than one percentage point to 44.1%, while larger packs containing 55 or more washes have seen their share more than double from 4.8% in 2014 to 12.2% last October [Kantar].
Top 10 paper and household product brands by value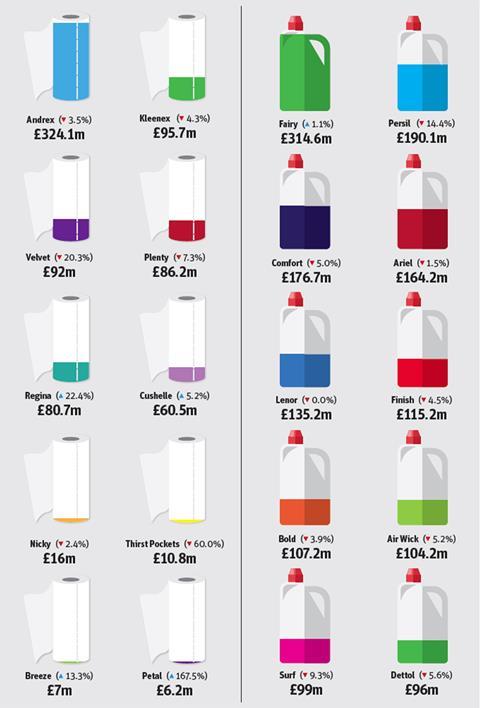 More launches, less shelf space
This makes sense, given retailers are cutting space for dry goods that are often seen as mere commodities by shoppers to make way for higher-margin chilled and frozen goods. Nielsen notes a 5% decline in distribution for paper products, with a similar pattern in household. "Branded manufacturers continue to launch products, even as retailers reduce shelf space for household categories," notes Nielsen analyst Elena Onischenko.

Take Unilever. Its Persil brand has suffered the greatest loss in household and paper products, with sales down £31.9m, or 14.4% [IRI], primarily as a result of plummeting sales of powdered detergents. Still, the manufacturer is not taking the loss lying down, having announced a raft of premium innovations aimed at cementing its brands' value in the minds of consumers.

For 2018, Unilever is unveiling a raft of NPD, including Comfort Pure Ultra Concentrate aimed at those with sensitive skin, the new Cif Perfect Finish range and limited-edition fragrance variant Surf Caribbean Crush. All this and more comes following the launch of Persil Powergems, the lentil-shaped reinvention of traditional washing powders that Unilever claims contain half as many chemicals yet are twice as concentrated.

"Innovation remains a key driver," says Unilever VP for homecare Gemma Cleland. "Consumers are always on the lookout for new and interesting products, and it is predominantly brands that continue to develop and innovate in this category. As a leader in homecare, Unilever continues to assess and review consumer demand and behaviours to create exceptional products."

Of course, Unilever is not alone. Bacofoil senior brand manager Zoe Lunn says it "continues to invest in NPD to meet consumer demand", pointing to the launch of the brand's non-stick baking paper in 2016. "In only 12 months it now has a value share of £330k, circa 10% of the total baking paper category. Bacofoil not only acts as a signpost for the fixture but adds value for consumers and retailers."

Cleaning brand Minky is taking the same tack. "Product innovation, improved cleaning performance and longevity are critical to driving trade up," says marketing manager Carol Devins.

Only P&G is thinking slightly differently. Although it agrees innovation is important. that doesn't necessarily mean more branded products on shelf, says group sales director Ian Morley. Sometimes, less is more. "An important aspect for P&G is simplifying the range and range priorities - to focus on bestselling SKUs within each category that deliver the best-in-use experience."
"It's important that the industry reduces the churn of what we call 'SKUs for news'"
That means P&G takes a rather more cautious approach to NPD. "It's important that the industry reduces the churn of less meaningful NPDs, what we call 'SKUs for news,'" adds Morley. "There have been too many offerings brought to the market that just couldn't stand the test of time. The result is long tails of underperforming SKUs perpetuating shopping complexity, with promotions used to offset weak sales rates."

Ultimately, this means that shoppers' trust in brands get undermined, something manufacturers can ill afford given the current strength of own label. According to Joanne Evans, brand activation manager at Spontex, retailers need to think carefully about the brands they use to signpost the category and safeguard value.

"Not surprisingly, branded range rationalisation has in some retailers been a key driver of overall category decline," she says. "At a time of unprecedented category devaluation, never has it been more important for retailers to partner with a trusted brand like ours to maximise the sales and profit potential at the premium end of the category to offset some of the devaluation at the entry level of the category with own label."
Environmental paradox
Finding issues close to consumers' hearts is key for branded success, as is illustrated by the growing emphasis players such as Unilever are putting on products aimed at those with sensitive skin. The environment is one issue of growing importance, as is shown by the 40.7% growth of eco brand Method's soap, dishwash, surface cleaners and laundry products to £17.1m, driven by growing distribution, NPD and a tie-up with blogger Deliciously Ella [Nielsen].

In light of the growing backlash against plastic waste and pollution of the seas, it seems environmentally sound products are on trend. However, it's questionable how conscious consumers really are, given that sales of disposable products are on the rise. For example, Kantar data shows disposable cleaning wipes are driving the lion's share of household cleaners, up 10.7% versus 0.7% growth for sprays.

Laura Marsden, shopper product manager at Marigold, says there is also growth in disposable gloves - amid a 3% decline in value in gloves overall. "This growth is not coming from private label, instead from brands, with branded sales up 14% in the latest 52 weeks. The largest growth is coming from household gloves brand leader Marigold."

Given the continuing pattern in the wider market, Marigold will need to keep its foot on the gas to continue to drive growth in the coming year. "In 2018, brands will continue to consolidate their ranges in line with the reduction of space allocation," warns Northwood & Wepa's Docker. "Promotional activity will also continue to be capped."

Amid all this, one thing's for sure: brands will need to do something really rather different in 2018 if they're going to be able to clean up.
Innovations in Household and paper products 2018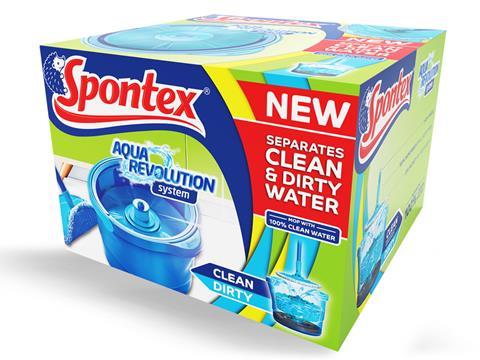 Spontex Aqua Revolution System Mop Kit
Launched: April 2018 
Manufacturer: Spontex
Mops don't come much more intelligent than Spontex's compact spin mop system (rsp: £39.99). Clean and dirty water are isolated in separate compartments thanks to a smart pump, allowing the user to mop with 100% clean water. The kit comes complete with bucket and mop, which features a microfibre head for use on all types of floor. The NPD is joined by 'magic effect' microfibre cloths, hand gloves enriched with almond oil, and sponge scourers "five times more resistant to wear and tear".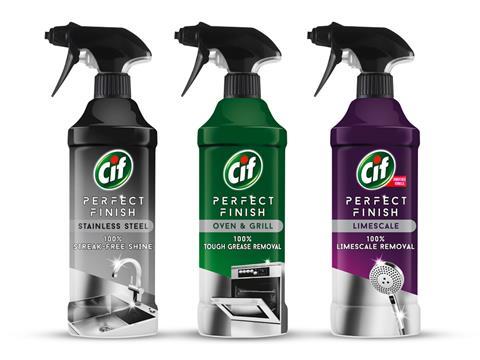 Cif Perfect Finish
Launching: February 2018
Manufacturer: Unilever
Cif is entering the specialist cleaning sector for the first time with four-strong range Cif Perfect Finish (rsp: £4/435ml). Oven and Grill, Stainless Steel, Limescale and Mould Stain promise "outstanding cleaning results". The launch is among a raft of NPD for Unilever that includes new Comfort and Surf lines in laundry.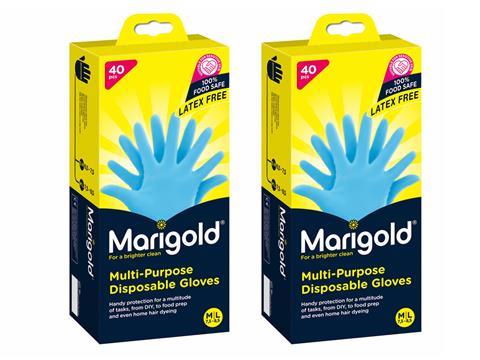 Marigold Multi-Purpose Gloves
Launched: February 2018
Manufacturer: Marigold
Marigold's nitrile disposable gloves will be known as Marigold Multi-Purpose Disposable Gloves from February, with new yellow and blue packs. Marigold says sales of its latex-free and 100% food-safe gloves are up 100% year on year in value with volumes up 150% despite an overall decline in the gloves category.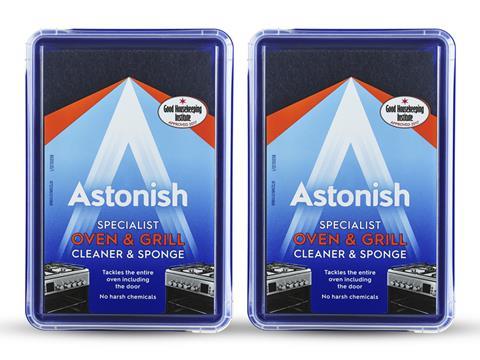 Astonish Oven & Grill Cleaner
Launched: November 2017
Manufacturer: Astonish
Approved by The Good Housekeeping Institute and designed to offer the complete oven cleaning solution, Astonish's Specialist Oven & Grill Cleaner & Sponge (rsp: £3.99) tackles the whole oven including the door. With no harsh chemicals there's no need for gloves, and the cleaner includes orange oil to aid the removal of grease and food.
Downloads
Image, Size 0.31 mb

Image, Size 0.31 mb

PDF, Size 7.33 mb