As Britain prepares to leave the European Union, this year's late Easter could prove the first test of how fmcg and retail will fare
Timing is everything with Easter. The later it is, the bigger the window for selling eggs and novelties. The earlier it is, the more likely brands and retailers will be running around like mad March hares trying to drive sales and juggle Easter, Valentine's Day and Mother's Day.

This spring there's an even more important date to bear in mind: 29 March, the day the UK officially leaves the EU, with or without a trade deal. That's three weeks before the Easter weekend, perhaps the first true test of the fmcg and retail sectors in a post-Brexit world.
Download the PDF version of this report
---
Chocolate's raw materials could face tariffs of up to 30% in the event of a hard Brexit. Finished chocolate could face equally stiff tariffs. Many fear that chaos at the ports will choke supplies. Easter eggs have short shelf lives and take up a lot of space, limiting the industry's ability to stockpile. Brexit, it seems, could mean eggsit. Parliament's vote against Theresa May's proposed deal has only added to the uncertainty.

So, could Nigel Farage and fellow Leave advocates have unwittingly killed off the Easter bunny? What is the industry doing to mitigate the impact? Who will be hit hardest? And how will the timing of Brexit and the Easter weekend this year affect availability, price and the type of products on sale?

There's no denying that Brexit and the uncertainty that still surrounds it is a blot on the horizon. But take it out of the equation and the omens are pretty good: Easter Sunday is the latest it's been since 2011.
Getting the timing right
Last year's numbers reveal how this can affect sales, particularly of filled eggs and novelties typically sold as impulse treats. These were the poorest-performing sectors last year, chiefly because the window to sell them between Christmas and Easter Sunday was unusually short. Last Easter Sunday was 1 April, compared with 16 April the previous year. That the occasion will fall on 21 April this year can only bode well.
"A late Easter does mean more opportunity for sales," says Mondelez brand manager for Easter Délia Metral. "The self-eat segment (small, filled eggs and the like) in particular is impacted by a later season. Typically, these products are purchased throughout the season and therefore a longer season has a significant positive impact on sales."
It also allows retailers to pay closer attention to Valentine's Day and Mothering Sunday. "By falling later this year, there's greater opportunity for retailers to capitalise on the three spring occasions and cater for them individually, allowing them to be much more tailored when merchandising in-store," says Ferrero customer development director Levi Boorer.
The risks of Brexit
So long as the fourth big spring occasion this year - Brexit - doesn't throw a spanner in the works. And that's a big 'if'. The risks are myriad: disrupted supply chains could result in difficulties in replenishing stocks and empty shelves, while the cost of everything from trade tariffs to warehouse space looks likely to be passed on to consumers.

It's worth noting that none of the suppliers we spoke to for this article mentioned any potential benefits for confectioners this Easter and beyond, save for the chance that a weakened pound following a hard Brexit could make British-made products more attractive to overseas importers.

All this suggests that the low prices and deals that drove much of last year's 7.4% surge in Easter confectionery [Kantar Worldpanel 16 w/e 23 April 2018] - such as the four-for-two promotions on larger shell eggs run by Tesco - will therefore be more difficult to sustain this year. This development is particularly worrying given the deal-hunting nature of Easter shoppers. But many manufacturers will have no choice but to pass on some costs to the consumer. In March, Ferrero warned of Easter egg shortages and price rises of up to 10% following Brexit, for example.
"We want a deal to be agreed to avoid potential pricing and supply impacts"
"The chocolate industry is by its very nature international," says Ferrero head of public affairs Richard Laming. "Ferrero imports products from six different European countries, along with many of our ingredients. There is a lot that's still unknown, but we're working closely with our suppliers and retail partners to ensure the right contingencies are in place.

"We will build up advance stocks of some products and ingredients in order to keep everyone supplied, but there are limits to what we can do as the shelf-life of some ingredients can be quite short. We want a deal to be agreed to avoid potential pricing and supply impacts."

Ferrero's reliance on importing finished products from Europe makes it more exposed to a hard Brexit than rivals such as Mars and Mondelez. Mars manufactures most of the chocolate it sells in the UK in Slough. In 2017 Mondelez said it was moving production of Cadbury Dairy Milk, Britain's biggest chocolate brand, back to Bournville from Poland.

"Brands such as Ferrero, which manufactures much of its confectionery in Europe, will be especially concerned about the UK's post-Brexit trading position," says Mark Waterman, a consultant at the management consultancy Vendigital.

"Goods made on the continent for import to the UK will become costlier to produce after Brexit, which could force manufacturers to increase prices. On the other hand, those making products in the UK for domestic consumption, using mainly local suppliers, may suffer fewer Brexit after-effects."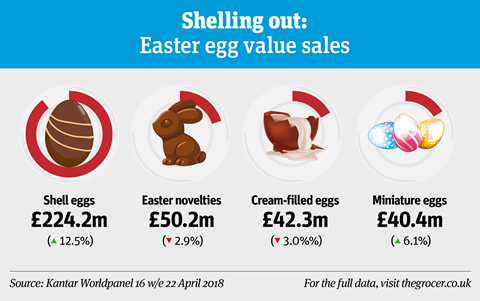 Find the full data at the bottom of this report
Stockpiling
No one wants to run out of stock, so stockpiling (of raw materials, packaging and finished products) is becoming the norm. "Some of our customers have already taken increased warehouse space and others will no doubt be using existing contingency in their networks to satisfy customer demand," says Ian Keilty, MD for retail & consumer at the logistics specialist Wincanton, which includes Mondelez and Nestlé among its clients.

But stockpiling is not without its own risks. "Given the looming deadline and current uncertainty, it's likely most businesses will make short-term tactical investments in stock, raw materials and packaging rather than making longer-term investments in space and automation," continues Keilty.
"If this increase in stockholding generates a significant increase in activity at ports it will put many, such as Felixstowe, under pressure, with the added potential for weather disruption from January to March further restricting capacity. Wincanton is acting proactively by increasing its collaborative warehousing with partners, using its Authorised Economic Operator status to expedite the movement of goods across borders, and increasing its bonded warehousing capacity."

Indeed, research by commercial law firm TLT reveals that delayed imports from the EU is UK retailers' most feared consequence of Brexit; 94% cite it as a concern and 47% say they are 'very worried' about the prospect. So taking on greater storage capacity makes sense, though in the midst of so much uncertainty, it's impossible to know how much is enough.
"Taking on extra space to ensure adequate inventory is a particular challenge"
"Taking on extra space to ensure adequate inventory is a particular challenge with Easter eggs due to short shelf life and the large amount of warehouse space they require, especially given the current shortage of quality warehouse capacity in the UK," says Don Brenchley, director of industry strategy at supply chain management software company Llamasoft. "It also has the potential to lead to embarrassing and expensive overstocks."

If manufacturers underestimate and need to trade after 29 March, though, there are likely to be costly tariffs at play. One option will be for the UK to mirror EU tariffs, which will see goods and ingredients coming into the country after Brexit hit with a charge of between 8% and 13% of their value. If we revert to WTO rules, the tariffs would be even higher than that.

"It's not surprising manufacturers of Easter eggs and other seasonal treats are reported to be stockpiling their products in the UK to avoid the impacts of a no-deal Brexit," says Duncan Brewer, partner in retail & consumer goods at management consultancy Oliver Wyman.

"Under WTO rules, the tariffs on chocolate products imported from Europe could be higher than 25% - depending on the specific recipe, sugar content, etc - so these manufacturers could be facing a significant increase in their costs if they import their eggs after 29 March."
The timing of Brexit also helps explain the appearance of Easter eggs alongside Christmas confectionery in the Co-op, Tesco and WH Smith in mid to late December last year, an issue that inspired a slew of tabloid stories and chatter on Twitter.

Despite all the controversy, it may have been a canny move. For even without the looming economic and logistical uncertainty surrounding Brexit, it makes sense for retailers to be trying to encourage shoppers to stock up on Easter confectionery early.

"The key to Easter success is getting the timing right," says Metral at Mondelez. "We break the season into three segments: fast start; mid-season momentum; fanfare finish. Products that signpost the season provide a great opportunity to start sales early. Cadbury Creme Egg is the number one brand at Easter, and is the perfect reminder that Easter is on its way.

"During mid-season, shoppers are looking to buy gifts and family sharing products to build excitement in the run up to, and during, the Easter weekend. Towards the end of the season, the shopper mission is driven by gifting, with consumers looking for ways to capture the spirit and tradition of Easter. Shell eggs are the key to meeting this consumer need."
How Brexit will make chocolate complicated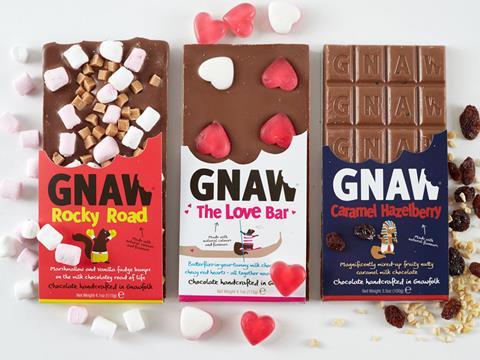 It's not just Easter that faces being derailed by the UK leaving the European Union. Selling chocolate is about to get costlier as a whole. Domestic confectioners are facing fresh tariffs on raw materials, while their continental counterparts are contemplating levies on shipping their products here. In the event of a hard Brexit, these tariffs could be as high as 30%.
Spare a thought, then, for chocolatier Gnaw (products pictured above and right). It produces all its chocolate by hand in Norfolk before exporting the bulk of it to Europe and further afield.
"From my point of view as a business owner, Britain has to have a trade deal or no Brexit," says Matt Legon, who set up Gnaw with wife Teri in 2011. The business is on course to turn over £4.5m this financial year.
Leaving the UK isn't an option for the company, which employs 40 people at its Norwich HQ. Part of Gnaw's success overseas is its identity as a 'quirky, premium, British brand' he says. Moving production to the continent wouldn't just compromise the brand's 'British' appeal, but also make it less commercially attractive to buyers. "We have benefited from the weak pound over the past few years because we are being paid in euros and dollars," says Legon.
"If there is a no-deal Brexit it would be bad for business but there would be some benefits for us as an exporter. The value of the pound would inevitably plummet and of course we would be losing on the tariff side, but it would be good for exports."
Gnaw has invested in new warehousing in the UK to ensure supply of raw materials and is now increasing the amount of stock it holds in France. It is also looking to develop new markets outside Europe.
"We are all about building great relationships with people who know that we will do everything in our power to ensure sustainable supply," says Legon. "If that means we will have to take commercial hits then so be it." Deal or no deal.
Impulse treats
This insight helps explain some of the product development choices that have been made for the coming season. For example, there's a growing focus on filled eggs typically sold as impulse treats, in reflection of the longer sales window afforded by this year's late Easter. Maximising sales of such treats in the calm before Brexit also seems a sound strategy.

Waitrose has just unveiled its raft of goodies for this Easter, in which its treat-sized Chocolate Scotch Eggs take centre stage. This year will also see the retailer offer mini versions of its much-hyped chocolate avocado - its fastest-selling own brand Easter egg of 2018 - in a bid to tempt the treat crowd. These will sit alongside mini avocado jellies, which are suitable for vegans.

On the branded side, Mondelez is launching the Cadbury Oreo Egg, complete with a cream filling and cookie pieces. It says the product will do a similar job of signposting the (some will argue premature) arrival of Easter as the Creme Egg.

Euro Food Brands, official UK distributor for Hershey, is also ramping up supplies of the Reese's Peanut Butter Creme Egg it launched in Britain last year, as well as unveiling a gifting shell egg for this year.

"With the Reese's Peanut Butter Creme Egg proving to be a total sellout success in 2018, we have increased our stock for 2019 to ensure there are plenty of treats for Reese's lovers to enjoy," says brand director Shane Angus. "Due to its sell-out success in 2018, Tesco will be increasing Reese's Peanut Butter Creme Eggs stock by over 160%, supported by 1,500 free-standing display units."

These smaller offerings are also the focus of price promotions so far this year. Reese's Creme Eggs are just one of the many treat-sized Easter products currently on volume deals at Tesco [15 January]. Other treats on offer include mini eggs from Cadbury, Lindor, Milkybar and Smarties. It's a tried-and-tested strategy. Last year, retailers drove sales of impulse products through greater use of volume driving sales, explains Kantar analyst Dominic Newlyn. This was particularly true of Easter novelties, which saw a 3.9% decline in price, while filled eggs also saw a 2.5% fall.

"In last year's shorter season, retailers increased volume deals in these lower priced and impulse-driven categories in the knowledge that they will have fewer opportunities to sell to customers," he says.

"This approach has been successful in increasing basket sizes in these categories but has driven a price decrease compared to the previous year."
Although there are still offers to be had, Newlyn expects to see a general decline in multibuy deals this year. That's not just down to cost pressures, which will limit the ability to offer a particularly spectacular price point. There is also less incentive. The length of the season will allow for a greater number of individual trips, which means retailers will have less need to maximise the number of products bought per trip.

So all in all, Easter will be a pricier affair this year. How much pricier will depend on the big brands and their retail partners. "While some may choose to pass increased import costs on to consumers by way of higher prices, this could make it harder to compete and damage the appeal of their brand," warns Vendigital's Waterman.
"As such, the ability to accurately assess what they can afford to charge, and what customers will be willing to pay, could make all the difference; enabling businesses to maximise profits during a critical trading period."
Feature continues below infographic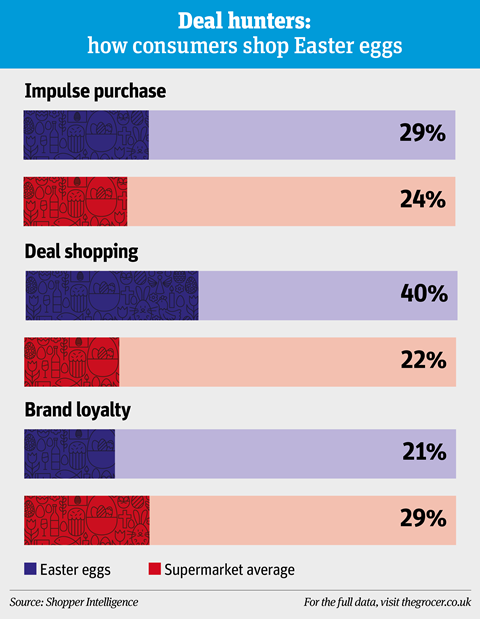 Find the full data at the bottom of this report

Duncan Reed, partner at TLT, agrees. "From a business management and profitability point of view, unit costs increasing in a competitive market with downward pressure on price is going to be a major challenge," he says. "Businesses will need to plan ahead and consider reducing packaging and their use of plastics in packaging."

Cost control is crucial, clearly. But so is driving value into the category by convincing consumers to pay more for larger and more premium products. "Larger eggs are becoming more important at Easter," says Kantar's Newlyn.
"And not just in the shorter season; they have shown growth for the last two years whilst medium eggs have declined over the same period. This reflects an overall seasonal trend of shoppers willing to spend more on special items. The proliferation of higher unit-priced, large eggs is driving higher spending in the category overall."

Hence the greater number of premium and giant eggs on the market this year. In terms of premium, Waitrose is hoping the design credentials of its 240g Heston Chocolate Teapot - complete with 'sugar cube chocolates' and cocoa nib 'tea leaves' - will persuade shoppers to part with £20. Among those that have gone supersize is Ferrero, which has launched a duo of 220g Kinder Surprise Eggs with large Teenage Mutant Ninja Turtle and Powerpuff Girls toys on the back of the success of the 100g variants last year. The larger versions come with a hefty price tag of £15 apiece.

Not to be outdone, Mondelez has new additions such as the Cadbury Dairy Milk Crunchie Ultimate Easter Egg (rsp: £12), Cadbury Mini Eggs Giant Egg (rsp: £10) and Cadbury Creme Egg Mega Egg (rsp: £4.99) to capture demand for larger products.
Brands tap into hunger for posh and pricey Easter eggs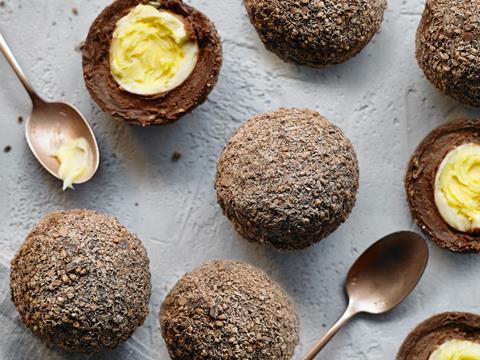 Forget Fabergé. Britain's booming artisan chocolate scene is producing eggs that rival the Russian jeweller's masterpieces in terms of both sumptuous design and astronomic price tag. Well… almost.
Hotel Chocolat is asking £80 for a life-sized, 1kg replica of an ostrich egg split into two halves and filled with fine chocolates. Then there's Pierre Marcolini, which is hoping consumers will fork out £89 for its Magician's Hat and Miniature Eggs.
But posh needn't break the bank. Many of the premium eggs on offer in the supermarkets still have plenty of wow, without the financial 'ow'. Take Waitrose's Heston Chocolate Scotch Eggs (pictured), which cost £6 for a hit of mango and yuzu fondant in a smoked milk chocolate caramel ganache. They present a more affordable alternative to its highest-priced own-label offering: the Heston Chocolate Teapot, which comes with a £20 price tag.
Many brands are also pushing premium lines. "Growth in Easter sales last year came primarily from luxury eggs from trusted brands," says Ferrero customer development director Levi Boorer.
Ferrero Rocher's Luxury range of eggs enjoyed 70% year-on-year growth last Easter, according to Ferrero, which is launching a trio of luxury eggs under the Thorntons brand for this year's festivities.
"We're seeing growth for premiumisation and added-value propositions, which is why we have focused our innovation on ranges which drive value to both the consumer and the category," says Mondelez brand manager for Easter Délia Metral.
For Mondelez, a big part of premiumisation seems to be supersizing lines in a bid to drive spend. NPD for this year includes a Cadbury Mini Eggs Giant Egg (rsp: £10) and a Creme Egg Mega Egg (rsp: £ 4.99). Mondelez isn't the only one. Waitrose is currently offering a 1kg Lindt Gold Bunny for the tidy sum of £40.
Now that's upselling.
Egg events
It's not just the products that are getting ambitious. The big confectioners' marketing departments are also pulling out the stops to create interest and drive sales in the build-up to Easter. Take Mondelez, for example. "We'll be encouraging egg hunts across the country with a £6m campaign and the continuation of Cadbury's long-standing partnership with the National Trust, where hunts will be hosted at 306 National Trust sites," says Metral.

Unsurprisingly, the egg hunt is a recurring theme. For the fourth year in a row, Ferrero is running its Kinder Easter Egg Hunt - an initiative offering independent retailers the chance to win a tailored hunt for their store - across the country. Meanwhile, Haribo claims it will be running its biggest-ever seasonal campaign this Easter.
"The government needs to wake up and realise it is playing with fire. The industry is worried"
"Hunt the Double Yolker has been developed to drive excitement and sales as we count down to Easter," explains trade marketing manager Claire James. "As part of the campaign, Starmix will retain the much-loved pieces that are found in each bag - including the egg - but 20 packs will also feature a lucky Double Yolker that has been hand-crafted by our team. Those that discover a winning piece will receive a fabulous UK family holiday."

Now is an opportune time to spend big on these promotions. For it could be the last Easter before the full impact of Brexit hits home. So says artisan chocolate brand Gnaw, which relies on exports to Europe for a large part of its sales. "The government needs to wake up and realise it is playing with fire," says co-founder Matt Legon.

"There is very much a worry in the industry that if WTO rules come into play, a 30% import duty on ingredients and on the finished chocolate would wipe out the industry. It could completely break the market."

So though this Easter is looking pricier than before, it may pale in comparison with what is to come. Suddenly this year's premium eggs are looking like a bargain.
Innovations in Easter 2019
Click on an image to expand