Phew! Brits have ignored Trump's advice to inject bleach, but their cupboards are full of the stuff as they fight Covid-19 with cleaning
Donald Trump is probably the last person you would turn to for health advice. But a lack of expertise didn't stop the US president floating his own suggestion for tackling Covid-19 in April: injecting disinfectant.
The backlash was swift. Medical experts strongly denounced the idea, while consumer goods giant Reckitt Benckiser felt obliged to warn shoppers its Dettol and Lysol brands "should only be used as intended and in line with usage guidelines".
Alas, not everyone listened and cases of poisoning by bleach and disinfectant subsequently increased in the States.
Happily, no such incidents were reported in the UK. Here, shoppers aren't injecting bleach – they're just buying it by the boatload. Over the 12 weeks to 17 May, value sales were up 32%, an increase of £8.4m [Kantar]. It seems the government's televised advice to clean our homes with bleach, along with a growing appetite for heavy-duty cleaning products, has resulted in a bleach boom.
It's the sign of a wider trend. Nearly every category of household is up during lockdown as the coronavirus turns Brits into a nation of hygiene freaks.
So, how dramatic has the rise in demand been? And how have suppliers responded?
The figures point to massive growth in appetite for all hygiene products. Liquid disinfectant is up 74.9%, surface care has grown 63.4% and liquid soap has soared 126.8% in the past 12 weeks [Kantar]. Essentially, bleach isn't the only area of the market cleaning up.
"Shoppers are turning to trusted brands that they know will provide the best results"
These gains are largely being driven by brands, according to Charlie Beevor, VP for homecare at Unilever. "Many shoppers are turning to trusted brands that they know will provide the best results," he says.
For him, Unilever's Domestos brand is a prime example. It saw a 28.2% increase in unit sales in the four weeks to 23 May 2020 [Nielsen]. Beevor believes such demand is similar across all branded cleaning ranges. "Outside of the core liquid bleach lines, demand for multipurpose bleach-based sprays that can be used throughout the house have also risen," he explains.
Case in point: over at Reckitt Benckiser, the Dettol team has been obliged to work "around the clock with extra shifts, air-freighting in materials and simplifying our product range to meet as much of the demand as possible" says RB regional general manager Susan Egstrand.
This surge in demand is partly down to people spending more time indoors. Some of the nation's shut-ins are even cleaning for fun, according to Beevor. "With spending more time at home already the new normal, people are carrying out deeper cleans and having big clear-outs to make their home space more enjoyable to live in."
Of course, eliminating the coronavirus is another factor. Beevor expects the increased focus on cleanliness to continue as lockdown eases – "particularly as people grow cautious of bringing in germs from the outside".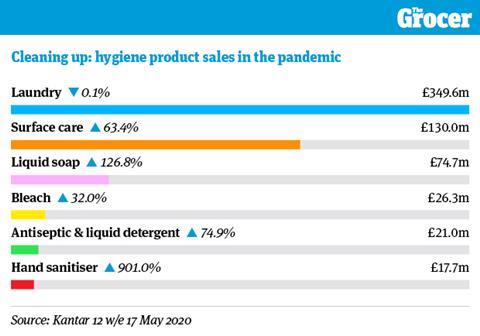 Unsurprisingly, Covid-19 has driven major value growth for most hygiene categories.
Hand sanitiser came out on top, with an eye-watering 901% rise in sales for the 12 weeks to 17 May.
By contrast, laundry sales were flat for that period. However, that's partially down to stockpiling ahead of that date. In the four weeks to 22 March, sales were up 30%.
Coronavirus has dramatically affected sales over the full-year period [52 w/e 17 May 2020] too. Hand sanitisers were up 239%.
Branded hand sanitisers drove this growth, with a 382% rise in value. This "poses the question as to whether this is shoppers trusting brands more in the time of crisis, or whether brands are more available and can keep up better with demand", says Kantar.
Nevertheless, own label sanitisers still managed strong growth of 55%.
Antiseptics and disinfectants also grew ahead of total household in the full year at 26%. Meanwhile, surface care grew 14%, driven by multipurpose cleaners (21%) and specialist cleaners including kitchen and floor (10%). Household wipes have added 16.3%.
Hand sanitiser soars
And one of the best ways to avoid bringing germs into your home is washing your hands. So it's hardly surprising that sanitising hand gel has proven the fastest-growing product of lockdown. It's up by an astonishing 901% in value, generating an extra £17m [Kantar].
During the panic buying phase, demand was so high that profiteering retailers hiked the price of sanitiser by an average of 367%, the Competition & Markets Authority warned in May. And many consumers were still willing to pay the price.
The sheer mania for hand-sanitising gels forced personal care suppliers to make innovative moves to keep stocks available. Unilever's Radox began distributing its Antibacterial Liquid Hand Soap in shower gel bottles, while Dettol used Durex lubricant bottles for its hand sanitiser, which was being produced at 30 times its normal rate in July, according to RB.
It soon emerged that personal care players couldn't sanitise the nation alone. So booze makers began to play a key role. BrewDog used its distillery to create Punk Sanitiser, which it donated to NHS staff. Meanwhile, Salcombe Distillery launched Safe Harbour sanitiser and pledged to match each purchase with a donation to disaster relief charity ShelterBox.
And hand sanitisers weren't the only product getting in on the hand washing action. Liquid soap more than doubled its sales to be worth £74.7m in the past 12 weeks, making it bigger than the £17.7m hand sanitiser market. Plus, hand wipes have seen huge sales increases, according to Sani Hands manufacturer Nice Pak. It reports a "40-fold increase" in volume, securing it the top spot in the hand wipes market for its plastic-free and biodegradable wipes.
Clothing concerns
But this lockdown obsession with cleanliness doesn't stop at washing our hands and our homes. People are also taking great care when it comes to their clothing.
So great are concerns about Covid-19 on clothes that schools have specified each pupil must wear a freshly laundered outfit every day to reduce the risk of spreading the virus. High street clothing stores were similarly cautious when they reopened on 15 June. Some introduced a period of quarantine for items that had been tried on.
Laundry's flat value in the latest data period might not suggest this level of fear among the public. But that's only because shoppers are still working through the huge stocks of fabric detergent and softener they got earlier, says Kantar. "They bought more in the run-up to lockdown, and then didn't need to buy as often in April and May."
Indeed, in the four weeks to 22 March, laundry value sales shot up by 30% compared with the same period in 2019.
Ace was one of the laundry brands to benefit. It reported a 200% uplift across Europe for its product with sodium hypochlorite, a chemical mooted as a way of ensuring the coronavirus is removed from clothing.
"Consumers are putting more effort into the small things that offer them satisfaction"
As with household cleaning, though, this isn't all about fear. More people are also taking pleasure in their laundry chores, Procter & Gamble suggests. Research by the Lenor owner found fresh bedding has become more important than ever to Brits, with over 50% of the 438 respondents washing their sheets more frequently than before lockdown.
"Although products delivering hygienic benefits are currently in demand, the category is evolving as more consumers are spending time in the home," says P&G senior communications manager for fabric & homecare Scott Popham. "As a result, they are putting more focus and effort into the small things that offer them a moment of satisfaction or an easier way of doing things."
That seems eminently sensible – the exact opposite of injecting bleach, in fact.
Innovations in hygiene 2020