Coke has survived world wars and depressions. But it's halted ads in the coronavirus pandemic – representing a sea change for soft drink
It seemed as though nothing could stop the mighty Coca-Cola marketing machine. When the Great Depression took hold in the 1920s, the soft drinks giant created rosy vignettes of US life in ads like the one above.
Even in the Second World War, the advertising offensive continued. In 1936, Coke sponsored the Berlin Olympics and sales boomed in Germany. When US declared war in 1941, it became a morale boost for the Allies. During the conflict, American troops were photographed popping Cokes on the frontline and doling them out to the newly liberated. The machine motored ever onwards.
Until now, that is. "In light of the serious situation everyone is facing with regard to coronavirus, we don't believe it would be appropriate, or consistent with the current challenges and uncertainty for our consumers, to continue with the planned marketing of our brands in Great Britain at this time," Coca-Cola GB said in a statement in March.
"The 'big shop' is back, in line with guidance that consumers should limit their shopping trips"
On a purely financial level, it could be argued that the ad freeze – which applies to other markets too – is counter-intuitive. After all, the soda giant is facing a challenge, debatably, greater than any in the 20th century. Since the beginning of April, a quarter of its global volume sales have been wiped out. That's down to the mass closure of bars, restaurants, sports arenas and other out-of-home venues. The impact on the brand's top line in the UK alone will be colossal, given the higher price cola fetches per litre in on-trade venues – that's £4.15 compared with £1.75 in grocery [CGA/Kantar].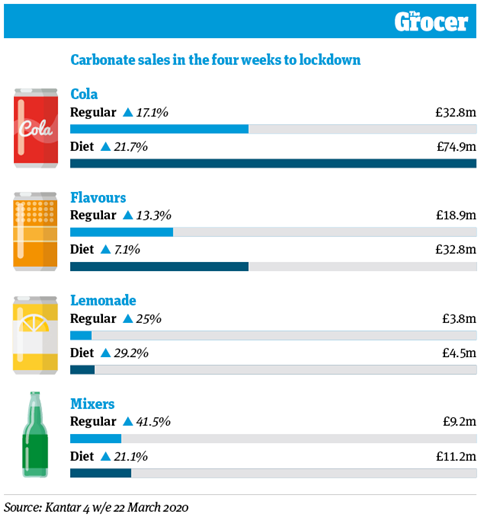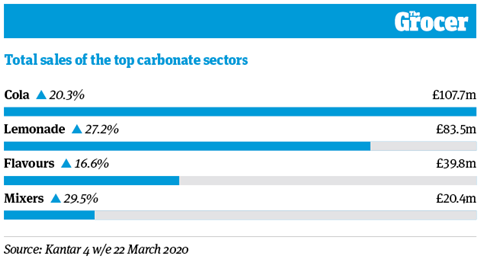 Take-home soda sales exploded in the four weeks to 22 March, when the four main sectors became worth £251.4m in total.
On the face of it, that's more striking than the full year's figures. Volumes remained largely unchanged at around 2.5 billion packs in 2019, and value inched up 0.1% to just shy of £5.1bn.
That is, until you consider 2018 was a bumper year. The heatwave and World Cup helped drive value sales up by 8.1%.
For value growth to continue in 2019 – albeit at a much slower rate – with no huge sporting event and poor weather is laudable. How was it achieved?
"Growth has been exclusively price-led, with shoppers slightly reducing their overall volume but moving towards more premium sectors," says Kantar analyst Matthew Tonry. "Average price growth has been a result of slightly reduced discount levels. In certain areas, such as colas, there's also been a shift to more premium packs."
So will the pandemic stop the seemingly unstoppable Coke – and other soft drinks giants – in their tracks? Or will it prevail as it has always done?
For now, grocery is the understandable focus for Coke. Here, price reductions are its key strategy. Log on to any supermarket's website and it won't be long before you're confronted with can't-miss Coke deals. Tesco, for instance, was last week offering 24x330ml packs of cans for just £6.50.
Not only are deals deep, but Coke's share of space in store is growing. For several months, it has been pushing its 12x150ml can multipack of Classic Coke with the slogan 'Perfect as a Mixer', giving the brand a foothold in the mixers fixture alongside its Schweppes stablemate. That's partly because mixers are doing well. "In the month leading up to the official lockdown period, mixers were one of the fastest-growing segments as consumers stocked up for at-home treat occasions with alcohol," says Simon Harrison, VP for commercial development at CCEP.
But it's also part of CCEP's ongoing strategy to get soft drinks in front of as many shoppers as possible. Brits have a 70.8% chance of passing soft drinks as they browse a store, according to Shopper Intelligence data. That's vastly higher than grocery's 37.2% average.
"Coca-Cola famously wanted to be at arm's reach to the whole world, and that principle is reflected by the category and its thirst for secondary space," notes Jeremy Garlick, partner at Insight Traction. "It's a numbers game – the more places in the store you show up, the more sales."
Shopping habits
In the wake of the pandemic, Coke has had to make tweaks to this strategy. Because shoppers don't necessarily want the same things in front of them as before.
"The 'big shop' has returned, in line with government guidance that consumers should limit their shopping trips to one per week," explains Harrison. "This means more people are planning their weekly shop and making considered food and drink choices for the week ahead, rather than spontaneous purchasing decisions."
Essentially, that means larger packs are prevailing as the option of choice. "Demand for future consumption packs – large PET formats, multipack cans and glass bottle multipacks – has increased," says Harrison, quoting Nielsen data.
Lucozade Ribena Suntory has witnessed a similar shift in consumer demand, and adapted its production accordingly. "Reduced requirements from our foodservice customers have opened some capacity within production, which we'll devote to off-trade and particularly drink-later formats, such as Lucozade Energy one-litre and Ribena concentrate, to meet the shifting needs of customers and their shoppers," says sales director Alpesh Mistry.
"People are buying 12-packs and 24-packs of smaller formats to save money"
This increased thirst for larger packs holds some good news for the industry. Mark Grant, associate director at business consultancy Levercliff Associates, says this is buoying the value of grocery sales.
"In the week ending 21 March when everyone was panic buying, soft drinks were up 31% in value and 18% in volume," he says.
That was followed by a couple of weeks of decline. "But the week later sales were up 7% on volumes down 9%, which we would argue is being driven by people picking up the biggest packs they can get to save money," says Grant. "People are buying 12-packs and 24-packs of smaller formats."
But that isn't a silver bullet for the sector. Because grocery gains are rarely enough to offset the declines in foodservice. Many of the giants have suffered a hammer blow to income since Boris Johnson ordered Britain's pubs and restaurants to close their doors on 20 March.
LRS is arguably the least vulnerable, with a relatively small proportion of sales through foodservice and licensed outlets. Before lockdown, they represented approximately 8% of the business. Others are looking at a far heftier hit. Foodservice makes up 40% of AG Barr's sales, for example, and roughly half of Britvic's and CCEP's.
Britvic – Pepsi's UK bottler and the UK's second-largest soft drinks manufacturer after CCEP – says lockdown will cost it between £12m and £18m a month in lost revenues (the global challenges have driven PepsiCo to pull its 2020 fiscal forecast). And Irn-Bru maker AG Barr has begun furloughing staff, while its executive board has taken a 20% pay cut.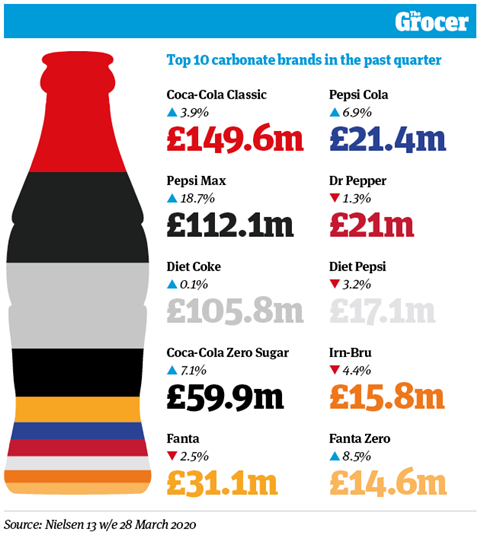 The UK's top 10 soda brands made £621m between them in the 13 weeks to the end of March. That's £37.3m more than in the same period in 2019.
The main driver of total soft drinks growth is a move towards bigger packs, notes Nielsen analyst Marika Praticò. That's down to larger shops. "Many more meals are now consumed at home, which negatively impacts sales of single serve," she adds.
In percentage terms, Pepsi outpaced its bigger rival Coca-Cola significantly in value gains – up 14% versus 3.3%. And the sugar-free Pepsi Max, its maker's bestselling variant, grew at a faster rate than its rivals Diet Coke and Coke Zero Sugar.
Max's popularity was largely down to price. At an average of 99p per litre, it was markedly cheaper than Diet (£1.21) and Zero (£1.20).
The benefits of Max's lower average price can be clearly seen in volume sales. It shifted an extra 6.1 million units between 1 January and 28 March.
Its two low-cal rivals sold 6.1 million fewer packs between them, but that's largely down to larger packs (Coke Zero sold more litres).
Fanta, meanwhile, lost £800k. But its sugar-free Zero range is up £1.1m or 8.5%, largely thanks to a 9p rise in the average pack price.
Outside the top 10, 7up has also enjoyed success through low-cal. The sugarless 7up Free (up 35.7%) was responsible for the lion's share (£10.4m) of the brand's £12.1m sales.
The shutdown of pubs, fast food stores, coffee shops and cinemas is not the only problem. So too is the slump in impulse sales through c-stores, which are worth billions to the industry.
In essence, consumer habits are largely working against the soft drinks giants. "The off-trade is compensating for some of the weaknesses in the on-trade but it will not be enough to make up for it entirely," says Francois Sonneville, senior beverages analyst at Rabobank, quoting Euromonitor.
Plus, he points out that consumers drink differently in the off-trade. "Eight per cent of water, 4% of juice and 21% of carbonated soft drinks are consumed in the on-trade. Under lockdown some of the occasions we would consume those drinks in disappear. But there will be some winners in this. Juice, for example, is a drink we typically drink at breakfast, and we're all eating breakfast at home."
His point is a pertinent one. Because not all areas of the soft drinks market have experienced lockdown in the same way. Soft drinks with an energy-boosting proposition, for example, are hitting the mark with housebound consumers. "RTD coffee and energy drinks continued to perform well as shoppers consumed them for a pick-me-up while working from home," says CCEP's Harrison.
The point is echoed by Abigail Kelly, head of marketing & insight at Crediton Dairy, owner of the Arctic Coffee brand and supplier of own-label iced coffee products. "We saw a dip when people stopped commuting and everyone was panic buying essential goods, and naturally iced coffee was not part of that, but since then we have seen a return to growth," she says.
The continued popularity of its small formats is good news for Crediton Dairy, which isn't geared up to sell in bulk. "We pride ourselves on being made with fresh Devon milk, so large multipacks are probably not an option," says Kelly.
Water cools
On the other side of the coin, water sales have taken a particularly tough hit. As retailers prioritised essential items, mineral water brands saw a reduction in space. This, combined with the slowdown in impulse sales, has hit producers hard. "A lot of people took the tough decision to delist big, bulk packs of water," says Levercliff's Mark Grant, who is also project manager for the Welsh Drinks Cluster, a government initiative aimed at supporting Wales' drinks makers.
"Some of the big water suppliers have furloughed staff as a result of this. They tend to hold 10 to 12 weeks of stock, so if the good weather continues they may start to bring people back. Bigger companies that supply Boots, Greggs and schools have also had to furlough staff. But some of the smaller suppliers have seen sales increases. Tovali, which supplies squash to the NHS, is doing well, for example."
This shows how manufacturers' fortunes largely depend on the channels they were most reliant on pre-pandemic. They also rely on their ability to switch production from one format to another. "If you're a smaller player who supplies syrups to the on-trade then you'll have a big problem," says Rabobank's Sonneville. "The good thing for most soft drinks manufacturers is their scale. They have the flexibility to change their mix."
Their portfolio mix may well change, too. Sugar-free drinks grew at a particularly rapid rate in March, which points to another underlying trend. Rupal Shah, research director at market research agency Simpson Carpenter, says consumers are more concerned about their health than ever.
"Shoppers will be looking for food and drink that will help them look after their families"
"The pandemic has highlighted health as a key trend, not just Covid-19 related, but in order to be healthier to fight off anything that people may face now or in the future."
So that doesn't necessarily mean just cutting back on sugar. "Shoppers will be actively looking for food and drink that will help them look after themselves and their families by giving immunity support. This has implications for manufacturers in terms of the innovation pipeline and also how these benefits can be communicated on pack as well as at fixture," adds Shah, a former Sainsbury's insight manager. "This category has already seen lots of NPD to include more 'healthier' drinks in light of the focus on sugar, but this trend will accelerate."
FrieslandCampina's Wayne Thompson agrees. "The rise of probiotic and fermented dairy drinks shook up the dairy category, even before the crisis," he says.
"Kefir is everywhere, and improved digestive health is a key purchase driver for consumers now. These drinks are associated with protecting and boosting the immune and digestive system, and therefore incredibly popular. Soft drinks cannot just be soft drinks any more. People need more than that now. Brands have got to keep up."
Kombucha boom
Enter kombucha, the fermented tea product that's been gaining growing space in the supers in recent years. Like the fermented yoghurt drink kefir, kombucha (or 'booch' to the initiated) is marketed on its ability to improve gut health and digestive function by virtue of the probiotic bacteria it contains.
"Now more than ever, the immune system and good gut health are a focus for consumers," says Freya Twigden, founder of Fix8, which produces three variants of live kombucha (Triple Ginger, Strawberry Tulsi and Citrus Saffron) at its south London brewery. It has listings at Selfridges, Fortnum & Mason and Whole Foods Market, as well as around 300 independent cafés and bars.
"People are becoming more health-obsessed and a fundamental survival instinct is kicking in," she adds. "People are asking, 'right, what does my body need right now?' They're asking for more than Coca-Cola and are not happy to just stick anything down their throats."
Of course, brands such as Fix8 aren't immune to the challenges of the pandemic. It put paid to a trial at Gail's Bakeries for Fix8, and the closure of bars and cafés has hit sales hard. But Twigden says she is selling growing volumes direct to consumers via the Fix8 website and has sold more than 100 kombucha home-brew kits.
Meanwhile, other kombucha brands say they are thriving in the grocery environment. Take Lo Bros. "Covid-19 has been a challenging time for us at Lo Bros, as it has for so many other brands, as we have a strong presence on the high street in cafés, pubs and restaurants," says Dom Dalton, general manager at the brand's owner Soulfresh.
"However, it's been encouraging to see grocery sales of kombucha still rapidly growing, and online sales going from strength to strength. Lo Bros continues to perform strongly in Sainsbury's, and in April our sales on Ocado were up more than 110%.
"Once lockdown is lifted and footfall increases, we expect this trend to continue as the supermarkets dedicate more and more space in store to products like kombucha."
Acquisitions
So it's no surprise the giants have been watching kombucha with acquisitive eyes in recent years. PepsiCo bought US booch brand KeVita in 2016, and in March unveiled a new look for the US market to increase shelf appeal. The Coco-Cola Company bought Australian producer Organic & Raw Trading Co, owner of Mojo Kombucha, in 2018. Neither have been launched in the UK yet.
Don't expect that to change anytime soon. For now, the big boys say they are focusing on maintaining availability of their core ranges, and assisting the relief effort.
Both CCEP and Britvic say they are donating products and support for staff, NHS workers and vulnerable communities. Worldwide, Coke has pledged $120m to support relief efforts. Such efforts are admirable, of course, but with its marketing machine mothballed for now, they will also help keep Coke in consumers' minds.
This is crucial for Coca-Cola, which is often said to be the second-most known word on the planet (after 'OK'). Because unless it keeps up its profile, its position in the global lexicon could be under threat from something none of us had even heard of a few months ago: Covid-
Innovations in soft drinks 2020