Reusable bottles have fast become both a status symbol and an ethical statement. So where does that leave bottled water?
Amid the glitz and glamour of New York Fashion Week, there was one standout accessory. No, it wasn't an Oscar de la Renta bag, or even Moschino stilettos. It was the humble reusable water bottle. Granted, a water vessel doesn't exactly sound like your typical runway must-have. But don't be fooled. Reusable water bottles have become such a bona fide fashion trend that Evian chose the fashion week as the launch pad for its new glass 'Rainbow Inside' bottles.

If launching at one of the most high-profile events in the fashion calendar wasn't enough, the bottles were designed by Virgil Abloh, creative director to Kanye West. As can be expected from anything associated with Yeezy, these bottles don't come cheap. Featuring a bamboo lid and a white silicone sleeve embossed with the Evian logo, the limited edition product costs a cool £45.

Considering shoppers can snap up a one-litre plastic bottle of plain water for an average of 29p [Kantar Worldpanel], that may sound a tad overpriced. But the likes of Evian's glass Soma bottles (of which Rainbow Inside is one) aren't purchased for practical purposes.
"Owning a reusable water bottle has become a status symbol," says James Logan, commercial director at Refresco UK. "The market has really taken off, with companies such as S'Well making owning a water bottle a status symbol with environmental kudos, boosted by celebrities seen clutching expensive water bottles often costing £45-plus."
"Owning a reusable water bottle is a symbol boosted by celebrities clutching pricey ones"
Indeed, S'Well offers more than 200 colours, patterns and finishes that can be personalised to order. "Design is a major attraction for our customers," explains communications coordinator Diandra Bolton. "From our inception, we've positioned S'Well like a fashion brand, consistently releasing seasonal collections featuring new styles."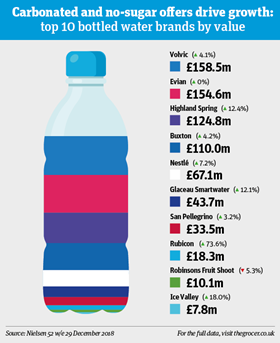 While Evian may have cashed in with its Soma bottle, there is an obvious downside for water companies. For Brits are tending to fill up their fashion accessories with tap water, rather than turning to pre-bottled stuff.

In fact, Kantar Worldpanel found thirsty consumers turned to the tap for an extra 670 million drinking occasions in the year to September 2018, easily outstripping the 170 million increase in bottled water occasions. All of which could spell trouble for bottled water as we know it.

Granted, sales aren't exactly suffering. The market gained an extra £36m this year, representing a 6.9% value increase to £558.4m [Kantar Worldpanel 52 w/e 4 November 2018]. Volume sales grew at an even faster rate of 8.5% to burst through the 1.5 billion-litre mark in take-home sales (and sales including on-the-go have exceeded 2.2 billion litres). Yet growth has slowed from last year, when value sales shot up 8%. Kantar Worldpanel analyst Iona White says that's down to challenges including "shoppers moving away from plastic".
Ethics
Step in brands such as Chilly and S'Well, whose bottles are not only fashionable but also have bags of environmental kudos. Following the buzz around Blue Planet II, carrying around PET-heavy water bottles can feel a little off-message. In fact, 88% of the programme's viewers say they have changed how they use plastic as a result, according to the Waitrose Food & Drink Report 2018-19. The same report found over 60% of consumers are more likely to use a refillable water bottle now than they were in 2017.

Refilling these reusable bottles from the tap is seen as the ultimate in ethically minded hydration. A significant 68% of respondents in our Streetbees poll said they drank tap water because they perceived it as more environmentally friendly than bottled water.

Even those who haven't bought into the likes of Chilly or S'Well are taking note. Mintel research found 63% of bottled water shoppers often refill their plastic water bottle with tap water rather than buying a new one.

The government is thinking along the same lines. Indeed, the Department of Justice announced a ban on all "avoidable" single-use plastics from its estate earlier this year. That included PET water bottles, rather than flavoured bottled drinks, to encourage staff to get their water from the tap. The department drew criticism for the move from Harrogate Water MD James Cain, who argued it would "result in greater consumption of sugary drinks, adding to all the health dangers of obesity, diabetes and tooth decay" among its employees.
"The plans for more public refill stations in London heighten the threat to bottled water"
An outright ban may seem a little drastic, but Westminster is making a lot of more moderate moves to deter consumers from the excesses of single-use plastic.

The planned deposit return scheme, for one, will not only encourage recycling but could deter people from buying as many plastic water bottles altogether.

The same aim lies behind London mayor Sadiq Khan's installation of 20 public water fountains across the capital, which are set to be joined by a further 100 fountains by the end of 2020.

Mintel believes this is a significant move. "The plans for more public refill stations heighten the threat to bottled water, making it easier for people to rely on using reusable water bottles," says senior food and drink analyst Richard Caines.

And these fountains won't be confined to the capital, if the will of the British public has anything to do with it. Brita's Water Report with Keep Britain Tidy last year found 78% of Brits believe there should be greater availability of free public tap water. If availability did increase, the impact on bottled water would be clear. The same report found 64% of shoppers do not buy bottled water if tap water is available.
Amid this greater acceptance of tap water, a range of innovations have come on to the market looking to make money from what is freely available. One brand to take the plunge is Twinings, which claimed an industry first last April with Cold In'fuse, a three-strong range of fruit and botanical flavoured teabags designed to add flavour to cold water. Crucially, the starter pack includes a reusable water bottle to tap the anti-plastic feeling.

In less than a year, the range has amassed £3.5m and reached almost a million households, according to senior brand manager Sarah Newman.

Others clearly see potential in the market. Tetley entered the sector with its own four-strong range last June, while Lipton introduced its Real Iced Tea bags last month.

Then there's PepsiCo, which last year unveiled Drinkfinity, a range of flavour pods that can be squeezed into water via a specialised reusable bottle. The brand launched in the US in February, and has since become available online across Europe and Brazil. In a further move away from plastic, the giant bought SodaStream International in August for a reported £2.5bn. It launched an advertising campaign that December for the SodaStream Genesis device, which turns still tap water into sparkling in a matter of seconds. The purchase forms part of PepsiCo's mission to "find new ways to reach consumers beyond the bottle", says brand president Ramon Laguarta.

Still, the traditional water giants are far from accepting defeat. Instead, they are fighting back by upping their sustainability credentials. Recognising the tide is turning against single-use plastic, many are moving to recycled plastic (rPET) to placate today's more eco-friendly shoppers.
"There is a rising demand for manufacturers to use reusable and 'no waste' packaging"
It makes commercial sense. "Along with growing preferences for recyclable packaging, there is the rising awareness and expected demand for manufacturers to use reusable and 'no waste' packaging," says Vasilena Daskalova, senior client manager at Nielsen.

Examples of such moves are plentiful. Harrogate Water switched to 50% rPET bottles in 2018 and the Co-op is set to roll out its own-label 50% rPET bottles later this year. Evian was another to introduce 50% rPET bottles for its 1.5-litre water range at the end of last year. By 2025, it hopes to make all of its bottles from 100% rPET by 2025.

The strongest step forward in recycled packaging, though, has come from Highland Spring. It became the first bottled water player to launch a 100% recycled plastic bottle in summer with its 500ml eco-bottles of still water.

"Lots of the consumers we spoke to in the trial phase said they bought the eco-bottle over our regular plastic bottles because they supported the use of recycled materials," says Simon Oldham, group commercial director at Highland Spring. "In total, 30% bought it out of support for the environment."

Highland Spring says it has sold over 40,000 of its eco-bottles since they officially joined the brand's range (selling alongside rather than replacing its regular 500ml bottles) in January.

"We would love to be in a position where all our bottles could be made from 100% recycled plastic, but we're just not at that stage as a market right now," says Oldham. "What's stopping us is the availability of recycled materials. There just isn't the quantity and quality to make that move."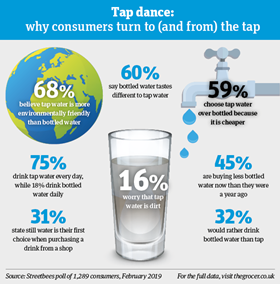 Smith versus plastic
It's not just the big brands making moves. Many smaller operations are thinking outside the bottle altogether. Just Water, for example, comes in a paper-based carton. Co-founded by Will Smith's son Jaden, the challenger brand has gained listings in Boots, Whole Foods Market, Sainsbury's and Spar since its UK launch in August. Then there's Water Works, which rolled out its still spring water Tetra Pak cartons early this year. And Water in a Box has been selling its wares in cartons for a few years now.

The concept of water in a carton is becoming more accepted by shoppers, says its commercial director Karl Martin. "When we first launched a few years ago we were ahead of our time, but it seems the world has at last caught up and we're now developing some real traction," he says.

Indeed, the world has moved on so much that we're now considering such inventive plastic alternatives as squid protein.

Still, arguably the most environmentally friendly strategy is to avoid using packaging altogether. That means going down the tap water route. So bottled water brands need another reason to persuade consumers to buy into a costlier, and potentially less environmentally friendly, alternative.

Highland Spring's Oldham is confident bottled water will always have a market. "Tap water and bottled water are fundamentally different products," he insists.

The rise in tap water consumption last year didn't affect Highland's sales, Oldham stresses. The figures back up his point. Highland Spring was the fastest-growing brand by absolute value in the top 10 last year, gaining an extra £13.8m [Nielsen 52 w/e 29 December 2018].

"People have always drunk tap water, but some don't like the taste or the fact that it's chemically treated," says Oldham. "Twenty-five per cent of naturally sourced bottled water shoppers buy it because they prefer the taste, and 24% buy it because it's natural."

Indeed, our Streetbees research found 32% of consumers prefer bottled water to tap, and 60% agreed tap water tastes different to bottled. Even on this selling point, though, there are threats on the horizon.

German brand Mitte claims to have created a world first with its smart home device that turns tap water into purified mineral water. The system is set to launch in July with the tagline 'Bottle your own water for a fraction of the price'. It claims to save consumers over 300 plastic bottles per mineral cartridge.

You may expect the impending launch to cause alarm among bottled water brands. But one mineral water giant is welcoming the launch with open arms. Danone actually led a major investment push for the tech company last August, which closed with a total of $10.6m.

Such an investment from the owner of the top two bottled water brands in the UK - Danone and Evian - may raise a few eyebrows. But Laurent Marcel, head of Danone Manifesto Ventures, insists the new technology won't be a death knell for bottled water.

"We think bottled water still has a nice future, and we view Mitte as offering a complementary solution that will contribute to the overall growth of the water category," Marcel told Reuters in August.

Of course, certain areas of the bottled water arena are more vulnerable to these innovations - and the overall thirst for tap water - than others. That much is evidenced by the variation in growth rates across the category. Plain still water was the slowest-growing corner of the market in percentage terms, up 4.5% to £243.5m [Kantar Worldpanel].

Meanwhile, the flavoured sparkling water market, which is less vulnerable to the threat of the tap, has boomed. Value sales jumped a whopping 19.7% to £107.7m.\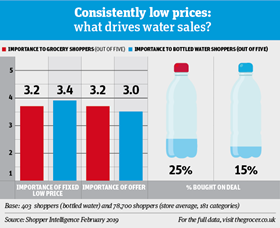 Kantar Worldpanel believes April's sugar levy may have provided a helping hand. "Flavoured sparkling water has benefited not only from existing shoppers adding flavoured sparkling to their repertoire and/or switching to flavoured sparkling from other bottled water sectors, but also from attracting new shoppers into the bottled water category," explains Kantar's White. "Those movements suggest that shoppers are seeing reduced and no-sugar flavoured sparkling water as a healthier option to fizzy drinks."

Mintel data backs up the theory. "Six in 10 people have replaced some of their consumption of sugary drinks with bottled water in the last 12 months," says Caines.
The rise of seltzer
Research from the global analyst also found 88% of new flavoured water launches in 2018 made low/no/reduced sugar claims. There is a clear reason behind their prevalence. Mintel research found 68% of bottled water shoppers avoided flavoured waters with added sugar. Joe Benn, co-founder at Ugly Drinks, believes this growing demand for healthy, low-sugar options in flavoured sparkling water creates the perfect storm for seltzers to establish themselves as a significant segment of the market.

"In the US, the seltzer sub-category is already well established and worth around $2bn," says Benn. "In the UK, flavoured sparkling has existed for a long time, but we're starting to see brands emerge in this flavoured unsweetened space. They aren't conventional flavoured waters, there's a healthier aspect to them."
"Shoppers are seeing lower sugar flavoured sparkling water as a healthier option"
Considering flavoured sparkling water attracts a younger shopper base [Kantar], Benn could be on to something. As a generation that tends to be more in tune with health and wellbeing messages, flavoured sparkling shoppers are among the most likely to be swayed by the likes of Cawston Press, which launched a two-strong range of 10-calorie seltzers in Ginger & Lemon and Raspberry flavours last month.

Younger shoppers are also more likely to seek out new and exciting drinks, making NPD in flavoured sparkling imperative to the sector's continued growth this year. "NPD such as Badoit sparkling flavoured mineral water and La Vie fulfilled that need for excitement last year," says White.

One thing is for sure: there is no shortage of innovation in bottled water. From Genesis to Mitte and squid protein packaging to innovative seltzers, new ideas are coming thick and fast. The question is: will this activity pay off for water brands, or leave them reaching for the bottle?
Seaweed pods and squid rings: the bottles of the future?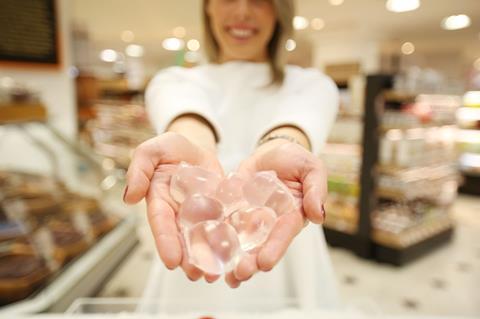 The plastic water bottle is falling out of fashion with ethically conscious consumers. So a raft of alternatives to PET are hitting retail shelves.
For the moment, these alternatives are largely confined to cartons and cans, the latter of which has seen volume sales triple over the past year [Nielsen 52 w/e 29 December 2018].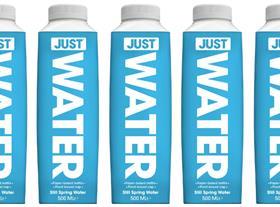 But there are plenty more outlandish ideas cropping up. London startup Skipping Rocks, for one, claims to have "made packaging disappear" with Ooho, the world's first edible water pods. The pods are currently being trialled in both Selfridges and Just Eat, and were filled with Lucozade Sport and handed out to runners at the Richmond Marathon and Tough Mudder last September. Made from seaweed extracts, the gelatinous packets are fully biodegradable, 100% natural and are "a radical new way to help reduce plastic use" says Bruce Langlands, food director at Selfridges.
Scientific researchers are also turning their attentions to the global plastic problem, making several discoveries over the past year that would put a smile on David Attenborough's face.
Last month, CNN News revealed Pennsylvania University researchers had published a report on the potential for squid ring teeth (SRT) as an elastic, strong and flexible packaging alternative in February. SRT fibres are 100% biodegradable and can be created using genetically engineered bacteria, meaning no squid are needed for the manufacturing process.
And in April last year, researchers created a new enzyme that eats plastic. The bacterium, created by accident, is able to break down plastics, which could potentially be used to dispose of used PET, thereby ensuring it doesn't end up in the sea.
So, is the world really ready for squid protein water bottles? With Selfridges already stocking edible spheres, it doesn't seem too much of a jump.