With Britain on a health kick as it braces for a second wave of Covid-19, can sports nutrition players seize the day?
You might think Britain has become a nation of swollen biceps, rock-hard abs and tight glutes since lockdown, given the booming popularity of fitness movements from the likes of Joe Wicks, Barry's and Psycle. A Nuffield Health study published in May found that 76% of Brits took up a new form of exercise in lockdown and 81% intended to keep up the new routines post-Covid.
Still, physiques like the above are not the 'new normal'. The same study found that half of all 18 to 24-year-olds were getting fewer than two hours' exercise a week. The NHS advises that anyone aged over 16 should be getting at least 150 minutes' exercise a week. Another study, published in June by WeightWatchers, found 48% of Brits ate more during lockdown and 42% put on weight.
Of course, Nuffield and Weightwatchers had a vested interest in publishing these apparently contradictory statistics, but here are some that can't be argued with: 63% of British adults are overweight or obese, as are one in three children by the time they leave primary school [NHS]. Obesity increases the risk of dying from Covid-19 by 48%, putting the British population at increased risk from the virus [UNC/World Bank/Saudi Health Council]. Hence the government's new push to get us exercising more and weighing less.
So, with Britain braced for a second wave of the virus, how big an opportunity is our new health kick for sports nutrition players? Could they help us get fit for the fight with Covid?
"Covid-19 has changed our relationship with exercise… that's an opportunity"
Of course, no one is saying protein bars will keep the virus at bay. But, generally speaking, the fitter you are, the better your chances are of beating it. So many expect demand for products that help you recover from exercise and give you energy to grow.
"With people striving to focus on their overall lifestyle and fitness choices, there is likely to be an increased interest in sports nutrition products," says Mike Simon, head of category at Britain's bestselling protein bar brand Grenade. "Despite the 'mainstreaming' of the consumer base, sports and exercise is still the second-biggest reason behind the purchase of a protein bar." (Healthier snacking is the top reason.)
Home Run co-founder Catrin Tyler is similarly confident, underlined by the fact she launched her brand of plant-based sports snacks during lockdown. "Reports are showing a huge uptake in exercise over recent months, widening the audience for sports nutrition products," says Tyler. "What is undeniably true is that Covid-19 has changed our relationship with exercise, and that is an opportunity for the fitness industry to grow dramatically – and with it, the food to fuel that change."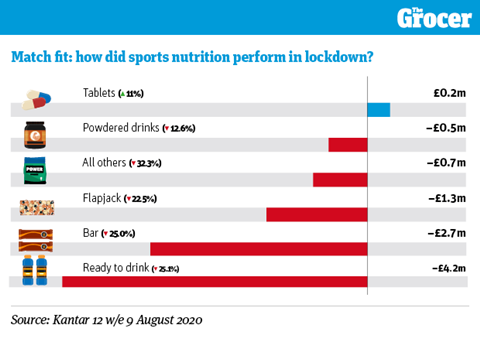 Sports nutrition was looking less than match ready when Covid-19 shut down gyms at the end of March. Growth had been slowing since September.
Then came lockdown, wiping out 22.6% of the market's value (£9.3m) in the 12 weeks to 9 August, compared with the same period a year ago. At the same time, volume dived by 27.3%: the equivalent of 12.9 million fewer packs.
Average price per pack was up 14p (9.4%), with all sectors except powdered drinks seeing an increase. This was driven by shallower promotions, with share of sale on deal staying more or less level at 34%. Temporary price cuts are the mechanic of choice in sports nutrition, accounting for nearly all promotions.
As the UK falls into recession, brands will need to work hard to justify the high prices sports nutrition products typically command, says Kantar analyst Claire Rain.
But Covid-19 could benefit sales in the long term. "The government is currently focused on combating obesity," she adds. "If this leads to increased exercise, that will provide an opportunity to drive category growth."
Lockdown lag
The category could certainly do with a shot in the arm. It was struck low by Covid-19, shedding 22.6% of its value in the 12 weeks to 9 August [Kantar]. That's a loss of £9.3m compared with the same period in 2019. Meanwhile, volumes fell by 27.3% – the equivalent of 12. 9 million packs – as shoppers kept away from retailers.
"The decrease in footfall in stores due to lockdown had an effect on all categories, and as a result, sports nutrition also suffered," acknowledges Simons. But the situation was further complicated by a shift in people's physical priorities. As Simons pointed out to The Grocer in June, Brits working out at home are more likely to do cardio-based activity, rather than the weight training that drives sports nutrition sales. "Although we've seen most consumers try to maintain activity levels during lockdown, the nature of their exercise has changed," he said. "This has resulted in certain items struggling."
"Sales disappeared as the London Marathon and other large events disappeared too"
For Beet It, sales of its concentrated beetroot shot Sport didn't just struggle; they "virtually disappeared between April and June" says MD Lawrence Mallinson. "This was largely due to major customers who had stocked up in anticipation of demand on the back of the London Marathon and other large-scale events – much of which disappeared."
And as these events vanished, so did value across the category's sectors. Both RTDs and bars, for instance, suffered value (and volume) losses of around a quarter over Kantar's 12-week period. That meant £6.5m less and 9.3 million fewer units for sports nutrition's two largest markets. Only tablets registered gains, but they were minimal – the sector accounts for only 5% of category sales.
Sales have been puny, thanks to the pandemic, but the sector was facing stiffening headwinds before anyone had ever heard of Covid-19. "Following strong growth over the last few years, we have seen performance of take-home sports nutrition slow since September 2019," says Kantar analyst Claire Rain. "This has been accelerated following lockdown, with severe decline in recent periods."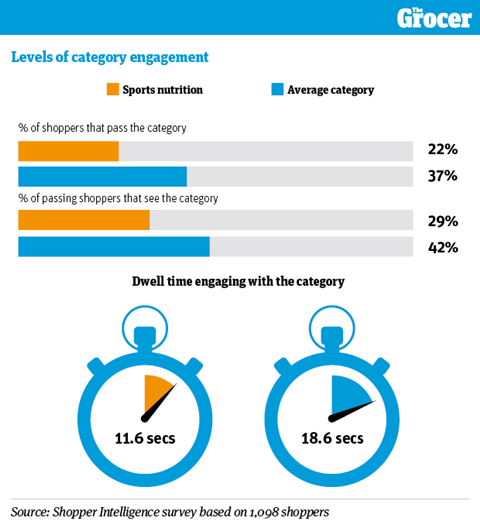 Sports nutrition has made its way firmly into the mainstream, with products listed in all major supermarkets.
With this comes the challenge for the market to "establish itself and gain much-needed space among other more established categories" says Shopper Intelligence MD Chris Adkins.
A main obstacle to growth in-store is location, he adds. "In a typical supermarket, only 22% of shoppers pass the sports nutrition category compared to an average pass rate across all categories of 37%."
Of those shoppers that do pass, there is also a missed opportunity to attract them, notes Adkins. "On average, less than a third of those that pass actually see the category (29%)." That's well below the grocery average of 42%.
While visibility and standout both present difficulties, "the latter is arguably the easier one to change through the use of permanent and temporary point of sale material, for example," Adkins adds. "This could also help shoppers engage with the category more effectively and potentially increase spend."
Back in the gym
The good news is that the renewed focus on health and fitness prompted by the pandemic could reverse the longer-term pattern of slowing growth, Rain predicts. "With gyms starting to reopen, this should help kickstart the category – and it will be vital for brands and retailers to re-engage their shoppers."
There are already encouraging signs of a revival, says Beet It's Mallinson. Orders for the brand's Sport shot "fully recovered by July to pre-Covid levels, and we are now very confident that sales will get back on a growth trajectory" he adds. Certainly, Beet It's 70cl drink is well placed. Comprising 98% concentrated beetroot juice and 2% lemon juice, it's suitable for vegans – thereby tapping the next hot trend in sports nutrition: plant-based.
"In recent years, many large sports nutrition brands have expanded their vegan ranges to cater for this," says Protein Ball Co founder Matt Hunt. "Our vegan range is a prominent part of our brand, and we offer different types of plant-based proteins, including pea, brown rice and pumpkin protein."
Holly Finnegan, product information senior advisor at Ashbury Labelling, stresses that plant-based proteins are a "key player" in the sports nutrition category. Pea protein has been the breakout star, be it in Myvegan's Pea-Nut Square range – launched in March as "the perfect pick-me-up or post-workout snack" – or in the vegan range of meal replacement powders of Purition, which made their debut in July.
"In recent years, many sports nutrition brands have expanded their vegan ranges"
Protein from peas "is seeing a huge spike in demand" says Purition commercial director Alan Bird. As the vegan market continues to grow, the key "is developing recipes that balance the latest natural ingredients with superior taste" he adds. "We were finding it tricky to release some flavours in the vegan format, as the natural tastes can be very subtle." The brand settled on a mix of golden pea, organic sunflower, organic pumpkin and hemp seed. "It's been a real hit with customers looking for real food ingredients."
His comment about "real food" is worth noting. Sports nutrition's appeal has broadened in recent years, with the likes of Asda focusing on more 'everyday' options, and brands catering for a wider audience. "With gels, powders and shakes having a strong position for a long time within the sports nutrition sector, primarily with gym-goers, the industry is now becoming more diverse to meet consumers' needs," says Simons.
Nevertheless, some consumers are sticking to more familiar supermarket aisles for their fitness fuel, filling their baskets with cereal bars, meat snacks and peanut butter. It's a habit likely to become more prominent as the result of the pandemic, believes The Protein Ball Co's Hunt. "We can see this shift starting to take place. There was a lot of focus across social media during lockdown about getting the nutritionals you required from natural sources and food."
Mass appeal
There's yet another group of people who, while active and athletic, are simply overwhelmed by the busy shelves of grocers' sports nutrition segments. "A lot of shoppers wouldn't know where to start with more traditional sports nutrition products such as powders or gels," says Anna Cheatley, brand manager for Weetabix Protein. "Yet they're still looking for ways to increase their protein or fibre consumption, and this is where mainstream brands can help."
"A lot of shoppers wouldn't know where to start with more traditional products"
It makes sense, then, that Weetabix Protein kicked off a digital push in June targeted at people going online for fitness activities. It's illustrative of efforts that are helping blur the lines between sports and lifestyle nutrition – and therein lies "a real opportunity for less-intimidating snack bars" says Zoe Stroud, active nutrition brand manager at Premier Protein. The brand launched in early 2020 with a trio of snack bars (rsp: £1.49).
There's potential for other ingredients too, suppliers claim. Beet It's Mallinson sees "opportunities for expanding natural nitrate supplementation" – while Finnegan at Ashbury suggests people's new-found focus on immunity could drive innovation with vitamin D. Whatever the formulation, "demand for healthier, energy-boosting products will increase" in sports nutrition, Simons predicts. That's the sort of muscular optimism the category needs right now.
Innovations in sports nutrition 2020


Daniel Selwood is The Grocer's special projects editor, managing Britain's Biggest Brands, Britain's Biggest Alcohol Brands, The Dairymen and Top Products – as well as contributing to news, features, analyses and category reports.

He joined the magazine in January 2016 as food & drink editor, having been at financial & legal publisher LexisNexis for eight years.

He began his journalism career in the mid-1990s at a general interest magazine in his birth city, Sheffield.

Follow Daniel on Twitter: @danielmcselwood