Vegetable oil prices are hitting record highs as demand soars and climate change squeezes supplies. When will the pressure ease?
If money makes the world go round, it's oil that greases its axis. And not just the black stuff that gets sucked out of the ground and turned into petrol. Global demand for vegetable oil is soaring as everyone from manufacturers of food, biodiesel and cosmetics to investment banks battle over stocks hit hard by growing climatic uncertainty.
Prices are at a flashpoint. Refined rapeseed prices have hit unprecedented levels with sunflower, soybean and palm oil prices all sky-high. Refined olive oil prices have surged 74.8% since July.
Why is that? How long will those high prices last? And what impact are they having on the UK retail market?
"You need to look at the bigger picture to see why prices are rising," says Vito Martielli, senior grains & oilseeds analyst at Rabobank. "In the past, the global market would see big supply shocks every five to seven years, but in the past 10 years these have become much more frequent, with climatic conditions like drought and frost and sometimes disease impacting crops more often."
"Big supply shocks have become more frequent due to conditions like drought and frost"
There's been no shortage of shocks lately. Sunflower oil prices hit a 12-year high in March, according to Mintec. That's been driven partly by drought in Ukraine and Russia. Frost and the onslaught of the cabbage stem flea beetle have hit European rapeseed crops. Meanwhile, soybean prices are being pushed up by rising demand from China and dry conditions in the US and South America. Covid-19 has hit palm oil production, bringing Malaysian futures to a 13-year high. Soaring global demand is also stoking prices.
If that all seems far removed from the fat bubbling in British frying pans or being drizzled over salads, think again. Yes, the average retail price of cooking oils may be up by just 3.7% (while olive and coconut oil prices have actually fallen). But that's largely the result of the stiff competition between the supermarkets and their efforts to keep a lid on rising prices by pushing own label, which is gaining share. It's up 26.1% in value on volumes up 24.1% [Kantar 52 w/e 21 March 2021].
"Ultimately, the supermarkets control their fixtures, and they see own label as a way of differentiating themselves from the competition," says Walter Zanre, MD of Filippo Berio UK. "In March 2020, we stopped promotions to protect inventories, and that resulted in some inflation. Private label prices have been fairly stable because these things take time to work through the supply chain, but we are beginning to see price increases in the market."
Price rises for any key commodity vegetable oil crop are always eventually felt far and wide. Even a rise in the price of crude oil can drive demand for vegetable oil through the roof by making biodiesel more economical, pushing up prices and prompting food buyers to switch between rapeseed, sunflower, soy and palm oil.
"These oils are interchangeable to a point and tend to move in tandem," says Gary Lewis, head of business development for oils & fats at KTC Edibles. "Sunflower went ballistic in July 2020. European buyers moved into rapeseed and global buyers went into rapeseed, soy and palm. Production of all five key oil crops, including olives, has been hit severely so prices have risen. Investors then threw cash into the market, pushing prices up even further."
"If you're a farmer you're probably doing quite well, but these prices won't be around forever"
These factors have created a perfect storm when combined with soaring demand for vegetable oils from biodiesel manufacturers and stockpiling shoppers who have pushed up grocery value sales by 22.7% on volumes up 18.6%.
"In 30 years, I've seen this only once or twice before," says Lewis. "If you're a farmer you're probably doing quite well at the moment, but these prices won't be around forever. It will level out as more crops are planted."
In an ordinary year, 6.3% value growth would be something to shout about. But the past 12 months have been anything but ordinary, and Napolina's 6.3% gain is actually the slowest percentage growth among the UK's top 10 cooking oil brands. It's the only one not to see at least double-digit value growth – in spite of growing unit sales by 4.3%.
"Napolina has delivered volume growth but has lost share," says commercial director Neil Brownbill. "This is due to very strong growth in own brand." However, the brand's share "has now stabilised and is expected to recover" he adds.
For some brands, the huge spike in demand around the first lockdown in March 2020 left significant holes in their distribution, allowing rivals to cash in.
"There's no question that some of our competitors ran into availability difficulties as we saw those huge uplifts in demand taking place," says a senior source at a major cooking oil brand.
The fastest-growing top 10 brand is mid-tier-priced extra virgin olive oil supplier La Española. It's up 125.1% in value on volumes up 148.2% after plugging gaps on shelf left by brands that struggled to keep up with demand.
Climate challenges
The extent to which production can be increased largely depends on the climate, which is becoming increasingly erratic. A particularly harsh La Niña, the cyclical cooling of sea temperatures in the Pacific along the western coast of South America, also affected yields of soybean and sunflower in the Americas in 2020.
Olive oil is particularly exposed to the effects of climate change. Olive crops in Spain, the world's biggest olive oil producer, are likely to decline by 30% by the end of the century as a result of warmer winters and hotter, drier summers, according to the University of Córdoba.
The long-term outlook is similarly bleak across the Mediterranean, where the bulk of the world's olives are grown.
In the shorter term, however, the consensus is that olive oil prices will soon begin to ease. "In 2018/19, Spain had a record crop of nearly 1.8 million tonnes but in the same year there was the worst crop ever for Italy and low production in Greece and Tunisia, which was having an off year," says Rabobank's Martielli. "Low production and high demand last year boosted prices. But the outlook for this year's crop is good."
That will be welcome news for UK supermarkets, for whom olive oil makes up 45% of total cooking oil value sales despite accounting for just 25% of volumes [Kantar].
Their suppliers will also welcome the easing off of prices as a result of the new olive crop. "We are just coming into flowering season and the climatic conditions are good in Greece, Italy, Tunisia and Spain. So, we look set to get a good crop," says Zanre at Filippo Berio.
"We are going to go from famine to feast, I think. We will have to tighten our belts for the next six months as raw materials supplies are stretched. We can't go to the retailers and ask for price rises because of the huge focus on price competition here in the UK."
That means most brands will manage the situation by easing up on promotions over coming months, he adds.
Battle of Brexit
It's not just soaring raw material costs that are squeezing bottom lines. The pandemic threw supply chains into disarray, with some suppliers reporting having to switch from sea freight to costlier rail and road transport to keep up with demand. Then came Brexit, which added an extra layer of bureaucracy and expense.
The UK's exit from the EU "has brought with it an abundance of new legislation, practices, and procedures which has meant implementing a number of additional requirements for importing, freight and paperwork" says Kim Matthews, commercial director at Edible Oils Limited (EOL), maker of Crisp 'n Dry and Flora cooking oils.
The extra red tape "has required additional staffing resources" but Edible Oils and its customers "have continued to enjoy uninterrupted supply" he adds. "Strong demand for oils during the pandemic presented additional challenges for the global supply chain. In some areas, labour shortages made oil production and output more difficult than usual, but having a robust supply chain meant EOL has been able to maintain supply throughout the year."
"Strong demand for oils during the pandemic presented challenges for the global supply chain"
Safeguarding against supply issues arising from Brexit has been a priority for Napolina, too. Commercial director Neil Brownbill says the brand increased stock levels as a protective measure. But the escalating costs of freight and customs clearance caused by Brexit remain a concern, he adds.
Suppliers have either had to swallow those rising costs or pass them on to retailers and risk losing space to own label, says Zanre. "Transport costs remain very high. We're paying a 40% premium compared to pre-Brexit and we're trying not to use trucks because they are so expensive.
"For the 1,000 shipping containers we bring, we're paying an extra £100k in clearance costs that we have to absorb," he adds. "These costs are completely unnecessary and add no value to anywhere in the supply chain."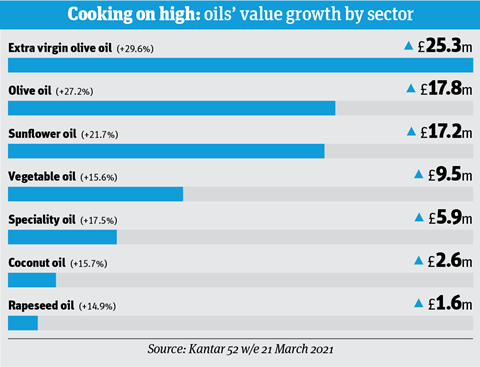 Extra virgin olive oil (EVOO) has powered more growth in cooking oils than any other sector. Its value is up by £25.4m (29.6%) with an extra 5.8 million packs sold (a rise in volumes of 30.9%).
Household penetration for the overall category has grown 3.5 percentage points to 91.1%. Again, EVOO has achieved the greatest gain, having been bought by 57.7% of households – a rise of 5.9 points.
"Following a year of strong growth because of the pandemic, the oil category has benefited from stockpiling and a rise in meals consumed at home," says Kantar analyst Katie Woods.
"As lockdown eases and the out-of-home market begins to open up, the category will find it difficult to sustain the strong growth rates," she adds.
Consumers have able to get an out-of-home hit of EVOO at their local Italian restaurant since 17 May, but manufacturers expect retail demand to remain high.
"Although volumes are down from this time last year, we are still about 30% up on 2019," says Walter Zanre, MD of Filippo Berio UK. "We don't think we are going to lose those new consumers that have come in."
Posh NPD
To offset rising input costs, some suppliers are asking their retail partners for more money. Others are launching posh, higher-margin oils. Take Filippo Berio, which is launching a single-estate Tuscan olive oil that carries an rsp of £16.99 per 500ml bottle. It's also adding truffle-infused and unfiltered olive oils.
Napolina, meanwhile, is gearing up for the November launch of Selezione Speciale, a range that includes regional oils. The brand is clearly aiming to hit back at private label rivals. "IRI data shows Napolina has delivered volume growth but lost share from 13.8% to 11.4%," Brownbill says. "This has been due to the strong growth of own brand sales, particularly in one-litre, and some range reductions in the multiples."
Premium innovation makes sense given few expect consumer trends that accelerated during lockdowns, driving demand for fancy oils, will disappear as restrictions ease.
"Recreating a restaurant experience at home has led to increased interest in stir-fry products"
The pandemic "resulted in more people spending time at home, unable to eat at their favourite restaurants, and this has boosted their interest in home cooking," says Matthews at EOL.
"Olive and speciality oils grew to a combined worth of £252m, accounting for 58% of all oil shopper spend and adding £45.6m of incremental value to the category over the last year," he adds.
"Recreating a restaurant experience at home and trying out new recipes has led to an increased interest in the likes of sesame and stir-fry products. Nut oils are also in strong growth, with groundnut and walnut attracting new shoppers."
Health credentials
Bertolli, which claims to be the world's bestselling olive oil brand, has spotted a different opportunity in the UK market. The brand is launching an olive oil spray range offering "innovative technology to evenly dispense just the right amount of oil without the use of propellants" says Irene Ippolito, marketing manager at Bertolli distributor Euro Food Brands.
The brand's NPD is clearly aimed at health, which remains an important purchase consideration for Brits.
It's a trend that's driving strong growth in avocado oil, says Amy Moring, co-founder of Hunter & Gather. "With sales of our 100% Cold Pressed Extra Virgin Avocado Oil up by 318% in the past year, when it comes to 'good' oil, avocado is one of the best," she says.
"High in heart-healthy fats and low in inflammatory polyunsaturates, avocado oil has an abundance of nutrients and antioxidants, and unlike many other premium oils, it has a smoke point of 255°c, making it perfect for high-heat cooking as well as pestos and salad dressings."
Hunter & Gather's fancy avocado oil currently fetches £6.29 per 250ml bottle on Ocado. By comparison, Tesco's Pure South Press Avocado Oil sells for £3.20 for the same volume – highlighting the schism between brands and own label when it comes to pricing. Across all oils, brands' average price per pack is £2.70, while own label's is £1.95 [Kantar].
As both the recession and price war warm up, commodity oil costs are likely to come under increasing pressure. Which raises the question: how long before cooking oil brands make price concessions?
Innovations in oils 2021