First, the good news: the long-term decline in the bread market has slowed in the past year. And the bad news: volume has been driven by the lowest prices seen in a decade.
Any way you slice it, it's been a tough year for Britain's bakers. Bread has become a key weapon in the grocery price war, and average prices have fallen 4.7% [Kantar Worldpanel 52 w/e 1 February 2015]. But the average belies far steeper cuts in the price of some of the most popular 800g loaves - with brands as low as 75p and some own label down to 55p.
Against a backdrop of declining market value - and high-profile delistings - suppliers and retailers are asking themselves how they can drive value back into the category. The price drops have contributed to £90m being wiped off the value of the wrapped bread market in the past 12 months. This is a decline of 5.4% year on year, according to Kantar, compared with the 0.3% dip recorded a year ago.
"Retail competition is driving pricing in this direction, and the information we are given by retailers is that this is likely to continue," says Roberts Bakery deputy chairman Mike Roberts, adding that price deflation - and the ongoing "unjustified negative press" around wrapped bread - are the biggest challenges of the coming year.
"Retail competition is driving pricing down. Retailers say this is likely to continue…"
Already tight supplier and retailer margins are being squeezed further, and industry observers suggest that selling bread may no longer be delivering a profit, particularly for smaller retailers who receive direct deliveries to store.
The three biggest brands - Warburtons, Hovis and Kingsmill - have lost more than £120m combined in bread sales in the past year [IRI 52 w/e 28 March 2015]. Hardest hit has been Kingsmill, with bread sales down more than £75m year on year, as price drops exacerbated a 14.3% fall in volumes.
On the flipside, the lower prices have slowed overall volume decline in total wrapped bread from the 2.4% recorded a year ago to 0.7%. And with such deep discounting on major brands, the total branded wrapped bread market has grown 1.8% by volume over the year as own label has suffered a 9.8% hit to volumes [Kantar].
"Volume has picked up noticeably and we are delighted with that," Warburtons chairman Jonathan Warburton told The Grocer last month. "I don't mind negotiating on a rising tide, it's more difficult when volume is going the other way."
Others are less convinced the turnaround in volume is a positive sign. "I'd suggest volume increases are the result of consumers trading down from premium into standard bread," says Andrew Barnes, fresh food director at Spar wholesaler James Hall & Co, who adds the industry is seemingly in a "race to the bottom" when it comes to pricing. "What I'm seeing when I walk into the small store format of any major multiple is a pricing hierarchy shot to pieces and widespread markdowns on anything with a retail price of more than £1 - and that's really not great news."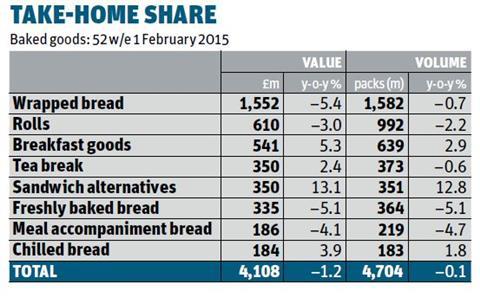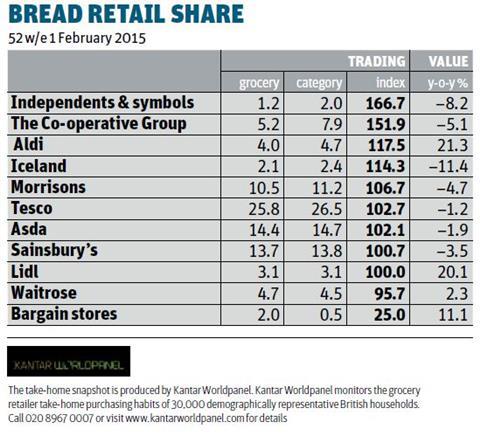 The bakery market's decline is driven largely by price decreases and also shoppers buying fewer packs per trip.

The average price of a loaf of wrapped bread has dropped 4.7% and now costs the shopper only 96p. This is due to both everyday lower prices and an increase in temporary price reduction promotions.

In absolute terms, wrapped bread has declined by almost £88m. Packed lunches have declined by 14%, likely a knock-on effect of the recent introduction of free school meals for five to seven-year-olds. All bread types are in decline, with white, the biggest sector, accounting for 49% of spend.

Free-from bakery bucks the decline with growth of 25%, growing through more shoppers and more frequent purchases - 6.8% of households bought free-from bakery this year.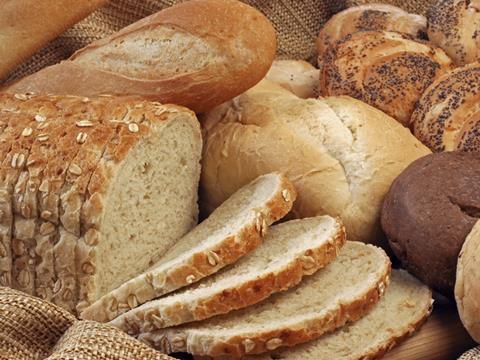 Delistings
Further piling the pressure on bakers have been delistings. In January, Asda dropped seven of Hovis's key loaves, and in March Tesco added to Kingsmill's woes when it delisted all the Allied Bakeries brand's wrapped loaves - though it did continue to stock other Kingsmill baked products. The Tesco move has the potential to be "very significant to the market", says Warburton. "When the biggest retailer takes a decision like this, everyone sits up."
Other suppliers suggest that, given the current pressure on margins and the fact brands offer so many similar products, it is not surprising that retailers are taking such action. But Roberts feels the delisting may be a reflection of wider grocery trends rather than particular issues within the bread category. "Ranges have been tightened due to the growth of the smaller format stores," he adds. "However, it is important retailers still provide consumers with the choice in the fixture they are looking for."
"Pricing hierarchies are shot to pieces and there are markdowns on anything over a pound"
With retailers consolidating their supply chain, many observers feel consolidation within the bakery industry is also likely. While most believe it is unlikely any of the major players will merge, experts feel smaller players may do so, while the larger businesses further consolidate their operations.
"Logic says the larger players have to reduce their costs so it's either consolidate the number of players or operate fewer, larger plants," says Barnes. "The other risk for smaller retailers is that the bakers take wheels that service their stores off the road."
In the meantime, the bakery giants are not shying away from investing in the growing areas of the market in order to be in a position to tap new trends.
In the case of Allied Bakeries, this year brings the conclusion of a £210m, five-year capital investment programme that means the business now has "some of the most modern bakeries in the world".
And Roberts Bakery has recently invested in its third plant as it looks to support the growth of its sandwich alternatives business.
Sandwich alternatives have also been a focus for Warburtons, which has spent £20m building a bakery in Burnley and extending its crumpet plant in Enfield. But by far the brand's highest-profile spend has been hiring Sylvester Stallone to star in a marketing push that kicked off on TV last month and saw the brand trending on Twitter and attracting a slew of national media coverage.
"British bakers learn a lot from overseas markets. Americanised menus are being tapped"
Among the products Sly will be promoting for Warbies are the bagel thins it launched last month, and which are the result of a £7m investment by the business. The launch - which comes as New York Bakery Co rolls out a similar product and follows the debut of Kingsmill bagel thins a year ago - is designed to tap the ongoing consumer demand for alternatives to traditional sliced bread.
IRI data shows that, in contrast with the fortunes of bread, sales of other branded baked goods are generally in growth - although this has come at the expense of own-label products (see table, left).
"The decline in traditional pre-sliced bread has been driven by the perceived negative health benefits of sliced bread combined with the rapid growth of alternative bakery products," says Morrisons bakery category manager Andy Clegg. "For example, many consumers have ditched toast at breakfast and replaced it with crumpets, waffles or brioche buns, while lunchtime bread sandwiches have been swapped with wraps, thins, pittas or bagels."
With sandwich alternatives and breakfast products among the few pockets of value growth in the category - up 13.1% and 5.3% respectively [Kantar Worldpanel] - it is hardly surprising to see so many launches focused on these parts of the market.
Among the big successes of recent years have been the sandwich thins that were pioneered by Warburtons and followed with own-label versions and, as of last September, Kingsmill thins. Allied says it has committed £8.4m to the development of its thins, which it claims are bringing new shoppers to the category.
Allied has also invested heavily in morning goods, last year launching its Square Crumpets - and stating 44% of those who bought Kingsmill Square hadn't bought crumpets in the 12-week period before their launch. And it didn't stop throwing shapes there - rolling out Christmas Tree crumpets in December, followed by heart shapes for Valentine's Day and Mother's Day this year.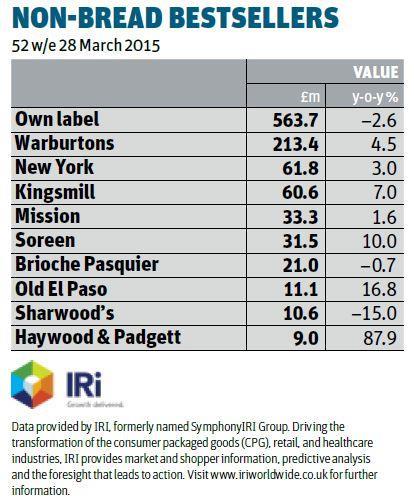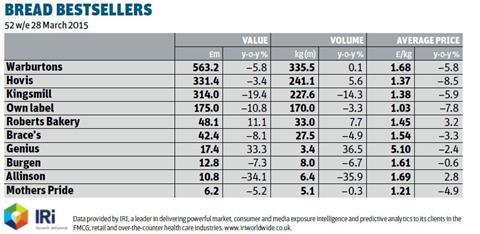 More than £143m has been wiped off the grocery bread market, with price drops driving value losses, according to IRI's analysis.

But deals aren't to blame, says IRI insight manager Bianca Hall: "Volume sold on deal hasn't changed; retailers are lowering prices permanently as opposed to focusing on promotions."

Kingsmill has been hit hardest, with a year-on-year loss of £75.5m. Warburtons and Hovis are also down but Roberts has bucked the downward market trends, growing £4.8m. In percentage terms, free-from brand Genius has been the best-performing range.

Own label has been hit by the price war, with some 800g loaves selling for as low as 55p. Own-label value is down £21.2m.
Breakfast
"Breakfast offers a fantastic opportunity for the bakery category," says Hovis marketing, strategy & planning director Chris Brough. "Growth in morning goods is being driven by new formats, flavour variants and shapes that drive excitement, variety and choice for the consumer."
Barnes says James Hall & Co plans to expand its morning goods range, and is looking at providing a hot plate offer that would include muffins, crumpets and pancakes. Shorter-term, it will be following growing interest in brioche with the launch of a brioche burger bun in time for barbecue season. Lantmännen Unibake already offers a brioche bun and in February launched the Americana Brioche Hot Dog Roll.
"British bakers learn a lot by monitoring the trends of overseas markets," says marketing manager Rachel Shoosmith. "Americanised menus have dominated UK outlets, and retailers can tap this trend by stocking items that enable shoppers to recreate the experience at home."
Warburtons agrees with the idea of looking abroad for inspiration (as we have with the help of Mintel, left), and has developed a number of strategic partnerships with overseas suppliers over the past few decades. "I meet with our partners on a regular basis and go through what they have launched and what they haven't," says Warburtons innovation director Darren Littler. "They share the insight they have, and we share the insight we have. It is a genuine partnership."
James Hall's Barnes says he would love to see the British market adopt a European attitude to fresh bread. "The biggest difference overseas is that when we talk about 'fresh' bread with our European Spar partners they look at us quizzically," he adds. "Fresh to them is fresh today, stale tomorrow. If we were ever able to change UK consumer habits, what an amazing opportunity that would represent!"
Innovation
Looking at overseas NPD, recent launches have included probiotic wraps, bagels made with sprouted grains, and tortillas with added veg (see left). But for all the weird and wonderful innovation abroad, and the attention given to other baked goods formats, British bakers have not given up on wrapped bread.
A year ago, Kingsmill launched Great White - a soft white loaf containing as much fibre as wholemeal. The products pulled in sales of £23.4m in 2014, said Kingsmill, although given the brand's overall slump in value sales it appears some of this may have been at the expense of standard Kingsmill white loaves. Allied is also making its debut in free-from - where there has been a strong innovation pipeline - with gluten-free Burgen loaves.
"Health remains a key factor, with 'half and half' bread continuing to do well," says Morrisons' Clegg, who adds pack sizes are also changing. "Smaller pack sizes are becoming more popular as families struggle to get through a traditional 800g loaf."
This is a trend James Hall is looking to tap with the development of 400g Clayton Park Malted Farmhouse and White Farmhouse loaves that retail at £1. "We've recognised the importance of smaller households and the drive towards reducing waste," says Barnes.
Hovis has also had its developers hard at work, expanding its Seed Sensations range last year with a Soft Granary Batch that contains nine seeds and grains and is designed to help premiumise the category. While the baker is pleased with the performance of the Granary Batch - which it says has attracted "a large and loyal customer base" - far less successful was Hovis Taste Sensations, which lasted less than six months in most retailers.
The failure of Taste Sensations has been a stark reminder of how hard it can be to develop NPD with staying power in the bread market."The odds are stacked against NPD in the bread category," says Roberts. "Consumers demand new and exciting flavours and variations but, particularly in the bread category, we have a very limited shelf life that makes it hard to establish the products, or give them longevity."
And despite the untimely demise of Taste Sensations, Hovis is in no doubt that innovation is key to the future of the market - though it is under no illusion that there are big challenges to bread NPD, including overcoming consumer perception that eating bread is bad for you; providing the same excitement and variety as other bakery segments; and making bread relevant to changing consumer needs and lifestyles.
"Taste Sensations was a very exciting extension of the Hovis brand from which we learnt a great deal. From that learning, there is without question a place for more exciting, tasty bread products," says Brough, adding that Hovis is developing a range of products that will come to market later this year, with a particular focus on breakfast.
Barnes suggests one problem Hovis faced with Taste Sensations was the difficulty brands can have in establishing premium or craft credentials. "Those consumers who are still prepared to pay a bob or two extra want to feel they're getting something different, a true artisan product," he says. "And it's difficult to do that with a mainstream brand name on the product."
However Warburtons says it is happy with the performance of four 400g premium loaves - Old English White, Malted Grain & Seeds, Wholegrain & Oat, and Honey Wheat - that it launched in November, despite rolling them out with a £1.39 rsp - just as the price of large loaves began to plummet. "We thought that would murder it but we've been pleasantly surprised - every week we sell a little bit more," says Jonathan Warburton.
The success - however modest - of such products will warm the heart of retailers and bakers fearing they could struggle to make a crust out of bread in years to come.
Mission Deli Light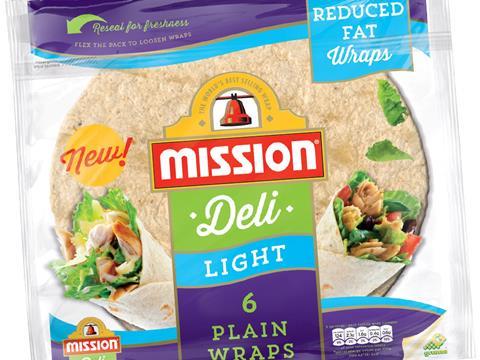 Launched: April 2015 
Manufacturer: Mission Foods
Mission is targeting shoppers looking for a lighter sandwich alternative with these reduced-fat versions of its wraps (rsp: £1.30/six-pack). The supplier says "quality has been paramount" and claims no compromise has been made on taste or texture. The brand is also rolling out a range of seasonal flavoured wraps, kicking off with Sundried Tomato & Basil for summer. "Bakery wrap buyers are often confident cooks who want to try new things," says Mission Foods marketing head Marie Davies.
Newburn Bakehouse artisan loaves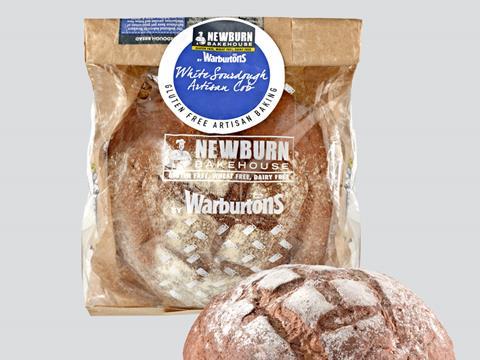 Launched: April 2015
Manufacturer: Warburtons
Warburtons last month launched what it claims are the first artisan breads to grace a supermarket free-from aisle: a Classic White Artisan Loaf and White Sourdough Artisan Cob (rsp: £3.50/400g). The baker says the loaves - sold under its Newburn Bakehouse free-from sub-brand - are made in small weekly batches with artisan processes.
Burgen free-from loaves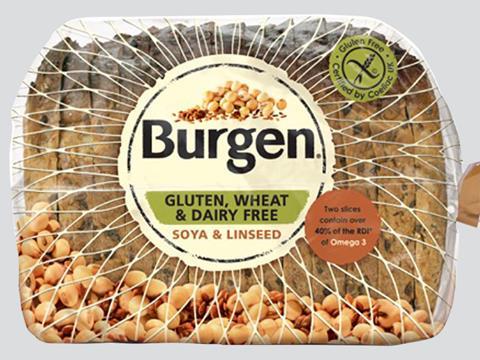 Launched: April 2015
Manufacturer: Allied Bakeries
Allied Bakeries has made its free-from market debut with these two 500g Burgen loaves - Soya & Linseed and Sunflower & Chia Seed (rsp: £2.79) - which are both free from gluten, wheat and dairy. Merchandised in the free-from section in-store and promising a high seed content, each loaf will carry Coeliac UK's Crossed Grain symbol.
Genius English Muffins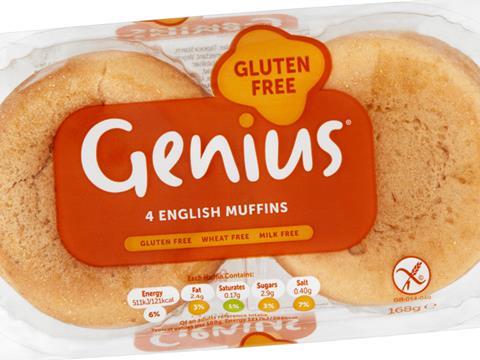 Launched: March 2015
Manufacturer: Genius Gluten free
Genius has expanded its morning goods line-up with its first English Muffins (rsp: £2.29). It said the launch would help bring the products range in free-from in line with mainstream bakery. "We're confident widening the selection of great-tasting breakfast products will continue to boost category growth," says Genius CEO Roz Cuschieri.
Fazer Rotfrukts-Bröd Palsternacka & Morot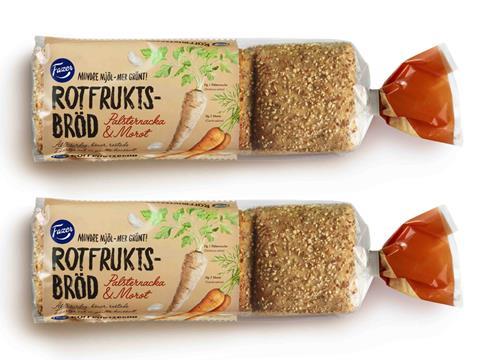 Country: Sweden  
Manufacturer: Fazer
The recipe for this Root Vegetable Bread replaces a third of the wheat flour with a mix of haricot beans, root vegetables and roasted chickpeas. Supplier Fazer says the use of these ingredients makes the bread 'extra juicy and filling'. Launched in February, the bread is available in two variations – parsnip & carrot and beetroot – which are both covered in roasted chickpeas to give the loaves crunch. They are sold in a 390g pack containing six breads.
Silver Hills Sprouted Bagels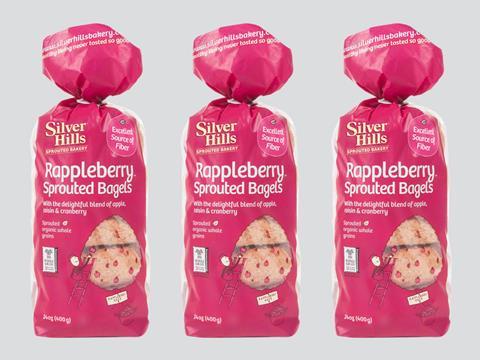 Country: US
Manufacturer: Silver Hills Bakery
British foodies are showing growing interest in sprouted grains, so perhaps there is a future for sprouted grain bread in the UK. Silver Hills Bakery soaks whole grains until they begin to sprout, then mashes them into dough to make bread. These bagels are described as being high in fibre and contain a blend of apples, raisin and cranberry.
Pom Garden Vegetable Tortillas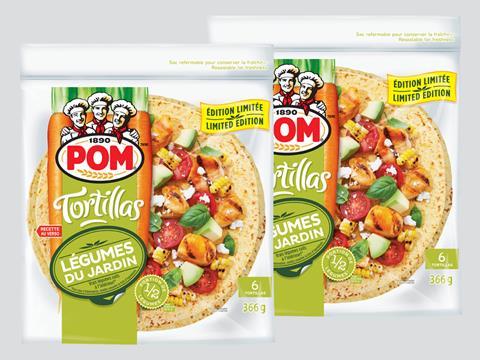 Country: Canada
Manufacturer: Canada Bread
Bakery giant Canada Bread – which was recently acquired by Grupo Bimbo – last year rolled out these limited-edition vegetable tortillas that are each said to contain half a portion of veg. Sold in a 366g pack containing six tortillas, they are wheat flour-based and contain a mix of dehydrated vegetables including carrot and pumpkin.
Country Harvest Protein Bread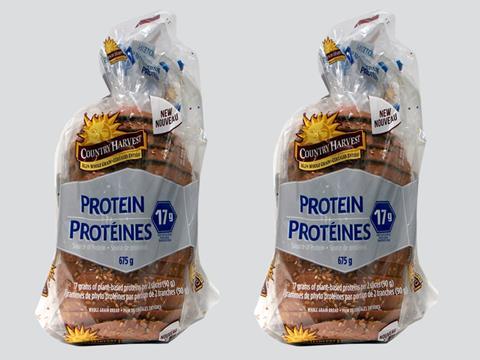 Country: Canada
Manufacturer: Weston Bakeries
While high-protein bread is currently a niche market in the UK, continued interest in protein-rich products suggests it has good prospects. In Canada, food giant Weston Foods last year launched this Protein Whole Grain Bread under its Country Harvest brand. Sold in a 675g pack, every two slices contain 17g of plant-based protein.