Things are pretty gruesome in cereal right now. The five biggest branded RTE cereals have lost a combined £63.1m in the supermarkets over the past year [IRI 52 w/e 8 Nov 2014]. The overall RTE loss stands at £80.6m, or 6.2% in value and 5.8% in volume.
Even hot cereal - a key growth engine in recent years - is faltering, with the sector's biggest brand, Oat-So-Simple, suffering its first decline in years: volumes are down 2.5% year on year, and value has inched up just 0.7% [IRI]. Overall, hot cereal sales have climbed just 0.6%; volumes have sunk 3.6%, ending several years of strong growth.
It's important to note there's more than one 'cereal killer' in this story. There are the discounters, of course: Aldi and Lidl, whose cereal sales are up by a respective 35.3% and 30.7% [Kantar Worldpanel 52 w/e 9 Nov], have driven down prices. They are also the key reason Kantar's and IRI's reads on the market differ; with the discounters included (IRI doesn't cover them), Kantar sees overall value down just 0.9% on volumes up 0.2%.
But there's more at play here. Not only are the discounters stealing sales from the supers at a faster rate than in the rest of grocery and driving deflation, their greater reliance on own label is hitting brands hard (see right). Add to the mix the debate around sugar and the growing number of consumers choosing to eat breakfast on the go (inspiration for next month's UK launch of Up & Go, Australia's biggest breakfast brand), and it's little wonder the traditional cereal sector is having a hard time.
The big question is: how can it recover?
Price war
Competitive pricing will clearly have to play a role. The average price of some of cereal's biggest brands has fallen significantly in the past year - Alpen's by 3%; Kellogg's Corn Flakes by 8.1% [Nielsen 52 w/e 11 Oct 2014] - but with varying results: Alpen's volumes are still down, while Corn Flakes' are up slightly.
With the price war escalating, price cuts are continuing. Since July, the average price of RTE cereals has fallen 4% in the big four, with prices in Tesco plummeting 9% [Brandview.com]. It's a move intended to stem the loss of share to the discounters - but it's having little impact so far (see retail share table, left).
A further 6% of the population have begun buying their breakfast cereal from Aldi and Lidl in the past year, boosting their category sales to £139m [Kantar]. Some retailers have been hit worse than others. Morrisons and The Co-op have taken the heaviest losses. Asda, meanwhile, has lost just 0.8%.
"Changing breakfast habits are driving the decline… people are eating on the go"
"It's done this through lower off and on-deal prices to win back customers and stem losses," says Kantar's Zainab Khan. Aldi and Lidl are "single-handedly" driving the 3.7% value and 3.5% volume growth in own-label cereals, adds Khan, as brands suffer from under-represention in the discounters and the decline of their heartland: the mults.
No one has suffered more from this than Kellogg's, which has seen a 9% value decline in RTE sales at the grocers, worth £45.9m, on volumes down 5.6% [IRI]. Special K has been the biggest casualty, with sales down 11.5% or £10.8m [Nielsen]. The core line is down 17.4%, although it's worth noting Special K's success in hot cereal with Multigrain Porridge, up in triple digits to hit sales of £5.9m following its 2013 launch.
Kellogg's is by no means alone. Cereal Partners, Nestlé's joint venture with General Mills, has seen £11.8 wiped off its top line in RTE [IRI], with Cheerios bearing the brunt with a decline of 9.8%, worth £5.7m. Weetabix's Alpen and Cereal Partners' Cookie Crisp have also suffered significant losses over the past year.
Just one of the top 10 RTE cereals has shown any growth at 'master brand' level, according to IRI: Dorset Cereals. Two canny launches - Tasty Toasted for those who want a lighter textured muesli, and Simply Nut Granola, for a sub-£3 price point - have helped it grow by 7.9%. The brand (self styled as "honest, tasty, real and unadulterated") also taps growing demand for less processed foods, which shoppers often perceive as being better for them.
Format changes
As cereal shoppers drift to the discounters, manufacturers are responding with the introduction of formats specifically designed for them. Kellogg's launched three of its cereals in an exclusive format for the discount channel in September. Honey Hoopla, Coco Pops Jumbos and Coco Pops Chocos are sold in a 240g bag, rather than a 295g box, at the all-important price tag of £1.
Mornflake is launching 10 new products into Asda and the discounters this month, and Richard Jones, Mornflake marketing manager, says: "These new products offer high-quality cereal at great value for money, something that we believe there is a strong demand for."
Shoppers aren't just on the hunt for cheaper products, however. A Harris Interactive poll for The Grocer this month reveals 30% of people skip meals daily, with breakfast the most skipped meal among under-35s. Developing products that allow consumers to eat breakfast on the go is a key opportunity for brands.
"Children don't regularly request porridge… we're confident they'll request Coco Pops Porridge"
Kellogg's strategy is to no longer rely purely on the big box of cereal. "Changing breakfast habits are the biggest drivers of category decline," says customer director Al Wilson, who claims catering for those who skip breakfast with on-the-go products is a £1.9bn opportunity. "The choices outside the bowl are endless, which is why people are mixing up their breakfasts with more products than just cereal and are eating on the go. We've now made five of our leading cereal SKUs available in portable pots."
Of course there's nothing new in potting up products to make them more convenient. Porridge pots have been key to the growth in hot cereal over recent years, although the past year has seen growth tail off, partly as a result of mild weather.
Brands remain the driving force in hot cereal. Own label is down slightly while branded value sales are up 5.1% on volumes up 0.8% [Kantar], with value's gain over volume reflecting the continued growth of just-add-water porridge pots and other convenient packs, which carry a much higher price per kilo than bulk packs of oats.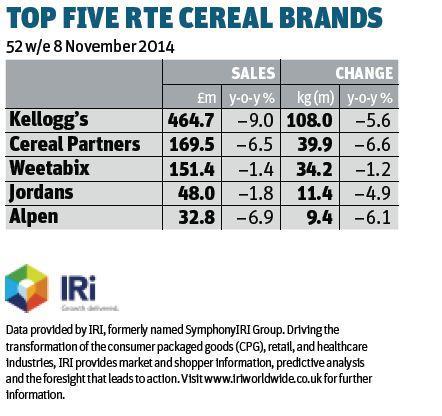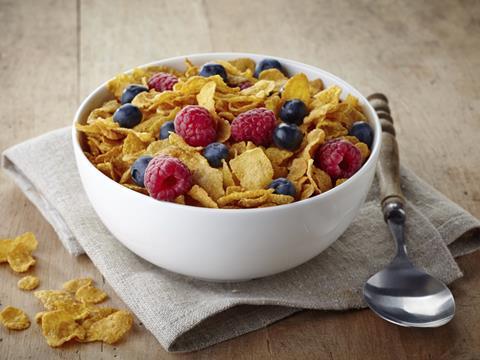 Hot cereal
The star performer in hot is Kellogg's Special K Multigrain Porridge Pots, whose growth has partly been at the expense of rival Oat-So-Simple, down 2.5% in volume [IRI]. Quaker, meanwhile, is up 4.7% in value and volume [IRI], thanks to NPD including Quaker Heaps of Fruit, Quaker Multigrain, and Quaker Cuppa Porridge sachets. "The pots format has delivered 37% of hot cereal growth in the last three years attracting younger, more affluent consumers to the category," says Quaker marketing director Adrian Baty.
"Younger parents have stopped buying cereals and are giving their kids 'healthier' alternatives"
Several new entrants are pinning hopes on their own porridge pots. Mornflake launched pots with a top hat lid filled with a portion of Nutella or Lyle's Golden Syrup into Waitrose in October. Hamlyns of Scotland extended its Scottish Porridge Oats brand with the March launch of instant pots and microwaveable sachets in three varieties. Revamped packaging is hitting the shelves this month.
Kellogg's will be targeting kids with a Coco Pops porridge launching early this year. "Children don't regularly request porridge - mums give it to them," says Kellogg's UK sales director Colin Bebbington. "Research has shown Coco Pops is the most requested children's cereal, and we are confident children will request the porridge."
Oats-So-Simple isn't the only big brand being challenged by newcomers to the market. Competition for Weetabix is stepping up following the launch of two new wheat biscuit cereals. Bokomo Foods launched its Perfekt for… wheat biscuit brand into Tesco in September, with two round biscuits in a PET pot selling at 89p, and Fuel's Protibrick protein-boosted wheat biscuit lands in Tesco and Asda this month and will be on shelf next to the market leader. This is the first time Weetabix is being challenged by a brand, says head of brand Sean Uprichard: "The retailers seemed to really like the idea."
Not that Weetabix has been slacking on innovation. As well as On The Go breakfast biscuits and drinks, the company added chocolate and gingerbread flavours to its Ready Brek Easy Sachets range in September, and extended Weetabix with a Banana variant in February, and Banana Minis in July. "As well as incrementally building our On the Go offering, we're also developing our existing brands to provide customers with new and exciting breakfast options," says Francesca Davies, group head of category.
Health
Health is a hot topic in kids' cereals. Sugar Puffs has been rebranded as Honey Monster Puffs, with less sugar and 20% more honey. Andy Valentine, marketing director at Halo Foods, says: "According to research we've done, people have been particularly affected by media coverage around sugar."
Bear's Alphabites, which contains no refined sugars or salt, has capitalised on these anxieties with TV ads, which recently led to a 27% surge, prompting Bear to revise its sales forecast for 2015 up to £6m from £4m. Many brands are not allowed to air ads within two hours of kids' programming owing to their sugar and salt content. "That we're allowed to advertise to kids gives us a competitive advantage," says founder Giles Brook, adding this quarter will see Alphabites' biggest ever TV spend, and NPD is planned this year.
"People are mixing up their breakfasts with more than just cereal and are eating on the go"
Shoppers are also being cautious around high-sugar adult cereals. Kellogg's Krave has lost 6.3% on volumes down 5% [Nielsen]. Jordans wants to boost Country Crisp - down 2.7% in value; 7.1% in volume - by cutting sugar levels. But not all sugary cereals are down. "Healthier products are performing well but it's important to remember taste is a key driver, which is why we're seeing great things from Frosties and Crunchy Nut," says Wilson at Kellogg's.
Indeed, Frosties has ended years of decline with 10.7% volume growth; Crunchy Nut is up 6.9% [Nielsen]. Both have slashed prices. So there are three key ways to resist the cereal killers, it seems: slash sugar levels, slash prices or invest in your brand. But which is most sustainable?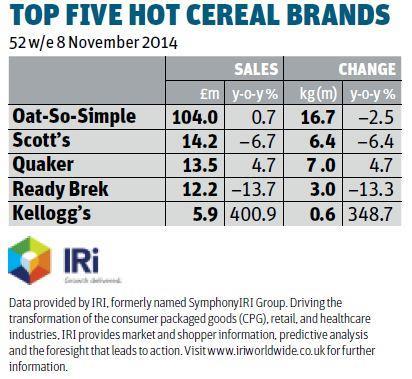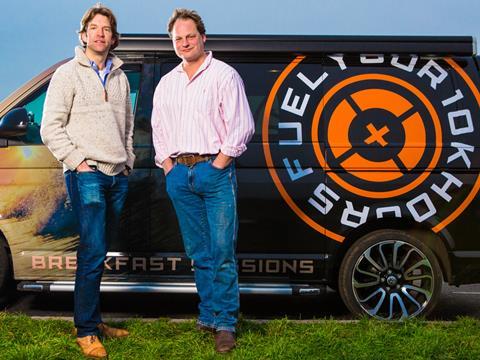 Filling up: how Fuel is taking on Weetabix with new cereal
Britain is going mad for protein. Just look at the astounding growth in sports nutrition products such as whey proteins and RTD protein milks in the supers for proof.
Now the trend is gathering pace in mainstream food and drink, with retailers getting behind products such as protein-enriched popcorn, crisps and ice cream in a bid to cash in. One brand is at the centre of this movement: Fuel (full name: Fuel Your 10k Hours), which has carved out a niche for itself in the breakfast drinks market. And this is the year it will broaden its horizons and take on the big boys of the cereal aisle on their own territory.
It's starting off by taking on the biggest of them all, next week rolling out Protibricks, protein-enriched wheat biscuits that will be going head-to-head with Britain's biggest cereal brand at SKU level: Weetabix. The newcomer is first in a run of NPD planned for this year by Fuel owner Fresh Marketing as it looks to shake things up in the breakfast aisle - and beyond.
Fuel co-founder Barney Mauleverer tells The Grocer the brand is already plotting its next assault on the cereal market. Set to roll out in the third quarter of the year, the new (and for now top secret) product will be protein-enhanced and pitched squarely against a market leader. "It's all misery in the cereal category, and where there is gloom there is an opportunity," he says.
Another opportunity is demand for protein, which has featured heavily across the food and drink industry in products such as cereal bars, dairy drinks and bagged snacks. "Protein is a great story and a key mega-trend," says Mauleverer.
In tapping this trend, Fuel has come a long way since it launched at the end of 2011 with a granola cereal range. Retail sales value has grown to about £7m by the end of 2014, according to Fresh Marketing internal data, and the brand has been expanded to include milk-based cereal drinks, porridge pots and sachets, with sales split more or less equally across the ranges.
Mauleverer predicts Protibrick, which has been developed in collaboration with Asda's cereal team, will clock up £3.5m in its first year. And Asda breakfast buyer Steve Evans pinpoints Fuel as a key contributor to driving new sales in the breakfast category.
"The brand has managed to engage with and recruit a previously lapsed consumer by bringing fresh innovation and excitement to the category, almost wholly built on incremental sales," he says. "The speed of innovation from Fuel has made them a significant brand in my cereal business and has also had an effect on the approach to innovation from other suppliers."
Since its granola made its debut in Tesco three years ago, Fuel has also secured listings with wholesalers and retailers including Ocado and Nisa. Two further major retailers are "on the brink, but not confirmed," says Mauleverer.
But Fresh Marketing is about more than just Fuel - it distributes a range of brands - and is gearing up to launch a new brand that will hit shelves in six weeks in a new sector for the business that Mauleverer says is "crying out for disruption."
Celebrating its 10th anniversary next year, the business was founded by former Innocent employee Mauleverer and university pal Alex Matheson to build a distribution and sales network in the UK and overseas to grow sales of both its own and third-party brands.
Upon its formation, Fresh Marketing's first mission was to make Innocent work in France, where it had yet to find success. To achieve this, the duo set up office in Paris and later won listings in Monoprix and Casino and various high-end café bars. "We had 12 months to get them going - effectively we proved the concept could work enough for them to then invest behind a full team and launch," says Mauleverer.
Fresh's 18-strong workforce is now spread across the UK from Scotland to Sussex, having pulled out of Paris following their success in France. Since the company's early days, its portfolio has grown and today includes its own brands, Fuel and Bloom's popcorn, together with several third-party offerings such as Eat Natural, Nairns Oatcakes, Lizi's Granola and Burts Chips. Mauleverer predicts turnover will grow from £6.2m [end of 2014] to £10.5m by the end of this year, with exports accounting for 60% of the business.
Mauleverer predominantly attributes Fresh Marketing's success to the company always working closely with retailers in terms of NPD alongside "a good eye for identifying and acting on opportunities in a quick manner." The granola range from Fuel, which was developed in just six weeks after a Tesco buyer told Fresh Marketing of growing consumer interest in the sector, is a clear example of this, he says.
It has, however, not all been plain sailing for the self-funded business, which admits to "getting it wrong" on more than one occasion, but Mauleverer says it has learned from its mistakes.
Launched in 2010, the company's first own brand - Diva popcorn - was ahead of the popcorn trend, but the initial branding was "all wrong," says Mauleverer. "By the time we had rebranded and relaunched, it was too late for the UK retail market, which had already taken off," he says, adding the brand, which was re-named Bloom's, is however "thriving" in UK foodservice as well as abroad - it is currently exported to 12 countries.
Fresh Marketing was also "ahead all others" when it launched its coconut water, Let's Go, in summer 2011, but with both "taste and packaging issues" it just didn't work, says Mauleverer. "Our problem was that while we saw the trends coming, we didn't have the team in place to deliver effectively - which is now what we have invested so much time in getting right."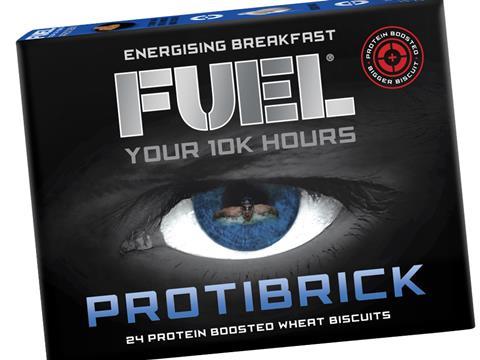 Introducing… Protibrick
Protibrick - the latest protein-enriched innovation from Fuel - is positioned as a breakfast cereal that's low in sugar and fat, and high in fibre. It's targeted at males aged 17 to 35, who often skip breakfast. The newcomer, which is rolling into 520 Asda stores next week followed by 240 Tesco stores next month, comes in the brand's signature striking dark packaging and features a 'No Cutting Corners' strapline. Each pack contains 24 square wheat biscuits (rsp: £2.69). Pitched as the first protein-boosted wheat biscuit, Protibrick will be merchandised next to Weetabix - the first time the giant has been challenged by a rival brand, says Fresh Marketing. The company hopes the NPD will unlock an untapped growth opportunity in the breakfast aisle for protein-enriched products.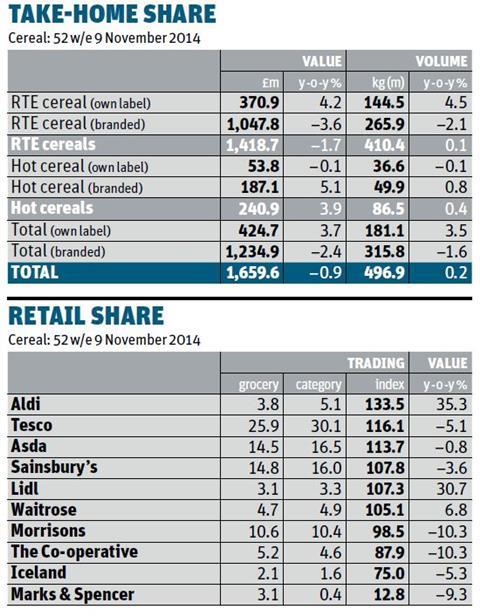 The £1.7bn cereal category is in 0.9% decline, behind total grocery's annual growwt rate of 1.096. Even in the latest 12 weeks, total cereal declined by 4.8%, behind total grocery's decline of 0.296.
Both at a 52 and at a 12-week level, the decline in cereal value sales has been the result of price deflation as volume growth is relitively flat. In September 2014, the cereal category experienced its first period of price deflation in over five years.
This price deflation comes as the big four battle Alid and Lidl as shoppers continue to switch to the discounters. As a result, the big four have lowered the prices of branded cereal, specifically RTE cereal, and it is therefore branded RTE cereal that is driving price deflation, coupled with shoppers buying cheaper alternatives in the discounters.
Zainab Khan, Kantar Worldpanel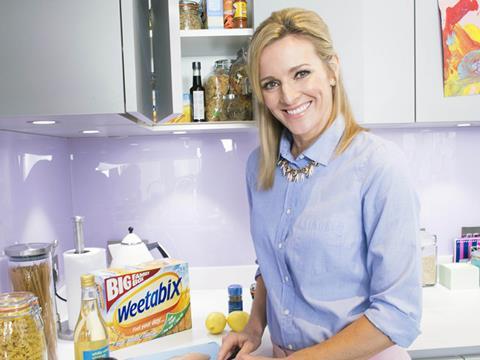 Heavyweights muscle in on gluten-free cereal sector
Kellogg's entrance into gluten-free cereal this month heralds new momentum for the category. The company says "the gluten-free cereal market is currently worth £15m and there is huge growth potential for breakfast products."

Its Gluten Free Organic Puffed Corn Cereal follows hot on the heels of Cereal Partners' August introduction of Gluten Free Corn Flakes. CP has trumpeted its launch as "the UK's first gluten-free cereal to be stocked in the mainstream cereal aisle."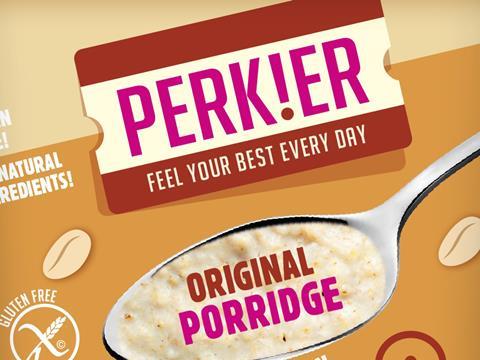 According to Kellogg's, although only 1% of the population needs to avoid gluten after being diagnosed as coeliac, 9% of the UK population buy gluten-free products. MySupermarket.co.uk puts it higher, saying the number of shoppers buying gluten-free products rose 1.5 points to 12.4% in the year to November 2014.
Kellogg's says 4% of the population buy the products because they or a family member have an intolerance, and a further 5% avoid gluten "as part of a healthy lifestyle." Understandably, this has rattled brands with wheat as a key ingredient.

Weetabix has enlisted Gabby Logan for a campaign aimed at consumers who have cut their intake of wheat, believing it is unhealthy. A poll of 2,000 adults commissioned by the brand found 6.5% were buying fewer wheat-containing products. The Whole Wheat Family Fibre Challenge claims whole wheat is a good source of fibre.

Other manufacturers are also leaping into gluten free. Mornflake will be introducing three gluten-free lines certified by the Coeliac Association - Jumbo Oats, Pinhead Oatmeal and Porridge Oats.

Perkier is adding to its gluten-free porridge pot range with a new product with added whey protein, providing more than 20% protein per pot. Perkins claims it will be the only "gluten-free, high protein" porridge pot available on the UK market.
Gluten Free Organic Puffed Corn Cereal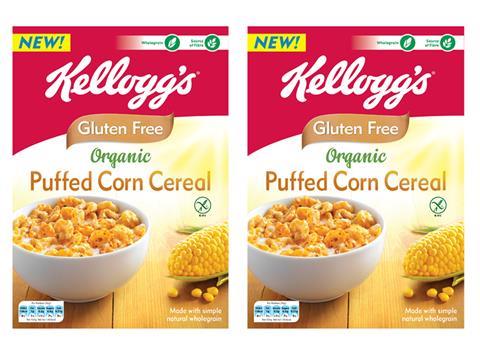 Launching: January 2015 
Supplier: Kellogg's
Kellogg's will be targeting frequent shoppers of gluten-free foods with this cereal - a crispy whole puffed corn cereal with a touch of natural sweetness. Explaining the decision to site it in the free-from aisle, the company says: "More and more shoppers want to make healthy choices, but most gluten-free products are manufactured by unfamiliar brands they're not sure they can trust. Consumers want established, iconic brands they know and love such as Kellogg's in the free-from aisle." Rsp: £2.79 for 300g.
Jordans Lighter Granola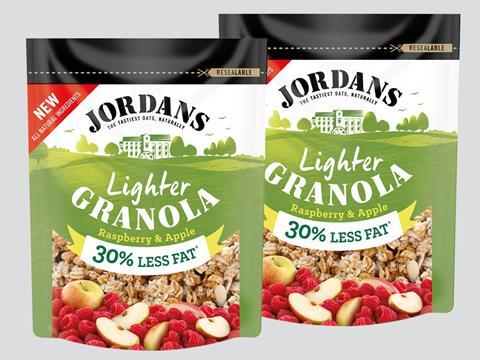 Launching: January 2015
Supplier: Jordans
Incorporating barley has enabled Jordans to deliver a granola with 30% less fat than standard varieties. It has no added salt and is claimed to help reduce cholesterol levels. Available in raspberry & apple and strawberry & blueberry, it joins Jordans Simply Granola, launched in September as an entry-level granola. Rsp: £3.69.
Mornflake cereal range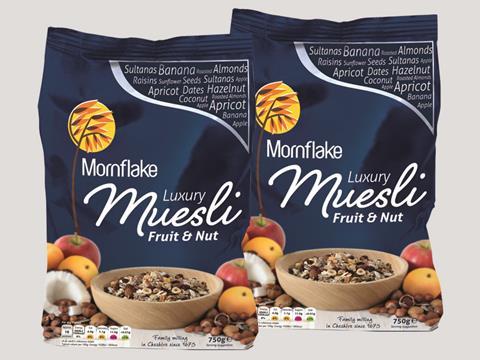 Launching: From January 2015
Supplier: Mornflake
Mornflake is launching a 10-strong range for Asda and discounters at "highly competitive" prices. Prices start at £1.29 for 500g packs of Strawberry Crisp, Triple Chocolate Crisp, and Maple & Pecan Crisp. 750g packs include three mueslis (£1.89), Bran Flakes (£1.49), and Fruit and Fibre (£1.79). Two variants of granola in 1kg packs retail at £1.89.
Coco Pops Porridge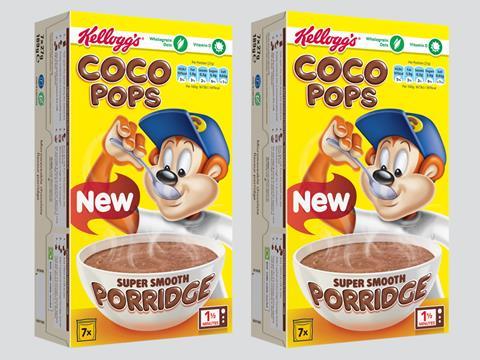 Launching: January 2015
Supplier: Kellogg's
Kids don't like porridge much, according to research by Kellogg's. The company says this launch will change all that, citing its finding that Coco Pops is the most regularly requested cereal by kids and adding there's huge growth potential for hot kids cereals. The porridge comes in packs of seven sachets (rsp: £1.99).