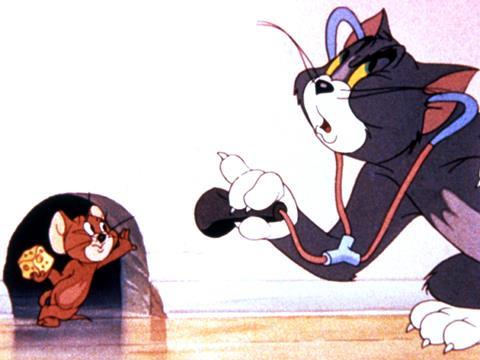 Forget new flavours or fresh formats, big ad campaigns or fancy marketing - where cheese is concerned, price is currently king. Retailers have bested brand owners by investing margin in keeping own-label prices well below the watershed £7/kg mark, at which point the price of cheese becomes too unpalatable for many consumers to swallow.
"When branded goes over the £7/kg mark there is a significant drop-off in terms of volume"
Nowhere is this more apparent than in Cheddar, where brands saw value sales slump by 6.9% [Kantar 52 w/e 14 September 2014] while own-label growth soared by 10.3% as retailers kept average prices per kg down to just £6.20 compared with £7.50 for branded Cheddars - a whopping £1.30 differential. Last year's average price for branded Cheddar was £6.90/kg, compared with £6.10/kg for own label.
Evidence, says Nigel White, secretary of the British Cheese Board, that as retailers have invested aggressively in price points, brands have pushed through price increases and reined in promotions. "Some of the price differentials appearing now between brands and own label are quite significant, whereas in recent years the differentials haven't been that big," he says. "Some brands have taken their foot off the promotional ladder."
"The quality is really good. We benchmark it and Lidl does a good job on the quality side"

Of the 10 biggest cheese brands, Cheddar players such as Pilgrims Choice, Wyke Farms and Seriously Strong have felt the own-label assault especially keenly [IRI 52 w/e 13 September 2014]. "You can very clearly see the switch of volume from our branded products into own label," says Mike Harper, director of brands at Pilgrims Choice owner Adams Foods, which is also a major own-label supplier. "One of the key things that has driven that is the price. When you look over the last couple of years it's very clear that when branded goes over that £7/kg mark there is a significant drop-off in terms of volume."
Wyke Farms MD Rich Clothier believes the mainstream supermarkets are responding to the threat posed by the discounters by sacrificing margin to hit competitive price points. "I think the multiples have definitely invested in price points," he says. "They're all seeing the effects of the discounters and it's all about footfall and getting people into stores. I also think they realise they need clear and understandable price points."
Of the retailers, Waitrose, Aldi and Lidl delivered the strongest growth while of the big four, Asda led the way with a 4% hike in cheese sales (though Asda and Aldi continue to undertrade in cheese). And the fact that only The Co-op among the nine leading retailers saw value sales of cheese decline shows that, despite the obsession with price, the category remains in reasonable health.
This year the cheese market has grown in value by 3.3% and is now worth £2.8bn. This is an improvement from last year and the category is outstripping the 1.5% growth of the wider market.
The market is dominated by own label. Continental cheese has seen both the strongest value and volume growth this year.
Cheddar is the largest section of the market, accounting for 54.5% of volume sold. Branded is in double-digit volume decline and losing market share. On average, branded Cheddar is £1.30/kg more expensive, and 79% of its volume is purchased on deal. Despite this, own label is still a cheaper option, on average costing the buyer 17% less than branded.
Both Asda and Aldi are undertrading on cheese, providing the two most significant opportunities for the category.
Polly Barr, Kantar Worldpanel
Waitrose says it has been boosted by strong sales of high-end premium cheeses such as French artisan cheese Époisses, sales of which are up 14% compared with 2013. Sales of Goats Milk Gouda are up 34% with Kirkham's Lancashire unpasteurised cheese also up by a quarter. Waitrose also reports an uplift in sales of French cheese thanks to this year's Tour de France starting in Britain. In the week the Tour departed from Leeds, sales of French Emmental increased by 64% compared with the same period in 2013.
Efforts have also been made to remerchandise the fixture. Tesco overhauled its entire merchandising strategy for block cheese in April, which means blocks are now sold at key single price points instead of being grouped by flavour profile. All Tesco's small and medium standard own-label block cheese is now sold in packs priced at £1.50 and £2.50, with packs weight-engineered to meet the new price points. Meanwhile, large blocks, weighing 400g and 450g, are sold under a newly expanded two-for-£5 deal.
Discounter growth
The discounters' growth (see left) reflects their broader growth in grocery rather than anything specific to the category. "The quality is really good," says Clothier at Wyke, which supplies Lidl with own-label and branded Cheddar. "We benchmark it and they do a good job on the quality side. You don't get anything like the choice you would in a Waitrose; you get a fairly compact range of really good products at everyday prices."
Lidl has received some significant accolades for its cheeses of late, the retailer points out. Its Valley Spire Farmhouse Cheddar won the Marks & Spencer trophy for mature Cheddar and was given the Retailer Class Gold award at the International Cheese Awards recently. Lidl also picked up three golds at the GOLAs this year for its cheeses.
Although arguably best known for Continental cheese, Lidl has also increased its British lines by working with small, family-run suppliers in the West Country. "Our cheese category has seen a very high sales increase," says a spokeswoman. "Our Cheddar performance, in particular, is ahead of the market with the emphasis on new formats and flavours."
"We're providing the highest-quality products, but at a third of the price"
Aldi, meanwhile, says it has focused on providing more choice and now offers everything from traditional West Country Vintage Cheddar to Specially Selected Parmigiano Reggiano. "We're building a reputation for providing the highest-quality products, equivalent or better to the premium supermarkets,' but at a third of the price," says Tony Baines, joint MD of corporate buying at Aldi.
Baines cites Aldi's Extra Mature White Cheddar and British Mature White Cheddar as Aldi's best-selling cheese along with its Mozzarella and Feta. "The diversity of our best-selling items proves our customers trust us to provide not only the finest quality in British cheeses, but also to offer a great quality Continental range too," he adds.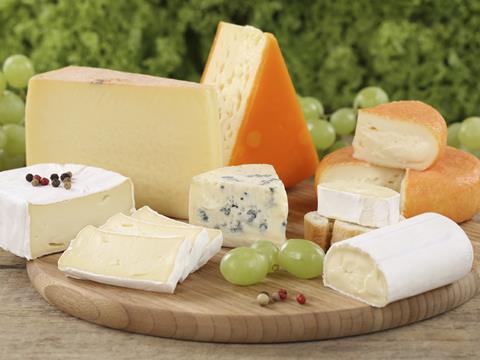 Price perceptions
Dairy consultant Hamish Renton believes the emergence of the discounters is changing perceptions of how cheese should be priced. "As people become more aware of discounters' prices it becomes evident how high the prices are for branded products in the supermarkets, therefore the cheaper own-label products are becoming more popular."
Historically, brands have competed with own label by offering regular volume-led promotions, particularly on Cheddar. This was effective at driving volumes when the trend was for shoppers to do infrequent big shops at one particular store and take advantage of volume-led deals. But the shift towards more frequent top-up shopping and the growth of online has changed the dynamic of the market, making volume-led bogof or x for y deals less appealing. "The growth of online shopping has changed the effectiveness of that mechanic because it allows people to dip in and out and switch stores," says Clothier. This is reflected in an ongoing shift towards money-off rather than volume-driving deals.
Promotions, however, continue to play a key role in cheese, particularly at a time when budgets are stretched. "A large proportion of consumers are deal shoppers, shopping purely on price," says Elaine McCague, marketing manager for Cathedral City, the category's leading promoter in the past year.
Although promotions are still fundamental to the cheese category, driving loyalty is also important, adds McCague. But for many brands, encouraging consumers to trade up has proved challenging.
"Brands should be doing above the line to drive penetration and NPD to drive new usage occasions," says Harper. "Because it has been so competitive the main Cheddar brands have spent less on TV than they have previously."
Driving growth in Cheddar
Two brands that have persuaded shoppers to trade up from own label are Cathedral City and Anchor Cheddar. The former continues to go from strength to strength and is now responsible for almost half the total value of branded Cheddar in the UK. NPD and a mix of consumer communication has led to the brand's increased following, according to McCague.
Having shaken up the kids snacking, adult snacking and lighter cheese segments in recent years with the launch of Chedds, Cathedral City Selections and Cathedral City Mature Lighter, in February this year Dairy Crest set out to rejuvenate spreadable cheese with the launch of Cathedral City Spreadable.
"Because it has been so competitive, the main Cheddar brands have spent less on TV"
Identifying demand for larger pack sizes, Cathedral City has also been extending its use of 550g packs following a successful rollout of 550g Mature Cheddar packs in March. Mild Cheddar went on sale in Asda in October priced at £6.49, while 550g packs of Mature Lighter rolled out to Asda and Morrisons priced at £7.29. The brand has introduced new easy-tear packaging across its range.
Arla Foods, meanwhile, says Anchor Cheddar continues to grow since being relaunched in April last year. "This has been driven by an increase in listings and growth in penetration, which continues in contrast to the decline seen for the rest of the Cheddar market," says Matt Walker, senior category cheese director at Arla.
Arla is also focusing on growing its own-label business amid much chopping and changing of retailer contracts. Having secured a major own-label Cheddar contract win with Asda in October last year, taking over from First Milk, in April Arla lost a contract to supply Cheddar for M&S's Simply range to Dairy Crest, which produces Cheddar for M&S's Cove and Cruncher own-label ranges. Meanwhile, in March, First Milk lost its own-label Cheddar contract with Morrisons, with Lactalis McLelland picking up the business.
"When your core range is in a very competitive place there's probably more of a focus on price"
Elsewhere, more niche brands are trying to differentiate themselves from own label by offering something completely different. Peter Andrew, CEO of Godminster, says his brand sets itself apart by offering a range that has no equivalent own-label product. "A waxed, vintage organic Cheddar, handmade and hand-wrapped Brie and a punchy Classic Cheddar made using a 70-year-old recipe can't be replicated on a mass scale and therefore can't be compared on price," he says.
Cooking with cheese
Aside from Cathedral City's move into spreadable, Cheddar NPD has been relatively thin on the ground. An exception are Pilgrims Choice Crumbles, launched in April - a three-strong range of grated Cheddar designed to offer better meltability. With an rsp of £2.79 for 200g, Crumbles commands a per-kilo premium of more than £5 over standard grated and Harper admits Adams' focus in the short-term is likely to be on sharpening the price of its standard Cheddar rather than investing in and supporting major new NPD. "Crumbles should do everything we require in terms of driving new usage occasions, getting people to cook with cheese," he says. "But at a time when your core product range is in a very competitive place there's probably more of a focus on rebalancing the price equation."
Adams Foods will, however, proceed with the relaunch of the Lake District Cheese Co brand, for which it has assumed marketing responsibility from First Milk. Harper says a lot of work is going into the positioning of Lake District within the category.
Another notable innovation came from Wyke Farms, whose Smoked Cheddar launched in August. Clothier says the product plays to the trend of people using cheese in cooking. Cooking with cheese has been a major trend lately, and as such has been a key focus of NPD. Philadelphia launched a range of Simply Stir cooking sauces in March last year targeted at ABC1 females. Brand owner Mondelez says the range is already worth £6.4m. Meanwhile, Kerry Foods says its Cheestrings spread, launched in August, is ideal for mixing with hot dishes.
"Speciality cheeses add great theatre to in-store ranges and stores have allocated more space"
First Milk is also hoping to tap the trend with the launch of a three-strong range of low-fat quark-based cooking sauces under the Lake District Dairy Co brand. The sauces come in tikka, garlic & herb and tomato & basil variants and are targeted at health and convenience-conscious consumers.
Away from cooking, another area many brands believe has untapped potential is snacking. With the introduction of free school meals for schoolchildren under seven in September this year, suppliers of kids snacking products face seeing one of their key usage occasions severely limited (see box, p46). In this context, the need to tap adult snacking occasions is becoming even more important. 'Positive Snacking' was one of five potential growth opportunities identified by Dairy Crest during a recent category management project undertaken with Kantar Retail.
Indeed, Dairy Crest recently extended its Cathedral City Selections snacking range with a British Cheese Variety pack of territorial cheeses in a bid to exploit the snacking potential of varieties such as Red Leicester and Double Gloucester.
Adams Foods has launched a Pick N Mix range of flavoured cheeses into Tesco - 80g sticks of six flavours from which shoppers can mix 3 for £3 or buy one for £1.30. Kerry Foods, meanwhile, has an ongoing initiative with its LowLow brand to try to stimulate 'plus one' shopping by encouraging consumers with PoS material to buy a cheese snack when they buy block cheese. It also launched LowLow snack packs in September 2013.
UK consumers may have been slow to embrace out-of-home cheese snacking, but they are increasingly willing to experiment with Continental cheeses, which were the star performers in the cheese category during the past year with growth of 10.6%.
Eurilait MD Howard Newmarch believes there are several reasons behind the growing demand for speciality cheeses, most notably wider choice, strong marketing and greater exposure on TV. "Speciality cheeses add great theatre to cheese ranges in store and stores have allocated more space," he says. "Marketing is better than ever and packaging is more informative and welcoming. Consumers are more enthusiastic about different tastes and confident to try."
"Some increases need to be seen in the context of pretty stagnant sales during the recession"
The growing popularity of cooking programmes, which use cheese extensively as an ingredient, have also made speciality cheeses more everyday and less of a risk purchase, according to Newmarch. "Cheeses are being used in the home in a wider variety of ways - more informal eating lends itself to eating cheese in different ways." Newmarch cites goats cheese, Manchego and Iberico as among Eurilait's best-selling lines and adds cooking cheeses such as baking Camembert, halloumi and paneer are becoming increasingly popular.
Continental growth
Another trend playing to the advantage of Continental cheeses is the growing diversity of the UK population. The approximately 250,000 French expats living in London have provided a strong consumer base for Reblochon - a semi-hard cow's milk cheese popularly used in tartiflette. "Reblochon is well established in London. Every high-level supermarket like Tesco and Sainsbury's, Whole Foods Market or independent cheese shops stocks it," says a Union des Producteurs de Reblochon Fermier spokeswoman.
"PGI status ensures clear differentiation in the marketplace from other Wensleydale cheeses"
More established brands are also benefiting. Arla says its Castello brand, which encompasses blue, hard and soft cheese and extra-mature Cheddar, continues to grow. "As more consumers explore new tastes within the cheese category and increase their cheese repertoire, we will be tapping into this for Castello in 2015 and beyond," says Walker.
For all that consumers are widening their repertoire of cheeses, the British Cheese Board's White sounds a note of caution about the recent growth in Continentals. "Some of the increases you're seeing need to be viewed in the context of pretty stagnant sales during the recession, when we saw imported cheeses in particular suffering because of the way sterling went during that period."
The relative affordability of Continental cheeses has undoubtedly played a role in the poor performance of UK territorial cheeses, for which sales sank 2.9% in the past year. But experts are agreed the most significant factor in their ongoing struggle is the ubiquity of Cheddar, which to many consumers is a substitute rather than complementary product for territorial cheeses. "Cheddar will do almost everything the regional cheeses will do with the exception perhaps of Lancashire, which has a very clear position, as does Wensleydale," says White. "The crumbly Lancashires and young Cheshires seem to be struggling, even to some extent the Wensleydales, but they've been buoyed by their development of blended products."
White points out demand for crumbly cheese in general has been declining for years as people have been switching to Cheddar, attracted by its versatility, not to mention promotional activity. He says the products that have done well are the extra-mature versions of cheeses such as Red Leicester and Double Gloucester, which have mimicked key trends in the Cheddar market. "Things like Red Fox and Shropshire Red made by Belton Farm and some of the aged farmhouse Double Gloucesters and Red Leicesters from people like Butlers have been performing quite well because they are delivering flavour."
Achieving protected EU status can give another boost to territorials, according to David Hartley, MD at Wensleydale Creamery. "It ensures clear differentiation in the marketplace from other Wensleydale cheeses that are made in other counties," he says.
Among The Wensleydale Creamery's latest innovations is the launch of the UK's first crumbly cheese slice and a new range of blended cheese taster packs suitable for snacking with flavours including Yorkshire Wensleydale with Apricot & Peach and Cheddar with Caramelised Onions.
Flavour combination is also a key trend in the soft white sub-category, which has grown 5.2% in the past year. Philadelphia, which shook up the soft cheese market in 2012 by launching Philadelphia with Cadbury, recently debuted a new concept it claims will unlock the 'indulgence need state' for soft white cheeses. Philadelphia Duo Cremoso are soft white cheeses containing flavoured fillings at their core and are available in Garlic and Fine Herbs, Vine Ripened Tomatoes and Cracked Peppercorn flavours. "With a significant above-the-line and in-store support, Duo Cremoso will drive incremental growth through a new consumption occasion - evening snack and dinner table," says Christophe Jauffret, marketing manager cheese & grocery UK and Ireland at Mondelez International.
Mondelez invested £2.5m supporting the launch of Duo Cremoso, signalling its faith in the product. And with own label in the ascendancy, more such disruptive NPD will be needed in 2015 if brands are to fight their way back into the game.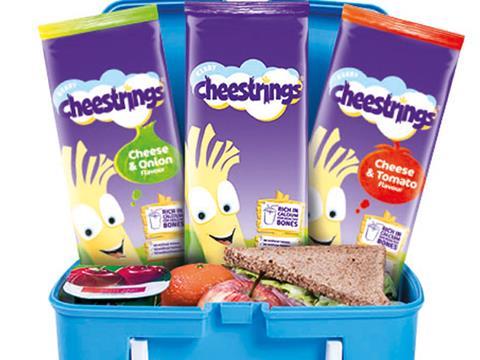 Snacks face crunch as kids ditch lunchboxes
The kids snacking market hasn't been in great shape of late. The sector's biggest brands have been struggling to grow as their share of kids' lunchboxes continues to fall.
Now a new government policy is heaping more misery on kids cheese snack brands. From September 2014, all pupils in reception, year 1 and year 2 state-funded schools in England must be offered a free school meal. The likely effect is that a key consumption occasion for cheese snacks will be severely diminished for kids between the ages of four and seven.
According to analysis by Mintel, the impact of the free school meals deal could be huge: 42% of parents of 0 to 5-year-olds who buy cheese use it in their kids' packed lunch. So snacking brands that rely on the kids lunchbox market are particularly vulnerable.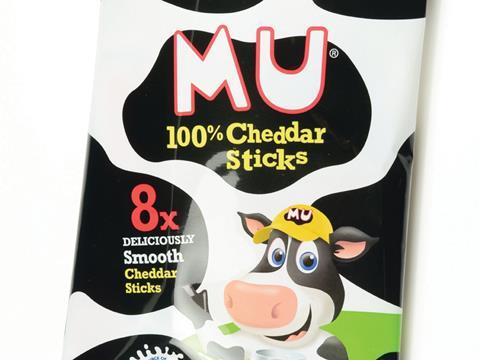 "I think it will have a significant impact," says Mike Harper, head of brands at Adams Foods, whose Mu brand includes Mu Sticks. "The main occasion for kids snacking cheese at the moment is in kids' lunchboxes."
The challenge for brands is to create new snacking opportunities. Kerry Foods believes consumers are becoming more open to exploring new usage occasions, with an increasing number using cheese as a multi-snacking opportunity throughout the day. Richard Tyler, customer marketing controller at Kerry Foods, says "our research shows there is a great opportunity to take this growing category to another level."
Brands also need to counter negative health associations with their products. Kerry Foods has focused on communicating the health benefits of its products, and its Brave Bones Club encourages kids to get active while emphasising Cheestrings as a good source of calcium. "This supports a lasting, meaningful connection with mums and kids," says Kerry's dairy marketing controller, Lee Willett.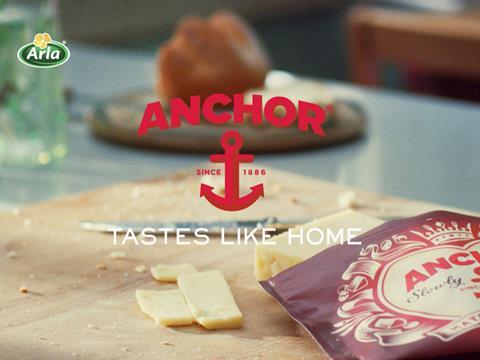 Ads fall as brands pull purse strings
Cheese ad spend has fallen by almost 15% over the past year as some of big hitters tightened their purse strings.

A notable exception was Arla, which continued to back the relaunch of Anchor Cheddar with TV and radio activity. "Brands need to play a role in reconnecting consumer emotion with shopper choice," says Matt Walker, senior category cheese director at Arla Foods.

Arguably the most ambitious campaign of the year came courtesy of Wyke Farms, which hired Gladiator director Ridley Scott's production company to create the latest campaign for its Cheddar. The ad focuses on Wyke's West Country provenance. "People increasingly want point of origin," says Wyke Farms MD Rich Clothier.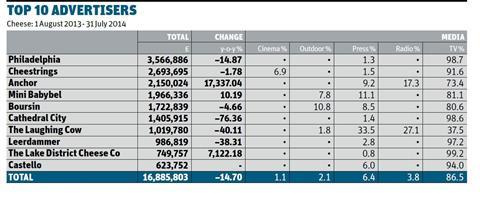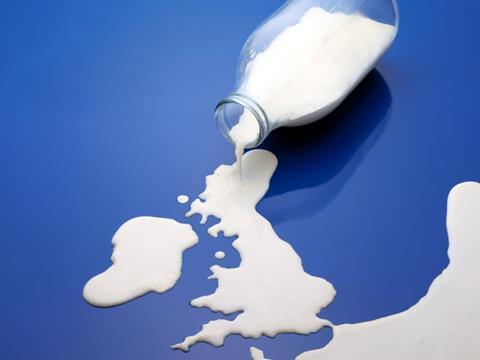 All change for cheese as EU milk pool deepens
The EU dairy industry faces one of the biggest shake-ups in its recent history next year with the removal of milk quotas. As part of changes to the Common Agricultural Policy, EU milk production quotas are to be abolished from 31 March 2015, leaving countries free to increase the quantity of milk they produce for the global market.
While the full impact on cheese producers remains to be seen, there are numerous possible opportunities and threats. A number of EU member states are likely to grow milk production without the impediment of quotas, increasing the supply of milk to the European market and potentially driving down prices.
Ireland, for example, is aiming for a 50% increase in milk production between 2015 and 2020, with much of the excess supply likely to go into producing commodity Cheddar for the UK market. "This would put pressure on British cheese producers," notes Mintel analyst Richard Ford. However, he also points out the removal of quotas "may mean Continental cheese becomes cheaper, which ought to benefit cheese importers and retailers."
Dairy consultant Hamish Renton is certain excess milk will find its way into Continental cheeses. "Cheese is a practical outlet for this increased milk pool in the EU, customers are eating more cheese and it's a profitable outlet for surplus milk fat." Renton believes internationally traded cheeses such as Cheddar, Gouda and mozzarella are likely to benefit most.
And what of UK producers? Adams Foods paints a best-case scenario where the industry produces significantly more dairy products in line with increased raw milk production. With demand for value-added products like cheese growing in developing markets such as China and the Middle East, UK producers could find themselves with lucrative new export opportunities.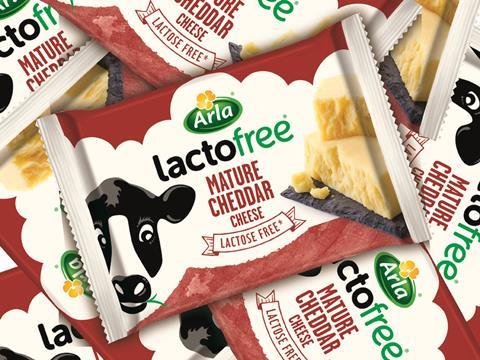 UK catching up with Europe on lactose free
This year may prove to be the year lactose-free cheese broke into the UK mainstream. In August, Mondelez International took the bold step of introducing a lactose-free variant to its Philadelphia brand following a successful launch in other European countries.
The launch was supported as part of the brand's £8m marketing spend for 2014, including a return to TV during August, and followed a packaging revamp for the complete Philadelphia range during the summer.
Experts believe the launch could prove a watershed moment for the UK 'free-from' cheese market, which to date has lacked the critical mass of consumers of the more established gluten-free market.
"The launch by a big, established brand is likely to give other operators the confidence to explore this still niche area of the market," says Mintel senior food and drink analyst Richard Ford.
Another big dairy player, Arla, already has a well- established presence in the market with its Lactofree brand, now worth £33m and continuing to grow at more than 20%, according to Matt Walker, senior category cheese director at Arla Foods.
The Lactofree range consists of three products - a soft white cheese, a mild cheese and a mature Cheddar, which was added to the range in 2013. Walker says the Cheddar, in particular, is responsible for a lion's share of the growth.
Walker believes there is great potential to grow this relatively new segment of the market. "Fifteen per cent of the UK population is estimated to be lactose intolerant and with current penetration tracking at 4.4% , there is plenty of room for growth."
Hamish Renton, dairy consultant with Hamish Renton Associates, agrees about the potential. "In Europe, lactose free represents a huge market but the UK is slightly behind countries such as Germany and Finland."
Applewood & Mexicana Baked Cheeses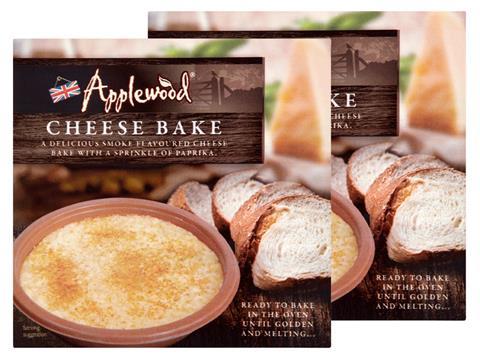 Launched: October 2014
Stockists: Initially Asda before wider rollout
Norseland has launched two new baked cheese products targeting the 'entertaining at home' occasion. Applewood and Mexicana Cheese Bakes (rsp: £2.50) are pitched as an indulgent treat for parties and special occasions, and are designed to accompany crusty bread or nachos. "Christmas is a popular time for consumers to expand their cheese repertoire and these products will benefit as a result," says Matt Levett, brand and category marketing manager for Norseland.
Boursin Aperitif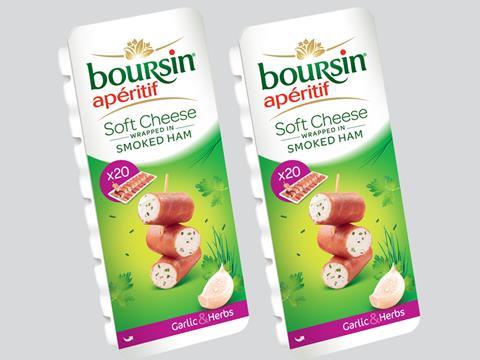 Launched: October 2014
Stockists: Asda and Tesco
Bel UK is tapping the growing trend for adult snacking with the launch of Boursin Aperitif, a 100g pack of the brand's individually portioned Garlic & Herbs cheese rolled in smoked ham (rsp: £3.99). The limited-edition product is being pitched as offering consumers something different this Christmas.
Yorkshire Wensleydale Crumbly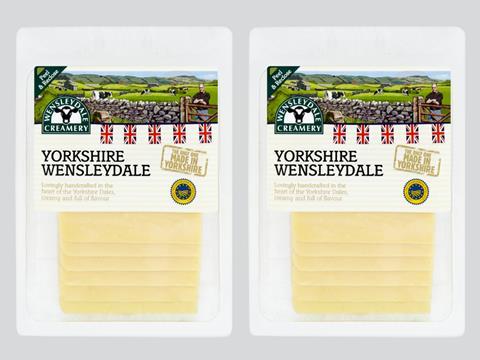 Launched: November 2014
Stockists: Asda
The Wensleydale Creamery has launched what it claims to be the UK's first crumbly cheese slice with its Yorkshire Wensleydale. The new addition to the range (rsp: £2) comes in 160g re-closeable packs of six. The packs display Wensleydale's new 'Only One Made in Yorkshire' and the European Protected Geographical Indication (PGI) logo.
Cathedral City Selections British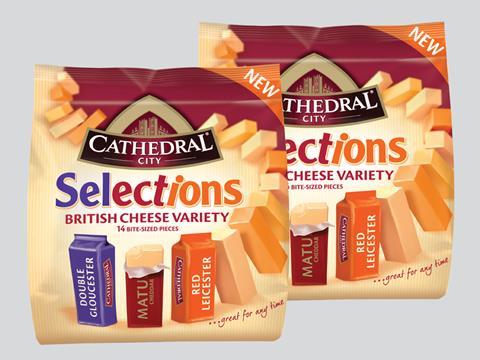 Launched: October 2014
Stockists: Asda and Morrisons
Dairy Crest has extended its Cathedral City brand beyond Cheddar with the launch of a Selections British Variety Pack, containing portions of Red Leicester and Double Gloucester as well as Mature Cheddar (rsp: £2.99). "These varieties have not yet been fully exploited as snack offerings," says Elaine McCague, CC marketing manager.