In the candy-coloured world of confectionery, prices are going up and promotions are going down. Not by much - average prices are up 2% year on year and the number of deals is down 1.2% [Kantar Worldpanel, 52 w/e 20 July 2014] - but it's enough to make sweet lovers search for value. As a result, an own-label army is on the march, stealing market share from brands, with branded sugar mints, sugar candy and Christmas novelties facing especially heavy fire.
Branded confectionery isn't exactly in retreat, realising value growth of 1.8% (next to a less welcome 0.5% decline in volumes), but own label is making rapid advances into branded territory, jumping up 4.9% on volumes up 3.2%, significantly outgrowing brands over the past year [Kantar].
Take a look back over the past few years and it's clear this is an own-label offensive that has been building for a while. Back in 2007/8, Mintel data showed that in chocolate, sugar and gum, only Marks & Spencer, Tesco, Walmart and The Co-operative Group were among the top 10 producers of NPD. Fast forward to 2013/14 and Morrisons, Lidl and Sainsbury's have joined them in the top 10.
"Own-label sales are growing ahead of the brands and we expect that trend to continue"
And own-label innovation rates have gone through the roof. Morrisons released two new products in 2007; in 2013 it released 40. Tesco went from 24 to 39, almost doubling the new products it released. Lidl went from a standing start, zero, to almost as many as Tesco, with 38. And Sainsbury's went from three to 34, more than 10 times as many. Waitrose, which appears on the list under its parent company, John Lewis, has also increased new products, jumping from four to 17.
"A major part of our consistent growth has latterly been developing an own-label offering with our mid-size and larger retail customers," says Philip Courtenay-Luck, owner of Bonds confectionery.
"Own label is relatively new to the business, but is now contributing significantly to the company's turnover and profit. retailers and manufacturers have been heavily investing in developing quality own-brand products as consumers increasingly migrate from brands to the better value, equal quality of own label."
The seasonal market performed well this Easter, benefiting from a longer lead time in store. A shorter season in 2015 will make it a challenge to lap this performance. Own label's growth has in part been driven by strong NPD by the major retailers.

Own-label shell eggs have experienced particularly strong growth over the past year, largely driven by Sainsbury's, which promoted its new By Sainsbury's range of shell eggs - rather than branded eggs - at the front of store in the run-up to Easter.

It will be interesting to see what form innovation will take in the coming year. Previous years have seen a wealth of NPD in both block chocolate and sharing bags, offering shoppers exciting new flavours and formats.

But continued government focus on sugar content may affect the category and could see suppliers focusing more on portion-controlled treats.
Carina Carter, Kantar Worldpanel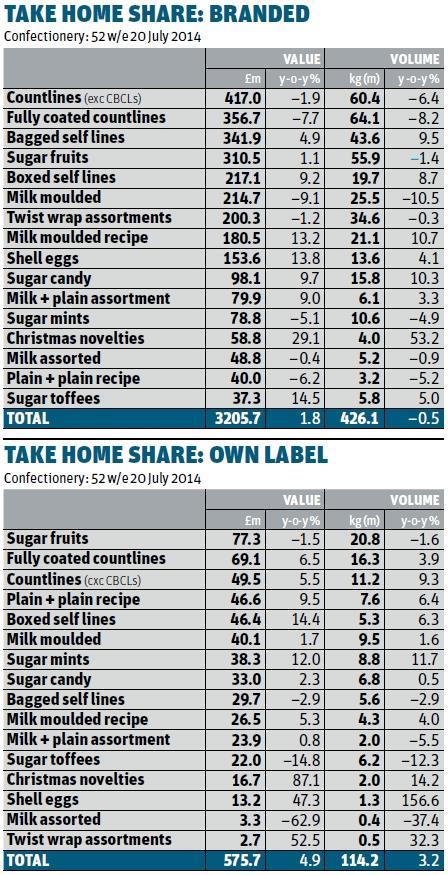 This increase in new products at a value price point means own label across multiple retailers is "faring extremely well," according to Waitrose confectionery buyer Chris Noel. "Sales are growing ahead of the brands, and we expect that trend to continue. We've allocated more space because own-label products are consistently among our top sellers and the additional space helps to ensure there is always stock available."
Noel says a major strength of offering an attractive own-label product that "customers love" is that they "keep coming back for them. They become products that offer them a real reason to come to Waitrose because they can't get them anywhere else."
"Own-label products offer our shoppers a real reason to come to Waitrose"
That makes them a loyalty driver, something M&S discovered when its own-label Percy Pig line erupted from a single product into a national obsession selling millions of packs a year (see box, p82). It's a trick Waitrose is trying to emulate with its Woodland Friends range of chocolate treats. Noel says the supermarket is "building on our seasonal success" with the range by launching four new products, and "we have some more exciting things to come."
Loved by Us
The Co-op could do with some excitement - its overall confectionery value sales are down 2.5% over the past 12 months [Kantar] - and it too is putting its faith in own label by relaunching its sweets range.
Confectionery buyer John Dickson is in a positive mood, saying the negative sales figures generate "recognition that our range required a refresh" and created an "opportunity to drive significant own-label penetration."
The Co-op is going for it in a big way. The new range features 41 own-label confectionery products relaunched under the Loved by Us brand, including adult sugar bags, seasonal and block chocolate bars.
"Our seasonal range will now be 50% own label," says Dickson, who adds the "small numbers of seasonal lines we have already put into stores, such as the Co-operative Hollow Chocolate Santa, Chocolate Medallions and Sugar Cups, have all been flying off the shelves."
Percy Pig: hot to trot as well as any brand
Percy Pig is a bona fide phenomenon, the own-label confectionery success story that shows everyone else how it's done.
Since 1992 - Percy turned 21 last year and celebratory packs are still on shelves - Percy Pig has gone from an single own-label product of unremarkable appearance to a range of 25 edible products, and merchandise including clothing, toys, duvet covers, cushions, birthday cake candles and books. It represents a classic example of how an own-label confectionery product can deliver sales as big as any exclusive brand.
It had more humble beginnings, however. It nearly didn't exist at all in its current form - originally it was going to be a black and white liquorice Panda (whether that Panda was set to be christened Percy is unknown.) When the Panda was dumped, Percy was initially going to be cherry flavoured as opposed to the mixed fruit flavour it ended up as. Creator Bill Davies (still with M&S, now a fruit buyer) says it took "almost a year to get him perfect," as Percy's texture was "completely unique to anything produced before." Still, the first batches were only produced in small amounts as he wasn't convinced they would prove popular.
He was wrong. Over 10 million bags are sold every year. Two pigs are chewed every second. And since 1992, Percy has been joined by Penny Pig; Percy Pig and Pals; Reversy Percy; Percy in the Pink Chocolates; Percy Piglets; Percy's Pig Sty; and Rosy Noses. Phizzy Pigtails were launched in 2010 and a spokeswoman says in the first week of sales we sold "over 53,000 bags, or over a million pigtails, making it the fastest selling sweet product to be introduced since Percy himself."
Away from the classic jelly sweet, M&S has also released Percy Pig Easter eggs, ice creams, juice drinks, cupcakes and biscuits. And Percy has also gone global - a spokeswoman adds that "Singapore and Hong Kong are the biggest fans."
This performance echoes the enormous overall 87.1% value hike across all own-label Christmas novelties and a 14.2% rise in volume sales over the past year. And considering it's only October, the early seasonal success is an encouraging sign of things to come for the Co-op. Seasonal treats aside, the main core of the Co-op own-label range will launch in October 2014.
Dickson says own-label NPD is a "priority within the category and we are really excited about the new products, where we have maintained pack weights and introduced lines like Foam mushrooms and Flying Saucers."
It is also catering for adults, increasing lines of own-label grown-up sweets bags by 43% and introducing pensioner favourites like sherbet lemons and chocolate limes alongside the kiddies' favourites.
Posh chocs
Average volumes of candy are down by 1.3% to 377g per shopper, but that hasn't hurt the category. Kantar Worldpanel analyst Carina Carter says the "amount of packs" that shoppers have bought has remained "constant over the latest year" and the small dip in grams is down to "pack weight reductions over the last few years to counteract the rising costs of cocoa."
"Increasing size to 150g for the same price offers a real opportunity to trade into own label"
Dickson says the Co-op is working to buck the "brand trend" to reduce pack size in order to maintain price points by doing the opposite with its cocoa-based bars, specifically to emphasise how much value the own-label section can offer sweet-toothed shoppers.
"By bucking this trend and increasing size from 100g to 150g for the same price point of £1 we are offering our customers a real opportunity to trade into own label," says Dickson, who adds The Co-op has protected its customers from higher cocoa prices by investing £100m into lowering the cost on many staple products, including chocolate bars.
He says there are also ethical reasons Co-op customers may want to swap to a Co-op product, as unlike "the majority of the market, our Fairtrade Blocks are made using 100% Fairtrade Cocoa, and The Co-op is the only retailer to have converted its entire own-brand block chocolate to Fairtrade."
Own-label confectionery retailers and producers aren't just focusing on value, however. Waitrose customers, naturally, expect premium chocolate products, even from own-label ranges. Noel points to luxury chocolate raisins and peanuts "with real Belgian chocolate. We are relaunching our Belgian boxed chocolates with new packaging and recipes, too."
"Selfridges wants new and innovative own-label products it can develop from scratch"
As for the serious chocoholics that need a step up from Waitrose, Selfridges is launching a new range of own-label products. Partly developed by Fudge Kitchen, which began working with the prestigious department store by selling its branded products on Selfridges' shelves before it started supplying it with own label, the new range reflects what MD Sian Holt says is an ever-increasing trend towards posher chocs.
"There has always been a top tier to own-label ranges across all product categories, but there is definitely a move towards people wanting to offer premium, artisan-style own-label products in confectionery," she says.
Selfridges is still releasing new on-trend products and Holt adds that "smaller producers like us can deliver innovative products for own label because we can be flexible in a way that a large producer with a large factory finds more difficult."
Sensational flavours
As for what else is coming up in the future for own-label confectionery, a spokeswoman for Tesco says "continued flavour trends in tea and coffee variants, and floral and herbal infusions are also growing in popularity. Salt and pepper variants are now the norm, as well as different varieties of chilli. nuts are also playing a huge revival, whether it be in nut butters or milks."
She adds that "quirky and unusual" flavour trends continue in block chocolate as part of Tesco's Finest range. Its boxed chocolates incorporate some "great on-trend flavours, from Jasmine Tea, Bergamot, Persian Lime to Cardamom & lemongrass."
And "dessert-inspired flavours" also continue to be on trend as "people are baking more and are experimenting with new flavours and dishes and just enjoying cooking. We are seeing more sensation flavours in the market and in our products such as sparkling, fizz, heat and cooling."
It's a lot of activity, a lot of new flavours, and a lot of new products. And with the UK's sweet lovers still coming under economic pressure, and finding the sugar hits - and the value - they crave in the own-label section, own-label confectionery players have every reason to believe there are a lot more sales still to come.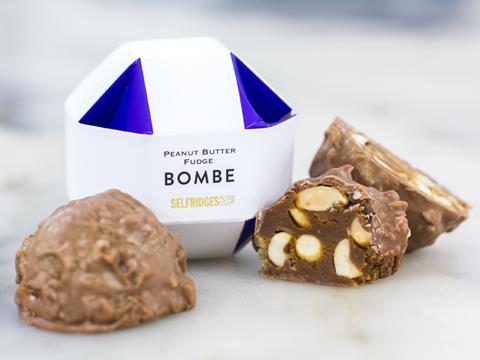 Selfridges Own-label Peanut Bombe
Launched: October 2014
Continuing the current trend for premium own-label offerings that compete directly with luxurious brands, at an rsp of £4.99 this individual chocolate deserves to be a serious treat for a chocoholic. Each 65g peanut bombe is made from a caramel-based fudge, packed with peanuts and peanut butter, covered in fine chocolate and decorated with gold. It is then wrapped in cellophane and packaged in an origami-style hexagonal box.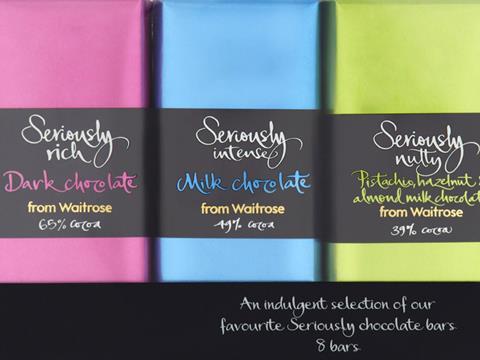 Waitrose Seriously Box Set
Launched: September 2014
Waitrose takes its chocolate as seriously as its customers, who loved its range of chocolate bars so much the retailer has launched a range of mini 30g bars of the four most popular flavours and this selection box featuring eight bars of milk and dark chocolate, as well as silky white and pistachio.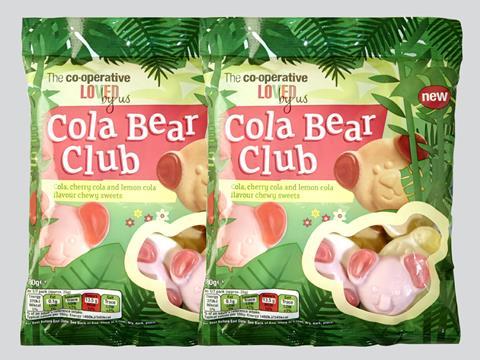 Co-op Cola Bears
Launched: October 2014
Part of its relaunched Loved by Us range, this sharing bag-sized pack contains three different shapes and cola-flavoured squidgy bears; Cola, Cherry Cola and Vanilla Cola. The rsp is £1.29 and promotional plans will see this line priced at a round pound and rolled out across all stores.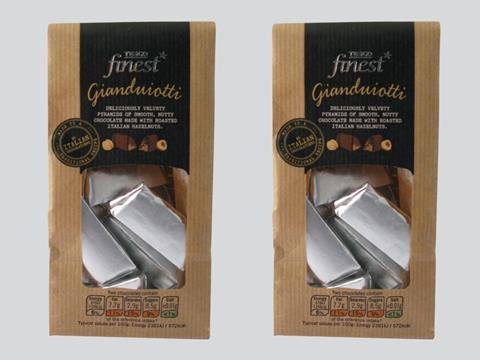 Tesco Finest Artisan Confectionery
Launched: July 2014
Tesco gave its Finest artisan confectionery range a fabulous makeover last summer. Flavours including Harrogate toffee and Cornish clotted cream were repackaged into flexible premium-style bags, complete with a window to show off the product, which a spokesman describes as "innovative."