Poor old Mr Potato Head may well look glum. Not only are Brits eating fewer spuds and farmers are struggling to make growing them pay following bumper harvests and cut-price supermarket deals; now Britain seems to be going off crisps.
Take-home sales of crisps have been overtaken by non-potato snacks such as savoury biscuits and tortillas for the first time [Kantar Worldpanel 52 w/e 1 February 2015]. Granted, deflation has played a role (crisps still outsell snacks in volume) but it seems we're approaching crunch point for the sector.
So why are crisps losing share to other savoury snacks? What kinds of snacks are enjoying the greatest growth and why? And what can brands do to rescue the humble potato crisp over the coming year?
"Aldi has seen an increase in snacks, supported in our innovative Specially Selected range"
The discounters have gone all in on the snacks market in recent years as they've continued to sweep up more share of grocery. Lidl now has the greatest share of the crisps, nuts & snacks market relative to its grocery share and has grown category value sales by nearly a quarter in the past year.
Only Aldi has turned in stronger growth, of 27.6%. Of course, the growth of Lidl and Aldi partly reflects their rate of store openings, but range extensions are also playing a part, with the former having widened the premium Deluxe range over the past year and the latter focusing on its Specially Selected line-up.
"Aldi continues to see a year-on-year increase in sales of crisps, snacks and nuts," says Tony Baines, joint MD of corporate buying. "This has been supported by innovative products such as our Specially Selected range of snacks, which include original flavours such as Aberdeen Angus Beef & Red Wine, chilled meat snacks, and our range of healthier options, including reduced-fat crisps."
The impact of the discounters' rise is well rehearsed: own label, which Aldi and Lidl rely on much more heavily than the major multiples, has surged 6.3% on volumes up 6.6% in total crisps, nuts & snacks, ahead of the market's overall 2.1% growth on volumes up 2.6% [Kantar]; prices in traditional grocers have fallen as they've tried to compete.
Particularly when it comes to multipacks, says Andy Riddle, branded sales director at KP Snacks. "Sales of multipacks have suffered from price deflation, driven by increased deals and depth of deal. We've also seen a 7.3% decline in base price, as retailers drop prices to compete with the discounters," he says, adding that recent activity by snack brands has also impacted crisps. "Store theatre and support may have detracted attention from potato crisp SKUs."
Savoury snacks
You don't have to look far for snack brands that are challenging potato crisps. Kellogg's, for example, has been pushing Pringles -viewed by some shoppers as potato crisps, maybe, but classed as snacks by the industry and the taxman because of their less than 50% potato content - in price-cut deals to tie in with seasonal and sporting events, and splashing out on ads to drive 9.2% growth to £197m on volumes up 12.4% [IRI 52 w/e 28 February 2015].
Now it's expanded the range with the launch of Pringles Tortilla, claiming innovation in shape, taste and convenience by using the "hyperbolic parabaloid" Pringles shape rather than the conventional tortilla triangle. "They're also a robust product, meaning there aren't the broken bits at the bottom of the bag you find with other tortilla chips," says commercial director Gareth Maguire.
"We have seen a 7.3% decline in base price as retailers compete with the discounters"
United Biscuits, meanwhile, began marketing most of its savoury biscuit lines under the Jacob's brand umbrella last April and subsequently ramped up ad spend. NPD such as Crispbreads, which has racked £7.9m in the past year following launch in early 2014, distribution gains in the impulse channel and promotions have helped drive the brand's 9.2% growth on volumes up 8.3% [IRI].
Mini Cheddars, which accounts for a third of the Jacob's range, has grown 3.9% in value; 5% in volume. A new recipe and ads claiming they're 'cheesier than ever' have helped, says United Biscuits MD Jon Eggleton, along with consumers' growing distrust of fried products on health grounds. "Our whole proposition is baked and not fried," he says. "There's a big opportunity to challenge fried crisps with the portfolio. Consumers are interested in that health proposition."
Indeed, right or wrong, many claim the whole health debate has played a central role in crisps' fall from favour. "The snacks industry has historically been cited as a key factor behind increasing levels of obesity and other health concerns," says Matt Smith, group marketing manager of Tayto, maker of Golden Wonder crisps. "The reality is that, as most people consume snack foods as an occasional treat, the contribution of snack foods to overall dietary intake of fat and salt is surprisingly low."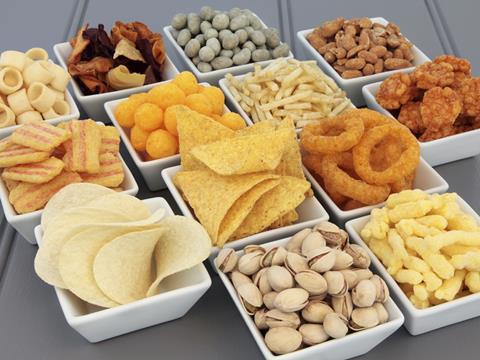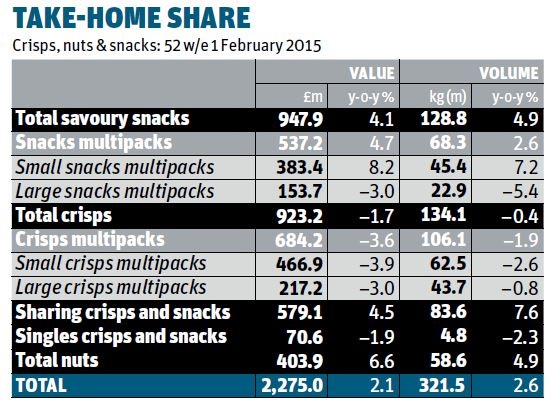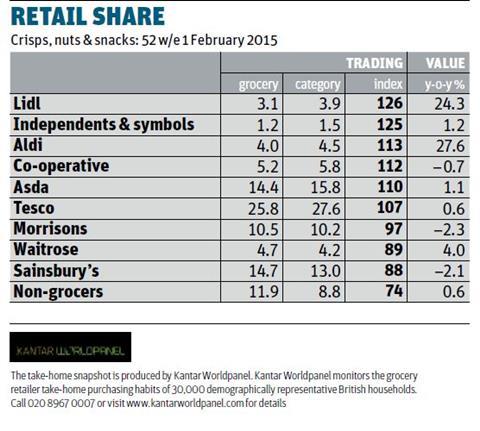 In the past year, the market has grown 2.1% to £2.3bn, driven by an increase in households buying into the category (97.9% vs 97.6% a year ago). Even though volume per trip fell, the frequency of shops grew, helping to drive overall growth.

The total crisps market declined 1.7%, while nuts and savoury sacks grew 6.6% and 4.1% respectively. Crisps' decline was driven primarily by multipacks. The volume decline was driven by shoppers replacing crisps with savoury snacks and nuts.

Savoury snacks performed very well and now account for 41.7% of the total market, outgrowing crisps, which are now worth 40.6% - a record low. The growth in snacks was driven by small multipacks of eight packs or less, which grew in spend (8.2%) and frequency (5.3%).

Part of this growth was down to price reductions, which encouraged shoppers into the category as they do not have to commit to buying large volumes. This is why frequency increased in small multipack snacks. Overall spend on deal increased by 2% over the past year.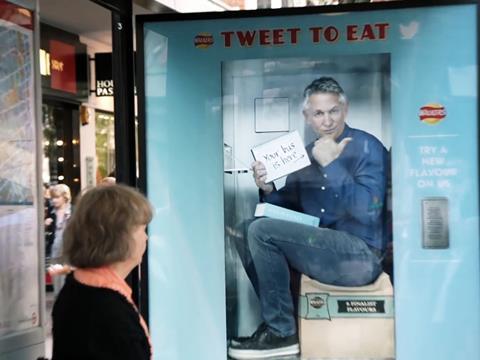 Crunch time: Walkers' loss hits £32m
IRI's read of the market, which doesn't cover Aldi or Lidl, paints a much bleaker picture than Kantar's, reflecting the tough time the major mults are going through at present.

Market leader Walkers has lost a whopping £32.2m in the past year, more than the rest of the market's combined losses, as shoppers have switched to snacks and the discounters.

Own label has suffered a combined loss of £5.1m in the traditional grocers, in contrast to the strong growth being driven by the discounters' own-label lines. This loss has been primarily driven by standard and value tiers.

Greatest growth came from Tyrrells, which has put an extra £9.7m through the tills in the past year.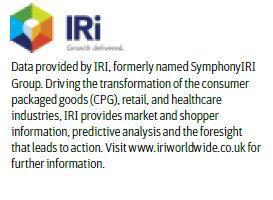 The health debate
Within crisps, there's been a move towards new ways of cooking - such as baking and 'air popping' - and an increase of crisps made from vegetables considered to be healthier than potatoes, notably sweet potatoes, which, unlike everyday spuds, count towards the government's '5 a day' guidelines.
Walkers has had considerable success with Walkers Pops - launched in February last year with 50% less fat than standard crisps - which was the biggest brand launch in the category in 2014 [Kantar Brand Footprint 2014], with sales value of £23.4m in the year to 28 February. "Health is definitely a growing trend within the bagged snacks category and the success of Walkers Pops is real evidence of this," says Adam Warner, senior marketing manager at Walkers. "Taste is not compromised as this remains a purchase driver among consumers."
"Younger people are avoiding the white potato. They've caught on to the sweet potato"
Kettle Chips launched a range of baked crisps last year and claims the new products helped drive 6.6% growth in the 'better for you' bagged snacks subsector to £157m [Nielsen 52 w/e 3 January]. It adds that 46% of UK households now buy healthier crisps and snacks.
Among the baked crisps in the Kettle portfolio is what it claims to be the first baked sweet potato crisp in the UK. Sweet potatoes have been dubbed a 'superfood': high in fibre, a source of potassium, vitamins (A and C) and antioxidants, and with a low glycaemic index, although detractors say much of the nutritional value is lost when they are cooked and processed into crisps.
The current 46% penetration looks set to rise given the mounting volume of veg crisp launches. Scott Farms is the biggest exporter of sweet potatoes to the UK and Europe from its 8,500 acre farm in North Carolina. It launched sweet potato crisps in June 2013 and supplies raw sweet potatoes to other brands and to own label.
Sweet potatoes
"It was difficult to start with because there wasn't an established sweet potato crisp market and we had to work very hard to make that market," says Stan Smith, international chief executive of Scott Farms, which is launching a variety pack containing orange, purple and white sweet potatoes to help it achieve its aim of selling branded variety bags in UK supermarkets, as it does in Holland and Germany. "But in just two years, it has become a category."
Also boarding the sweet potato bandwagon is Hectares, a Glasgow-based company created by former accountant Kevin Harvie, who developed a penchant for the vegetable. "Our criteria were that it had to taste good, with a health edge to product and branding," says Harvie. "There is a trend in younger people to avoid white potatoes and they have caught on to sweet potato. People are snacking on the go and are looking for healthier things."
"We're seeing a seismic shift in perceptions of snacking… meat snacks are perfectly positioned"
Of course sweet potatoes aren't the only veg brands are turning to. Corkers Crisps, which grows and processes all its potatoes on a Cambridgeshire farm, started making its own potato crisps five years ago and is now moving into vegetable crisps, where its USP, according to director Rod Garnham, is simple. "We're the only manufacturer to grow our own produce," he says. "We've invested £2m in a new factory and have installed an oil-reduction machine. It's all natural flavours and no MSG and we are moving towards gluten free."
Tyrrells, the first British crisp maker to produce vegetable crisps, is now moving into what it calls 'super premium' vegetable crisps. Its Swanky Veg range features such vegetables as golden beetroot, blue potato, and purple and orange sweet potatoes.
From vegetables to legumes. A year ago, Burts launched Lentil Waves, a lentil-based snack that is flash-fried using new equipment that means 40% less fat than standard hand-cooked crisps. Available in three flavours - sweet chilli, sour cream & chives, lightly salted - they now account for 7% of the company's sales. And the equipment bought to produce them opens up other possibilities for innovation. "One area we'll spend time on is more healthy products," says Knight. "The new flash-frying capability will enable us to look at other options."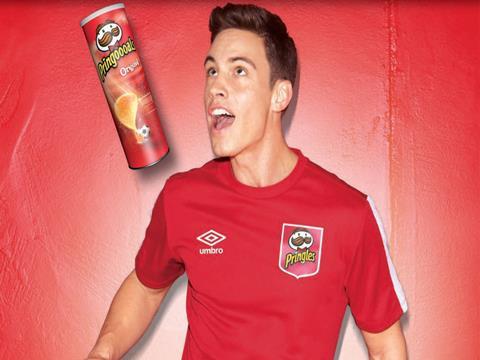 Talk about a game of two halves: as crisp sales crumble, snacks are stacking up growth of 3.4%, worth £38.4m at the tills, on volumes up 4.1%.

More than offsetting its decline in crisps, Walkers' non-potato line-up has grown an impressive £46m, with Sunbites having enjoyed the greatest growth for the brand, worth £8.5m.

But Pringles has been the top scorer, its £16.5m growth driven by promotions and ads around seasonal and sporting events. The brand's dip in price reflects cut-price deals during such occasions.

Of the brands, KP Snacks Hula Hoops has suffered the greatest decline, of £7.9m. The brand hopes its new, lighter Puft variant will turn things around.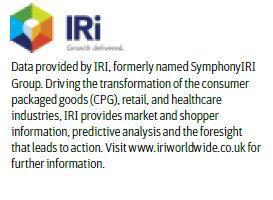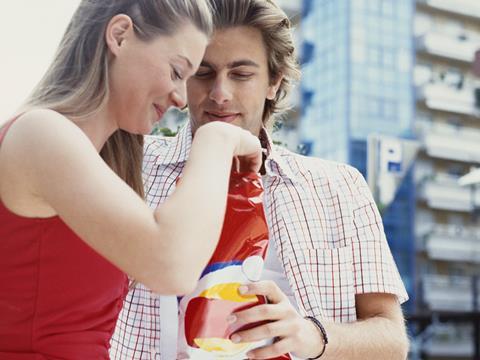 Why are big brands so caring about sharing?
Although Brits are buying fewer crisps and turning away from the multipack, we are buying more sharing packs as brands seek to benefit from trends such as the 'big night in' as well as traditional occasions such as picnics and parties.

Sharing formats of crisps and snacks (which Kantar Worldpanel defines as single packs of over 60g) have grown 7.6% in volume and 4.5% in value [Kantar 52 w/e 1 February 2015].

Sharing crisps are a relatively new phenomenon. "10 years ago it didn't really exist and the idea of crisps as an aperitif didn't really exist," says Jocelyn McNulty, marketing director of Tyrrells, which "helped to create that category and drive growth - sharing is our heartland."

For David Costello, head of customer category management at Burton's Biscuits, the "growth of in-home entertainment has encouraged sharing" and brands now target marketing to coincide with the start of TV shows such as The X Factor and Strictly Come Dancing.

Walkers is aiming at the sharing sector with two recent product launches: Doritos Roulette and MixUps: shareable bags containing a mix of different snacks, which Walkers says are "perfect for a family Saturday night in front of the TV".

MixUps comes in three formats - snacks, popcorn and crisps - and feature snacks such as Doritos, Monster Munch, Wotsits and French Fries as well as different flavours of crisps and popcorn.

Seabrook is taking a novel approach to sharing, with 40g bags of its Lattice Cut crisps in a 'peel and share' format targeted at the convenience channel, and which marketing director Kevin Butterworth says will offer "a point of differentiation".

Not that consumers necessarily choose to share such products on the sofa. A poll for The Grocer by Harris Interactive UK in January found that 22% of Brits regularly eat a sharing bag by themselves and in one sitting.
Popcorn
Popcorn could prove an attractive option, with sales through the supermarkets up 38.1% to £87.4m on volumes up 25.6% in the past year [IRI 52 w/e 6 December 2014]. "We pioneered sharing premium popcorn," says Tyrrell's marketing director Jocelyn McNulty. "For people who like sweet tastes, popcorn is a real alternative to opening a bag of chocolates: natural ingredients, minimally processed."
Tyrrells recently relaunched its popcorn as 'poshcorn', with a new recipe for its bestselling sweet & salty. Meanwhile, Propercorn, which started selling bagged popcorn snacks in October 2011, says it has tripled sales to £6m in the past year.
"Sunbites has been phenomenal. Growth is coming from new and loyal shoppers"
While some brands, such as Metcalfe's Skinny Popcorn, have played the health card to attract shoppers, Propercorn has used a different tactic, says co-founder Ryan Kohn. "We don't focus on healthy as the main selling point," says Kohn. "Popcorn ticks a lot of boxes. Ten years ago popcorn was something people would enjoy in the cinema. It's inherently a good, fun, tasty snack. We're bringing that into other occasions, with new flavours and a healthy format."
Yumsh Snacks recently extended its Ten Acre brand from crisps into popcorn, launching five flavours of premium popcorn, which it describes as 'free from plus': vegan, halal, kosher, and free from gluten, dairy and MSG. "As a nation, we are all becoming more health conscious, yet we still like to snack," says Yumsh Snacks CEO Tony Goodman. "As a result, consumers are switching to healthier alternatives such as popcorn or hand-cooked crisps. They're choosing premium brands."
Shoppers will also pay a premium for more unusual products that tick the health box, or so new brand Ape hopes. In June, the brand will be entering the market with its coconut curls, dried slowly to retain flavour and nutritional content. "Coconut foods have blossomed in the last three years with coconut water, coconut oil and coconut milk all showing substantial growth," says Zack Nathan, founder and CEO. "It's now time to offer a coconut snack that delivers the health benefits of coconut in a form that's easy to eat and flavoured with well-known tastes."
Meat snacks
Also benefiting from health trends such as the paleo diet and the move from carbohydrates towards protein are meat snacks. "We're seeing a seismic shift in consumers' perceptions of the snacking category, as education pushes the concept of protein as a more sustaining alternative to carbs," says Giles Lury, executive chairman of strategic brand consultants The Value Engineers. "With consumers becoming ever more open to 'exotic' snacking alternatives such as biltong, meat snacks have been perfectly positioned to take advantage of protein's surge in popularity."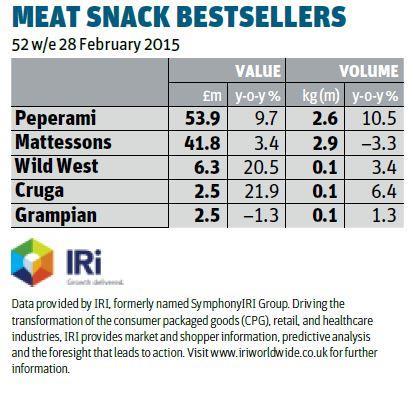 Kerry Foods agrees, citing research that shows 44% of people are interested in buying products that are naturally higher in protein. "There is great scope for further category growth by continuing to broaden the appeal of meat snacks to a wider audience and introducing new occasions," says Clare Bocking, sales director for convenience.
Tayto, which makes Mr Porky and Midland Snacks pork scratchings, says the growth in meat snacks is extending to the traditional pub snack. It has NPD under development, which it believes will encourage more consumers to buy the products by addressing the current barriers to sales. "Many are put off by either health concerns or the texture of current products on sale," says Smith.
Meat snacks, arguably, have also benefited from the more general trend away from processed products to those perceived as more 'natural', something that has also benefited nuts, which have enjoyed 6.6% growth on volumes up 4.9% in the past year [Kantar]. KP has consolidated its position as the biggest brand in this own label-dominated sector, up 3.3% on volumes up 3.6% [IRI].
Riddle says KP Nuts' stronger performance is based on its having a loyal customer base and on the development of new flavours and formats, including KP Big Bag Nuts, KP Nuts Caddies and KP Coated Nuts, as well as the use of price-marked packs in convenience stores. Walkers, meanwhile, has struggled, with its Tiger Nuts range losing 17.6% on volumes down 11.7%.
Innovation
The brand has had a lot more joy with its Sunbites range of snacks, which has surged a staggering 28.4% to £38.2m on volumes up 30.3% in the past year [IRI]. Innovation will be central to maintaining this growth, says Walkers marketing director Rachel Holms, pointing to the January launch of Sunbites crackers and pitta biscuits in packs containing a dip. "Since launching in 2007, Sunbites has been phenomenal," she says. "Growth is coming from new and loyal shoppers."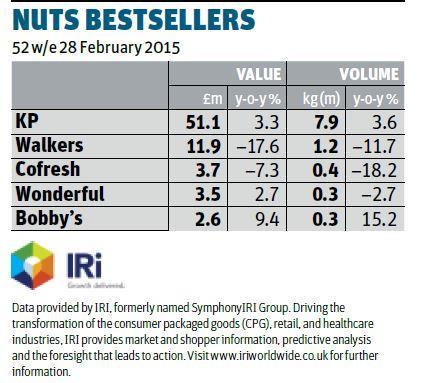 Health credentials alone aren't enough to guarantee success. Just look at Kellogg's Special K Cracker Crisps for proof: it's lost 34.6% of its value, bringing sales to £9.5m as volumes have sunk by a similar measure [Nielsen 52 w/e 3 January 2015], and it's been withdrawn from European markets.
Meanwhile, KP Snacks is hoping a combination of health cues and long established brand equity will help revive the 40-year-old Hula Hoops brand - value sales are down 8.4% on volumes down 15.9% [IRI] - and has launched Hula Hoops Puft, a lighter version, free from flavourings and additives.
Health isn't the only way to innovate, however. People snack to indulge themselves, after all. KP Snacks, for example, is looking to put McCoy's back in the black with a relaunch and a new range of street food inspired flavours, and Walkers is looking to inject a bit of fun into the sector with Roulette Doritos, suggesting a growing appetite for more adventurous flavours.
Britain's top flavours are still ready salted, cheese & onion, and salt & vinegar, but there's still plenty going on in terms of flavour innovation. According to Tyrrells, its roast beef & horseradish sauce, lobster, chilli & garlic and sweet chilli & red pepper are gaining popularity as Brits get more adventurous. In February, Burts launched a Hobgoblin Spit Roast Beef crisp in partnership with the beer of that name, and is partnering with Devon organic butchers Well Hung Meat Co to produce roast beef-flavoured crisps.
Nostalgia is another trend driving growth. Following The Grocer's 2012 campaign Bring Back a Brand, in which consumers voted savoury snack Fish & Chips as a brand they'd like to see revived, Burton's last year brought back the retro line. "It's a big nostalgia brand," says Costello. "Each time there is a recession, people look back to the past and this leads to a revival of nostalgia."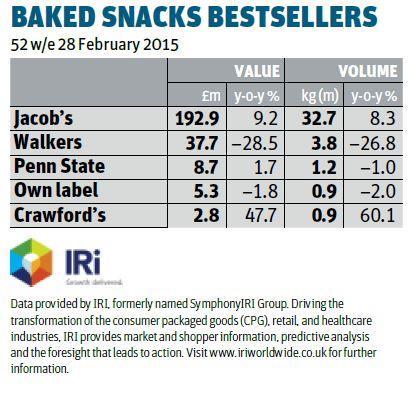 Seabrooks too has taken a tour down memory lane, inviting customers to suggest old flavours to revive. Last summer, it brought back spring onion as a result. That's not all. Seabrook entered premium territory in April 2014 with Lattice Cut crisps in sharing bags.
"We were playing in the multipack part of the category, yet sharing is the only growing part of the category," says Seabrook's marketing director Kevin Butterworth, who claims the launch generated sales of £3.5m in its first year. He adds that the brand is set to move into snacks. "We don't operate in snacks, but that is a strategic opportunity for us. If you want to be a serious challenger brand you have to operate in both crisps and savoury snacks."
In snacks and crisps, price point is paramount, particularly given the growth in own label. "Own-label quality has improved and matches the quality of branded in some areas and consumers have caught on to that," says Simon Knight, sales and marketing director of Burts Potato Chips. "Supermarkets are supplying their own premium own-label products much more than in the past."
Now discount stores are getting in on the act. Brand consultants The Brand Nursery developed The Tasty Snack Co brand for Poundland's own-label savoury snacks. "It needed to look and feel like a good quality snack range that would be ideal for sharing, and that also reflected the existing informal, fun values of the category," says Chris Blythe, director of The Brand Nursery.
With competition from the discounters and own label growing and health concerns mounting, many say the chips are stacked against crisp brands that stay still. The question is, how to respond: innovation, diversification into snacks or competing on price?
Quibbles single packs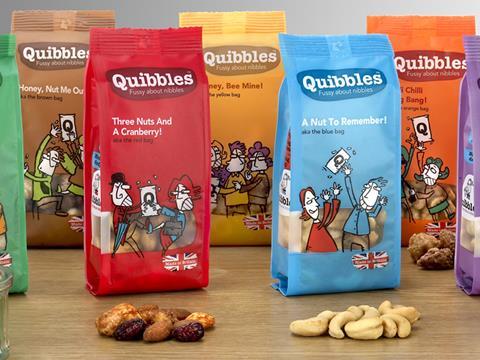 Launched: March 2015 
Manufacturer: Quibbles
Quibbles offers a quirky range of healthier nuts, baked in the company's own oils, with allergen-free seasoning and no artificial colourings. It has relaunched its sharing packs (rsp: £1.95 to £2.55) and launched single packs Sour Cream & Onion Cashews, Chilli Honey Caramelised Peanuts, Belgian Chocolate Caramelised Almonds, and the Wasabi Trio (rsp: 90p). Quibbles was one of the top 100 best new products at this year's IFE and is shortlisted for the FreeFrom Food Awards 2015.
Blue Diamond Krunchies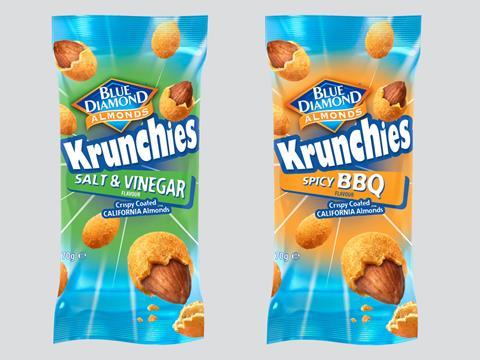 Launched: April 2015
Manufacturer: Blue Diamond Almonds
Described as "the world's first crispy coated almonds", Krunchies (rsp: £1.39/70g) come in two flavours, Salt & Vinegar and Spicy BBQ. Krunchies have "one of the healthiest nuts in the world at their core" as Californian almond is full of fibre, calcium, iron, protein and vitamin E, which "provides a great tasting, innovative snack".
Liberation Foods nuts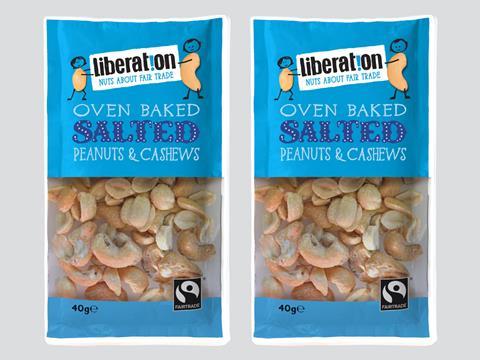 Launched: January 2015
Manufacturer: Liberation Foods
Fairtrade nut company Liberation Foods has launched a trio of flavoured nut snacks in "fun sized" 40g packs (rsp: 85p). The three varieties are: Oven Baked Salted Cashews & Peanuts, Oven Baked Chilli & Lime Cashews with Peanuts and Roasted Corn, and Oven Baked Mixed Peppercorn Peanuts with Cashews & Habas Fritas.
KP Crispy Coated Peanuts
Launched: October 2014
Manufacturer: KP Snacks
Do you like your nuts coated? KP Snacks is seeking to tap the growing coated nuts segment now worth more than £12m annually. In the run up to last Christmas it launched KP Crispy Coated Peanuts (rsp £2.50/250g) in two flavours: Sweet Chilli, the most popular flavour in coated nuts, and Sour Cream & Onion.
McCoy's Street Menu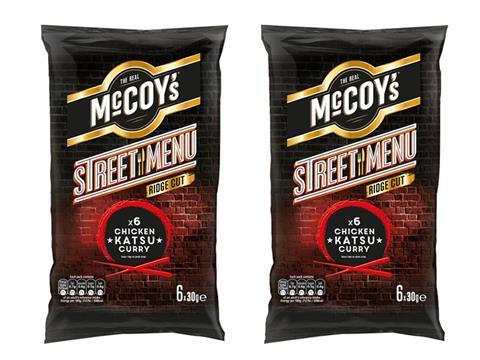 Launch date: June 2015 
Manufacturer: KP Snacks
Coinciding with a major revamp of the brand's entire portfolio, McCoy's is launching a new multipack range that taps the increasing popularity of exotic street food. Street Menu (rsp: £1.88/6x30g bags) will be offered as a 'rolling limited-edition format' featuring regular changes of flavours. The three initial flavours are: Jamaican Jerk Sauce, Cheese & Tomato Quesadilla, and Chicken Katsu Curry. They are available in two multipacks: Chicken Katsu Curry alone and a variety pack of all three flavours.
Scott Farms Sweet Potato Chips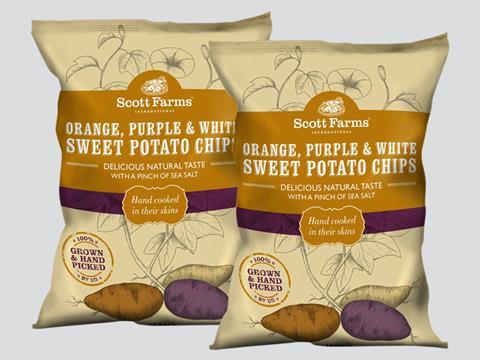 Launch date: May 2015
Manufacturer: Scott Farms
US sweet potato growers Scott Farms is launching a pack of crisps made from three varieties of sweet potato that it grows on its North Carolina farm. The Orange, Purple & White Sweet Potato Chips (rsp: 99p-£1.09/40g; £1.99-£2.09/100g) are sliced in their skins and hand-cooked in small batches in sunflower oil with a pinch of sea salt.
Burts Devon Roast Beef crisps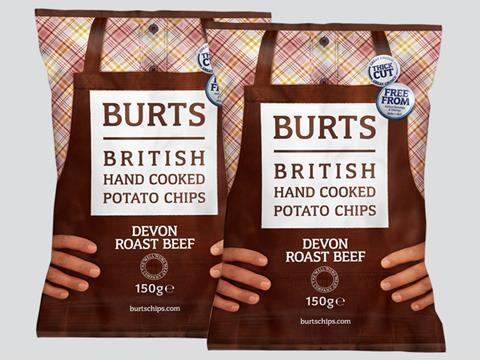 Launch date: April 2015
Manufacturer: Burts Chips
Burts Chips, the Plymouth-based artisan crisp brand, has launched a new flavour - Burts Devon Roast Beef crisps (rsp 79p/40g; £1.99/150g) - in partnership with another Devon firm, The Well Hung Meat Company, which works with local organic beef farmers, meeting increasing consumer demand for strong traceability and high quality.
Market Deli Anglesey Sea Salt crisps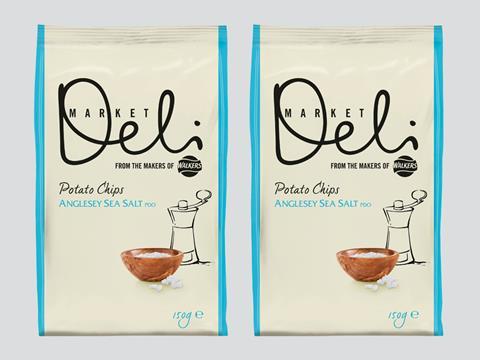 Launch date: January 2015
Manufacturer: PepsiCo
Walkers has boosted its new Market Deli range with an Anglesey Sea Salt line (rsp: 83p/single bags; £2.19 sharing bags). Anglesey Sea Salt recently gained PDO status so the crisps should appeal to consumers looking for "authentic" tastes. Walkers has also launched tortilla chips made with Anglesey Sea Salt and cracked black pepper.
Doritos Roulette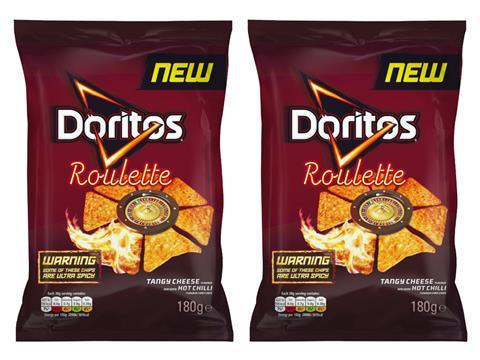 Launched: April 2015 
Manufacturer: PepsiCo
Designed for sharing and to create "the perfect 'big night in' experience with a spicy twist", Roulette, the latest innovation for the Doritos brand, involves the "random" placing into the sharing packs of fiery hot tortilla chips that look identical to the standard tangy cheese chips. And when PepsiCo says the chips are hot, it is not joking: the liquid used on them is 10 times hotter than a jalapeño pepper. Roulette fits in with the brand's target demographic of "bold" young men. Rsp: £1.99/180g.
Ape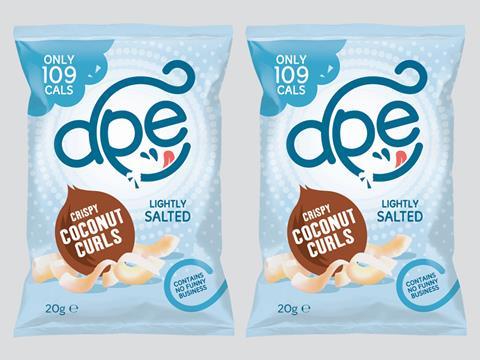 Launched: June 2015
Manufacturer: Ape
Healthy crispy coconut curls that are high in fibre and rich in antioxidants and use only natural seasoning, Ape is inspired by the "paleo" lifestyle of founder Zack Nathan's family and is made by slowly drying slices of coconut. Ape (rsp: 99p/20g) comes in two flavours - Lightly Salted and Slightly Peppered - with Brightly Chillied to come.
Nairn's Impulse Packs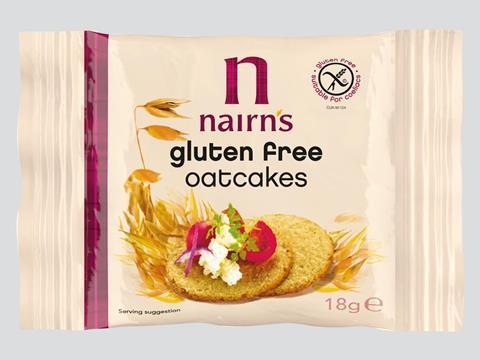 Launched: April 2015
Manufacturer: Nairn's Oatcakes
Another brand stressing its health credentials is Nairn's whose oatcakes have no added sugar and whose sweet oat biscuits have 40% less sugar than competitors. It's now tapping the growing free-from market with a range of impulse packs (rsp: 79p/18g pack) of oatcakes and biscuits that are both wheat and gluten-free.
Fish 'n' Chips Curry Sauce Flavour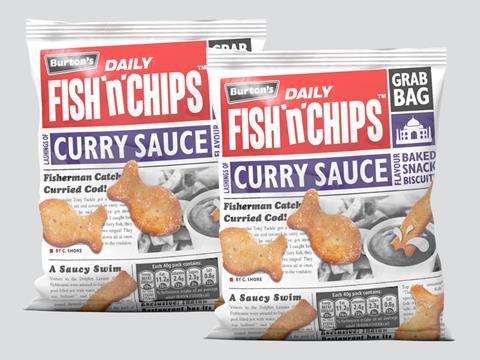 Launch date: March 2015
Manufacturer: Burton's Biscuit Co
Following last year's revival of 1980s brand Fish 'n' Chips, Burton's has added a new flavour: Curry Sauce. Sold in 40g grab bags, 5 x 25g multipacks and 125g sharing bags (respective rsps: 59p, £1.59 and £1.39), the product's packaging has newspaper print design, in keeping with old-fashioned fish & chip shops.