There's no escaping the 'superfood'. Ever since the European Food Safety Authority clamped down on claims such as 'probiotic' back in 2012, functional food suppliers have been keen to leverage the term 'superfood' as an alternative way to promote the natural health credentials of the veg, fruits and grains contained in their products.

The impact of this is plain to see on the shelves of the mults. Ingredients like chia seeds and guarana are no longer reserved for trendy, gym-going vegans; they are being embraced by a growing number of mainstream consumers seeking healthier, natural products to complement their daily diets.

As the 'superfood' trend continues to flourish, however, some suppliers are becoming concerned the term is being used too liberally. There's a danger consumer confidence in genuine functional claims (including those backed by Efsa) could be undermined, they warn. So how big is the risk? And what can functional brands do to mitigate it?

Lawrence Mallinson, MD of Suffolk drinks company James White, which sells a range of functional beetroot juices, is one of those worried about functional claims being watered down. Beetroot has been riding a wave of success thanks to its status as a superfood, with its use as an ingredient in supermarket products such as juices, soups and even yoghurt up 20% over the past year [Brand View].

Beetroot has well-established health credentials - it has been linked to lowering blood pressure and improved reaction times - but that doesn't mean anything beetroot-based has superfood properties. "It's not the beetroot, it's the nitrates that are in beetroot juice - but the amount can vary unbelievably from batch to batch," says Mallinson.

He is unimpressed by brands jumping on the beetroot bandwagon: "People latch on to this idea of beetroot. But there are products with just 3% beetroot juice and, in juice form, unless it's 70 or 80% beetroot, you are not getting enough nitrates."

Others, however, argue the growing ubiquity of the term 'superfood' highlights an opportunity, not a threat. Most mainstream shoppers aren't looking for specific, proven health properties when buying groceries - but they are interested in clean, wholesome foods from credible brands that make them feel good. Using a term like 'superfood' is a good, succinct way to convey such messages, and the success of recent 'super' launches suggests it's a strategy that resonates with many consumers.

The juices & smoothies category has been particularly active in this regard, with Innocent launching Super Smoothies last year, with ingredients such as guarana and flax seeds. "We take nothing but fruit and then add different ingredients that have other benefits," says UK MD Nick Canney.

Meanwhile, PepsiCo brand Tropicana has revamped its Essentials range with a functional twist and is launching three new flavours, taking advantage of the current trendiness of ingredients such as beetroot and pumpkin. It has also launched 150ml single-serve Fruitamins and Immune Support juices containing guava and persimmon.

Notably, Innocent's Super Smoothie was originally called Antioxidant (with kiwi, lime, wheatgrass and flax seeds) but was subsequently rebranded as Super Smoothie as claims about antioxidants are restricted by Efsa regulations.

It's an example that brings home the extent to which the 2012 Efsa clampdown continues to shape the category. For functional chocolate brand OhSo, whose product bars contain live bacteria, the tight regulation in Europe contrasts sharply with other markets. "We can say, big and bold, 'probiotic helps boost immune system' in the US, Canada and Australia, but we can't say that in Europe," says co-founder Andrew Marten.

Yoghurt drink brands Yakult and Actimel have also made changes to their marketing since the rules took effect, with Actimel, among others, seeking to move away from claims related to probiotics and adding vitamins and minerals about which specific claims can be made.

Efsa's impact has not simply been about limiting claims, however. Where the regulator has given the green light to functional claims, it has contributed to product innovation. Take bread in Marks & Spencer.

Following an Efsa ruling on vitamin D, every loaf of bread and bread roll in the M&S bakery range will now be made with yeast that naturally produces vitamin D, providing a minimum of 15% of the daily requirement in two slices (see panel left).

Burgen Bread also fortifies its buckwheat and poppy seed bread with vitamin D, with two slices offering 50% of the daily intake.

M&S has also been at the forefront of another key functional trend: seeds. It is responding to growing demand for seeded breads with a new range including a sunflower & pumpkin seed loaf and sunflower & chia rolls.

Indeed, seeds are increasingly being used as an ingredient in a range of products, from linseed to chia, both of which are rich in omega-3. Cuckoo's bircher muesli pots, for example, are fortified with linseeds and aimed at consumers who want "convenient, functional products that are healthy, delicious and are easy to eat on the go". And more suppliers are embracing sprouted grains, including Rude Health, which is selling sprouted oats and buckwheat flour.
How bread can boost intake of vitamin D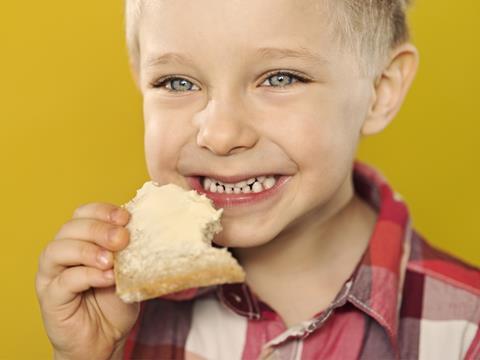 There is growing concern about vitamin D deficiency in the UK, with the Department of Health's National Diet and Nutrition Survey showing up to a quarter of people have low levels of vitamin D in their bloodstream.
Vitamin D deficiency impairs the absorption of dietary calcium and phosphorus, which can lead to bone problems such as rickets in children and osteoporosis in adults. Cases of rickets have more than quadrupled over the last 10 years (from 190 to 833), possibly linked to children's increasing tendency to stay indoors rather than play outside, as exposure to sunlight is the main source of vitamin D, also present naturally in oily fish, fish liver oils and egg yolks. The Department of Health now recommends vitamin D supplements to at-risk groups including pregnant and breastfeeding women, children, the over-65s and people with darker skin.

M&S recently announced it would become the first British retailer to add vitamin D to bread. Every loaf of bread and bread roll in the M&S bakery range will now be made with yeast that naturally produces vitamin D, providing a minimum of 15% of the daily requirement in two slices.

The retailer's move follows approval last year by the European Food Safety Authority of the use in bread products of yeast enriched with vitamin D by ultraviolet light.

"We understand the importance of vitamin D in a balanced diet. Adding it to something as simple as bread means customers don't have to change their usual diet to get an additional top-up," says Claire Hughes, M&S head of nutrition and science.

Before making this move, M&S carried out a survey of 2,476 people of whom 78% were favourable to the idea of enriching bread with vitamin D.

While M&S is the first retailer to do this, Burgen Bread fortifies its buckwheat and poppy seed bread with Vitamin D, with two slices offering 50% of the reference intake. Other retailers will be watching the response of M&S customers with interest.

Vitamin D has previously been added to breakfast cereals, margarine, yoghurts and drinks.
Chia potential
Chia also has plenty more growth potential, believes John Foss, who founded The Chia Co in 2003. He says the global chia category is expected to grow to £1.25bn by 2020, with Europe contributing 36% of this. "Consumer demand for clean foods is driving a movement away from artificial functional food additives towards natural nutrient-rich ingredients largely supported by the premium array of superfoods now available in the market," he says.

But adding seeds is not automatically a recipe for success, as Dairy Crest found out with its Clover Seedburst spread, containing seeds and wholegrains, which was withdrawn after failing to win over consumers. The dairy processor has had more success with the Clover Additions range of functional spreads, combining buttermilk with vitamins and minerals and launched in October 2013.

As for what's next beyond seeds, other functional trends tipped for growth include products targeted specifically at children. The dairy sector has been especially active on this front, with The Collective recently launching Suckies yoghurt pouches with 'superfruit' blueberries and Danone last year adding Actimel for Kids to its portfolio.

Experts also note a continuing interest in coconut, a trend Rude Health is tapping with its new coconut and chia granola.

Rude Health has been quick to respond to a number of functional food trends, but co-founder and managing director Nick Barnard believes that the next evolution of the category could well require a more comprehensive approach.

"How we use and treat our foods will be the next big functional food trend, moving away from isolating ingredients and taking a more holistic approach to eating."
Rude Health Coconut & Chia Granola
Launch date: July 2015
Manufacturer: Rude Health
Rude Health rejects terms such as 'superfood' and insists that if a food is grown properly and not processed or refined then it's a super food. The company describes its Coconut & Chia Granola (rsp: £4.50/450g) as tropical and "packed with nutrients" and says the combination is "an oddball couple that work well together", with the coconut providing all the fat the granola needs and the chia seeds adding "extra bite to the crisp, nutty spelt flakes".
Ohso Goody Bars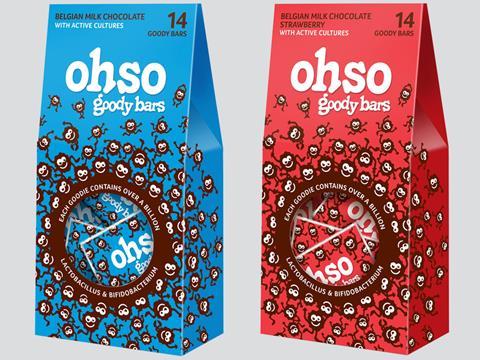 Launch date
: June 2015
Manufacturer: Ohso
Building on the success of its probiotic chocolate bars, Ohso has launched a product for kids. Ohso Goody Bars are bitesized bars free from added sugar and with bacteria that can benefit the gut and immune system. They come in two varieties: Belgian Milk Chocolate and Strawberry Belgian Milk Chocolate. Rsp: £5.99 for a pack of 14.
Beet It Nitrate 3000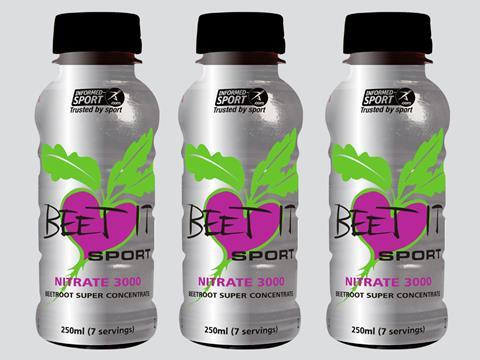 Launch date
: April 2015
Manufacturer: James White Drinks
Following the success of its Beet It Sport concentrated beetroot juice shots, James White Drinks is offering a super-concentrated line for serious sportspeople. Nitrate 3000 (rsp: £5.99) provides 3,000mg of dietary nitrate, with each 250ml bottle providing seven servings and featuring a measurement system for each 35ml serving.
Glaceau Vitaminwater sunshine zero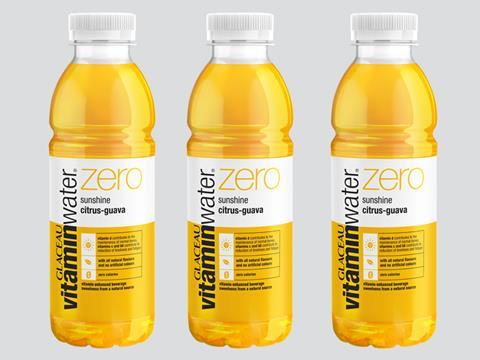 Launch date
: March 2015
Manufacturer: Coca-Cola Enterprises
Coca-Cola has expanded its Glaceau Vitaminwater range with the addition of two "zero" products that contain no calories and no added sugar, with stevia extract used to provide sweetness: citrus-guava Glaceau Vitaminwater Sunshine Zero (rsp: £1.39) with added vitamin D, and lemonade-flavoured Glaceau Vitaminwater Multi-v Zero.