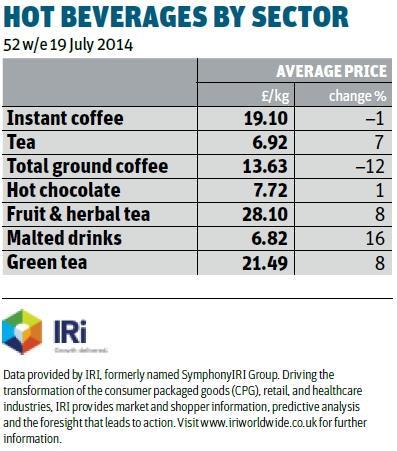 There's trouble brewing for makers of Britain's traditional cuppa. Apart from Yorkshire Tea, Brits are snubbing mainstream 'builders' tea bags and switching to premium and speciality brands. Value sales of ordinary bags declined by 4.7% – while green tea rose by 9.9%.
It's the same story in coffee, with sales of bogstandard instant and regular coffee falling by 2.8% and 9% in value while roast and ground rose by 10.9%. And within that, coffee pods were the star performer, rocketing 48% in value to £88.6m [Kantar 52 w/e 22 June 2014] as a new 'Pod' generation embrace the fancy coffee-making hardware and software available within the hot beverages category.
So why are Brits turning their backs on staple brands? And what are retailers and manufacturers doing to adapt to the market?
Tea: any colour you like (except black?)
Britain's biggest tea brand, PG Tips, believes there are two factors driving the 3% value and 1.5% volume decline of tea sales: health concerns and the average age of the tea drinker.
"The health issue is the most overriding trend," says Kate Tilbury, trade category manager for beverages at PG Tips owner Unilever. "We need to drink a certain amount [of liquid] every day and there's a finite amount people will drink, so people switch beverages. And the highest growth in consumption since the recession is tap water."
Within tea, health-conscious consumers are switching to non-caffeinated options. As well as green tea, fruit and herbal teas and decaf are both up 5.1% by sales value.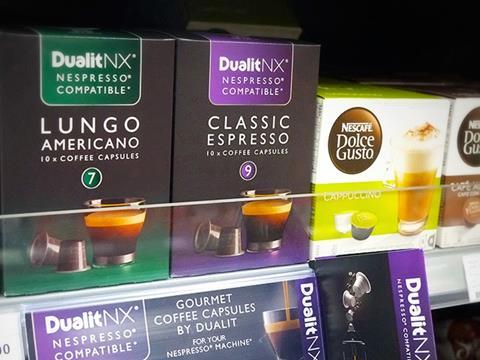 The £1.9bn UK hot beverages market has stayed broadly flat since last year, despite a 1.5% increase in the average price per kg. However, there is a slight fall in volume and value, suggesting a change in consumer behaviour (possibly towards out of home consumption).
Instant coffee is in value decline of 2.8% with growth coming from roast and ground coffee (particularly pods, up 48% year on year), and super-premium and cafe-style instant coffees such as Nescafé Gold Blend, Douwe Egberts Pure and Carte Noire.
The growth of fruit and herbal teas (up 8.1% year on year) has not been enough to offset the decline of total tea, with standard tea experiencing heavy value decline.
But a high level of innovation in fruit and herbal tea from brands such as Twinings, Teapigs and Clipper is meeting growing consumer needs surrounding health and wellbeing to attract a younger demographic.
Although only holding 2.7% of the hot beverages market, drinking chocolate and cocoa have seen strong growth this year driven by branded innovation such as Wispa Gold.
Jeni Myers, Kantar Worldpanel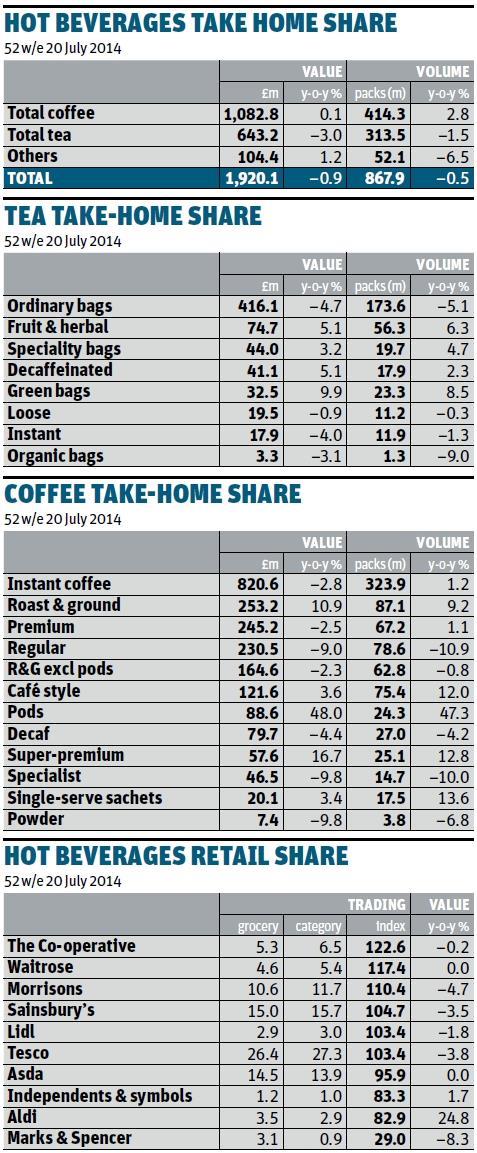 Among the leading tea brands, this health trend has put alternative specialist Pukka, and premium brand Twinings, at an advantage. But staple brands are also catching on to consumers' evolving tastes. PG Tips, Tetley and Taylors of Harrogate have all added fruit, green, herbal and decaf teas to their repertoires in the past two years.
"The focus on healthy living is benefiting the 'healthier' segments like green and redbush," says Andrew Pearl, director of shopper and customer marketing at Tetley. It's increased sales of green teas by introducing flavoured variants such as Tetley Green Lemon, and claims to have three of the top five bestselling SKUs in the green segment and to be the market leader in redbush.
"We know our green teas have brought more people into the category and are working to make them accessible and appealing to all. We call it democratising green tea," says Pearl. He also sees potential in decaf teas. "We are taking the decaf message to target audiences to build penetration of the Tetley brand. Targeted magazine advertising in key women's and health titles and promotional tools in store are designed to drive awareness and reinvigorate sales."
But Tetley faces competition, not least from PG Tips Decaf, one of the star performers this year, according to IRI. And the launch of new PG Tips fruit & herbal and green teas in January 2014, backed by a marketing investment of £5m, has resulted in sales of £700,000 in the first half, claims Tilbury.
"We've attracted 600,000 new shoppers to the category, half of which are new to fruit, green and herbal teas," says Tilbury. "It's a real gain to have new customers who were previously only drinking black tea."
The trouble is, green teas and herbal teas make up a small percentage of the tea market: household penetration is just 15% [Nielsen 21 June 2014]. Their gains are not enough to combat the overall decline in tea.
Age concern
"We are working to broaden the appeal. We call it democratising green tea"
Which brings us to Tilbury's second point: While health is a big driver of sales in the immediate term, there is no getting away from the fact that tea drinkers are older. In a cohort behavioural study, Unilever discovered consumption patterns didn't evolve as consumers aged. Older consumers (45+) have a greater affinity with tea consumption as they've taken the habit with them from childhood. But if consumers in their 20s now don't drink black tea, where does that leave the industry when these 20-somethings become 50-somethings and 60-somethings?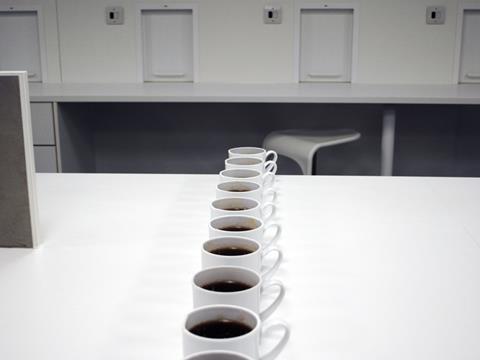 "It's a threat to tea because we need to ensure young people are engaged with tea and include it in their beverage repertoire," says Tilbury.
To attract a younger demographic, Unilever has developed a heavy presence in social media and its PG Tips brand boasts 450,000 followers on Facebook and 18,000 on Twitter. It doesn't see the traditional image of the brand as a barrier to attracting a younger consumer. The reverse, in fact. "PG Tips over-indexes in the younger demographic. We have the highest penetration of all the black tea brands so it's a good foundation to work from," says Tilbury.
Yorkshire
One black tea brand that has successfully engaged with the younger consumer is Yorkshire Tea. Owned by Taylors of Harrogate, value sales grew 66% between 2009 and 2014. It's still bucking the trend, with value sales growth of 5.6% [IRI].
"Decaf tea is maintaining growth momentum as the trend for healthier teas continues"
How has it grown so much? Aside from a stronger taste profile, one easy win was to increase pack sizes. Until 2007, Yorkshire Tea was sold in packs of 80, while other brands were sold in packs of 160 and 240. Now Yorkshire Tea is sold in packs of 40, 80, 160 and 240.
Advertising has also been instrumental in its growth. In 2013 Taylors launched Everything Stops for Yorkshire Tea, the latest in a string of ads that have helped raise the profile of the brand to a more premium level.
"Yorkshire Tea has continued to grow in a declining market through its quirky advertising and tie-ups with the English Cricket Board – it's the official tea supplier to the England cricket team and the Grand Départ of the Tour de France," says Taylors of Harrogate category manager Paula Goude. "This activity has helped to bring 733,000 new households into the brand in the last year."
Decaf tea, launched in 2006, is maintaining the momentum, she adds. And complementary brand Taylors of Harrogate launched a new range of premium fruit and herb teas in conjunction with Kew Gardens in February 2014.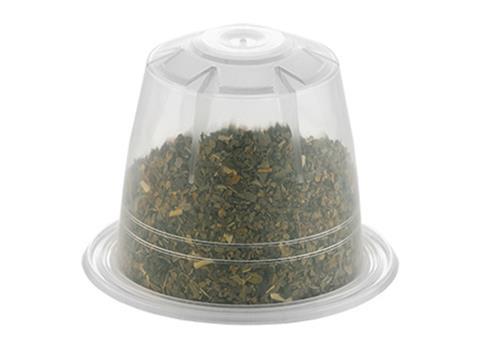 Tea pods: the biggest tea innovation since the pyramids?
They're the most important invention since pyramid tea bags and brew a more profound cup in 60 seconds. So says the inventor of tea capsules, Alex Gort-Barten, director of Dualit.
His tea capsules launch in Steamer Trading this month in English Breakfast, Earl Grey, Blackcurrant, Peppermint and Green Tea flavours, and are compatible with Dualit and Nespresso 3 in 1 coffee machines.
"It's impossible to make a bad cup of tea with them," says Gort-Barten. "Standard tea packaging doesn't provide a barrier to the atmosphere so the tea's slowly perishing. We package each capsule in foil to preserve freshness and taste."
But it's not just about the packaging. It's also about the patented 'pressure drop' technology. That's what reduces the machine's pressure to the point at which it extracts the finest flavour from the leaves in 60 seconds, while the twin-process microfiltration gives "exceptional taste and unsurpassed quality." The result, Gort-Barten claims, is a perfect cup of tea every time.
But is his invention really as significant as the pyramid bag? And do consumers value a decent cuppa to the extent they would pay 33p to have one at home when they could pay as little as 2p? "Dualit never sells on price, always on quality," says Gort-Barten. "We're about being the best there is."
Others are sceptical. "Tea pods haven't caught on in other markets in Europe," says David Jago, director of innovation at Mintel. "They're expensive and tea's basically a cheap drink."
Tea bags accounted for nine out of 10 new launches in 2013, according to Mintel. But that doesn't mean there isn't room for other formats. "Tea sticks and pods make up a very small proportion of the market," says Kate Tilbury, trade category manager for beverages at Unilever. "We won't see them in Tesco and Sainsbury for some time yet but it's all interesting stuff."
With Tetley already diversifying, it also sees lessons in the success of Yorkshire. "The greatest potential for growth in everyday tea lies in premium teas," says Pearl. "These have been growing steadily in value and now account for 23.9% of everyday tea sales – an increase of 5% over two years [Nielsen 21 June 2014]."
Tetley's innovations in this area include Tetley Extra Strong, Tetley Estate Selection and Tetley Blend of Both, which offer a higher value sale for retailers. This month it brings its three premium teas together under the umbrella of The Blend Collection.
Arguably no tea brand has managed to combine all these qualities, and span the generational divide, as successfully as Twinings, which grew 6.1% in value sales, driven by strong NPD on the fruit and herbal side.
"Twinings is taking tea on a journey that will create a new generation of tea lovers"
"We've known for a long time that today's consumers are looking for more from their daily cup," says Twinings category director Zoe Taphouse. "For us, traditional tea will always be loved and have a rightful place in the heart of the nation, but we are also taking tea on a journey that will create a new generation of tea lovers and demonstrate tea's role as a contemporary drink of choice." That includes Twinings Tassimo pods.
And the new generation of tea lovers are prepared to pay more for a quality cup of tea. For instance, while own-label tea fell in price by 1.5% it still declined 11.2% by value and 9.8% by volume. The price of Yorkshire Tea, on the other hand, rose 3.6% in price, but was still the only mainstream 'builders' tea' brand to grow (5.6% in value and 1.9% by volume). Typhoo tried the same trick, with prices rising by 3.5%, but without success: volumes fell a whopping 19.8%.
Branding
The results underline the importance of branding, says Taylors MD Andy Brown, who believes Yorkshire Tea is now a 'cool' brand. And in recent research by Mintel 42% of consumers said a well-known brand was the most important factor in choosing tea. Price came second at 36% [Mintel Tea and other Hot Drinks – July 2014].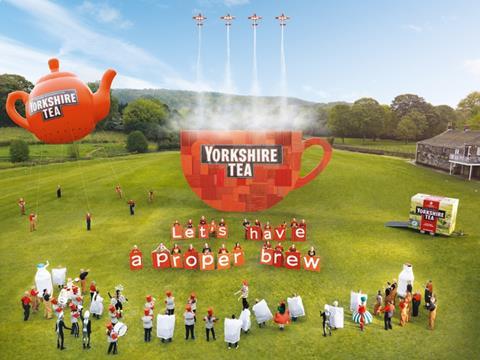 Black tea in no mood for celebration
IRI's EPoS read suggests tea sales are falling even faster than in Kantar's shopping panel, with value down 4% and volume 11.5%.
PG Tips, Tetley and Typhoo suffered most, though PG minimised damage to top-line sales with a 14.1% hike in the average price per kilo.
The only major black tea brand to buck the trend was Yorkshire Tea, through distribution gains, price increases on some ranges along with deeper discounts on others. After recent strong gains, volume sales of Twinings were flat.
Pukka was the fastest growing tea brand, cashing in on the year-on-year growth in green tea and fruit & herbal.
Farah Normann, senior insight manager, IRI

It's therefore not surprising that other hot beverage brands have followed suit upped ad spend by a sizeable 15.9%. But where does all this leave own label?
"Changing shopper trends, increased promotions by branded players, innovation from brands and increasing competition are primarily responsible for it," says Farah Normann, senior insight manager at IRI.
"As more shoppers do their regular shops at discounters, they are buying standard hot beverage offerings there at lower prices. Some big retailers have announced they will be lowering prices on set products to boost traffic but these initiatives are fairly new so they are yet to hit hot beverage promotions as a whole."
"The significant cutting back of off-shelf support has added to Tetley's sales decline"
You might think the chaos caused by discounters in the past year would have resulted in a (further) increase in trade promotions, but leading brand PG Tips has actually cut featured space promotions by 11.4% [Assosia].
"Evidence proves promotions have little impact on consumption," says Tilbury. "Key drivers of consumption are habit and preference and neither are impacted by promotions in store. Tea is not an impulse buy and it's not an expandable category. Getting people to buy more tea won't get them to consume more."
Tetley, which declined in value and volume consumption this year, has also cut back on featured space promotions.
"While Tetley is selling greater volume of products on deal, its off-shelf support [such as displays on gondola ends] has been cut back significantly on last year's levels, which is adding to its sales decline," says Normann.
Pearl believes tea sales are becoming more aligned with consumption, so a more accurate picture of the market is emerging."There's no doubt it's an interesting time for the tea market," he says. "With many larger retailers reducing the level of price-led promotions, shoppers are moving to buy just the tea they need, rather than bulk buying whatever is on offer.
"Towards the end of last year we cut down on price promotions. There was some initial shopper uncertainty, with shoppers holding off buying in case their preferred products went on offer again. This was relatively short-lived and, feeling more reassured of stable prices, shoppers have returned to their normal buying patterns."
Super-premium tea
At the super-premium end, prospects are also looking up, according to Joe's Tea Company founder Joe Kinch.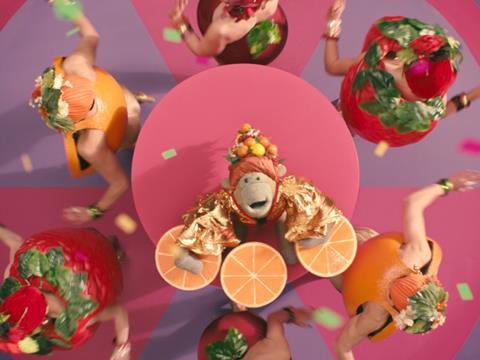 Monkey gets fruity to sell PG's herbal
Hot beverage ad spend rose 16% - with roast coffee brands Nespresso, Carte Noire and Douwe Egberts splurging money in the buoyant roast market.
Despite the biggest ad spend, Nescafé lost 3.1% of volume share as consumers shunned its Regular and Gold Blend lines, though pod brand Dulce Gusto and super-premium Azera gained.
Twinings overtook Tetley to become the second-biggest spender in hot beverages.
Unilever's £5m Monkey (pictured) was used in April to support PG's new fruit, herbal and green tea range, which generated £700,000 of sales and attracted 600,000 newbies to the otherwise flagging brand.

"We're coming out of recession now and people are becoming more aware of what they are putting into their body and that's only going to continue. The most important thing is to offer a really great product that tastes good."
At £4.50 for a box of 15 (or 30p a teabag, compared with the current market average of 2p a bag [IRI] Joe's organic, eco-friendly teas don't come cheap, but you get what you pay for, Kinch argues. "If you were to do a blind tasting around the £2 mark, there'll be a significant difference in taste or quality." Sarah Chanter, director of Scottish premium tea brand Eteaket, says retailers are increasingly receptive to the idea that shoppers will pay considerably more for their tea, so long as it's more than a bogstandard cuppa.
"The people who, only a few years ago, were only buying jars of instant coffee, are now spending much more on premium coffee; and the same thing is now happening in tea," she adds. Eteaket predicts its turnover will grow by 165% to £1.1m from 2014 to 2018 largely thanks to its growing distribution through wholesalers and exports to Japan and Hong Kong.
"People don't to see a 2p bag of tea because customers feel cheated. They want quality"
Having successfully sold tea back to the Chinese (Eteaket shifts around 1,000 units to the Far East every month or so), the brand now has its sights set on mainstream retailers in the UK, says Chanter: "The message we get from foodservice is that people don't like to see a 2p bag of tea because customers feel cheated. They want better quality tea. As it has already with coffee, this is now trickling down to retail."
Innovative formats are another way to spark interest and drive growth in the category. New formats have included tea sticks and concentrates. The latest new arrival is the tea pod, which is the "most important development since the pyramid tea bag," according to its creator Dualit.
The creator of kitchen appliances already sells Dualit coffee capsules and hopes to emulate their popularity with tea pods, which are set to launch in Steamer Trading this month. "It's a more profound invention than the tea bag because it only takes 30 seconds for the machine to extract the tea, thanks to our patented technology," says Alex Gort-Barten, director of Dualit.
Aiming to shave valuable minutes off the optimal brewing time for tea (three to seven minutes, depending on who you talk to), Dualit is aiming to combine premiumisation with convenience, but others like to spend time on their tea, and afternoon teas and tea rituals have enjoyed a renaissance in recent years.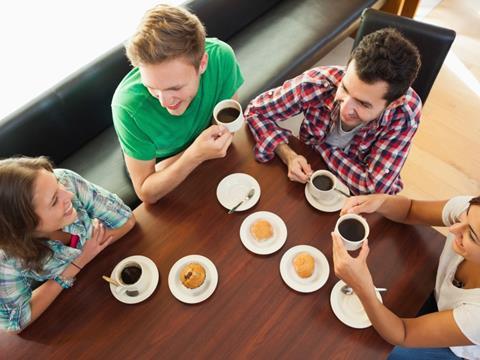 Own label is coffee's big casualty
With instant coffee sales falling 4% to £721m, the biggest casualty has been not Nescafé or Kenco, but own label. As well as losing sales of such staples to the discounters, own-label coffee simply has no answer to the growth segments within coffee, particularly pods and super-premium (also known as microground).
Ground coffee saw value sales growth of 11% year on year (to £250m) with Kraft's Tassimo Costa Pods range alone contributing 54% of the absolute sales growth. Mondelez also enjoyed strong success with its Carte Noire brand, to which it added the option of Nespresso-compatible pods. Farah Normann, senior insight manager, IRI

"This is a pivotal moment for tea, as we are now seeing the sector develop in line with what we has happened in the coffee market," says Twinings' Taphouse. "Today's consumers are looking for new flavours and new ways to enjoy tea; from the renaissance of the traditional afternoon tea to new tea bars that are reinventing the way we consume tea, with loose tea, bespoke serves, bubble tea and rituals with modern twists."
At the time of going to press, Twinings was preparing to launch "extensive NPD" in tea but would not reveal further details.
Coffee
While café culture starts to infiltrate the tea market, its influence on the coffee market has been apparent for some time. Thus, while the value of the total coffee market only rose by 0.1% [Kantar p42], despite 2.8% more volume being consumed at a cheaper price – the average price of a cup fell by 2.6% [IRI] – roast and ground coffee is in double-digit growth, with the value of pods soaring 48% to £88.6m and super-premium coffee rising by 16.7% to £57.6m.
"This is a pivotal moment for tea as we see the sector develop in line with the coffee market"
It's clear from the brands in growth that consumers will pay more to drink a quality cup of coffee in the home. Some of the coffee chains are profiting from this, such as Starbucks, which reports strong sales of its take-home ground coffee ranges.
"Our roast and ground ranges have enabled Starbucks to benefit from the fact that customers have an increasing desire to enjoy the coffee shop experience and quality at home," says Liz Forte, head of marketing and category for channel development at Starbucks Coffee. "This phenomenon is leading to a significant shift towards the premium and ethical coffee offerings, which have grown by 2% and 6% respectively year on year." [IRI MAT June 2014].
Pods
Buying ground coffee to consume at home is one thing. Having the skills of a trained barista is another. That's what makes coffee pods such a success story. You simply insert the pod and push the button to achieve a fresh, consistent coffee, with no mess and that all-important crema.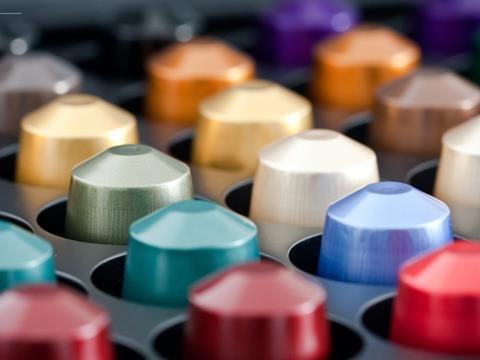 How many coffee pod sales are coming in under the radar?
We know the coffee pod market is growing at a rate of knots. We know the pods command a massive premium, equating to around £60/kg. And we know suppliers are pumped about growth prospects: by 2017, Mondelez believe the pod market will represent the largest segment of the roast and ground coffee market not by sales value but by volume (p57). So it's a major change we are witnessing, given that the first Nespresso machine (which kickstarted the revolution) wasn't introduced to the UK market until the mid 1990s.
But what's truly astonishing is to consider that we don't actually know how big the market truly is. That's because, while a growing number of sales are now coming via the supermarkets, a significant amount of volume is still delivered from other channels – not least the highly lucrative direct mail websites many coffee vendors operate.
To this day Nestlé only uses its direct to consumer service, eschewing the opportunity to sell its pods via supermarkets and other outlets. It hasn't hindered growth one bit: by 2006, global sales exceeded CHF1bn (£650m) for the first time. By 2010, sales passed the CHF3bn (£2bn) mark. It's kept schtum about sales ever since. In fact it guards its figures so closely (Nespresso operates as a standalone business) it doesn't even share its data with Nestlé's Dolce Gusto team – even though the latter, like Mondelez with its Tassimo system, and Douwe Egberts with Senseo, tend to operate mostly via the supermarkets.
But Nespresso is not alone in developing a direct to consumer model. Euro Food Brands, which markets Illy coffee in the UK, launched a dedicated website called expressocrazy.com three years ago. Sales are already up to £1m per annum, says MD Stephen Barlow. "And these figures don't show in the EPoS reads. We certainly don't share the numbers with anyone."
It's the same for Lavazza. While its A Modo Mio pods are also available via the grocery channel, business development manager Tony Botterill says 10%-12% of its sales are coming "via direct to consumer e-tailers like Amazon and department stores and these are not picked up elsewhere."
IRI analyst Farah Normann admits that its read is limited, with sales from department stores, Amazon and the manufacturers' own online shops undetected, though "sales are not under the radar as far as the manufacturers are concerned," she adds.
"They overlay IRI's numbers with other sources, and report it internally, but never share it with us. I couldn't tell you what percentage of the total pod market we are capturing."
The most accurate figure available is provided by Kantar through its ShopandScan survey. The £88.6m sales figure and growth of 48% it quotes is "a reading for the total market," says Kantar analyst Jeni Myers, comprising 'grocers' and 'all others' (including 'non-grocers' such as butchers, chemists, Boots, Superdrug, M&S, bargain stores, greengrocers, fishmongers, as well as Amazon, department stores, and direct to consumer manufacturer sites).
But with 'all others' comprising less than 5% of Kantar's market read, one supplier says: "Our non-grocery sales alone are bigger than that and we're tiny."
One thing is for sure. With a GFK report showing sales of coffee machines up 61%, the only way for coffee pod sales is up.
While Illy claims to have invented the first coffee system over 40 years ago, it's Nestlé that really developed this market, patenting its Nespresso coffee system back in 1976 and introducing its first machines in Switzerland from the 1990s.
Selling direct to the consumer, the pods (which start at £2.90 for 10 pods), have been a huge commercial success and many rival brands including Illy, Dualit, Mondelez, Starbucks and Lavazza have launched systems of their own.
"People are more educated and asking for region and country-specific coffees"
Nespresso – run as a separate business unit within Nestlé – has been busy fighting cases of alleged IP rights infringement across Europe, particularly around burgeoning sales of Nespresso-compatible pods. Cafépod claims to have launched the first non-Nespresso coffee capsules in UK supermarkets. It launched into 200 Waitrose stores in August 2012, following the expiry of Nespresso's 20-year patents in 2011. It's since increased its range in Waitrose and won listings in Tesco, Amazon and Ocado. They retail at £2.75 for 10 pods.
"When we came into the industry the obvious gap was that Nespresso didn't sell in the supermarket but through its stores or website," says Peter Grainger, founder of Cafépod.
Cafédirect is the latest player to launch its first Nespresso-compatible pod, which will launch in Tesco, Waitrose and Ocado in December. But it follows a string of others. In August, Lidl launched a 10-pack of coffee pods at only £1.79. And arguably the biggest was arch coffee rival Mondelez brand Carte Noire in February this year.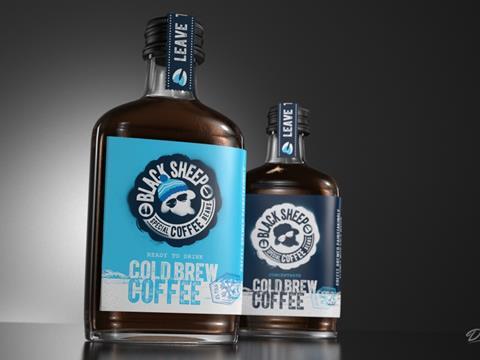 Cold brew coffee market warms up
Iced tea and coffee is so last year. This year's biggest drinking fad is cold brew coffee - coffee grounds that have been steeped in cold water for around 12 hours or more to make a concentrate, which is then either served hot or over ice. It's a trend that's already hit the hippest coffee spots in cities like New York and Seattle, and this summer the first retail products landed on UK shores with no less than three new products.
First Holloway-based baristas Luke Suddards and Hugh Duffie unveiled Sandows (rsp: £3.95) - a beautifully packaged product that is brewed for more than 16 hours and is currently stocked by a number of UK retailers including Selfridges.
This month Robusta coffee brand Black Sheep Coffee unveiled two cold brew variants - a ready to drink cold brew coffee and a condensed version (rsp; £3.49 and £3.99 for 200ml). Initially Black Sheep will sell the drink in their coffee shops, but it is already in discussions with national retailers about listings.
According to Gabe Shohet, co-founder of Black Sheep Coffee, the cold brews feature Robusta beans, a high caffeine content and low acidity levels.
And finally, Jonathan Chiu, the former MD of tea brand Make Mine a Builders, is launching Minor Figures (rsp: £2.25-£2.60).
Steeping its coffee for 12 hours in a specially designed brewing tank, "cold brew coffee is a fantastic all-natural alternative to chemical energy drinks and caffeinated soft drinks, when you need a little boost," says Chiu.
"We aim to make cold brew coffee more accessible in flavour, packaging format, availability and price point. We want to broaden cold brew's appeal and bust it out of the hipster enclaves of East London."
Selfridges will stock the coffee from later this month.
"Carte Noire espresso capsules are helping to drive Nespresso-compatible capsules' growth at 385% in value and 412% in volume sales, and now account for 22% of the value and 25% of the volume of the segment," says Susan Nash, trade communications manager at Mondelez.
Coffee pod sales projections
With Mondelez simultaneously enjoying astronomic growth through its mid-market Tassimo system, with sales up 67.2% to £42.9m [IRI], it expects pods to be the biggest coffee segment in value by 2017. Launched in 2005, Mondelez claims Tassimo is the key driver of value share and penetration in pods.
"We're aiming to drive growth even further in 2014 through ongoing investment in the brand. The last three months of the year will see a high-profile, heavyweight through-the-line campaign in Q4 across all consumer touchpoints, including TV, digital and PR, and ongoing investment in Tassimo to drive penetration and consumption," says Nash.
"In Switzerland more people have Nespresso machines than microwaves"
Grainger too believes pods are in their infancy in the UK, but they will eventually become as big a part of everyday life as they are in Europe, he says. "In Switzerland the penetration is much greater – more people have Nespresso machines than microwaves – so there's a lot of room for growth in the UK.
"It's about day-to-day habits. Cafés are becoming the new social meeting point so people are going to Starbucks and Caffè Nero to drink coffee in the day, then they go home and instant coffee just isn't cutting it."
Nor is Grainger taking the arrival of new players lying down, using social media and coffee sampling activities to attract a younger demographic to the coffee pod.
Indeed, one noteworthy PR stunt has involved teaming up with Warner Brothers to mark the 20th anniversary of Friends to create Friends-branded packaging for its core range. This is being used as part of a tour of the iconic Friends sofa that featured in the coffee shop Central Perk. The tour started in August at this summer's festival season and it will continue to serve Cafépod coffee on the sofa at venues around the UK – including flagship supermarket stores – until January.
Ironically, Cafépod is also embracing the direct to consumer model. In July this year, buoyed by its success (it forecasts its turnover will increase by 400% year-on-year), it acquired its own online retail platform: Big Cup Little Cup. "We knew people were looking to buy online," says Grainger. "The website gives us a connection with the consumer and enables us to talk to them intimately and establish a direct relationship.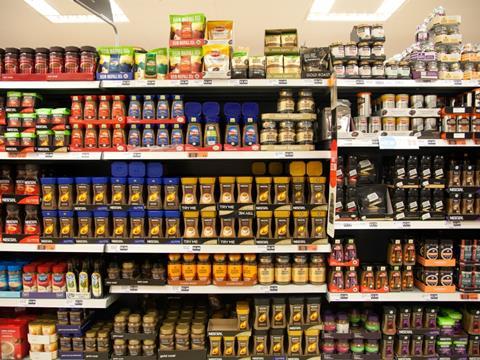 Tetley and PG Tips cut promotional deals, Assosia reports
Britain's two biggest tea brands - PG Tips and Tetley - have cut back on featured space deals in the past year. PG Tips ran 194 such deals across the leading supermarkets - a fall of 11.4%, although average depth of deal climbed from 28% to 32.8%. Tetley ran 456, down 18.7%, and average saving fell from 33.1% to 32.5%.
That both brands have lost significant share to Twinings and Yorkshire Tea, both of whom have ramped up deal activity (the former by 70% to 221 deals; the latter by 91% to 128), may not be a coincidence. Yorkshire's average saving dipped slightly to 24.5%, but deals on Twinings have gone from 21.6% to 29.9%, helping the brand narrow the gap between it and Tetley to less than £3m [IRI 52 w/e 19 July]. Another year like Twinings has just had, with spend on deals and advertising up, and it could become the No2 tea brand.
Nescafé and Kenco have ramped up spend to make sure their products are stocked in prime positions within retailers. Featured space deals on Nescafé, the most heavily promoted hot beverage brand, have risen 8.9% to 976; Kenco's have surged 27.9% to 252. Deals have deepened for both brands, with Kenco offering the greatest average saving in the sector, of 40.8%.
Save deals have accounted for 69.3% of activity, their use increasing 5.1%. Half-price deals now account for 13.9% of activity, with use up 2.1%.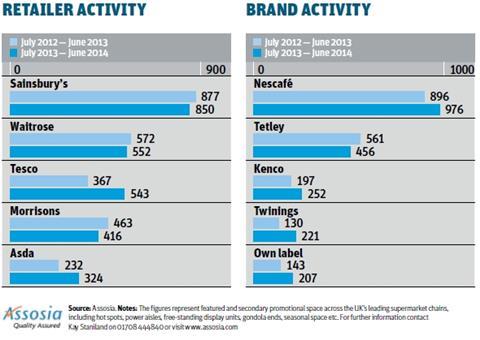 "People are becoming more educated about coffee and are asking for region and country-specific varieties. We source, roast and manufacture ourselves so we can tweak our offerings through the feedback we get."
Super-premium instant
Even within instant coffee, premiumisation is the prevailing trend, with innovations such as wholebean instant performing well.
Mondelez is the biggest player in this sub-category through its Kenco Millicano and Carte Noire brands. It cites Nielsen data showing the wholebean instant coffee segment now worth £64.9m and growing at 48.8% [Nielsen MAT w/e 12 July 2014] and its latest innovation, Kenco Millicano Sunlight Blend, which launched earlier this year, already worth £1.9m.
"This Kenco ad pushes the boundaries of coffee advertising and brand transparency"
For instant coffee to become more premiumised, manufacturers are not only focused on quality ingredients. There's also ethics to consider. In the past few years, a number of brands have adopted Fairtrade and Forest Alliance certification. In August Kenco took the ethical stance to a new level, introducing its Coffee Vs Gangs programme – part of the Coffee Made Happy scheme from Mondelez – via ads that tell the story of how a young man from Honduras avoids getting involved in a life of crime by becoming involved with Kenco's Coffee vs Gangs project.
The programme will involve Kenco working with local people from the inner city and from coffee-farming communities who may be at risk of falling into gang culture, and equip them with the skills they need to become successful coffee entrepreneurs – giving them a better chance of a secure future. The 11-month training programme already works with 16,500 farmers in Honduras.
"The ad has a completely new look and feel to what people are used to from Kenco, but it embodies the seriousness of life in Honduras. I strongly believe this Kenco ad pushes the boundaries of coffee advertising and brand transparency, above the norm of smiling people holding steaming cups of coffee," says Nash. "We are looking to the future of the industry and our responsibilities in ensuring the coffee supply chain and those that care for the beans are protected."
Hot chocolate and malted drinks
Another Mondelez brand, Cadbury, has helped to drive growth in the hot chocolate sector through its Wispa Hot Chocolate range. In February this year it added a new product to the range – Wispa Gold. With a luxurious foamy top, the Fairtrade-certified product is designed to create a coffee house experience in the home just by adding hot water.
"For the malted drinks category to rebound, its perception in shoppers' minds needs to change"
"Under two years since launch, both Wispa Hot Chocolate and Wispa Gold Hot Chocolate have achieved a 15% share of the instant hot chocolate segment [Nielsen YTD to 12 July 2014], bringing new, younger users into the category and adding 59% incremental volume sales to hot chocolate," says Nash [Kantar w/e 20 July 2014].
Other hot chocolate brands haven't performed so well and Options, Cadbury Highlights Fairtrade, Cadbury Fairtrade and Nestlé Aero all lost sales this year, according to IRI data.
It seems an ethical positioning alone is not a strong enough selling point and brands have to deliver a strong point of differentiation.
Despite this, hot chocolate still stole market share from the worst-performing hot beverage category: malted drinks, which lost 13.2% by volume this year.
The biggest decline within malted drinks came from the chocolate malted instant sector and the only segment that grew year on year was white malted instant, driven by Horlicks light and own label.
"Horlicks Light has decelerated its promotional activities this year, leading to greater average prices and to value sales gains," says Normann. "Ovaltine Light, on the other hand, did not fare well as it offers lesser value due to premium price positioning despite higher levels of promotions."
So the future doesn't look bright for malted drinks. "For the malted drinks category to rebound, its perception in shoppers' minds needs to change," says IRI senior insight manager Farah Normann. "Malted drinks may be considered too calorific, or something older people would consume."
Once again, it looks like getting down with the kids seems to be the way forward. Time for a brew. I'll put the pod on, shall I?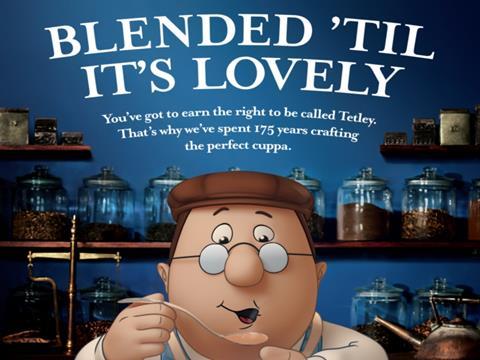 The Blend Collection
Launching: September 2014
Manufacturer: Tetley
To add value to black tea, Tetley is bringing three of its premium teas together under an umbrella family, which has been branded 'The Blend Collection.' This includes three special blends with new packaging and common pricing: 75 bags will be packed in new premium cartons with an aligned price of £2.59. The products are designed to sit together on the retail fixture to indicate a high-end selection for shoppers.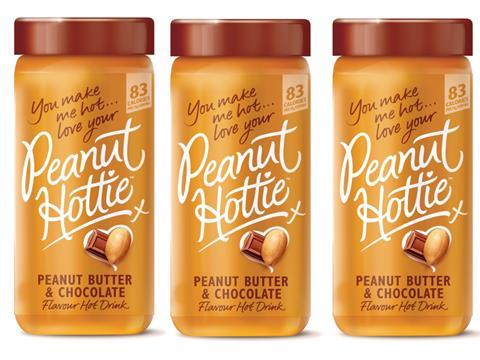 Peanut Hottie
Launching: October 2014
Manufacturer: Bravura Foods
Peanut Hottie's new flavour - Peanut Butter & Chocolate - will arrive on Tesco's shelves in the UK next month. The British-made peanut-flavoured instant drink is being sold in 2,499 US Walmart stores for the first time this month and Bravura Foods is now looking at markets in Canada, China and the Middle East (rsp: £2.99/260g jar).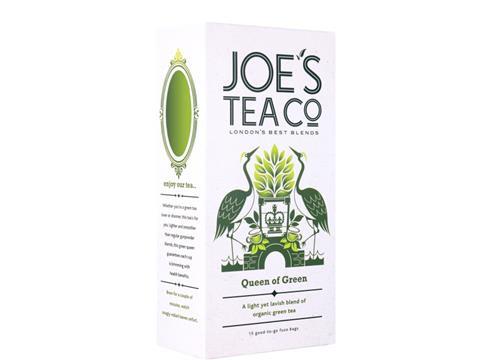 Queen of Green
Launching: September 2014 
Manufacturer: Joe's Tea
Queen of Green is the 11th blend launched by organic eco-friendly manufacturer Joe's Tea. The new line is blended from gunpowder green tea from Sri Lanka, which is thought to boost the metabolism and aid weight loss. The bags are made from corn starch so are 100% biodegradable. Rsp: £4.50/£4.75/box of 15 bags.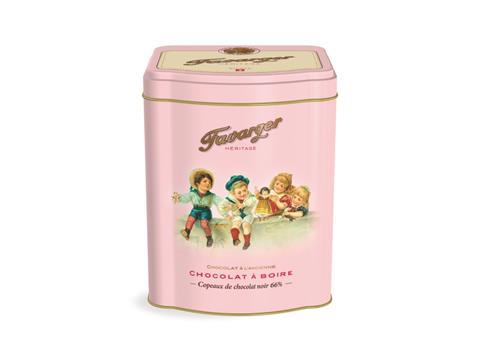 Heritage
Launching: September 2014
Manufacturer: Favarger
Swiss chocolatier Favarger's new heritage range includes a luxury tin of dark chocolate shavings for making premium hot chocolate. It uses Swiss milk, which has been bought from the same farming co-operative in Lucerne for the last century. The branding features images of the children of the founding family (rsp: £7.49/230g).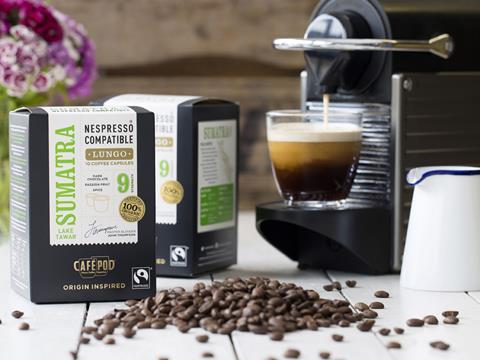 Sumatra Lake Tawar
Launched: August 2014
Manufacturer: Cafépod
Cafépod has added a second coffee to its origins-inspired range of single-origin Nespresso-compatible capsules. These 100% Organic Fairtrade Arabica beans have been slow-grown on the hills around Sumatra's Lake Tawar. Already ranged in Waitrose and Whole Foods, it will arrive on Tesco's shelves in October. A pack of 10 costs £2.99.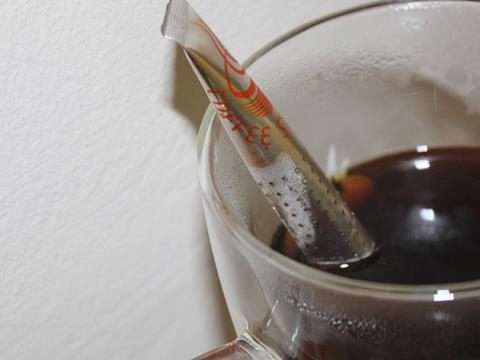 Coffee Sticks
Launching: November 2014
Manufacturer: Innovashion
Innovashion created T-sticks in 2012 to help caterers serve tea with less mess. Now it's introducing Coffee Sticks, which include the flavours Irish Cream and Hazlenut (15 sticks £3.49/125 £20). While the concept was initially created to improve environments around tea and coffee stations, Innovashion is also in talks with retailers.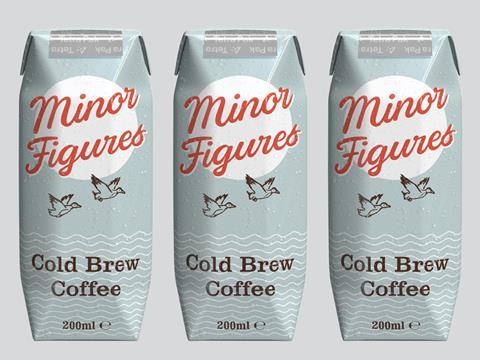 Minor Figures Cold Brew Coffee
Launched: September 2014
Manufacturer: Minor Figures
The former MD of Make Mine a Builders, Jonathan Chiu, has launched a cold brew coffee called Minor Figures. The product, which is brewed in a custom-built tank for 12 hours, comes in a 200ml Tetra Pak carton (rsp: £2.25-£2.60) and has a shelf life of seven months. Selfridges starts stocking the product this month.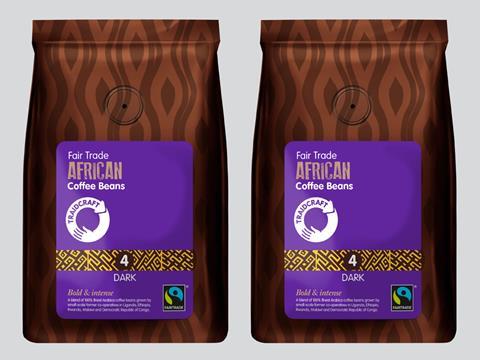 Dark Roast African Coffee beans
Launched: August 2014
Manufacturer: Master Roast
UK Fairtrade distributor Traidcraft has added Dark Roast African Coffee beans to its speciality coffee offering. They are 100% Arabica, cost £3.95 for a 227g bag, and have been sourced from small-scale producers in Africa. Traidcraft works directly with producer groups and suppliers in the developing world to help them trade out of poverty.