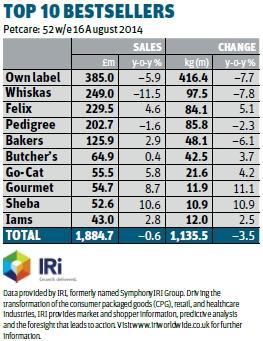 Talk about pampered pets! A year ago, our report on falling prices and own-label growth in petcare could have raised doubts about how much pet owners love their animals, but the latest numbers should lay them to rest.
Value sales have surged 4.1% to £1.8bn and volumes have risen 2.3% [Kantar Worldpanel 52 w/e 20 July 2014], reversing the previous year's 1.2% volume decline. What's more, brands have clawed back some of the share lost to own label in the previous year, with innovative NPD and marketing investment.
Tiddles and Fido are being treated more too. Pet owners have spent £49m on treats in the past year, an increase of 9.5% on volumes up 7% [Kantar]. Cat treats enjoyed the greatest growth, of 22.8% in value and 16.9% in volume, though it's worth stressing they account for much less of the market than dog treats.
Not all parts of the market are looking quite so bright eyed and bushy tailed, however. In both cat and dogfood, wet food is thriving while dry is struggling. Dry dogfood has suffered a 1% value decline on volumes down 3.1% [Kantar], and dry catfood - while still in growth - is losing share to wet.
So why are some parts of the market performing so well as others suffer? And what are petcare's movers and shakers doing to ensure the overall category growth continues throughout the coming year?
At first glance it seems cats, not dogs, have been getting most of the cream in the past year. Not only are cat treats in stronger growth than those for dogs, catfood is also out-performing dogfood, with value up 4.8% and volumes up 4.6% [Kantar], compared with 3% value growth for dogs on flat volumes.
However, that dogfood volumes haven't declined at all is impressive, considering that the UK population of smaller breeds of dog, which require less food, is in growth as larger breeds become less popular. The trend is also fuelling growth in wet dogfood, says Peter Parkinson, marketing director of HiLife owner Town & Country Petfoods. "There's a reduction in the number of larger dogs, which tend to eat dry, and an increase in the number of smaller dogs who eat less and tend to be 'treated' more with wet foods."
Volume sales are up, but petfood value is mainly being driven by price increases, particularly in the dogfood category.

Catfood category value has risen by 4.8% this year, aided by increases in volume-driving promotional mechanics, such as 'three for £4' deals.

Within catfood, wet main meals continue to be the sector that contributes the most to value gains. Wet formats are also driving growth in dogfood, with more shoppers buying into this category as they move out of the dry dogfood segment.

Within the pet treats category, cat treats and drinks are the biggest success story, with another year of double-digit growth (22.8%).

Dog biscuits, treats and chews have also had a good year, having attracted new shoppers into the category.
Jeni Myers, Kantar Worldpanel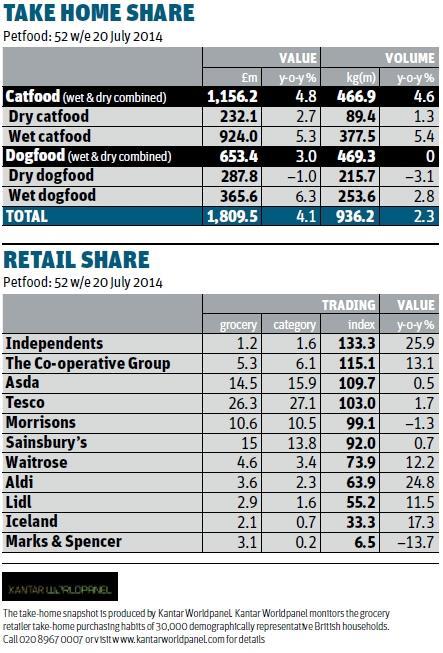 Mars Petcare is hoping to turn around Pedigree's 1.6% decline on volumes down 2.3% [IRI 52 w/e 16 August 2014] by catering for more petite pooches with 100g pouches, launched in September. "The effect of the growth of the small and toy dog population is that more brands are tailoring their offers with small dog products," says commercial director Jason Uttley.
Examples abound. Webbox Dogs Delight Tasty Sticks "have been created specifically with the smaller dog in mind," says Pets Choice CEO Tony Raeburn. The launch of 8in1 Minis chews last month was aimed squarely at owners of smaller breeds. And earlier this year, Purina launched My Dog Is, a range of dry foods complete with crunchy nuggets and softer kibbles for smaller mouths.
Anthropomorphism
That My Dog Is includes a 'Food Lover' line with variants sounding as suitable for owners as they do their dogs, such as beef & Rice, reflects an ongoing trend: the anthropomorphism of our pets.
Petcare players unanimously cite this as a key influence on NPD, with indulgent, healthy or high-end meals and snacks and tailored nutrition continuing to shape the market. In catfood, for example, wet growth is outstripping dry, and premium and super-premium wet products - often in single-serve formats - are playing a key role. "There's steady growth in luxury catfood as cat owners seek to offer their cats tasty flavours, picking up on human culinary values," says Liz Wood, marketing director at Purina, pointing to products such as Felix Crunchy Crumbles, which comes with resealable pouches of crispy toppings for owners to sprinkle on their cats' meals.
"There's a reduction in the number of larger dogs, which tend to eat dry foods"
High-end, small-format products are driving much of the growth in catfood. Mars's Sheba has delivered table-topping growth of 10.6% on volumes up 10.9% [IRI] thanks in part to its Fresh Choice 50g pouches, a range of meat and fish products in gravy launched in January 2013. Purina claims similar success, with 1.6 million shoppers buying its Gourmet range, and the indulgent Mon Petit spin-off in strong growth.
Weight boy! Are treats a pet health time bomb?
With pet treats in rude health at nearly £500m, owners have multiple opportunities to indulge their animals. But there are rising concerns about animal obesity.
"Overfeeding can lead to obesity, which can cause serious health and welfare concerns," says Dr Sam Gaines, dog welfare expert at the RSPCA. "Just like humans, dogs need everything in moderation."
Feeding guides that encourage owners to count treats as part of their pet's daily calorie intake are part of the solution. "Treats, including biscuits and chews, should make up no more than 10% of a pet's daily food intake," says Liz Wood from Purina. "Some functional treats, such as dental products, may supply up to a third of a small animal's caloric needs, so it's important that owners adjust the amount of food they give in meals."
Adding a function, such as oral care, or extra nutrition like the vitamins and minerals in Pedigree's Tasty Bites, launched in August, can help to give treating extra benefits. "Many pet treats have been designed to be low in fat, and there are chews to help support all aspects of dog health," says Wood.
Humanisation is playing a part in shoppers' reactions to healthy treats; providing healthy food is part of treating an animal as a member of the family. "There is noticeable sales growth in healthy treats," says Waitrose petcare buyer Verity White. "This proves that our customers are aware of the concerns."
Henrietta Morrison of Lily's Kitchen, which produces health-conscious meals and treats, says: "We developed our treats so pet owners can feed with confidence, knowing they are not putting unnecessary sugar, fat or nasties into their pet."
Health and obesity concerns are also reflected in main meal innovation, with Forthglade's forthcoming Lifestage cat range featuring a range of botanicals with health functions, while Vet's Kitchen is due to launch grain-free catfood in 2015.
If success in catfood relies on conveniently pouched indulgent dishes, this might help explain why Whiskas is struggling. In spite of the inspired Big Cat Little Cat campaign, the brand has been relatively quiet on the NPD front. Value sales are down 11.5%; volumes are down 7.8% [IRI]. Uttley hopes to turn this around with "strong plans" which, tellingly, include the recent launch of a 50g pouch.
Health
Just as significantly, Mars' plan for breathing new life into Pedigree centres on pouches, treats, smaller formats of dry foods and health. With health-orientated brand Iams - recently acquired by Spectrum Pets from P&G - in solid growth and most other players citing health and functionality as a major trend in the market, the motivation for focusing more on this is clear.
"Premiumisation provides a key opportunity to grow sales of snacks"
Mars is not alone. Vet's Kitchen is gearing up for the launch of a new range of dry catfood, containing 80% meat. "The food will contain increased protein and reduced carbohydrates, plus the usual Vet's Kitchen naturally active ingredients to assist with skin and coat, urinary tract health and digestion," says marketing manager Maria Vitale. "Additionally, we'll be extending our dry dogfood with a sensitive, grain-free range."
For all the focus on health, we're still treating our animals more. Overall treat sales are up 9.5% in value and 7% in volume [Kantar]. "Growing humanisation of pets is driving demand for indulgence products," says Alex Hinton, trade marketing manager of Spectrum, which makes 8in1 dog treats. "Premiumisation provides a key opportunity to grow sales of pet snacks and treats."
The fact cat treats are in such strong growth has a lot to do with one brand: Dreamies, which has enjoyed growth of 24.2% in value, 26.4% in volume in the past year [Nielsen 52 w/e 13 September 2014]. New Dreamies Plus varieties, which Mars says are adding incremental sales, have additional health functionality, which could safeguard them against a mooted health backlash.
For dogs, the biscuits, treats and chews category's 5.1% growth on volumes up 5.4% [Kantar] also comes thanks to innovation; Purina reports its Delibakie oven-baked treats, which sound suspiciously like human biscuits, were its most successful 2014 launch with sales of £1.5m to date, while Wagg Foods says its dog treats (and three new cat treat lines) are going from strength to strength.
Merchandising
The way treats, and indeed petcare products in general, are being presented in store is helping to fuel the category. "retailers are increasingly merchandising treats in a prominent and eye-catching location," says Purina's Wood. "Petcare is a different market to grocery as a whole. It's far more emotive. Retailers that understand the bond between owner and pet will make the fixture a more interesting and emotive place to shop."
And so sales should benefit. At Waitrose, for example, a range review in July led to increased space for cat treats, luxury catfood and advance nutrition. Petcare sales for the full year at Waitrose have risen 12.2%, with the retailer attributing the growth to tweaking the aisles to make them easier to navigate and giving practical products such as cat litter and flea treatments more space and range.
"Petcare is a different market to grocery as a whole. It's far more emotive"
Online is transforming the category, with the internet a natural home for retailers of bulky products. Last year, Ocado launched fetch.co.uk, a standalone petcare website, and this month Waitrose unveiled WaitrosePet.com. "This is a reflection of the way pet owners are increasingly shopping online for specialist food, supplies and accessories," says Robert McCarthy, head of Waitrose Direct.
Of course, online is not the only new frontier for the category. "The evolving role of discounters and online reflects the way today's consumers shop," says Clare Scallon from Butcher's Pet Care. "We clearly have to be in that space and look to adapt our offering."
Particularly given Aldi's range review this year and the ongoing development of its range. But some question how much of the market the discounters can take, given the limited range they stock. "This represents a great competitive advantage for mainstream retailers," says Wood. "Pet owners are incredibly particular about the food they buy."
Indeed, although in strong growth, Aldi and Lidl's share of petcare is much smaller than their share of grocery, and it's growing at a slower rate [Kantar]. It seems Brits just won't scrimp on their pets.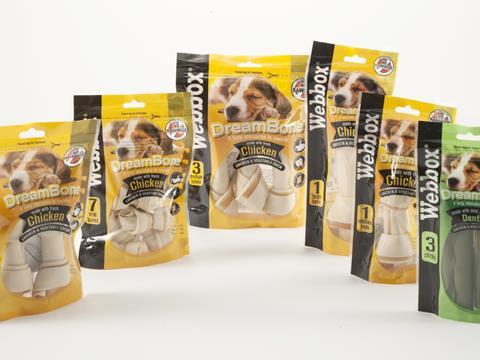 DreamBone
Launched: July 2014 
Manufacturer: PetMatrix
Developed and manufactured in the US by PetMatrix and distributed here by Webbox, DreamBone chews are made from a two-layer vegetable chew rather than the traditional rawhide. This makes them more digestible and allays fears about choking hazards. They come in chicken and dental variants and a range of sizes, taking account of trends for size-specific dog products. Retailers are Tesco, Asda, Morrisons, Costco, Amazon and Ocado (rsp: £2.49-£4.99/60g-237g).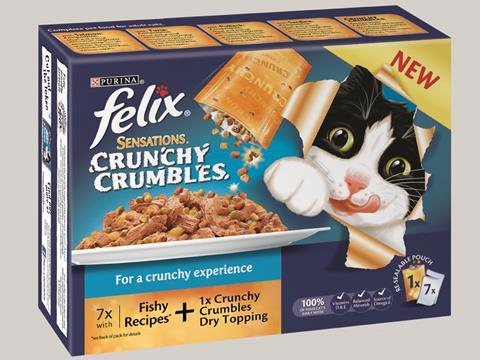 Felix Sensations Crunchy Crumbles
Launched: June 2014
Manufacturer: Purina
Felix added interest to wet catfood this summer with these pouches of wet food, with a crunch topping for owners to add at each meal. Supplied as a multipack of seven 100g pouches with a separate resealable pack of crumble, it comes in four meat and four fish variants and is listed in Tesco, Asda, Sainsbury's and Ocado (rsp £3.25/7x100g).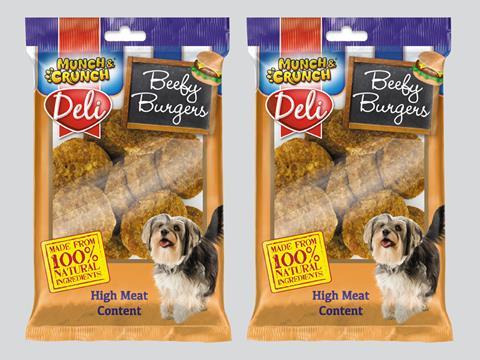 Munch & Crunch Deli
Launched: October 2014
Manufacturer: 151 Products
Consumer appetite for treats with wholesome appeal is being tapped by 151 Products, which supplies discount petcare items. Deli dog treats claim a high meat content and 100% natural ingredients. The six variants include cocktail sausage and chicken fingers with cheese (rsp: £1.49/130g) and the first retailer to list them is Morrisons.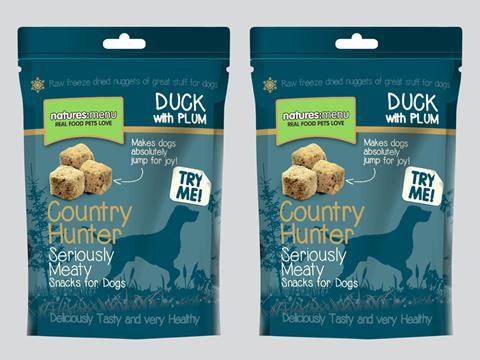 Freeze Dried Dog Snacks
Launched: October 2014
Manufacturer: Country Hunter
Waitrose is the first supermarket to list Country Hunter's freeze-dried raw meaty nuggets, made without additives, flavourings or sugars to cater for consumer interest in treats with healthy and 'clean' cues as well as interest in raw feeding. They come in venison with blueberries and duck with plum variants (rsp: £2/50g).