We Brits love pizza. A whopping 83% of us buy bake-at-home pizza and the market has grown 4.2% to £867m in the past year, according to Kantar Worldpanel.
Interestingly given the economic backdrop, it is chilled pizza that accounts for the biggest slice of the market at 53.1% - despite carrying a price premium. It's also the sector driving growth, with sales up 8.4% in value, while frozen sales are down 0.1%.
Download this report as a PDF.
So why is fresh outperforming frozen and are we witnessing a permanent shift in consumption patterns - or can suppliers bring frozen brands in from the cold?
There is no doubt price has played a key role in chilled's good fortunes relative to frozen. "Chilled is managing to achieve growth due to higher average price (+1.1%), heavier baskets (+0.4%) as well as higher frequency of purchasing (+1.2%)," says Kantar Worldpanel analyst Valentins Kirillovs. All the top chilled varieties are in growth, but thin & crispy is in front after "winning direct value-switching from all other major sub-sectors in the pizza market - with the largest gains coming from the frozen thin & crispy sub-sector".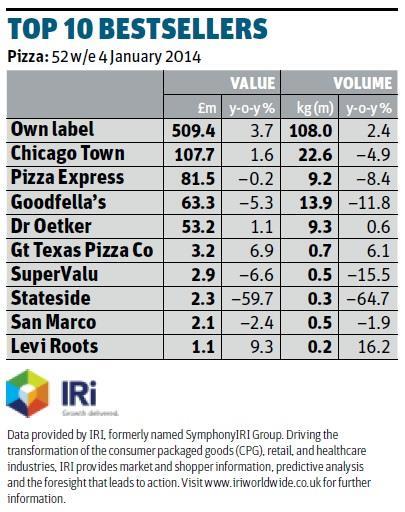 The chilled boom is good news for the major multiples because own-label pizza dominates the chillers, but own-label is also doing well in frozen - and significantly better than the sub-sector in general - thanks to keen price points.
"Private label is growing across both chilled and frozen," says Kirillovs. "Waitrose and M&S, as well as Aldi and Lidl are growing ahead of the market. However, all still undertrade in pizza. Waitrose and M&S have room to grow in frozen while the discounters hardly participate in chilled."
"Own label is certainly starting to get some traction and it is a lot to do with innovation"

Richard Harrow, Frieburger
Richard Harrow, MD of Freiberger, which supplies own-label pizza to "all the retailers apart from Sainsbury's and Lidl", says the retailers are growing chilled sales as well as competing with the big name brands in the freezers by successfully shaking up ingredients, bases and packaging.
"Own label is certainly starting to get some traction and it's a lot to do with the innovation that has gone on at the retailers, especially at the premium end," he says. "In comparison with other European markets, the UK has a very strong own-label sector that pushes innovation. Evidence of this is a recent launch of a chilled pizza in the Co-op with a beetroot topping, which has already established itself as a bestseller within the range. The entire Co-op Truly Irresistible range is stunning."
Harrow also singles out Tesco and Iceland for praise. "Tesco has been doing interesting things with Finest, especially in terms of packaging, which looks very good in-store. Iceland has also done very well in innovating; it has some really good products both with its mid and upper-tier ranges."
Thin & crispy seen as healthy
Harrow also offers an alternative theory for the increasing popularity of thin-crust pizza. The traditional perception is that customers are opting more and more for thin & crispy because it delivers a traditional, authentic, Italian pizza experience, but Harrow suggests is may also be the result of an increasingly health-conscious customer.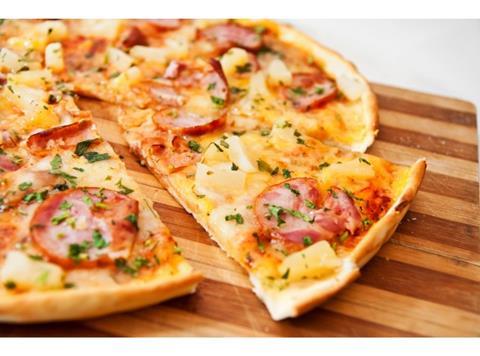 The market is worth £867m and is growing at 4.2%. As this market attracts 82.4% of the population, it is very unlikely to grow through additional shoppers.
Chilled pizzas are driving all the growth in the market; this year value sales are up 8.4% while frozen pizza is static. The chilled sector holds a slightly larger slice of the market in value terms thanks to the higher price chilled pizza carries.
In chilled, all sectors are in growth, with thin & crispy and chilled bases growing ahead of all others. The former sub sector attracts the most affluent consumer while the latter is more likely to attract younger shoppers.
In frozen, only French bread pizza is showing growth. This sector attracts the oldest and least affluent consumer group in pizza.
Own label is out growing brands with 10% growth versus a 5.1% decline. The main issue for brands is within chilled, where they're down 18%.
In terms of retailers, growth can be seen at both ends of the market, with more premium retailers such as Waitrose and M&S and discounters Aldi and Lidl outperforming.
Valentins Kirillovs, Kantar Worldpanel
"Extra-thin is really resonating with consumers. We think it's partly to do with people's desire for products they perceive as healthy," he says. "If people have the option to choose one that looks good but appears to be a healthier alternative, they will go for it."
Pizza Express was quick to recognise that trend, introducing its 500-calorie 'lighter option' Leggera pizzas into supermarket chillers last year. Head of retail Julia Cooke says its strategy is based upon "continually bringing the best from our restaurants into retail", and that its chilled pizzas are "a beacon brand in retailers, with the fastest repeat purchase rate, in the fastest-growing segment".
Levi Roots, the king of brand extension, is also enjoying success, albeit from a low base, with chilled jerk chicken pizza, available in Asda, Morrisons and Sainsbury's. Launched in 2012, the sales of the pizza grew 9.3% in value last year volumes up 16.2% [IRI].
While brands such as Pizza Express and Levi Roots stand out as being in a minority in the own-label-heavy chillers, the brands dominate in frozen. As ever, Dr Oetker dominates, selling almost three times as many frozen pizzas (when you combine the Dr Oetker and Chicago Town brands) as nearest branded rival Goodfella's. The individual Dr Oetker brand is also one of the few to be up in both value (1.1%) and volume (0.6%) [IRI], its volumes benefiting from a 53% boost in ad spend last year [Ebiquity].
"Dr Oetker is the largest investor in terms of communication, though all of our major brands get support on TV," says Dr Oetker frozen marketing manager Paula Wyatt. "That advertising is crucial. We need to tell consumers what fabulous quality there is in frozen."
Chilled can't do the rising crust
That means challenging the perception that chilled means better quality, says Wyatt. "Chicago Town Takeaway is a raw dough crust. The first time it gets baked is by the consumer at home, so the customer gets a fresh, rising crust. We suspend the proving process. You can't do that with chilled, so you can't get that quality and texture of crust in any part of the store but frozen. So this is the only product that tastes like a takeaway pizza."
The Northern Dough Company is another advocate of frozen raw dough. Frozen pizzas offer other advantages, adds Wyatt. "If you want a pizza from an expert, someone that has invested millions in development and understanding what consumers want, that expertise comes from the brands in the freezers," she says.
"We also have great promotions that encourage consumers to stock up, and we do things like limited-edition pizzas. A new BBQ Sizzler flavour (chorizo with BBQ stuffed crust) comes out in April and we will amp up promotion for the World Cup."
"We've seen it across the market but value growth in chilled is largely due to price inflation"

Paula Wyatt, Dr Oetker
She also points out that the price of chilled pizza has gone up faster than frozen. "Value growth in chilled is largely due to price inflation. We have seen it across the total market, we've seen it in frozen, but we've seen it to a greater extent in chilled," she argues.
Dr Oetker sees chilled as its "main competitor" rather than other frozen brands, claims Wyatt - and the performance of some of those brands certainly suggests it has less to fear from the latter. Its biggest branded frozen rival Goodfella's slashed ad spend last year by 80% [Ebiquity] and saw value sales drop 5.3% on sales down 11.8% [IRI].
That said, Goodfella's claims it cleaned up in the thin & crispy sector. Head of marketing Candida Corscadden says Goodfella's Extra Thin was "the most successful frozen pizza NPD launch in 2013" and that its Superiore "thin-based, authentic, restaurant-style pizzas" experienced the strongest growth of the entire Goodfella's range last year.
Family mealtime fun
Authenticity isn't the only trend Goodfella's identified, adds Corscadden. "The family unit came out strongly," she says. That led to last year's Chillax campaign, which sold the benefits of a good night in.
"Shows like The X Factor and Strictly have contributed to families staying in during the winter months. And the fact pizza has the ability to bring people together has informed our strategy for the year ahead."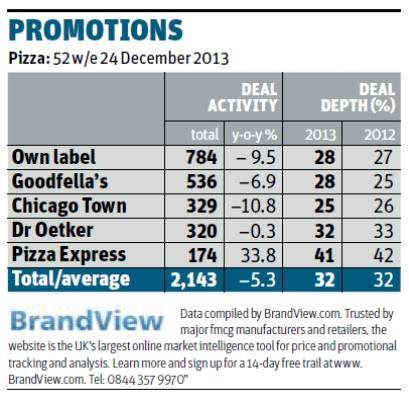 Napolina agrees. It says sales of its ambient pizza bases are up 72.4% year-on-year [IRI]. "Ambient pizza provides a solution for those looking to bring more excitement to mealtimes," says a spokesman. "They also give the chance for kids to get involved and make mealtimes an event."
It's not just about classic round pizza, either. Harrow says Freiberger is producing more French bread pizzas for its own-label customers. "Very much core flavours - cheese & tomato, pepperoni, possibly ham."
Simple or fancy, fresh or frozen, deep or thin, it all comes down to the same alchemy of dough, tomatoes and cheese. And the right price, of course, which may require a promotional rethink from some frozen brands if they are to stop own label grabbing a bigger slice of the pizza.
Download this report as a PDF.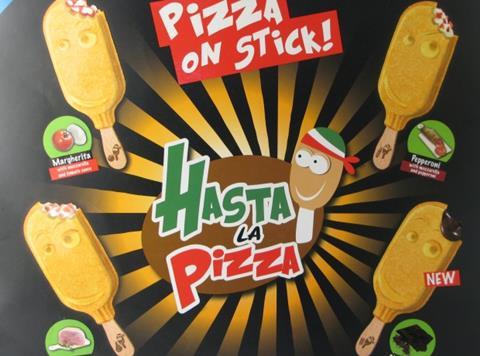 Hasta La Pizza
Launching: tbc 
Manufacturer: Hasta La Pizza
Sometimes holding a slice of pizza in your fingers is too much hassle. So Hasta La Pizza (rsp:tbc) takes the folded and sealed calzone pizza concept and put it on a stick to create something that looks like an ice lolly, only one made from pizza. You just whack these in the toaster to heat them up. The product took Anuga by storm, winning the award for most innovative product of the fair, and is expected to hit the UK soon.
Rice Crust Cheese Pizza
Launched: September 2013
Manufacturer: Amy's Kitchen
With 42% of all UK households buying into the gluten-free category, it was clearly time for Amy's Kitchen to launch its gluten-free rice crust cheese pizza - the number one gluten free pizza in the US - into the UK. The original cheese flavour (rsp: £4.49) will be followed up soon by spinach and vegan-friendly varieties.
Curry Dave
Launched: August 2013
Manufacturer: Curry Dave
The solution for anyone who has ever spent Friday night debating that old chestnut, Indian vs pizza, has arrived. These flatbread pizzas use round naans instead of traditional pizza bases and are topped with curry sauce and chicken. Available with korma, madras, tikka masala and spinach & potato toppings (rsp: £3.50 to £4).
Chicago Town BBQ Sizzler
Launching: April 2014
Manufacturer: Dr Oetker
World Cup year is perfect for pizza manufacturers because people have a good excuse to sit around watching football munching on a slice. Dr Oetker's World Cup limited-edition pizza is the BBQ Sizzler stuffed crust (rsp £4.29), which will hit the freezers in April. Featuring a BBQ sauce stuffed crust and topped with chorizo, it sounds like a winner.