What a difference a year makes. "The roast is resurrected," The Grocer proclaimed this time last year, when roast dinners finally appeared back in growth after years of decline.
But the recovery proved short lived, and the picture in 2014 is very different. The latest figures show the roast dinner is once again on the slide - in the past six months, there were 780 million roast dinner occasions, which means Brits served up 8% fewer roasts than a year earlier [Kantar Worldpanel 28 w/e 25 May 2014 vs 28 w/e 26 May].
So what's happened? And what can suppliers do to make Brits fall in love with the Great British Roast once more?
"We are witnessing a long-term movement from hands-on to hands-off preparation"
Although the warmer weather this year may explain partly why roast occasions are down, experts point to consumers' growing need for convenience as the key factor driving the decline. After all, the average time taken to prepare and cook a main meal has almost halved since 1980, falling from an hour to 32 minutes, according to Kantar Worldpanel. That leaves a dish that takes an average of 72 minutes to prepare in a vulnerable position.
Given the meat is the most time-consuming element of the roast, the pressure for greater convenience is felt especially acutely by meat and poultry suppliers.
"Our lives are becoming increasingly busy and time is considered a precious commodity," says Sonia Armanet, marketing manager at pork and gammon supplier Tulip. "We are witnessing a long-term movement from hands-on to hands-off preparation as well as a move towards dish-based meals, away from meat and two veg."
Eblex is responding to greater consumer demand for convenience by developing new beef and lamb 'mini roasts,' backed by a new marketing push - including a TV campaign - this autumn. "The advert is intended to give a much-needed boost to the roasting category," says a spokeswoman, adding Eblex also hopes the mini roasts concept will encourage more consumers to cook roasts for mid-week suppers and not just at the weekend. The campaign will feature the slogan 'why wait 'til Sunday' to try and reposition roasts as an easy to prepare midweek treat.
Muddy Boots is taking convenience even further in its new London-based butcher's shop. It is hoping to appeal to time-pressed consumers by offering to roast premium joints to order. "We can appeal to anyone who feels they're too busy to do a roast," says co-founder Miranda Ballard. "Customers can pick a whole chicken or gammon joint off the shelf and, for £3 extra, we'll roast it for you. We can either have it hot out of the oven for collection, or roast it and blast chill for cold meats in salads and sandwiches."
"We have seen a genuine shift towards lower price point proteins and cheaper cuts"
But time and convenience aren't the only factors suppliers need to address when trying to revive interest in the roast. Shoppers remain price-conscious, so big ticket meat purchases can be difficult to justify. "Consumers have adopted a range of savvy shopping techniques over recent years and have become much more price sensitive," says Bpex butchery and product development manager Keith Fisher. "We have seen a general shift towards lower price point proteins and cheaper cuts."
This trend has benefited cheaper proteins in terms of overall sales, but as far as roasts are concerned they have been hit just as hard as more expensive red meats. turkey in particular has suffered, with the number of roast occasions featuring turkey down 15% year on year.
However, a Bernard Matthews spokesman insists it's not all bad news. "Despite there being a trend away from roast dinners across all meats and proteins, turkey has seen a growth in value share of the 'ready to roast' category," he says. "There is also strong sales growth in the fresh turkey portions category, with a 6% value growth year on year, with popular formats including turkey thigh joint and turkey breast fillets."
And despite chicken roasts being down 7% year on year, chicken remains a highly popular roast choice, featuring in 38% of roast dinners. Apart from cost, the big attraction of chicken is its reputation for being easy to cook, says Lorraine Rothwell, head of marketing at Aunt Bessie's. "Consumers tell us that everyone likes chicken; it's got that universal appeal that some other meats perhaps don't have," she says. "It's easier to cook than beef, and harder to get wrong than other meats."
The number of roast dinners is declining 8% year on year (28 w/e 25 May 2014 vs 28 w/e 26 May 2013), with roast turkey dinners particularly affected.
Over the past year, there were 1.3 billion roast dinner occasions. Almost half of roast occasions take place on Sunday (49.4%). On average, a roast takes 72 minutes to prepare with the preparation time going up to 84 minutes on Sunday. Over three quarters of roasts are consumed at the teatime/evening meal (76%), with the rest at lunch. The importance of lunch increases on Sunday, with 34.2% of roasts consumed at this occasion.
Overall, males are slightly more likely to eat roasts than females. Children are less likely to consume roast dinners, while older consumers (over 55) over-index.
Marcelina Fedczyszyn, Kantar Worldpanel
As for what supermarkets can do to tempt consumers back to roasts, Fisher at Bpex recommends offering attractive cuts that fit consumers' need for convenience and offer value for money appeal by reducing waste. He also suggests making shoppers' lives easier with boneless cuts presented as ready to cook in foil trays and roasting bags. Roasting bags are already proving a hit with consumers in the poultry category, with chicken supplier Faccenda recently announcing plans to extend its roast-in-bag range from flavoured to unflavoured birds.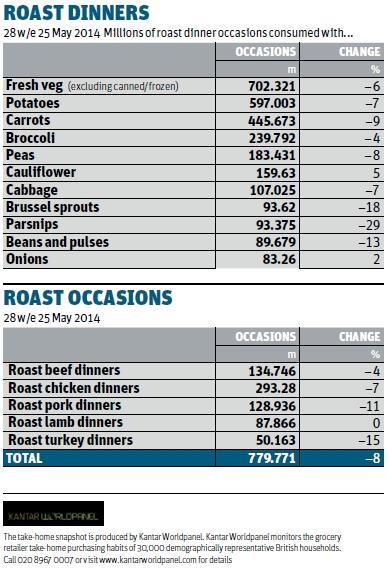 Efforts to make roasts more convenient don't end with the meat, though. This autumn, Bisto is making a play for the premium gravy category with the launch of new Rich Gravy Pastes designed to deliver a 'homemade' taste that's less hassle to make than conventional gravy.
And Aunt Bessie's is building on the success of its ready-to-cook Yorkshire Puds with a new Chunky Roasting Vegetables mix designed to offer a greater variety of roast veg to cook in a single tray.
Many vegetables served at roast dinners are struggling, with just cauliflower and onions in growth. Kantar believes price could once again be the driving force - with both veg recognised as cheap plate fillers that tend to be store cupboard staples.
There's also evidence that shoppers are looking beyond traditional veg choices for healthier or more exotic options.
"We are seeing year-round growth trends in vegetables with health- promoting properties"
"We are seeing year-round growth trends in categories aligned with Health promoting properties and non-traditional/exotic labels," says Ken Clow, category manager at Morrisons. "These include beetroot, sweet potato, artichokes and butternut squash." He adds Morrisons shoppers are buying veg seasonally for their roasts too - switching to courgettes, asparagus and Tenderstem broccoli in the spring and summer.
This suggests there are plenty of opportunities to get consumers excited about roast dinners again. But to get back into growth, the category needs to continue making roast dinners as simple and stress-free as possible. "Although roast dinners still feature in the top three in-home meals, consumers are looking for ready-made solutions and short cuts they can trust to still deliver a great eating experience." says Armanet.
The message is clear: it's not quite time to consign the Great British Roast to history, but suppliers and retailers have their work cut out.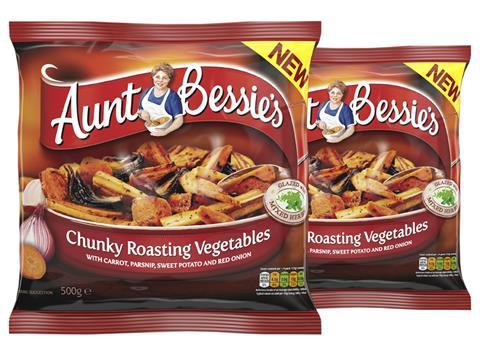 Aunt Bessie's Roasting Vegetable mix
Launched: September 2014 
Manufacturer: Aunt Bessie's
Aunt Bessie's is aiming to make roasting veg easier for shoppers with the release of its new frozen roasting mix. Created to reflect consumers' changing tastes for veg at the traditional roast, it includes sweet potato and red onion alongside category staples like carrot and parsnip. Pieces have been made as chunky as possible with caramelisation giving the onions extra textural appeal. The new line joins the brand's already popular convenience ranges such as its oven-ready Yorkshire Puds. Rsp: £1.79.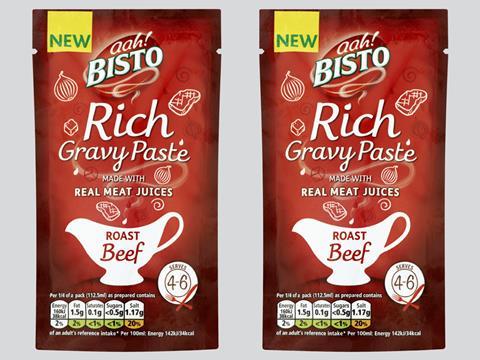 Bisto Rich Gravy Pastes
Launched: August 2014
Manufacturer: Premier Foods
Bisto's new Rich Gravy Pastes are made with real meat juices, herbs and seasoning. When mixed with boiling water, they're intended to deliver the taste of homemade gravy without all the effort. The pastes will be available in two variants - Rich Roast Beef and Roast Chicken - and are supported by a £600k marketing campaign. Rsp: 99p.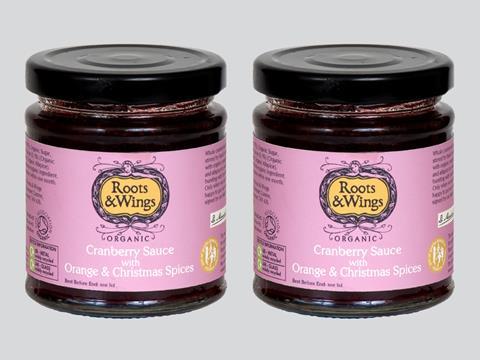 Roots & Wings cranberry sauce
Launched: September 2014
Manufacturer: Roots & Wings
Roots & Wings' organic cranberry sauce with orange & Christmas spices uses whole cranberries, organic oranges, cinnamon, ginger and allspice. Like the rest of the range, the sauce is organic, natural, handmade and GM-free. The company donates 10% of its profits to charities concerned with the needs of children. Rsp: £2.55.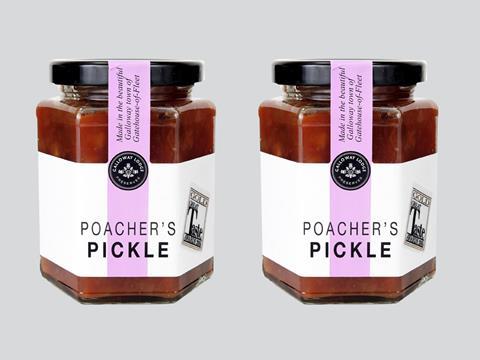 Poachers' Pickle
Launched: September 2014
Manufacturer: Galloway Lodge Preserves
Galloway Lodge Preserves' trademark Poachers' Pickle is designed to add flavour to cold meats with a unique recipe created by a Scottish firm that's been making preserves for the last 40 years. The chutney is available in a 100g jar for the gifting market, or a 300g variant for the store cupboard. Rsp: £2.85.