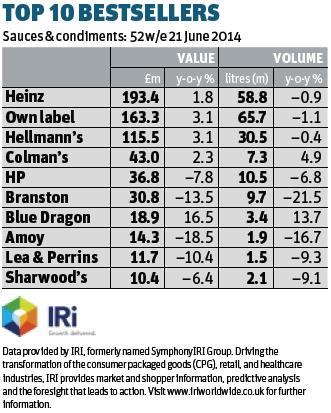 Brits are getting saucier. Value sales of sauces & condiments have surged 4.9% over the past year and volumes are up 3.4% [Kantar 52 w/e 14 June 2014]. And that's not all: we are getting spicier, too.
During the last two BBQ summers, chilli and hot pepper sauces have become familiar additions to the picnic table - over the past 12 months alone, value sales of such sauces have soared 9%, with volumes up 14.2% [Kantar 52 w/e 14 June 2014].
At the same time, some of the more traditional sauce & condiments categories and brands are struggling.
In the most recent 12-month period, sales of chilli and hot sauces overtook sales of Worcester sauce for the first time and are now worth just short of £20m - a sign of how dramatically British palates are changing.
Of course, Brits' growing appetite for fiery sauces isn't a new phenomenon, but experts suggest the trend is accelerating as consumers become increasingly adventurous in the kitchen. A spokeswoman for Geeta's Foods says 32% of consumers who eat ethnic food claim they "enjoy spicier food more than a few years ago," citing a Mintel Oxygen report on World Cuisines published earlier this year.
The category is opening up, too. Hot sauce has long been a "male dominated market" but there is now a fairly even gender split, says Lisa Leung, brand manager at Encona, which has 14 varieties of hot sauce on the shelves of the major mults.
So just what is it that's driving the boom in the hot stuff? And as things heat up in the sauces & condiments aisle, what can the more traditional players do to ensure they hold their own?
The total sauces & condiments category has grown by 4.9% in value and 3.4% in volume over the past year - and it's sauces that are driving growth. Value and volume sales of sauces are up 6% and 4% respectively, ahead of the wider ambient sector.

Growth in sauces is being driven by solid performances from the three biggest sub-categories - ketchup, mayonnaise and salad cream - as well as strong growth in up-and-coming subcategories such as chilli. Over the past four years, sales of hot sauces have soared by a phenomenal 54%.

Own label is leading the charge in sauces, shifting 11% more volumes over the past year; by contrast, branded sauces are treading water, with 0.8% volume growth.

Spend on condiments has plateaued after four years of continuous growth. Volumes have fluctuated in recent years and are down 1.3% over the past year. Fewer shoppers are buying condiments this year, and those that are buying have reduced how much they buy. Mustard (-2.5%), apple (-7.4%) and cranberry (-5.8%) have all suffered declines. Smaller sectors such as mint and tartare are still performing well but not enough to offset the declines seen elsewhere.
Clare Davis, Kantar Worldpanel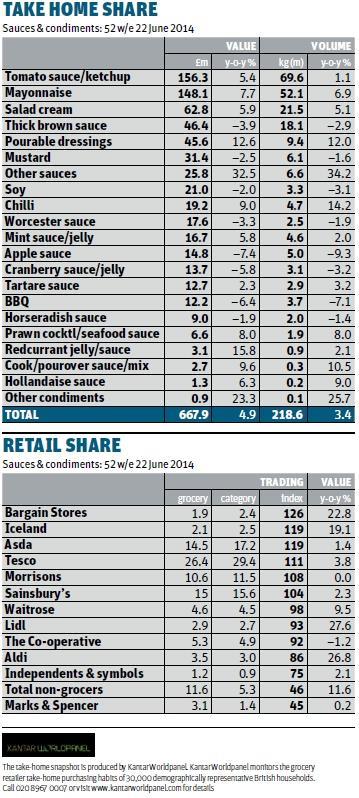 The chilli sauce category has benefited substantially from the growing popularity of American food shows like Man vs Food and Diners, Drive-Ins and Dives, which have played a key role in persuading shoppers to buy classic American hot sauces.
The familiar sight of 'dirty food' such as giant burgers, pulled pork sandwiches and BBQ ribs on TV and in restaurants like meat Liquor, Shake Shack and Five Guys has seen American brands thrive in the sauce and condiment market in the UK.
The US trend isn't just benefiting chilli sauces either. French's Mustard says it has seen American Mustard "continually be the only growth sector within the mustard category."
With new hot sauce consumers buying entry-level, fairly mild sweet sauces and aficionados requiring ever-hotter blends, NPD is thriving everywhere.
To catch both ends of the market, Levi Roots has added a milder and a hotter version of its sauce, and other well-established brands are also muscling in - Colman's, for example, has launched a Fiery BBQ Chilli sauce, while Heinz has launched an entire new range of chilli sauces.
"We know from research that chilli sauces are used by those who like to experiment with new flavours and are looking to liven up their midweek meals," says Emily Frank, senior brand manager for salad cream, mayonnaise and condiments at Heinz.
The new range responds to the "unprecedented growth the category is experiencing," she says, adding the Heinz brand is well placed to offer spicier flavours in an accessible way - as a "trusted but tasty culinary adventure."
Beyond the States
Britain's love for all things spicy isn't limited to US-style hot sauces, of course. Far Eastern flavours continue to thrive, with sweet chilli sauce maker Blue Dragon reporting sales up 16.5% to £18.9m over the past 12 months [IRI 52 w/e 21 June].
"Barbecues are as much about new and exotic flavours as they are about ketchup"
This trend has also been influenced by the rise in street food across the UK. "Street food has encouraged consumers to be a little more adventurous," says Bing-yu Lee, manager of Kikkoman UK.
"These days, barbecues are as much about introducing new and exotic flavours as they are about traditional ketchup."
Straight price cuts tempt shoppers to try out new sauces
As shoppers face a growing choice of NPD in the sauces & condiments category, encouraging trial is becoming increasingly important. Not surprisingly, therefore, retailers' promotional tactics are targeted firmly at persuading consumers to put new products into their baskets.
By far the largest mechanic used in sauces & condiments are 'save' deals, accounting for a huge 71.6% of all deals over the past year, according to Assosia. This is up from 57.5% a year earlier.
'Save' promotions tend to be better at encouraging trial than other mechanics, says Assosia MD Kay Staniland. "X-for-y promotions aren't likely to tempt a consumer to try a new flavour or new product, whereas a price cut will."
Retailers' preference for 'save' deals also explains why value lags behind volume growth in some parts of the category, she adds. "By using cuts to lower prices, consumers are more likely to buy, which increases the volume but the value does not increase by such a large margin."
Sainsbury's has been particularly aggressive in ramping up its deal activity, with Asda also running more promotions. Own label has seen a marked increase in deals, reflecting its overall strong category performance, while several key brands have reduced the number of deals.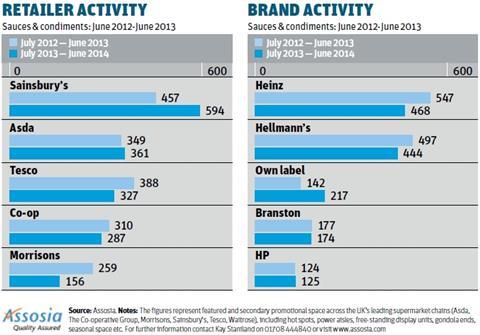 These trends have not gone unnoticed by the supermarkets. Tesco has devoted whole bays in stores to American imports, including premium mustards and BBQ sauces, while a Lidl spokeswoman says the discounter has noticed "an increased appetite for Asian and hot sauces. In response to that we launched Asia Week on 21 August, with special offers on products such as our mango chutney, and premium curry sauces, as well as bringing in a number of limited edition items."
Own label surge
As well as giving brands extra space, supermarkets are increasingly investing in their own-label lines. Indeed across the sauces & condiments category, it is own label that is driving much of the growth. According to Kantar, own-label sauces have grown by 11% in volume over the past 12 months while brands increased volumes by just 0.8% year on year.
Much of this is down to the rise of the discounters - in fact, IRI's data on the sauces market (which doesn't include the discounters) actually shows own-label volume growth in decline, down 1.1% year on year.
A Lidl spokeswoman says it is "certainly the case that our own-label sauces and condiments have been performing very strongly."
And Aldi joint managing director of corporate buying Tony Baines says: "We've seen sales of our sweet chilli sauce rise by 48% year on year, and hot salsa has increased by 56%."
Although some retailers increasingly look to their own-label lines for growth, swapping established brand names for own-label or challenger brand equivalents doesn't always pay off. Amoy was delisted in Morrisons some months ago (one of the reasons the brand has suffered some sharp declines in sales over the past year) but has since seen its full range relisted.
The reason? Morrisons found "that their soy category declined as they lost loyal Amoy shoppers to other retailers," says a spokesman for Amoy.
Another factor in the strong performance of sauces was the BBQ summer in 201. And it's not just hot sauce that benefited from the heatwave. Traditional British BBQ favourites like mayonnaise, salad cream and tomato ketchup enjoyed year-on-year value growth of 7.7%, 5.9% and 5.4% respectively [Kantar].
The strong summer "undoubtedly had an impact on sauces and condiments," says Lola Danos, brand manager for dressings at Unilever UK and Ireland, which saw sales of mayonnaise and salad cream fly. "We see a lot of consumers purchasing a repertoire of table sauces to offer a choice."
Heinz also saw its core range do well. When taking into account sales in all retailers - including the discounters - sales of its sauces are up 0.2% by volume, the company says (in contrast to the small decline shown in the IRI data).
Ketchup in particular is performing strongly, it adds, with year-on-year value growth of 5%. Heinz is now looking to build on this further with its latest piece of major NPD - a reduced-sugar and salt ketchup made with stevia.
Meanwhile, mayonnaise big hitter Hellmann's, which has seen a slight decline in sales year on year against the exceptionally strong comparables from 2013, says it has strong marketing plans for the year ahead, including new limited-edition packs to drive sales in the run-up to Christmas.
Weather proofing
Despite the good fortunes brought by last year's BBQ season, making sales less dependent on the weather is a key priority for many. "We need to show the variety of ways consumers can use our products, essentially weather proofing the range," says Richard Cox, group commercial director for Baxters Food Group. "We have been promoting seasonal recipes that don't solely rely on the grill and offer year-round usability."
"Tesco, Aldi, Lidl and Morrisons are the fastest-growing own-label sauce producers"
This is particularly important for the condiments sector, which has struggled as the traditional roast dinner has declined. Apple sauce and cranberry sauce sales fell 7.4% and 5.8% respectively. Other traditional table sauces faced similar dips in sales figures, with both mustard and brown sauce seeing a drop in value sales of 2.5% and 3.9% respectively.
On the mustard front, Colman's is fighting back, trading on its history by highlighting the role its mustard, the number one in the UK, plays in British family life.
The English Provender Company is also taking a more inventive approach with its new Wholegrain English Mustard with Fig and Honey. "Trends towards using traditional flavours in unexpected and experimental ways are emerging," says marketing manager Kerry Bishop.
They - and other more traditional players - should take heart. If 2013 proved anything, it's that the UK loves sauce. This suggests innovative brands will find their way into British homes - whether they are offering hot sauce or more traditional fare.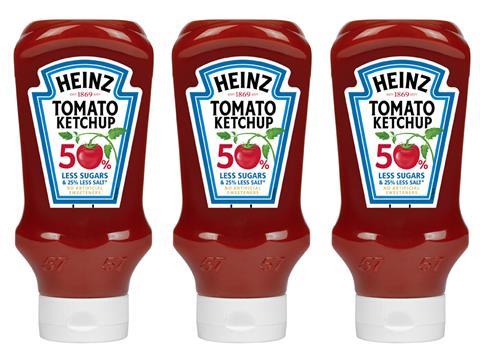 Heinz Tomato Ketchup with 50% Less Sugars
Launched: September 2014 
Supplier: Heinz
With sugar dominating the health debate, Heinz is responding with the launch of this healthier version of its classic tomato ketchup, which contains 50% less sugar and 25% less salt than the original. Made with stevia, the new ketchup (rsp: £2.05/550g) replaces Heinz's previous reduced-sugar ketchup, launched in 2006, which had 30% less sugar and 25% less salt. The new line meets 2017 government salt reduction targets and also has 40% fewer calories than Heinz's original tomato ketchup.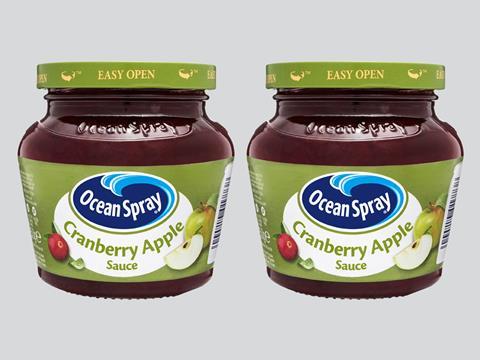 Ocean Spray Cranberry Apple Sauce
Launched: August 2014
Supplier: Duerr's
Ocean Spray is expanding its range with a fruity new flavour, Cranberry Apple Sauce, in 250g jars (rsp: £1.49). The product pairs the taste of apple - the second-largest condiment segment after mint [Kantar w/e 5 January 2014] - with cranberry to create what Duerr's describes as "a rich and fruity sauce with all-round family appeal."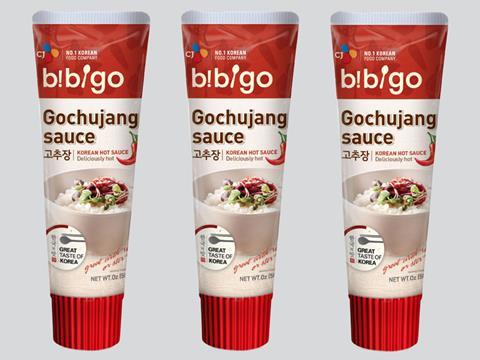 Bibigo Hot Pepper Sauce
Launched: June 2014
Supplier: Bibigo
Tapping growing interest in Korean food, Bibigo has launched its hot pepper sauce into 60g squeezy bottles (rsp: £1) with a shelf life of eight months. The sauce, known as Gochujang in Korea, is a staple ingredient in many Korean recipes and can also be used as a marinade or a dipping sauce.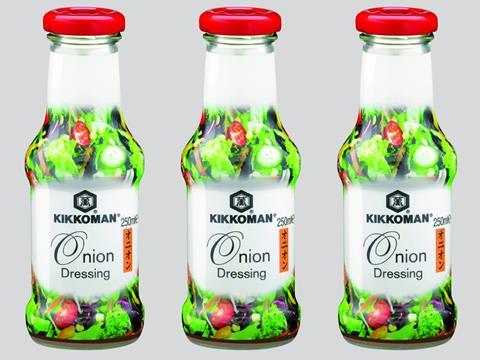 Kikkoman Soy Sauce Flavours
Launched: Spring 2014
Supplier: Kikkoman Trading Europe
Kikkoman is looking to give salads an easy, convenient Asian twist with the launch of two new salad dressings made with its soy sauce (rsp: £2.99/250ml bottle). The sauces can be used as dipping sauces or as a marinade. Kikkoman also released a premium stir-fry sauce earlier this year.