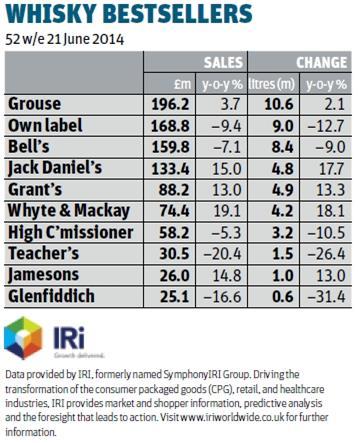 It's a tale of two extremes in the spirits market. At one end, sales of premium spirits are flying, boosted by eye-catching brand extensions such as Smirnoff Gold vodka featuring edible pieces of 23 carat gold, and Bacardi Gold rum with an abv increase from 37.5% to 40%.
At the other end of the market, brands such as Green Mark vodka are busy lowering their abv to keep their prices down, which - coupled with a double-digit spike in featured-space promotions - means cheaper brands are performing strongly, often at the expense of own label.
This growing polarisation reflects grocery shopping trends more generally, with premium retailers and discounters thriving while supermarkets in the middle are feeling increasingly squeezed. But will strong performances at either end of the market be enough to keep the overall sector in growth long term?
The figures this year certainly suggest the premiumisation and abv-cutting strategies are having a positive impact on the category so far. Although value growth has slowed down a little - coming in at 4.4% this year compared with 4.9% a year ago - volume sales have returned to (modest) growth after falling 0.9% last year [Kantar Worldpanel 52 w/e 22 June 2014].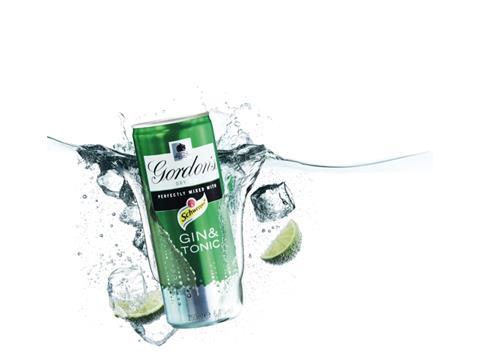 Value sales in the spirits market have increased by 4.4% year on year, in line with the total alcohol market. Growth was driven predominantly by an increase in the average price (+3.6%), led by malt whisky and vodka. Lower purchasing frequency was offset by volume trade-up. The category continues to grow through repeat shoppers spending more; although some shoppers are moving their spend from spirits to cider, there are bigger movements to spirits from still wine.

Branded spirits continue to drive growth. But own label has seen a reversal of fortune, with 1.4% value growth. Imported whiskey and cream liqueurs are key contributors, and discounter labels have performed especially well.

The discounters and Sainsbury's lead in value performance. Pre-mixes and golden rum are strong emergent sectors in Sainsbury's, while gin and speciality are key in the discounters.

Premixes and RTS cocktails are standout performers, with strong performances by Gordon's Gin and Slimline Tonic and Jack Daniel's and Cola.
Emma Roberts, Kantar Worldpanel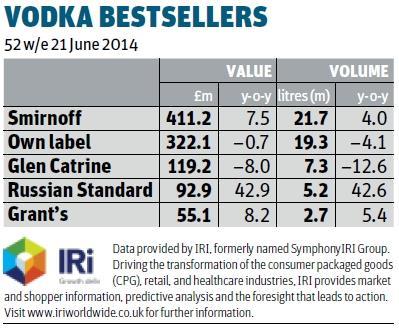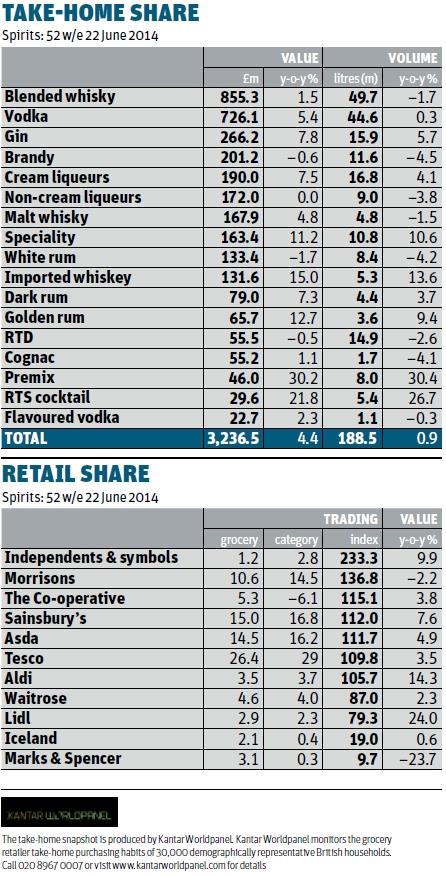 "Value has been outperforming volumes as consumers continue to trade up to premium and craft options, choosing quality and brands over quantity," says Amanda Almond, sales director at Bacardi Brown-Forman. "The lower end of the branded spirit market has also proliferated and is traded heavily, enabling consumers to buy brands at only a marginally higher cost."
Blended whisky and vodka are leading sales, accounting for almost 50% of spend in the past year. Blended whisky remains the UK's bestselling spirit, but volume sales have been falling and experts predict vodka could take whisky's crown within two years, if current growth rates continue.

Premixes also continue to perform strongly and remain a popular strategy for brands to add value and drive premiumisation. With consumers increasingly keen to experiment with new cocktails, premixes are also ideally positioned to take advantage of new flavour trends, including growing interest in Latin American cocktails.
Diageo has pushed up the average price of Smirnoff - and further raised vodka's profile - without sacrificing volumes thanks to premium extensions such as Smirnoff Gold and apple Bite Gold. A year after these Smirnoff variants were launched in August 2013, value sales for the brand as a whole are up 7.5% to £411.2m on volumes up 4%, with an average price increase of 3.3% [IRI 52 w/e 21 June 2014].
"Smirnoff Gold has far exceeded targets and predictions, racking up more than £3.7m so far, making it the brand's biggest extension," says Guy Dodwell, off-trade sales director at Diageo.
Baileys has also been boosted by premium NPD. Its Chocolat Luxe line, launched a year ago and selling on average for twice as much as other Baileys variants, has helped the brand return to value growth for the first time since 2012. Value sales for Baileys overall are up 1.2% this year, although volumes have slipped 0.4% [IRI 52 w/e 16 August 2014].
Bacardi Brown-Forman is hoping for a similar boost from the May launch of Bacardi Gold, a premium golden rum with an abv increase of 2.5 points to 40% for "shoppers looking for more robust flavours."
Value brands
Cheaper brands are taking abv in the opposite direction. Budget vodka brand Green Mark has cut its abv from 40% to 38% to "help the multiples compete with the discounters," prompting value and volume sales to soar by 36.3% and 32.1% respectively, making it one of the fastest-growing vodka brands [IRI].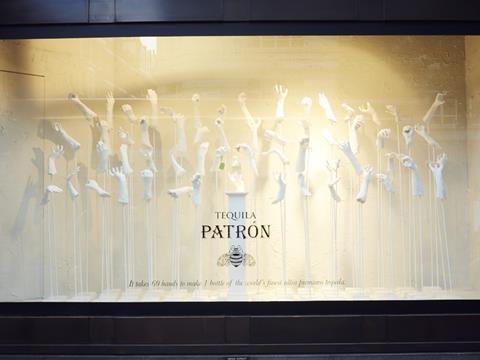 Hands up for Latin American lessons
Bars like the newly opened Cocobananas in London's Battersea are popping up all over the country, and cocktail recipes based on the so-called 'cachaça trail' are being whipped up by celebrity chefs.
With the spotlight on Brazil thanks to this summer's World Cup and the Olympics in 2016, sugarcane-based cachaça, the Caipirinha cocktail and spirits such as rum and tequila could present a real opportunity to grow sales. "We predict more people will be experimenting and making cachaça-based drinks thanks to the influence of the on-trade," says Amanda Almond, sales director at Bacardi Brown-Forman, which is "exploring new distribution opportunities" for its single-estate artisanal Leblon cachaça, currently only in the on-trade.
Rum and tequila too are benefiting from the buzz. Value sales of golden and dark rum are up 12.7% and 7.3% respectively on volumes up 9.4% and 3.7% [Kantar Worldpanel 52 w/e 22 June 2014]. Mexican tequila brand Patron Tequila has its sights set on the UK after unveiling its first Selfridges window (pictured) in July.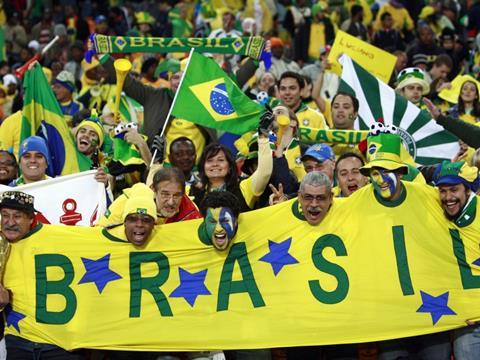 "Patron's explosive growth in the US transcended tequila and saw it take on premium white spirits like gin and vodka, a pattern that continues here in the UK," says regional director of marketing and commercial Matt Sykes.
Ewa Nuckey, planning director at Drink, adds: "A more discerning consumer is emerging. While other categories, like gin, have already capitalised on this trend, others, in particular tequila, have yet to fully embrace its opportunities."
The Latin American trend could even benefit other spirit categories. "Sectors including rum have grown faster than the market again this year, demonstrating the more adventurous habits of British shoppers," says Toby Magill at IRI. "This desire for more exotic tastes is only likely to strengthen the drive for flavoured whiskeys and vodkas."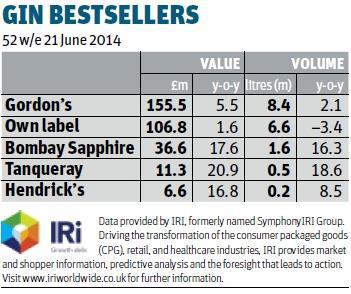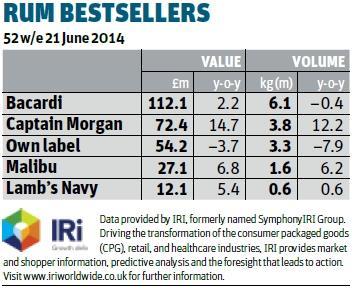 Meanwhile, lamb's knocked £2.51 off the rsp of Spiced Rum by lowering the abv from 37.5% to 30% in November 2013.
"The result was a high-quality liquid while at the same time offering benefits to retailers in duty savings," says James Wright, international sales & marketing controller at brand owner Halewood International.
The result was also a boost in sales: value sales for the brand as a whole are up 6.3% year on year, on volumes up 2.5% [IRI 52 w/e 16 August 2014].
And in July, Pusser's lowered the abv of its flagship blue rum to 40% with an rsp of £20, compared with an average price of £32.50 for its 54.5% abv predecessor (now rebranded as Pusser's Gunpowder Proof).
The discounters
But can such tactics really help the supermarkets compete with the hard discounters in the long term? Although back in value growth this year, the performance of own label continues to lag behind brands, growing at just 1.4% in value compared with 5.5% for brands [Kantar]. At the same time, Lidl and Aldi have shown particularly healthy value performance.
"There is a clear change in where shoppers are spending," says Diageo's Dodwell. "Online, convenience and discounters are all in rapid growth."
Bargain Booze and wine Rack owner Conviviality Retail is further tapping the discounter trend with BB's Warehouse, a new 3,000 sq ft store where consumers can choose from 800 lines of spirits, wines and beers and which promises to beat the mults on price.
"Spirits shoppers are not usually brand or product loyal," says Steven Cathro, spirits buyer for Conviviality Retail, which says it is "on the hunt" for more sites. "Shoppers come into store with a budget in mind and are likely to make their purchase based on the product that fits that price."
So it is not surprising there's been a 16.6% spike in featured-space promotions in the mults in the past year [Assosia 52 w/e 30 June 2014].
Such activity on behalf of the supermarkets brings its own challenges for some brands. "Because of the increased frequency of promotions, it is hard to gain standout outside a promotional period," says Jane Ashley, brand manager for Bowmore Whisky at Cellar Trends. "This has an impact on brand loyalty due to consumers seeking value for money and switching between brands as a result."
But not all brands have suffered. Jack Daniel's increased deals by 133.8% year on year - more than any other brand [Assosia] - and still enjoyed value sales growth of 15% on volumes up 17.7% [IRI]. As well as promotions, owner Bacardi Brown-Forman is focusing on "added-value initiatives" such as personalised Jack Daniel's glasses. It is running a similar push for Bombay Sapphire, offering branded balloon gin glasses.
As for the key strategies brands should look to for the year ahead, these differ from sector to sector. While consumer desire for deals and more accessible price points is helping many sub-categories thrive, premiumisation appears to be the answer for others.
Whisky, for example, is currently being dragged down by lower-priced players and needs to push more towards premiumisation, argues Toby Margill, head of beers, wines and spirits at IRI. "This decline at the bottom has cost the sector £30m in the last 12 months and ties in with shoppers' desire for premium products."
But elsewhere, the trend towards lower abvs - and therefore lower prices - is accelerating. And it's not just about being cheaper. According to Kantar, one in two spirits drinkers is now trying to moderate their alcohol consumption, and the effects are noticeable: there are 4.6% fewer spirits occasions per drinker and these occasions are lighter than last year, with 2.7% fewer serves per occasion.
As Emma Roberts at Kantar puts it: to ensure its sales continue to grow more than just moderately, "moderation is now a key trend for the industry to consider."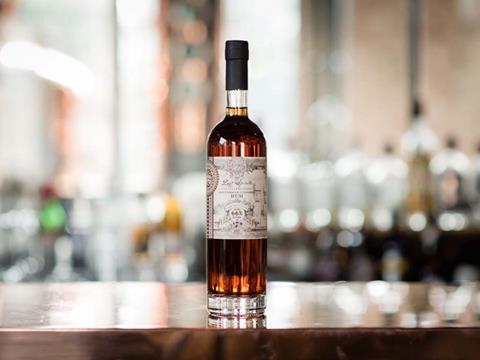 Lost Spirits Polynesian Inspired Rum
Launched: September 2014 
Manufacturer: Lost Spirits
The East London Liqueur Company is hoping to widen the repertoire of UK rum drinkers with the launch of Lost Spirits Polynesian Inspired Rum (rsp: £47/750ml). Produced by California-based Lost Spirits and distributed by the new-to-market East London Liqueur Company, the 66% abv amber-coloured rum combines Grade A molasses and late-harvest riesling with 'seasoned virgin American oak' to produce 'notes of ripe tropical fruit like macerated banana.'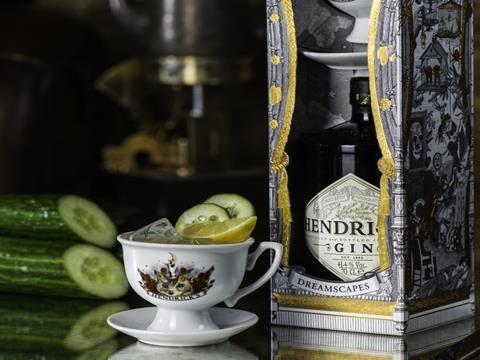 Hendrick's Dreamscapes gift pack
Launched: August 2014
Manufacturer: William Grant
Hendrick's Dreamscapes gift packs (rsp: £28.09) offer the gin brand's signature tea cup along with a 700ml bottle and serving suggestions from brand ambassador Duncan McRae. With value sales up 16.8% on volumes up 8.5% [IRI 52 w/e 21 June 2014], William Grant says gifting is 'key to driving profits' in the off-trade in the coming year.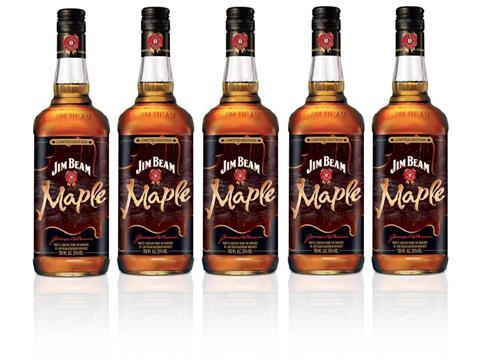 Jim Beam Maple Whiskey
Launched: July 2014
Manufacturer: Beam Suntory
Jim Beam is hoping to tempt new drinkers to bourbon with the UK's first maple-infused variant (rsp: £19.99/700ml). The limited edition blends four-year-old Jim Beam bourbon whiskey with maple to produce 'the perfect balance of sweet warm maple and bourbon.' At 35% abv, the bourbon has a lower abv than other Jim Beam variants.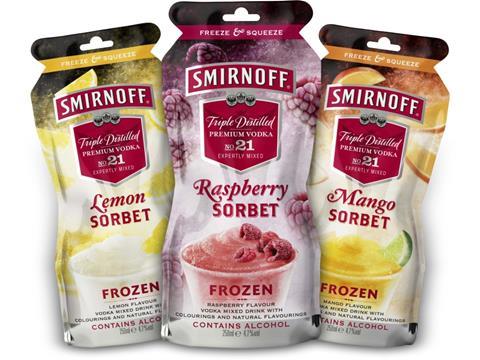 Smirnoff Sorbets
Launched: April 2014
Manufacturer: Diageo
With ready-to-serve cocktails star performers, Diageo is extending Smirnoff to include 'Freeze & Squeeze' sorbets (rsp: £2.99/250ml). The pouches come in lemon, raspberry and mango at 4.7% abv. Diageo gave away 1,000 freezers to c-stores to support the launch. The pouches are accompanied by frozen drinks Smirnoff Apple Bite and Ice.