Britain can't make up its mind about potted desserts and yoghurts. One year they're in favour, the next they leave a sour taste. Sadly, it seems the latter is true at the moment.
Volumes have fallen 1.7%, and while the category did register value growth this was largely due to a 2.9% price increase [Kantar Worldpanel 52 w/e 4 January 2015].
This picture marks a return to the bad old days of 2012 (when volumes fell 1.9%) and is in stark contrast to 2013's performance, when Brits couldn't spoon enough of the stuff into their mouths, helping the yoghurts and potted desserts category to value and volume sales growth of 4.1% and 1% respectively [Kantar Worldpanel 52 w/e 5 January 2014].
So what's behind the category's recent sales slump? And what can be done about it?
"The popularity of indulgence has now shifted towards a trend to healthier yoghurts"
Despite high UK household penetration levels of 96% [Kantar], shoppers are buying less volume each time they shop - and they're shopping less frequently. Brands are bearing the brunt of the pain with volumes falling almost 3% [Kantar] while volumes of own-label products are relatively flat.
The main reason for the 1.1% slump in volume sales of yoghurts and fromage frais is the stuttering fortunes of two subcategories: kids' and luxury yoghurts. Last year the latter was a star performer with value growth of 18% and volumes up 16.3%. This year the contrast couldn't be starker, with value sales of luxury yoghurts falling 5.4% - despite an average price increase of 5.9% - and volumes down 10.7% [Kantar].
"Given how many other categories and products are competing to deliver against consumers' desire for 'little luxuries', it's no surprise luxury yoghurt sales have faltered this year," says Ned Colville, director at strategic brand consultancy The Value Engineers.
There are some sweet spots, though. Soya and dairy-free are both faring particularly well. These are often sought out by health-conscious shoppers, but elsewhere health concerns have played a role in the demise of luxury, adds Kantar's Anish Mashru. "The popularity of indulgence - which we were seeing a year ago - has now shifted towards an increasing trend to healthier yoghurts. Cholesterol-lowering yoghurts are still in decline, but from 21.3% value decline last year this has softened to a decline of just 0.5% this year."
As in luxury, health has wreaked havoc on kids' yoghurts, with parents increasingly seeking healthier options. Value sales of kids' pots collapsed 13.9% last year, with volumes down 15.9%. The picture was only marginally better for kids' handhelds, with value up 0.4% but volume down 9.2%.
Big brands were among the key casualties. Sales of Petits Filous fell 3.8% on volumes down 9.1%, while Munch Bunch sales fell 4.4% on volumes down 5.8% [IRI 52 w/e 28 February 2015]. Wildlife bucked the trend with marginal value and volume growth, but the same could not be said for Müller's kids' offerings. Volumes of Kids Corner and Little Stars fell 16.9% and 31% respectively.
"The kids' yoghurt brands and sub-brands in particular have really suffered from consumers becoming more aware of so-called hidden fats and sugars," says Colville. "Where parents of the 70s and 80s saw yoghurt as one of the easiest ways to get their kids eating healthy foods, today's parents are much more suspicious and have a lot more options. Kids' cheese brands, dairy drinks and smoothies are all fighting to get a piece of the action."
This increasing competition for consumer spend has led to a lot of value being traded out of the category, with brand owners opting for hefty promotions to drive short-term sales hikes. One category insider says different retailer interpretations of promotional guidelines have hit the leading kids' yoghurt brands particularly hard. In addition, own-label brands have also fared well with sales volumes driven by Aldi, Lidl and Sainsbury's - the only big four retailer to enjoy growth.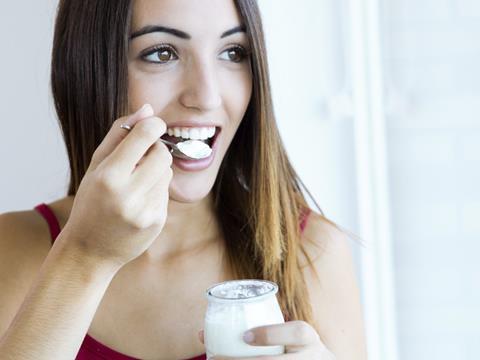 Big pots flourish
But where some brands have struggled, others have flourished. Manufacturers of big pot yoghurts have had a particularly good time of it over the last 12 months, with value up 13.8% and volumes up 11.5% [Kantar]. One of the brands benefiting from this trend is Yeo Valley. Its value sales grew 24% off volume growth of 21.4% [IRI]. Dan Rusga, marketing director at Yeo Valley, thinks the brand has reached a bit of a tipping point.
"Over the last 12 months we've focused on doing the basics consistently well," he says. "There's a lot going on in the minds of consumers and sugar is one of those things, which is why natural yoghurt is selling so well, with more consumers discovering it as a fridge staple. We've also worked hard to offer great value because long gone are the days when you could charge a handsome premium for organic."
"Long gone are the days when you could charge a handsome premium for organic"
The Collective posted a similarly strong performance, according to Kantar, enjoying significant value growth. "Our big pots are going from strength to strength," confirms Amelia Harvey, co-founder of The Collective. "We're going into loads more stores, and stores are taking a larger breadth of our range."
Its rise has largely been fuelled by the popularity of its quirky limited-edition products like the alcoholic Raspberry and Amaretto big pot, the seasonal Spiced Pumpkin and Christmas Pud flavours and by the success of the coffee-flavoured variant, which Harvey says the company is looking to introduce to its permanent line-up.
The other big move from the brand was the decision to take out 15% of the sugar content in its big pots at the end of last year. "We've managed to do it so subtly in terms of the taste that we're not calling it out on pack and we haven't had any complaints from consumers about it," says Harvey. "We're continuing to look at ways to take sugar out, but it's difficult in the yoghurt industry because you start at a base level of 8%-9% of sugar before you even add any because of lactose."
Further indicating that health is on the consumer agenda is the rapid rise of soya and dairy-free yoghurts, says Mashru. "This is the fastest growing sector in yoghurts with 17.8% value growth and 17.3% volume growth, driven almost entirely by Alpro attracting more shoppers into the sector," she explains.
Much of this growth has been due to the additions of new flavours to the Alpro range and the increasing popularity of the brand's big pots, says Vicky Upton, marketing controller for Alpro UK. "We kickstarted this year with some 'first to market' products and our intention is to continue this pace of change to ensure we have optimised our range to suit consumers' needs," says Upton. "We've also seen a huge rise in celebrity devotees, such as Ellie Goulding and Beyoncé, extolling the virtues of plant-based eating, which has helped to position us at the heart of a mainstream food trend that is set to grow and grow."
What's also anticipated to grow and grow is demand for goats milk yoghurt, according to Ed Salt, MD at Delamere Dairy, which revamped its goats yoghurt range at the end of last year, moving its plain and honey variants into larger 450g pots. "Sales over the last two months are encouraging with the same level of unit sales and greater volumes," says Salt. "We are close to launching new flavours in the 450g format in the coming months, and we're confident 2015 will be a positive year for our yoghurt sales."
It's the same confidence shared by Mike Hind, sales and marketing manager at St Helen's Farm. He says the company's strategy of introducing new formats, sizes and flavours to its range of goats milk yoghurts is paying off in spades. And it's a strategy he intends to continue to build on.
"We are continually looking for ways to innovate within the category and listen to what our consumers are telling us," says Hind. "Despite the huge advertising budgets of other 'alternatives' within the category, goats milk yoghurt holds its own and remains a popular choice for those switching from cows milk looking for a range of great, fresh tasting products which are very natural."
"The war on sugar and the rise of free-from has made life difficult for brands in the past year"
It's these latter qualities that James Averdick, co-founder of The Coconut Collaborative, also hopes to capitalise on. The brand recently launched a brand new big pot and intends to add more flavour variants to its range later in the year.
"The Coconut Collaborative, as a coconut-based, dairy-free, sugar-free product, has seen significant growth month on month since launch, as an increasing number of consumers are opting to avoid or reduce dairy intake," he says. "It has also benefited from the backlash against refined sugar."
It's likely to continue to benefit from the sugar backlash, believes The Value Engineers' Colville. "You can see just how much potential there is for dairy-free if you look to the US where the sector's about so much more than just an 'absence of baddies'," he says. "With the advent of coconut, nuts and almond-based products, as well as soya, there's a huge potential for growth as dairy-free comes into its own as a lifestyle choice for families, not a poor substitute for dairy for the lactose intolerant."
The subcategory is also ripe for exploitation when you consider dairy-free and soya products currently account for only 1.8% of the total yoghurt category value. As a result, Daisy Lewis, brand manager at Onken, sees growth potential from NPD that taps changing consumer perceptions around health. "We see a switch away from diet, functional health and fat-free products, to a focus on areas such as free from, protein power (strained and grains), health without compromise (Greek - more indulgent, but it's good for you) and purity simplicity (less process, fewer additives, less sugar)."
Manufacturers like Premier Foods have already started introducing NPD that taps the health trend. "Products launched within the last year, such as Ambrosia Mini pots, are specially formulated with calcium and vitamin D for strong bones and normal growth development," says Matthew Critchley, category marketing director, desserts & homebaking.
In a similar vein, Actimel launched a new honey & lemon drink in January, backed by a £2.5m ad campaign that encouraged people to look after themselves during winter. The campaign ran across TV, print and digital under the strapline 'Have you taken care of your immune system today?' "The ad championed Actimel's vitamin content and delicious recipe and was supported by tips in press and digital on ways to take care of your immune system this winter," says Blandine Stefani, marketing director at Danone.
The anticipated future growth of healthier products such as these means it is increasingly likely traditional yoghurt brands will lose out. That's why they're going to have to work a little harder to re-engage consumers, argues Avril Tooley, partner at brand design agency BrandOpus.
"Celebrities such as Beyoncé have been extolling the virtues of plant-based eating"
"Yoghurt is a declining category," says Tooley. "We know the 'war on sugar' and to some extent the rise of free-from has made life difficult for brands over the course of the last year. But startlingly, over 50% of sales across the category are on NPD or private-label products. Consumers are interested, but just not in the core brand products. This is indicative of an opportunity for brands to step up their game and engage the consumer."
Müller is hoping to capitalise on this following its raft of NPD in 2014, including Fruitopolis and Bliss Corner. The latter has raked in £10.9m since its July launch.
But things aren't as peachy across Müller's entire range. 2013's NPD Müller De Luxe Corner took a battering (value sales fell 28.5%) while Crunch Corner lost £12.3m. Thankfully, other portfolio staples fared better. Müllerlight and Fruit Corner enjoyed value growth of 5.5% and 1.6% respectively [IRI].
The brand is looking to further NPD to keep up momentum. "At Müller Dairy the focus is on retaining and growing value through innovative product launches, concentrating on consumer demand and incremental brand expansion," says Michael Inpong, Müller's chief marketing officer. "We have a whole host of new product development planned."


Growth in yoghurts and chilled desserts, which account for 26% of total dairy spend, has been driven by a 2.9% average price increas
Although 96% of households buy into the category, they are doing so less frequently and buying less volume each time. Smaller branded multipacks contribute most to this and point to a consumer preference for single and twin packs.
Big pot plain yoghurts are seeing strong growth, up 13.8% in value and 11.5% in volume.
There has been a key shift in yoghurt trends from indulgence to healthier this year, as indicated by the rise of soya and dairy-free offerings - the fastest growing sector.
Value growth from Marks & Spencer comes from premium desserts, while growth in Waitrose has been driven through yoghurt, notably brands The Collective, Total and Alpro.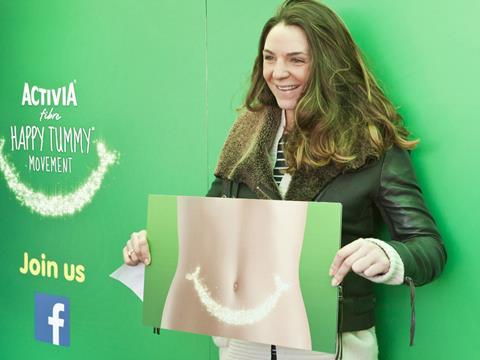 It's been a tough year for Activia. The brand suffered a £26.2m loss, pushing sales below the £200m mark. Even a solid run of marketing and NPD including the launch of Fruit Fusions couldn't bolster its performance.

The brand is hoping for a better 2015, having kicked off the year with the launch of its £2.5m Happy Tummy media campaign.

In contrast, Yeo Valley had a fantastic year, scoring the biggest gains of the top 10 brands with an £18.1m sales increase, followed by Müllerlight with £8.9m as the category's consumers become increasingly focused on health.

Müller stablemate Crunch Corner suffered the second biggest loss, of £12.3m.
Rethinking the yoghurt fixture
Another way to add excitement back to the category is to rethink a yoghurt fixture "filled with many competitors shouting about their near identical offer, so the consumer defaults to a fast, instinctive and emotional but, crucially, non-cognitive decision," says Tooley. It's a problem recognised by Gregg Pitts, head of category development at Danone. "A number of pieces of shopper research show the aisle is 'difficult to navigate', shoppers find it 'cold and boring' and are only spending an average of 15 seconds in front of the fixture," says Pitt. "If suppliers and retailers can work together to deliver an improved shopping experience, then shoppers will spend more time browsing aisles and sales will increase."
"Dairy-free can come into its own as a lifestyle choice, not a poor substitute for dairy"
Improving the shopping experience is only half the battle, however. In those categories that have stagnated what's needed is more excitement to drive frequency and more product innovation, according to Alan Cunningham, co-founder of Nomadic, the Mediterranean yoghurt specialist.
"It is all about creating something new and innovative in terms of the flavour and toppings," he says. "Western European influences dominate the yoghurt fixture at the moment, but there are other parts of the world that consume yoghurt as a meal accompaniment that is savoury rather than sweet."
One brand owner that recently made the switch from savoury to sweet is Kerry Foods, which launched its groundbreaking Yollies - yoghurt lollies on a stick - in August last year. The product is already stocked by Asda, Morrisons and Nisa, and Lee Willett, dairy marketing controller at Kerry Foods, is hopeful Yollies will be on shelf in Tesco and Sainsbury's by the time a new £5m campaign kicks off in May. "We're ecstatic about the way they've gone in Asda and Morrisons. We're above what we forecast and we have a really great rate of sale," he says.
He's conscious the brand has a vital role to play in driving frequency of purchase up by bringing excitement and interest to the overall category and not just to the kids' handheld subcategory. "We need to drive that fun and interest that kids have in the category so mums will buy into it."
If other manufacturers embrace this approach it should go some way to bringing excitement back to the category, and help the nation rediscover its taste for yoghurts and potted desserts once again.
High Protein yogurt NPD looks to pack a punch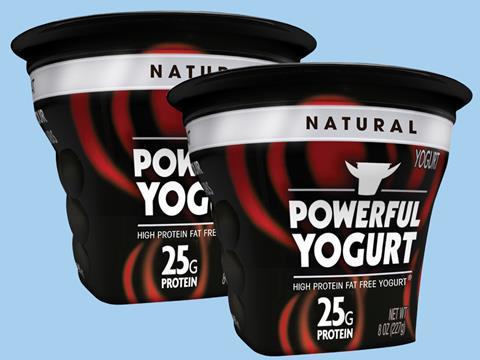 2015 looks set to be the year high-protein yoghurts really take off in the UK.

Ireland-based Irepak has obtained a listing with online sports nutrition retailer Muscle Food to stock its Powerful Yoghurt, which packs 25g of protein into its 227g pots. Irepak founder Robert Doyle is hoping to secure additional listings with UK gym chains, health and c-stores.

Now it looks like more mainstream operators are poised to get in on the act, following the lead of Danone, whose 2013 UK launch Danio contains 11.9g of protein per 150g pot.

Arla Foods launched the quark product Arla Protein in January. Available in three flavours - strawberry, raspberry and blueberry - each 200g pot has 20g of protein. Then last month it unleashed Arla Skyr - a fermented dairy product high in protein (it has 14.1g per 150g pot).

Samantha Dolan, Arla Foods senior brand manager yoghurt, says Arla Protein was an instant hit in Finland three years ago. Although protein is on the up in the UK, Dolan believes there is still a lack of understanding around it. "Mintel reports 86% of consumers know protein is an important part of staying healthy, but most don't know why," she says. "Our research also highlighted that 72% thought yoghurts were a good source of protein."

Strained Greek yoghurt and quark are naturally high in protein. For example, Müllerlight strawberry has 4.2g of protein per 100g whereas Total's 0% fat Greek yoghurt has 10.3g per 100g.

Although both Arla's products are high in protein they have very different target audiences, explains Dolan. "Skyr will provide sustained energy and is perfectly placed to capitalise on the growth of breakfast occasions in yoghurt," she says.

Protein, meanwhile, is aimed at gym goers.

To help raise awareness of the benefits of high-protein yoghurts, Arla is launching a "full 360 campaign" with a TV spot for Skyr going live on 19 April. With Protein, the company is taking the word of mouth approach - including sampling activity focused around gyms.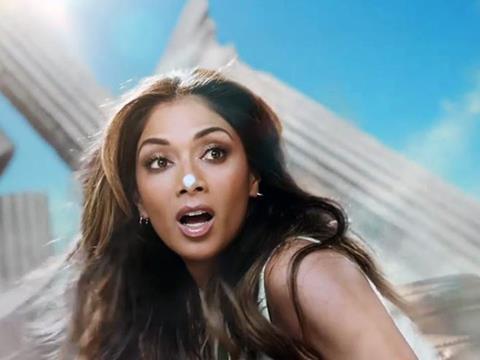 Big ad spend fails to bring the X Factor
The partnership with Nicole Scherzinger hasn't stopped Müller Corner from losing the X Factor, with sales for most of its variants down, according to IRI.

Clearly ads aren't the only factor (Corner has been hit by the sugar backlash), but campaigns that nod to current trends can help. Just look at Müllerlight's growth (see main copy below); its rise in spend included ads for its Fruitopolis and Greek NPD.

Other ads haven't cashed in on current trends so well. Despite Müller Rice's rapping bear in ads for Remix Corner Pots and Activia's increased spend on ads featuring Gok Wan, both brands are in value decline, of 6.7% and 12.2% respectively [IRI].
The Collective Rhubarb, Vanilla & Lemongrass yoghurt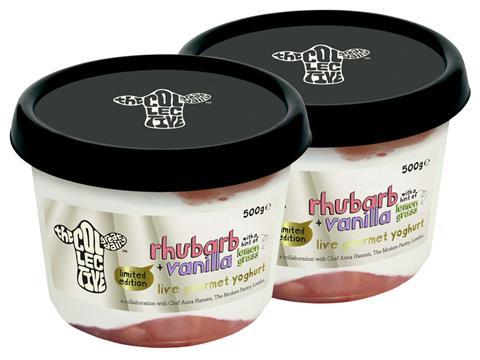 Launching: Spring 2015 
Manufacturer: The Collective
The Collective is adding yet another unusual flavour combination to its limited-edition range. The Rhubarb, Vanilla & Lemongrass big pot (rsp: £2.39/500g) is the brainchild of Anna Hansen, chef and owner of the Modern Pantry restaurant in Clerkenwell. The company has worked with Hansen on a further limited-edition flavour fusion that will launch in the autumn. Five pence from the sale of each pack is being donated to the charity Action Against Hunger.
Onken Greek style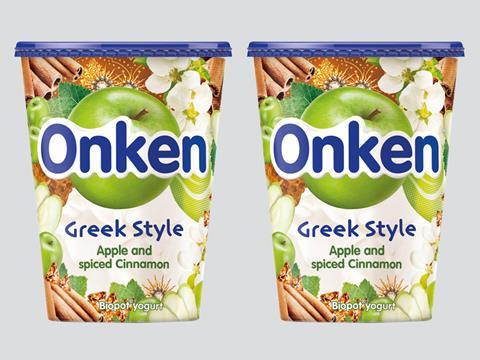 Launching: April 2015
Manufacturer: Onken
Onken is launching a new Greek Style big pot yoghurt. The range, which hits Tesco this month, features rhubarb & ginger, lemon & raspberry, apple & cinnamon and orange & fig. The thick and creamy yoghurts (rsp: £1.75/450g) tap the Greek-style trend, which is attracting younger shoppers to the big pot format.
St Helen's Farm goats milk yoghurt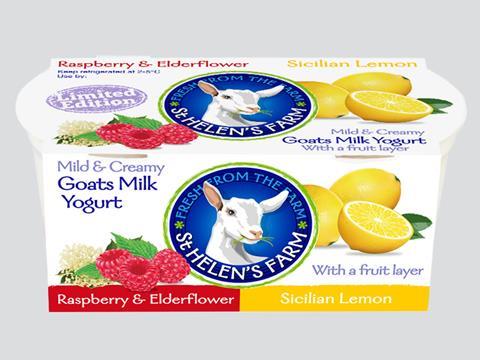 Launching: April 2015
Manufacturer: St Helen's Farm
St Helen's Farm continues to push the boundaries with its flavour combinations. Next off the blocks are two limited-edition single serve pots of fruit compôte topped with creamy goats yoghurt. Twin-packs of the 125g Sicilian Lemon and Raspberry & Elderflower yoghurts launch in Waitrose and Ocado this month at an rsp of £1.87.
Müller Rice Remix: Greek Inspired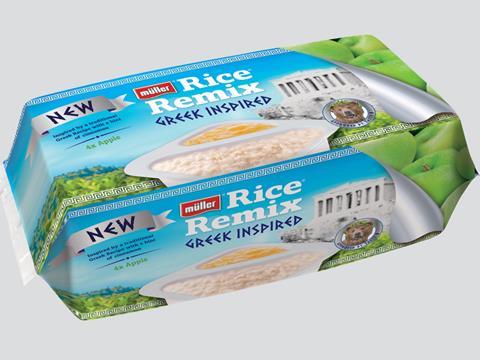 Launched: March 2015
Manufacturer: Müller
Müller has brought back rapping bear Tasty B to launch its new Rice Remix: Greek Inspired. The product is a take on traditional Greek rice pudding rizogalo and sees Müller add a sprinkling of cinnamon to its creamy dairy rice, with a side of apple or strawberry compôte. It's sold in singles, four-packs and six-packs (rsps: 69p, £2.69 and £3.89).