The closure of hospitality during the pandemic has turned British shoppers into chefs. So how is frozen food getting in on the act?
The UK has been hit by a big freeze. Brits splashed out nearly £1bn more on frozen food in 2020, bringing the category to almost £7.3bn – a 15.1% rise in value [Kantar 52 w/e 27 December 2020]. Every subcategory except ready meals is in double-digit growth.
From hash browns to fish fingers, plant-based to poultry, big-name suppliers are cashing in. Birds Eye has added £97.8m, McCain has grown by 21.3% to £418.3m, and Young's is up 19% to £195.9m [Nielsen 52 w/e 26 December 2020].
"Data shows growth in frozen was above grocery in every four-week period last year," says Richard Harrow, CEO of the British Frozen Food Federation. "I was regularly talking to retailers and getting figures of 20% to 30% growth."
In fact, the UK's appetite for sub-zero goods has grown to the point where, according to Kantar, households have installed extra freezers to stash them in.
So, what's driving growth?
Much of it is thanks to the Covid-driven resurrection of the big weekly shop and people filling their trolleys with food that keeps for longer, Harrow says.
"Creating 600 million new eating occasions at home has driven consumers into frozen"
But that's not all. With lockdowns putting an end to eating out, home-cooking has gone through the roof, points out Young's head of category management Gareth Roberts. "Creating 600 million additional eating occasions at home has driven new consumers into the frozen aisle, but in terms of sales it has changed the habits of existing frozen shoppers, increasing frequency and widening the repertoire of products they place in their basket."
This surge in demand has put immense pressure on the frozen supply chain, with cold storage space at a premium, says Cold Chain Federation CEO Shane Brennan.
"The disruptions of the past year have seen several points which stretched existing capacity to its limit, with customers looking to stockpile in anticipation of supply chain disruption." And this was compounded by frozen and chilled produce originally intended for the foodservice sector no longer being required due to enforced closures.
Pressure peaked during the early days of the first lockdown and again at Christmas, when the cold chain faced festive and pre-Brexit stockpiling, foodservice closures and drivers stuck in queues in Kent under France's lorry ban.
Yet, in spite of these difficulties for suppliers, availability stayed solid in stores, Harrow insists. Which meant that during a time of massive uncertainty for Brits, frozen food remained a safe bet.
The category already had a huge amount of penetration compared with others, says Harrow, and it continues to attract new shoppers.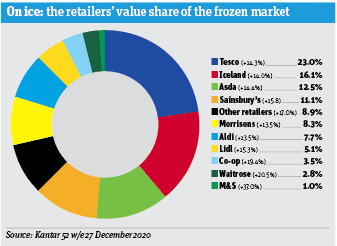 In terms of value share, Tesco dominates the category ahead of frozen specialist Iceland (16.1%) and Asda (12.5%).
The fastest value growths – the bracketed figures in the above graphic – have been enjoyed by those with the smallest shares: M&S, Waitrose and Co-op.
Before Covid, own label had been gaining share – part of a wider grocery trend of movement of spend from brands to private label. The rise of discounters Aldi and Lidl, which focus predominantly on private label lines, was a large contributing factor. The two retailers hold 7.7% and 5.1% share respectively, having increased their value by 13.5% and 15.3%.
This year, however, has seen strong growth for both branded lines and own-label, with the former growing slightly faster: 16.4% versus 14.1%.
At total grocery level, sales via NPD declined mainly because of the impact of the pandemic. An integral part of this was the focus on key best-selling lines to manage supply. This meant existing products were prioritised over new lines.
Early on in the pandemic, with travel restricted, more shoppers opted to buy in convenience channels local to their home. These are much smaller stores with a limited amount of space. So, as a proportion of total sales, new products accounted for far less.
Frozen fish
Many of those new shoppers are snapping up frozen fish. It saw the biggest gain of all sectors – up 19.8% to £1,098.8m [Kantar].
"We have seen an additional 720,000 shoppers (3%) coming into frozen seafood, many of whom are younger than the typical shopper, seeking purchasing drivers traditionally associated with chilled, including health and quality," says Young's Roberts. "What they discovered is that frozen fish ticks these boxes, offering outstanding quality, but is also convenient."
That said, the biggest growth driver has been an increase in purchase frequency, with around 75% of frozen seafood growth from existing shoppers buying more [Kantar].
Roberts adds: "This increased frequency is not only down to buying more often but an increase in the number of sectors they are buying. For example, fish finger shoppers are now also buying battered fish and scampi, which is significant for us."
Not that fish fingers are being rejected in favour of fancier fare. They've done well due to their versatility, says Birds Eye UK GM Steve Challouma. "We are seeing all these amazing recipe ideas."
"Every day becomes the same and food becomes a way to create a bit of interest and a highlight"
He points to the likes of Nigella Lawson's fish finger bhorta curry recipe, which was a social media sensation late last year. And the list goes on. "The most recent one was the fish finger pizza sandwich. A guy took a pizza and folded it over fish fingers. It exploded on Rate My Plate and was in the press. It just shows how creative people are getting with core products."
It's no surprise that, stuck at home, Brits are livening things up in the kitchen, says McCain category controller Naomi Tinkler. "Every day becomes the same, and food becomes a way to create a bit of interest and a highlight."
Such experimental flair has hailed winners in frozen potatoes, too. "One of the absolute star growth sectors is hash browns. Our sales are up about 70% year on year" she adds. "We think this was people missing fry-ups and McDonald's breakfasts."
Restaurant trends
That yearning for out-of-home eating has meant some of the best-performing product launches have been those mirroring restaurant meals. Take McCain's Waffle Fries, a nod to the baked fries popularised by fast-casual dining chain Leon, or Birds Eye's Chicken Shop range, which was designed "to replicate that fast food takeaway chicken experience at home" says Challouma.
Of course, restaurant brands with a presence in grocery's frozen aisle have also benefited, with Brits buying ready made "restaurant food they were unable to recreate themselves with ease" according to Itsu premium category manager Lorna Douthwaite. "Where people might have had more time to make a lasagne from scratch, they're still reliant on Itsu to create something more complex."
The same trend is seen in pizza, suggests Paula Wyatt, head of marketing for pizza at Dr Oetker Ristorante. "The segment that has performed strongest is what we call 'takeaway' – more indulgent pizzas for sharing occasions to rival high street takeout pizzas."
"The pizza segment that has performed strongest is more indulgent pizzas for sharing occasions"
The rivalry she mentions is a strong one. During the pandemic, pizza deliveries have soared – underlining the need for frozen to innovate to keep pace with takeaways. "We've seen that flavour extensions are important, particularly when we look to the high street as our main competition," says Wyatt.
Hence Dr Oetker spent last year cranking out weird and wonderful variants, such as Sweet Honey Salami in partnership with Manchester craft brewery Seven Brothers. Complete with an accompanying honey beer, the pizza was designed "to reach new audiences who perhaps don't consider supermarket pizza as a viable alternative to the high street" she adds.
Vegan pizza, too, has been a hotbed of excitement, Wyatt says, highlighting the success of Stuffed Crust Sticky BBQ Jackfruit Pizza by Dr Oetker sister brand Chicago Town. The variant racked up £3.4m in its first year and inspired two range extensions.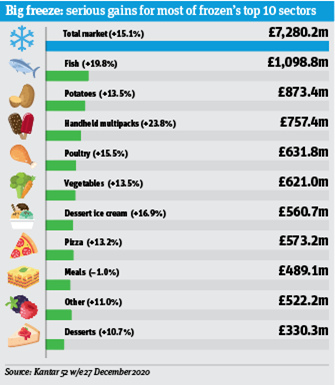 Both brands and own-label cashed in on skyrocketing demand for frozen goods in 2020, Branded lines added 16.4% to its value, while own-label grew by 14.1%.
That leaves the two markets worth £3,303.1m and £3,976.4m respectively – a total of £7,280.2m.
Top sector fish added the most value, with sales surging by £181.9m – a 19.8% gain. It's now worth £1,098.8m.
Second-placed potatoes enjoyed an equally respectable growth, of £103.6m to £873.4m. Sales of big bags of frozen chips have done particularly well, with consumers returning to higher volume, less frequent shopping trips.
The only category of frozen to decline is ready meals, which experienced a 1% value loss (£4.9m) as Brits spent more time at home cooking from scratch.
While sales via price cuts were up 11.5%, retailers cut back on other promotions during the pandemic to manage demand. Volume deals were down 16.2% over the year and sales via other mechanics were down 5.2%. Sales not on promotion were up 20.7%.
Fewer sales came from NPD, with shoppers opting for trusted brands and known quantities.
Plant-based boom
While pizza is cashing in on the plant-based boom, so are many other sectors of frozen – and retailers are making plenty of space for them, suggests Moving Mountains founder Simeon Van der Molen. "I have heard from certain supermarkets that plant-based frozen will be taking more space from other sectors because there is so much growth."
As such, plant-based brands have begun to expand from fresh to frozen. Take Meatless Farm, which in October debuted a frozen version of its chilled plant-based mince.
The BFFF's Harrow says frozen plant-based is increasingly popular with retailers and suppliers alike because of shoppers' interest and "because it's a developing market but they don't suffer from the wastage they would in chilled".
No wonder big brands are churning out NPD. "Our biggest focus this year has been developing our Green Cuisine range and it has been a very encouraging success story," says Birds Eye's Challouma.
Last year saw the lineup move from faux beef into chicken alternatives with a range of vegan dippers, southern-fried strips and nuggets, all made from pea protein. Challouma says this has helped to appeal to "a group of consumers who are more wary of soya".
"Certain supermarkets say that plant-based frozen will be taking more space"
Birds Eye's reach also means Green Cuisine has the potential to appeal to the broadest range of shoppers, he believes. "A lot of the other players are specialist operators and [plant-based] is their whole business, like Quorn and Linda McCartney's. Then you've got insurgents like Beyond Meat who are coming in, probably attracting a younger consumer. We're the only big mainstream brand attracting a broader, mainstream British everyday consumer."
While faux chicken is Bird Eye's new frontier, Moving Mountains' focus is on pushing the scope of plant-based into fish alternatives. December saw the brand launch a range of frozen vegan 'fish' fingers into Waitrose. They're made with a white soy specifically designed to mimic the texture and flavour of fish.
"We certainly see [fish alternatives] as the new frontier," says Van der Molen. "The burger market has become so saturated, not just with other brands jumping on the bandwagon but with supermarket brands as well. But no one is really considering fish yet."
That's not strictly true. Shortly after Moving Mountain's fingers hit the market, Quorn quietly rolled its Fishless Scampi SKU into Sainsbury's.
Part of plant-based's appeal is, of course, is its perceived healthiness – which could prove beneficial to frozen. The category has long been saddled with a reputation for being less healthy than chilled and fresh. That's led to brands working hard to shake off that unfair image, playing up their better-for-you credentials.
McCain, for instance, rebranded its core oven chips as Naked Chips last spring, flaunting the fact they contain just two ingredients. "We've seen a massive increase in clean eating and demand for simple, natural ingredients," says Tinkler. "People still see oven chips as a bit of a guilty pleasure, despite thinking they're better than fried chips, and people are looking for things to help them make small adjustments. This is about reframing oven chips for millennials."
Naked Chips helped drive a 19.7% volume sales increase for McCain last year [Nielsen]. But the demand for healthier lines didn't translate into success for everyone. Take Slimming World, which lost 13.4% of its value, dropping to £65.2m. A key factor was likely the weight loss brand's heartland being frozen ready meals – which dipped 1% in value as convenience became less of a focus for most Brits.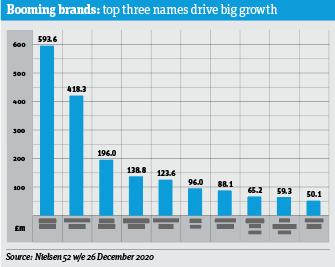 The three biggest frozen brands – Birds Eye, McCain and Young's – contributed a combined £202.5m to category growth over the past year.
The three top names in pizza – Chicago Town, Goodfella's and Dr Oetker – racked up respective gains of £14.6m, £16.8m and £2.7m.
Despite surging sales at category level, not everyone cashed in. Aunt Bessie's dipped 4.9%, losing £6.3m, while veggie giant Quorn bucked the meat-free trend. It didn't even break even, with a marginal loss of £631k, while.
Conversely, rival veggie brand Linda McCartney's raked in £11.5m, growing in value by almost a quarter.
Brits might be taking better care of their health, but they're ditching traditional diet options. At least, that's if Slimming World is anything to go by. It suffered a £10.1m loss – the worst performance in the top 10 frozen brands.
Nielsen analyst Carol Ratcliffe says this was also due to its "heavy reliance on ready meals" – the only frozen subcategory not to grow as locked-down Brits turned away from convenient options.
"Differing relevance of frozen categories in a Covid-19 environment will further impact the landscape over the coming year," she adds.
Back to normality
While the pandemic has been a bonanza for many frozen brands and sectors, the picture of the category could soon be very different as life finally returns to normality. With the vaccine rolling out and the government's roadmap to recovery set out, suppliers' thoughts are turning to hanging on to shoppers once they're no longer stuck at home.
"Inevitably, there will be a huge switch from retail into foodservice for quite a period of time when people can go out and eat again," says the BFFF's Harrow. This doesn't mean people are going to abandon frozen, but suppliers will need to work on keeping shoppers engaged, he adds.
Dr Oetker's Wyatt holds a similar view. "We've identified some clear growth priorities for the pizza category which are growing in relevance as we transition through Covid and hopefully out the other side.
"These include delivering on what we call 'pizza joy', which is making sure our portfolio can rival the high street and drive incremental spend. That pizza lovers can continue to trust frozen pizza to deliver a great pizza night, and that we deliver on variety and excitement in the category to do that."
New opportunities
A vast number of Brits newly attuned to the perks of frozen means there is a "prime opportunity to ensure that this acceleration in the category endures beyond lockdowns and restrictions" says Birds Eye's Challouma.
"We are having lots of discussions with retailers about the role of frozen within their stores, because this year has reframed what frozen can do and how it appeals to shoppers. We need to capitalise and reinforce that."
This means "amping up" the shopping experience, he adds. "In e-commerce we've already started being more experimental, but there is a massive opportunity in-store. At Christmas, for example, we partnered with Asda and took over the entire aisle and all the freezer cabinets in 10 stores. It had a huge level of theatre. There's traditionally been a bit of reluctance to create big themed events on a more consistent basis."
"This past year has reframed what frozen can do and how it appeals to shoppers"
Keeping frozen interesting in the future will require "transformative thinking" he adds, "such as exploring technology like digital doors to communicate messages, which have been used in some other categories already, with LCD screens on them".
As well as adding theatre to the frozen shopping mission, brands will play a greater role in the debate around food waste, Harrow predicts.
"For many years we talked about food waste in terms of the cost to your wallet, but we are not talking in terms of the cost on the environment.
"How often have you heard consumers say they'd like to do more if only they had the opportunity to do so? Well, with frozen there is a massive opportunity to buy things that you don't have to throw away."
Makers of domestic freezers better prepare for another surge in demand.
Innovations in frozen 2021