The pandemic prompted a DIY approach to personal care. But as salons reopen and Brits venture out, how can brands cash in?
Hair salons look set for a gold rush when they open later this month. According to a survey of 2,000 UK adults by OnePoll in February, a trip to the hairdresser ranks higher on Brits' post-pandemic bucket list than theatres, art galleries or cinema. A trip to the spa isn't far behind; the chance to let someone else prime and pamper that sunlight-starved skin too good an opportunity to pass up.
Roots done and pores tended to, Brits will then be planning meals out, trips away and parties galore, according to the research.
Which, at first glance, looks like a golden opportunity for personal care in grocery. After all, an end to restrictions will dramatically bump up the number of occasions beauty brands can target – an opportunity to claw back some of the £123.8m lost by the suncare and skincare sectors alone in the 52 weeks to 24 January 2021 [Kantar].
Empty social calendars and an en masse shift to remote working wiped an estimated £1.7bn off the UK cosmetics and toiletries industry as a whole in 2020, says GlobalData.
But there are pockets within personal care that might view an end to restrictions with a little more trepidation. With spas closed for much of the past year, for example, sales of branded skincare products actually grew by £20m as people cleansed, toned and exfoliated with at-home products, instead of paying professionals [Kantar].
So, how can personal care brands on both sides of the equation strike rich as the UK begins its slow return to normal?
The important thing to note, says Billie Ing, head of trends at Ipsos Mori, is that many of the trends linked to Covid were already beginning to emerge prior to the pandemic. "Covid has meant some of our behaviours have changed overnight, but it is worth remembering a lot of the trends we are seeing now have been at play for a while. Covid has simply shone a light on them and in some respects accelerated them," she says.
A decline in formality, for example, was already beginning to shape personal care purchases, even prior to three national lockdowns. Three in five Brits now say they're happier with a more casual approach to their appearance, according to a recent survey by Ipsos Mori. A quarter are now less likely to shower in the morning and a third are less likely to style their hair.
This collective embrace of the casual look isn't likely to disappear once restrictions ease. Not least as remote working looks set to remain a fixture for many consumers.
"Many people will adopt a hybrid working model, spending part of their time in the office and the rest elsewhere, including at home," suggests Matt Stanton, head of category and insight at DCS Group. "This does mean personal care routines will start to re-emerge, but for many it still will not be to the same level as before the pandemic."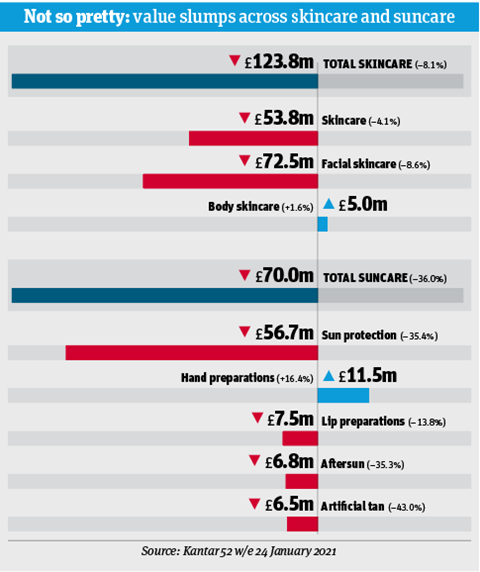 Unsurprisingly given three national lockdowns in the space of 12 months, total sales across skincare and suncare suffered big value losses.
Most sectors suffered, as part of total decline of 8.1% in the past year.
Sectors that suffered most were those with cosmetic benefits – such as facial skincare, which is down 8.6%.
The biggest casualty of the past year by far was suncare. With travel largely off the table, the category saw £70m rubbed off its balance sheet, with sun protection, after-sun and artificial tan all down by at least a third in year-on-year sales.
There were some spots of success across the market. Both body skincare and hand preparations are in year-on-year growth – by 1.6% and 16.4% respectively.
The dynamic between own-label and branded products also changed in the past year due to Covid, says Kantar analyst Kate Sinclair. She points to a "recent uptake in branded products evoking a sense of familiarity and comfort".
In fact, total branded sales across skincare increased 2.3% versus a 17.8% drop in own label, driven by a 20.9% decline for facial skincare in particular.
Plus, as shoppers are attempting to make fewer shopping trips for necessary items only, the biggest supermarkets have experienced strong growth. This is because shoppers can stock up on both grocery and toiletries within one single trip, adds Sinclair.
As a result, while Boots still retains a majority share of the category at 37.9%, it saw sales decline 22.1% year on year, while Tesco enjoyed a 13.7% uptick.
Price awareness
A greater consciousness around price and value won't disappear with the pandemic either. One fifth of consumers say they like to browse the personal care category, according to Shopper Intelligence, with many driven by the hunt to find a good deal.
"In fact, the personal care and beauty category is one with significantly higher price awareness than most," says MD Chris Adkins. "Shoppers cite the category as a 'price beacon' or, more precisely, look at the price of what they buy in this category as an indicator of retailer prices generally."
It's perhaps why sales of luxury beauty products fell 24% in 2020, according to the NPD Group. And given that many UK households look set to face some level of financial hardship in the next year, price sensitivity isn't likely to diminish just because a flood of party invitations land on the doormat. In other words, personal care brands pinning hopes on an overnight recovery once restrictions ease might need to think again.
"Now is actually the time for brands to do a full portfolio review and brand messaging audit to ensure their proposition is differentiated and that they can rebuild trust and loyalty with customers again," says Sara Jones, client services director at creative agency Free the Birds. This includes the need to consider how to offer greater value, she suggests, with some prestige beauty brands such as REN Skincare already sending out more samples and free gifts with purchases.
More celebrity partnerships may also emerge in a bid to bolster brands' profiles. Last year, US cosmetics giant Coty bagged a 20% stake in Kim Kardashian West's KKW Beauty, for instance. But the tie-ups will work only if the celebrity and brand share the same values, "otherwise the brand risks being seen as piggy-backing on a large influencer following" adds Jones.
"Now is the time for brands to do a full portfolio review and brand messaging audit"
Suncare brands must be similarly shrewd if they're to come back from a 36% loss in value [Kantar], suggests Stephanie Young, marketing manager at Ego Pharmaceuticals. They shouldn't simply wait for travel to restart. "Brands should capture the hopes of holidaymakers early on, with a mix of promotional offers to stimulate category purchase," she says.
Plus, brands can secure more consistent revenue, and protect themselves against external factors like travel restrictions, by continuing to educate consumers on the importance of daily SPF, she adds.
Joanna Jensen, founder of skin and suncare brand Childs Farm, echoes this. "Suncare isn't just about overseas travel, as we found last year when forced to holiday at home and sales of our suncare rocketed," she says.
Individual needs
As with suncare, marketing to educated consumers might be the right strategy for skincare and haircare brands that benefited from lockdown – and which may be warily awaiting the planned reopening of salons and spas.
Take single-ingredient serums. They were one of the big trends of 2020, according to Phil Walker, senior brand manager for Nivea face care. "Whereas previously consumers may have been worried about putting an 'acid' on their face, thanks to global 'skinfluencers' there is much more awareness of the variety of skincare ingredients and which work best for individual skin needs."
The same goes for haircare, insists Jones. "The pandemic has given consumers the opportunity to experiment at home through DIY products, and maybe even develop new skills." That's led to brands building loyalty by offering online tutorials and digital salons.
Hairdresser Phil Smith, creator of two haircare lines listed by Sainsbury's, sums it up: "It's going to be about staying agile. The pandemic has taught us how to respond to the changing needs of the consumer and brands will have to continue this to stay relevant."
In other words, just like for shoppers, a glittering new look might be on the cards for personal care in 2021.