With the arrival of Covid-19, Britain's £25bn food-to-go market was sucked down the drain. When, if ever, will it re-emerge?
Into the British lockdown survival kit goes lots of loo roll, plenty of hand soap, and, of course, a few bottles of wine. Chuck in some vitamin D and a few tins of canned fish. Oh, perhaps even a sourdough starter for the 'Gram if there's space. But pre-packed sandwiches, portable snacks or a can of soft drink?
Hmm, not so much. With no place to go and nowhere to be, the collective need for food designed to satiate on-the-move needs has pretty much vanished in the past year. That's made food to go one of the biggest business casualties of the pandemic.
At its lowest point in May – when the UK was six weeks into a first national lockdown – sales of 'on the go' products were down a staggering 66% compared with pre-lockdown levels, according to data from MealTrak. That's across supermarkets, convenience stores, independents, forecourts and coffee shops. OK, so it's better than the restaurant sector (down 95%) but still lies in stark contrast to the 14.3% rise in overall grocery retail sales Kantar reported the same month.
Five months on, after a further national lockdown, recovery is painfully slow. A brief respite over the summer – tempered by the Eat Out To Help Out scheme, which meant restaurants swallowed the majority of spend – ended abruptly with new tiering restrictions. Total sales remain 29% down on last year [MealTrak 52 w/e October 2020].
"In food and drink there's been almost polarisation," says MealTrak co-founder Nick Blake. "In grocery you've had unprecedented demand and then you look at food to go and it's a black hole where £25bn used to sit."
"With less commuting, the overexposure of forecourts has been laid bare"
For food-to-go specialists, the impact has been disastrous. Private label heavyweight Greencore, which counts the mults among its core customers, saw sales tumble 50% in the 13 weeks to 26 June. Adelie collapsed under the weight, going into administration in May. Its Urban Eat sandwich brand was picked up by fellow food-to-go giant Samworth Brothers, who also warned of a "significant reduction" in its 2020 sales in October.
Looking at what's going through the tills, it's no wonder the big players are suffering. Sales of singles tumbled in March – down 29% for carbonates, 28% for crisps and 56% for bottled water, according to wholesale data analysts SalesOut – and they've continued to struggle. Over the full-year period, coffee has taken the biggest hit, according to Kantar, slumping 31.7% or £1.818.7m. Sandwiches aren't far behind, down 33.5% or £1,807.5m.
This fall has been even more pronounced in city centres and forecourts reliant on commuter traffic. "With fewer of us commuting in the car and not requiring that little chocolate or fizzy drink treat to keep us going as we head up the motorway, the overexposure [of forecourts] to the singles market has been laid bare," points out SalesOut MD Kirsty Harris-Clarke.
Survival strategies
In the short term, the focus has been understandably on adapting to stay afloat. Only a week into the first lockdown, for example, BP announced a partnership between its UK forecourts and Deliveroo, to provide essentials to those in self-isolation via its M&S franchises (and mitigate a 75% drop in fuel sales). It later expanded this to include items from its Wild Bean Café outlets, with meal deals and bundles delivered within a local radius.
Meanwhile, suppliers that relied heavily on the lunchtime work trade tried to plug the gap by exploring new formats. Former Adelie brand Urban Eat created a new 'lunch bag' solution containing a sandwich, snack and drink that was targeted at both busy NHS and healthcare staff, plus students stuck in self-isolation.
Other brands explored new direct distribution models. Plant-based brand Bol, for example, quickly established a new DTC platform to mitigate the loss of sales through traditional channels.
"Bol suffered a massive hit to sales as soon as the lockdown was announced as a big proportion of our business was centred around the food-to-go arm of foodservice," says founder and CEO Paul Brown. "Strategically, we fast-tracked our DTC project so that we were able to deliver healthy, plant-based Bol meals around London whilst people were staying at home."
Itsu similarly mitigated losses in singles sales by repackaging its seaweed snacks into multipacks that could be bought online and delivered direct.
Looking ahead, this need for agility in new food-to-go formats isn't about to go anywhere soon, warns Nicola Knight, senior food-to-go retail analyst at IGD. "With variable restrictions likely to continue for months to come, food-to-go operators and retailers are wise to develop flexible models which can be adapted to short-term changes."
But even more significantly, they'll need to keep a close eye on which of these short-term fluctuations could evolve into longer-term shifts. Because, though the sudden blow to the sector was inevitable, there are growing signs that the legacy of Covid-19 on the food-to-go category could be much longer-lasting.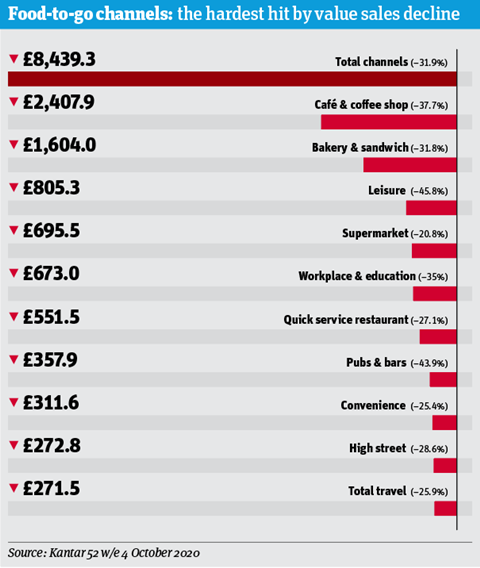 In just one year, food to go has seen £8bn vanish off its top line, according to Kantar data, as two national lockdowns, a mass exodus from the office and school closures all contributed to a sudden and sharp decline.
Perhaps unsurprisingly, travel hubs, leisure outlets, coffee shops and workplace canteens were among the hardest hit, but even supermarkets saw sales tumble by a fifth.
Though all sub-categories have been significantly eroded, products geared toward pure convenience have suffered the most, says Kantar strategic insight director Lucy Chapman: "A big element of eating outside the home was eating on the move." Meal occasions such as breakfasts, grabbed by consumers on their way to work, have fallen sharply.
The only chink of light are those products that have appealed to an appetite for indulgence and comfort. "We have seen resilience among occasions where people want to treat themselves" says Chapman.
Covid's legacy
Consumer behaviour when restrictions were temporarily eased provides an early insight into this long-lasting change.
"Even during early to mid-September when the government was encouraging a return to office working amidst a lull in Covid infection rates, the sales recovery rates of these core offerings from the height of lockdown in April was minimal," says Harris-Clarke. "That suggests that the mindset to working life has changed for a significant proportion of the working population already."
The data bears that out. In a survey of just under 1,000 companies by the Institute of Directors in October, 74% said they planned on maintaining the increase in home working developed over the past year. The impact of that structural shift on food to go could be profound. "Will a significant portion of the vaccinated public choose to go back to the office on a full-time basis leading to a return of the purchase of a sandwich meal at the office desk?" asks Harris-Clarke. "Or will we continue our work from home practices with the consumption of homemade meals being the route of choice for many?"
"Even during September the sales recovery rates of these core offerings was minimal"
Were remote working to become the norm, it won't remove the need for a food-to-go option entirely, suggests Blake. Remote workers are still often too busy to make lunch, or may simply fancy a change of scenery. But it will undoubtedly change what they're looking for, and which channels they use.
Local c-stores, for instance – which already fared better than the multiples thanks to their proximity to shoppers – would likely become the channel of choice. "Plus, whereas if you're in the office you might go out and grab a sandwich, crisps and drink, when you're working at home is that requirement the same?" says Blake. "Adapting to those changing needs will be significant."
E-commerce could also become an area of growth. "Food to go was already ripe for development in this area, and now we're starting to see it happen," says Blake. Just prior to lockdown, Greggs laid down the gauntlet, announcing it would team up with Just Eat to deliver its sausage rolls, sandwiches and pastries, after testing the food delivery firm alongside Deliveroo throughout 2019. The pandemic has catalysed responses from its rivals, with Waitrose, the Co-op and now Aldi all offering small baskets via Deliveroo, with prepared meals and food to go a major part of their offer. That's alongside new delivery options from forecourts and c-store operators.
Critically, operators will need to balance these shifts to shopping habits alongside the same macro trends that existed pre-pandemic. "Some of the background drivers we saw pre-Covid in terms of what we want to eat, and how we want to live our lives, they're not all going to change post-Covid," says Gavin Rothwell, founder of Food Futures Insights.
Health, for instance, is – and will remain – an increasingly important trend. Although Blake says consumers can be more forgiving of the food-to-go category than others, "as they recognise the trade-off for convenience", there's a growing demand for both portability and healthiness. According to data from IGD's ShopperVista, there's been a significant leap in demand for healthy options since the start of the pandemic, with 72% of shoppers citing this as an important factor in deciding where to buy food to go in Q2 of 2020, up from 65% in Q1. Forty-five per cent of UK shoppers also say they've purchased snacks to boost their immune system in the wake of Covid-19, according to Innova.
What's the long-term future for the vending machine?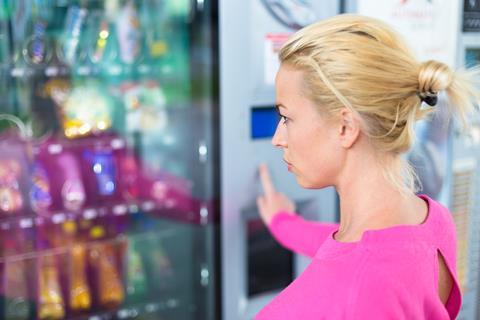 From machines that distribute free packs of rice in Indonesia, to BBQ joints serving charred brisket off automated smokers in the US, the humble vending machine has made its mark during the era of social distancing.
But could the sales mechanism have a bigger role to play with grab-and-go ranges in the long term? Already the sector has seen major growth in the UK, with sales up 5.2% in 2019 to £1.54bn, according to the Automatic Vending Association (AVA). Though that took a sizeable hit during lockdown (with a 70% reduction in turnover, and 63% of all employees in the sector furloughed) AVA CEO David Llewellyn says there are already signs of recovery and renewed demand, in particular for machines dispensing 24- hour food-to-go products.
This will continue, he believes. "Vending is likely to play a greater role in a post-Covid-19 workplace, providing food-to-go services to employees with a mix of smart catering and traditional vending, especially if canteen facilities remain closed," he says.
Plus, "although 'bread and butter' products remain popular, such as soft drinks and confectionery, the industry is seeing leaps in demand for healthier, niche snacks too". Hot vending is also growing, including 'smart microwaves' that read a barcode and automatically prepare food.
Healthy innovation
It's this trend that inspired the first fortified variant of Babybel, says Bel UK. Set to launch into Boots in January 2021, the new version of the snackable cheese will be enriched with nutrients: one variant with probiotics, and the other with vitamins. "Based on genuine consumer insights and trends, highlighting how worries over Covid-19 have driven a spike in interest in immune health in the UK, the line offers the classic taste of Babybel, rich in protein, blended with billions of active ferments or vitamins," explains group marketing manager Gaëlle Vernet.
Compounding this re-prioritisation of health is the fact that the food-to-go sector, of which crisps, confectionery and sugary soft drinks remain a significant part, will soon find itself subject to the imminent 9pm watershed on adverts for products high in fat, salt or sugar. "If HFSS legislation materialises in its current form then the impacts on legacy categories, such as confectionery, will be profound," says John McManus, UK marketing director at Kind Snacks.
"The healthy snacking category would be a primary benefactor of HFSS ad changes"
The proposed changes, which include a ban on promotions on HFSS foods, could see the staples of lunchtime meal deals such as crisps and chocolate bars cede shelf space to healthier alternatives, he believes. "Undoubtedly the healthy snacking category would be a primary benefactor of the change, with the ability to gain space which never used to be available," he says.
Another looming battleground for food to go is value. Facing financial uncertainty, the importance of this element for shoppers, and the price they're willing to pay for convenience, is also set to be a long-term macro pressure on the sector. It's this that could help fuel the gradual recovery of the lunchtime meal deal, which typically goes not much higher than £3, suggests Knight. "The cost assurance that a meal deal offers continues to be a core driver in product choice, but with financial confidence fragile it has increased in importance for shoppers," she says.
In reflection of this growing opportunity, Asda launched what it claimed to be the cheapest 'meal deal' in the major supermarkets in August. Starting at £1.60 for three items, it's quick, easy and "won't break the bank", the supermarket promised.
Uncertain forecasts
At this time, getting the price point right – along with the fundamental proposition – will be crucial. Because the sector is still unable to control the main factor influencing food to go: to what extent Brits will actually be on the move. Predictions for the coming year in food-to-go vary wildly. A report released in September by Lumina Intelligence was perhaps one of the most optimistic.
"The food-to-go market is forecast to grow by over 40% in 2021, returning market value to around the 2019 level," said Lumina Intelligence head of insight Blonnie Walsh at the time. "The very nature of food to go, whereby it is not consumed on premise, is relatively inexpensive and much of the customer base of the major players are already back at work, which means the sector is well insulated for a swift recovery."
"It is by no means certain that operators will have the resources to achieve a turnaround"
Of course, this was before lockdown part two and the introduction of the new local restriction tiers. Encouragingly, Greencore recently reported that the impact of the second lockdown was not as dramatic as the first – but it still sold 26% less than it did in the same period last year.
So whatever Covid throws at us, Knight is clear that businesses will need to adapt to the demands of a "new normal". This could entail launching delivery services, sourcing sites less dependent on office workers and commuter traffic, or broadening their ranges to offer 'food for later' or evening meals.
"It is by no means certain that operators will have the necessary resources to achieve this turnaround," she cautions. "There is a window of opportunity for retailers to develop their food-to-go proposition to win new customers, making the most of cross-mission opportunities and local presence."
Miss that window, and they risk tumbling irretrievably down that plug hole.
Innovations in food to go 2020